Øverås was one of the world's top 10 disc golf courses in 2022. Check the master post for all things World's Best Disc Golf Courses 2023 on Monday, February 13, 2023, to see where it ranks this year.

The rest of this post has not been updated since the publication date.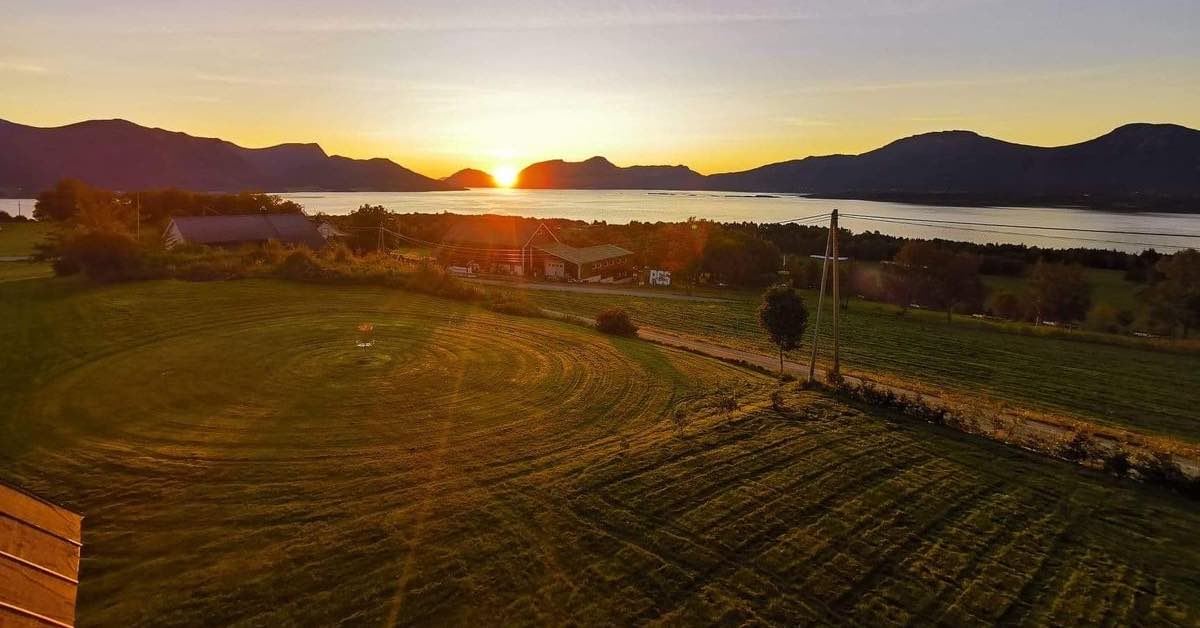 Øverås Disc Golf Course Basics
All of the World's Best Disc Golf Courses
Find the top 100 disc golf courses in the world as well as information on how the rankings worked in "World's Best Disc Golf Courses 2022: #1-#100."
History of Øverås Disc Golf

In Norse mythology, the realm where we humans live is called Midgard. But if you're a disc golfer lucky enough to be playing at Øverås Diskgolfpark on Norway's west coast (the course name sounds like "ur - vur - ohs" with a slightly rolled R and sharp S at the end), you might feel like you've made your way over the rainbow bridge Bifröst, left other mortals behind, and ended up in Asgard, home of the gods.
And we're not throwing in those references just for kicks: There are viking graves just a short stroll from hole 14 at Øverås. Course owner Sivert Øveraas (yes, his name and the course's are very similar) said that his cousin Brage Grønningsæter suggested weaving in the myths and legacy of those feared, seafaring people into the fabric of the course. For example, there's a triple mandatory on one hole dubbed "The Gates of Valhalla" that has two sides made of enormous swords.

Additionally – just to make sure you feel extra good about your upcoming round – the course is nicknamed "Ragnarok," which is the prophesied, inevitable battle the gods are doomed to lose that will end the world as we know it.
The course didn't start out as the epic adventure it is today. Øveraas first learned about disc golf roughly a decade ago by chancing upon videos online. He'd never seen a course in real life, but he thought the concept looked fun, bought a starter pack, and started playing a makeshift course on his large property (formerly the family farm) with Grønningsæter and their friend Jøran Lufall. Øveraas even made his own baskets based on specs and guidance he found with Google.
As Øveraas played courses other than his own and became interested in course design theory, he realized that his land could be turned into a premier disc golf destination. He got nearby businesses to support this vision using the reasoning that a top-notch course could draw tourists to their little part of the vast Norwegian coast as well as provide a source of recreation for locals. PCS Construction, of which Lufall is the Managing Director, has been particularly supportive of the project from the beginning.
A group of locals also formed Øverås Frisbeegolfklubb ("klubb" is "club"), which helped improve and expand the course.
Thanks to support from PCS Construction and the hard work of the club members, Øverås was able to host the PCS Open (its first formal competition) in 2016, which featured payout high enough to attract the best disc golfers in Norway. Course collector, course designer, and 2009 Disc Golf World Champion Avery Jenkins – a U.S. resident and native – made the trip to that event, too. Øveraas, Grønningsæter, and the club used feedback from Jenkins and other competitors to create plans for further refinement of the holes and layout.

Since that first event, hosting a big tournament and making improvements to the course based on competitors' suggestions and results has become an annual ritual for the Øverås Frisbeegolfklubb. The end goal is to become both a fantastic course for everyday players as well as a venue capable of hosting the most prestigious events in disc golf and challenging the sport's best competitors.
In fact, Øverås almost got some time in the spotlight in 2021 as it was scheduled to host the first-ever Elite Series Disc Golf Pro Tour (DGPT) event outside of the United States. However, complications created by the ongoing pandemic made it impossible for the DGPT to keep the competition in its 2021 schedule.

Hopefully things go better this year. Øverås is set to host a DGPT Silver Series competition in July 2022 that two of the world's best disc golfers, Paul McBeth and Ricky Wysocki, have already announced their intentions to attend.
If you'd like to to explore Øverås' history and development as an event venue even more, check out our 2021 post "Extraordinary Courses: Øverås Diskgolfpark (Ragnarok)."
What's It Like to Play Disc Golf at Øverås?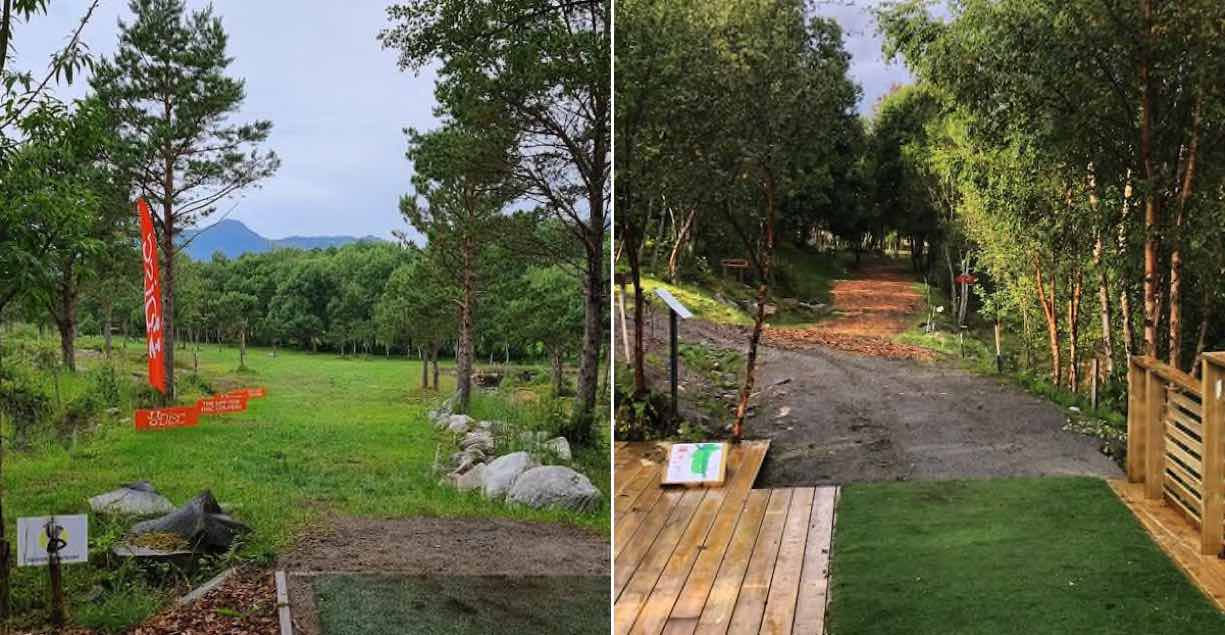 For the most part, you'll find one of two styles of fairway at Øverås. One is fairly open, well-maintained grass with trees left in strategic areas that force players to be very intentional with their shot shapes and landing zones. The other is a fairly narrow (but fair) corridor through a wooded area that tests players' accuracy and height control.

In both landscapes, the twists and turns of fairways, elevation changes (occasionally dramatic ones), and out-of-bounds add variety and difficulty.

No matter what style of hole you're playing, expect to have a true line and a lack of gimmicks that exist just to increase difficulty.

"I am a big fan of fair and clean gaps, minimizing luck," Øveraas said. "I don't like making a hole harder just to make it harder if it means more randomness. And I actually don't mind a hot round of 15-under par as long as the scoring separation is good and the best player wins."
Distance, finesse, precision, scrambling: Expect to call on every part of your game at Øverås. And if your score ever discourages you, just take a moment to stare out over the fjord and enjoy the stunning scenery for a bit.

Also note that the course has three different layouts: A complete beginner course, a layout for recreational or low-level intermediate players (white tees), and a layout for advanced players (blue tees).
Øverås Disc Golf's Signature Hole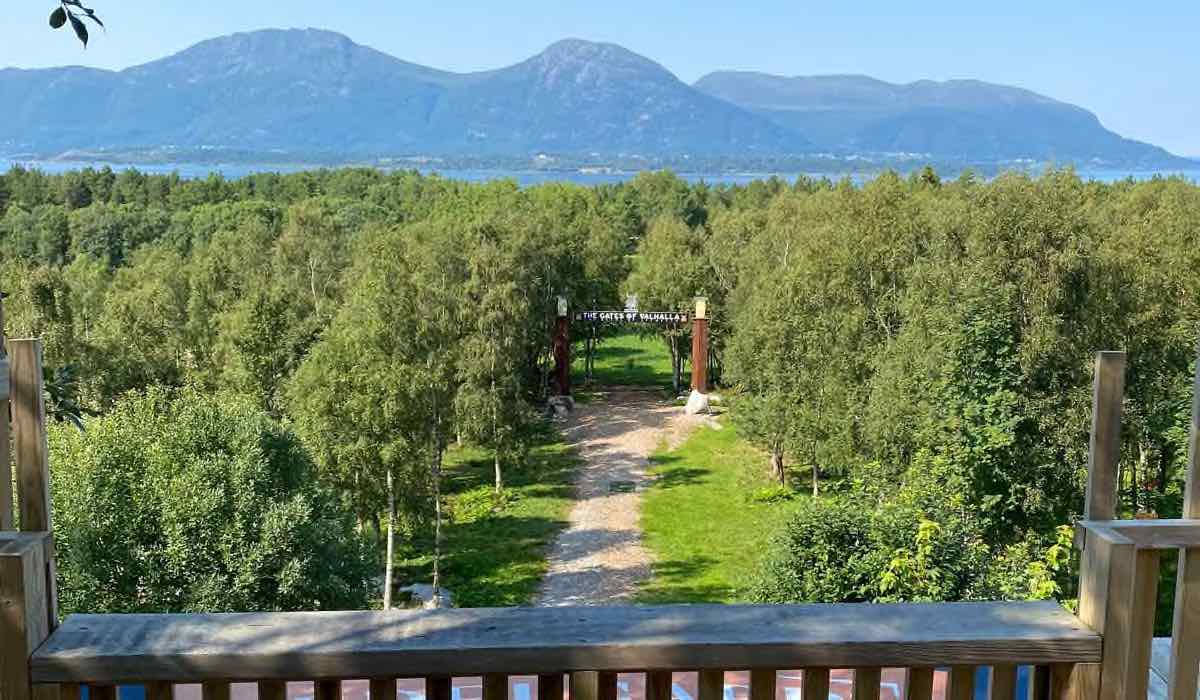 Like many courses built in areas where elevation allows it, Øverås' signature hole – number 6 – is one where players throw from a tee way up high to a basket far below. For disc golfers, there's nothing quite like watching a disc soar down, down, down.

But though the style of throw is familiar, the view from the tee of the hole nicknamed the Gates of Valhalla is unique and stunning. From the large wooden platform where the tee is, players look out over the fjord to the mountains beyond. It's a truly wondrous sight on clear days and during the extremely long summer sunsets in Norway (over an hour and a half at some points in the year).
Along with the aesthetics from above, the hole adds in the drama of a triple mando (two sides of which are giant viking swords) just before the basket.

You can see the hole as it looked during the 2021 PCS Sula Open in coverage from More Disc Golf below. The clip should start and stop at relevant points on the first play.
Though this is undoubtedly the course's signature hole, it's clear that Øveraas has mixed feelings about it.

"Some might say that the Gates of Valhalla are very gimmicky," Øveraas said. "I tend to agree, and it is a kind of 'make or break hole' that I'm not too fond of. Still, the gap is fair, and the tee shot is fun, so I think one out of 18 holes like this is acceptable."
Recent & Planned Developments at Øverås Disc Golf
Most of the work done to the course in 2022 will be touch-ups and small improvements, according to Øveraas. He is, however, looking at nearby land where he believes "four to five new world class holes" could fit. These holes would be used as replacements and not additions, allowing the Øverås crew to remove some current holes in areas where traffic flow isn't ideal and also making the course more friendly for spectators and media teams.

The timeline for building those new holes isn't set in stone yet, though, so don't get your hopes up for seeing them if you visit in 2022.

Events & Leagues at Øverås Disc Golf

Events: The biggest event at the course in 2022 will be the PCS Sula Open on July 13-16. This event is just a week before the European Open in Finland, one of the most popular tournaments in the world typically attended by the sport's best players. That makes it likely a number of stars from the U.S. will show up to play the PCS Sula Open as a warm-up event for the European Open.
Leagues: In summer, there are league nights at Øverås on Thursdays at 7 p.m. and Sundays at noon. League play during the colder, darker months is just Sundays at noon. Note that these leagues are free to play. If you're just visiting and want to play a league to meet people and experience friendly competition, don't expect prizes or payouts.
Amenities at Øverås Disc Golf
Toilets and drinking water are available for visitors.
Three Real Five Star Reviews of Øverås Disc Golf
Three five star reviews of Øverås from disc golfers on UDisc:
Magical surroundings, the course has soul, beautiful details everywhere. An incredible number of hours of work have been put in here. Very fun to play. Clear 5/5*
hallvard

*translated into English

The coolest course I've played! Really well kept, great scenery and nice people running the place.
Very nice course, one of Norway's finest!*
ellingaarseth

*translated into English