Each weekday from January 30 to February 10, 2023, we will be counting down the new year's top 10 disc golf courses. The new top 100 will be revealed on Monday, February 13, 2023. One of 2022's top 10, Eagles Crossing may or may not be there again. Check the master post for all things World's Best Disc Golf Courses 2023 each day of the countdown to find out.

The rest of this post has not been updated since the publication date.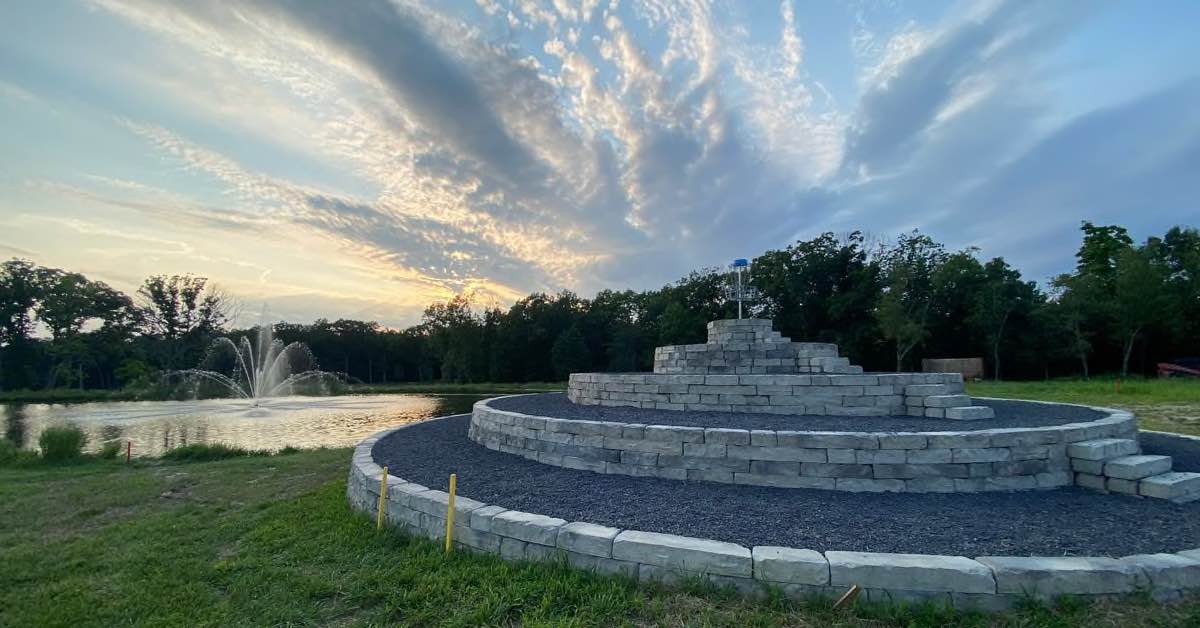 Eagles Crossing Disc Golf Course Basics
Name:
Eagles Crossing


Location:
Hawk Point, Missouri
Number of Holes:
18
Rank in World's Best Disc Golf Courses 2022:
7


Rank in World's Best Disc Golf Courses 2021:
 New to top 100!
Year Opened:
Technically the course will officially open in 2022. The owner described 2021 as a test year.
Designer:
David McCormack

Cost:
$27 per round on weekdays. $35 weekend mornings and $30 on weekends after noon (both prices per round).
Availability:
Opening day in 2022 is April 2. Tee time reservation required. There is no firm end of the 2022 season at this time.
Course Conditions, Photos, More
:
Eagles Crossing Disc Golf Course on UDisc Courses
All of the World's Best Disc Golf Courses
Find the top 100 disc golf courses in the world as well as information on how the rankings worked in "World's Best Disc Golf Courses 2022: #1-#100."
History of Eagles Crossing Disc Golf Course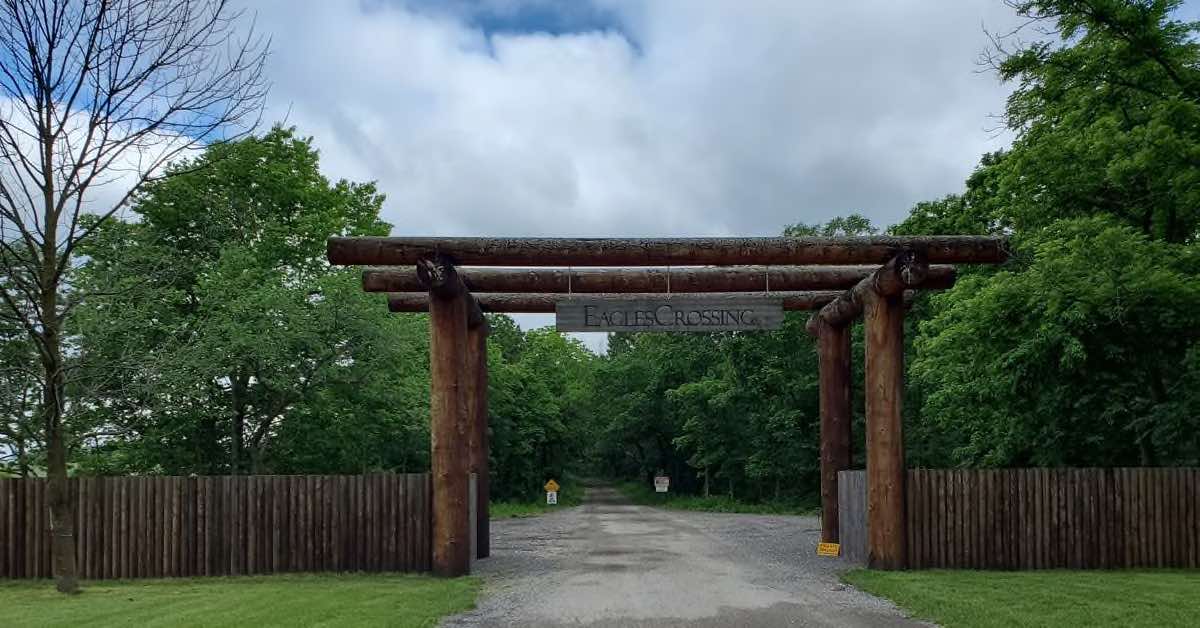 Some elements of Eagles Crossing's history are familiar ones: Someone stumbles across disc golf on YouTube during the pandemic and gets deeply interested in the sport. It's a series of events most disc golfers have heard a few times by now.
Other aspects of the course's background are unlike anything else in disc golf history: A course building project with no realistic restrictions on space or what can be done to mold the land into the perfect disc golf course. A financial backer giving his course designer no boundaries and even pushing the designer to think in grander terms – to create the world's best disc golf course no matter the cost. That same financial backer never having played a single round of disc golf but loving the sport all the same.

Those more surprising parts of the narrative all have to do with who the "someone" in Eagles Crossing's story is.

Philip Samuels is the wealthy president of Missouri textile company Universal Sewing Supply and owner of Eagles Crossing. Among his interests are fine art and collecting. To get an idea of both his means and eye for value, look no further than how he bought a pair of the original ruby slippers made for the 1939 Wizard of Oz movie for $165,000 in 1988 and resold them for over $2 million in 2011. He has also made quite a bit of money collecting and selling Pokémon cards though he doesn't play the game.
Samuels said that when he discovered disc golf coverage in the spring of 2020, it spoke to him.

"I had no idea disc golf even existed," Samuels said. "During COVID, it popped up on the screen on YouTube one day, and I started watching it. I got hooked and fell in love with the sport. Of anything that was happening in the world during COVID, disc golf seemed like the most rational thing to me."
He eventually wanted to buy a few discs and searched around online for a nearby retailer. When he decided to head over to disc manufacturer Gateway Discs in St. Louis, he didn't realize he wasn't going to a typical disc golf store. There Samuels met Gateway owner and founder David McCormack, and the two struck up a conversation.

When Samuels learned that McCormack was also an experienced course designer, Samuels mentioned that he had a property not far away that seemed as suited to disc golf as anything he'd seen on video. He'd bought the land intending for it to be a survival retreat location but hadn't been able to obtain the right licensing. At that point, the area was a recreational facility, but he was intrigued by the idea of turning it into a disc golf destination.

In short order, the two went to take a look at the over 400-acre/162-hectare plot with ponds, hills, fields, and woods in Hawk Point, Missouri, about an hour outside St. Louis.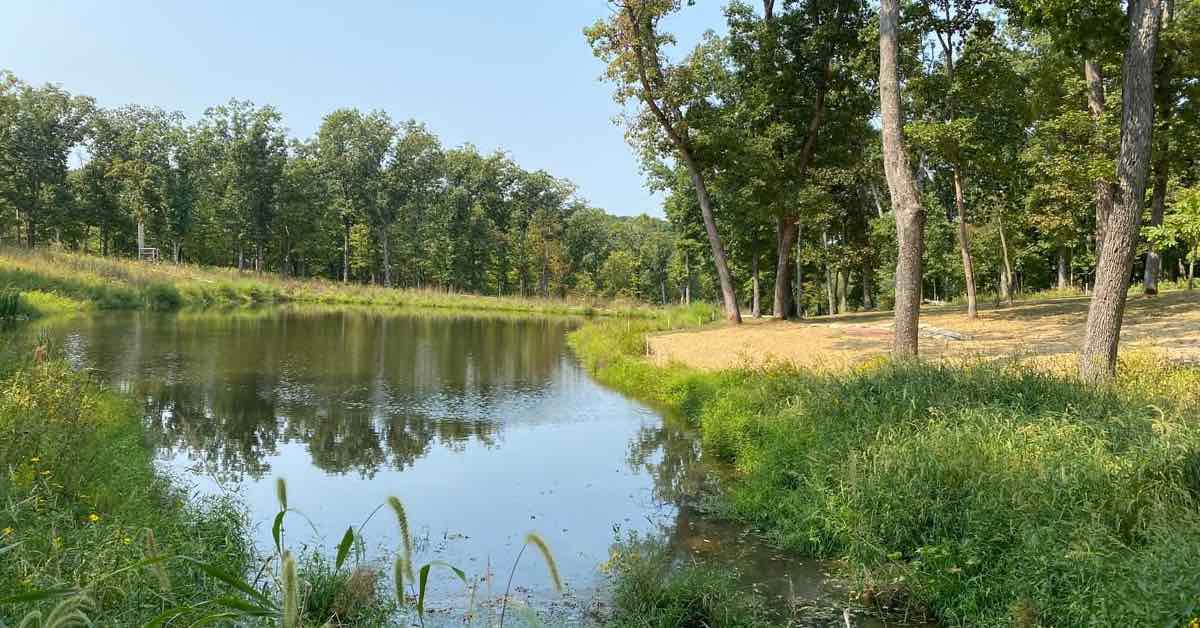 After checking out Samuels' land, the pair headed to Harmony Bends in Columbia, Missouri, so that Samuels could see a disc golf course in real life for the first time. And what did Samuels think upon seeing one of the world's best courses – top 20 in 2020 and 2021 – created by legendary designer John Houck?
"I thought it was very nice but that we could do much better," Samuels said.

By the time the trip was over, the two had agreed to build a course on Samuels' property, and the company president and fine art dealer gave McCormack a clear mandate.
"When we talked about the course originally," Samuels recalled, "I said, 'David, I'm an older guy. I don't need to do anything else. I'm very happy; I've had a very good life. But I'm used to doing things in a proper way. If we're not going to build the best course in the world, I don't want to get started. I'm not even interested.'"
And Samuels wasn't asking his designer to work miracles on a tight budget. In fact, in his words, "there was no budget" – meaning he put no monetary restraints on the project. He wanted the best, and he was willing to pay whatever it cost to get it.
McCormack spent 42 of the next 45 days on the property coming up with a design. Upon seeing the initial plans, Samuels' biggest critique was that some holes weren't extraordinary enough. For example, when McCormack suggested one pin placement could have a six-foot/1.8-meter wall filled with earth to elevate the basket, Samuels insisted it should be 40 feet/12.1 meters.

"He said, 'You're just wasting money,'" Samuels recounted. "I said, 'That's your way of thinking, not my way of thinking. If we do it the way you want to do, we'll have a course just like everybody else, and I'm not building a course like anybody else. So we're not going to do it your way. We're going to do it my way.'"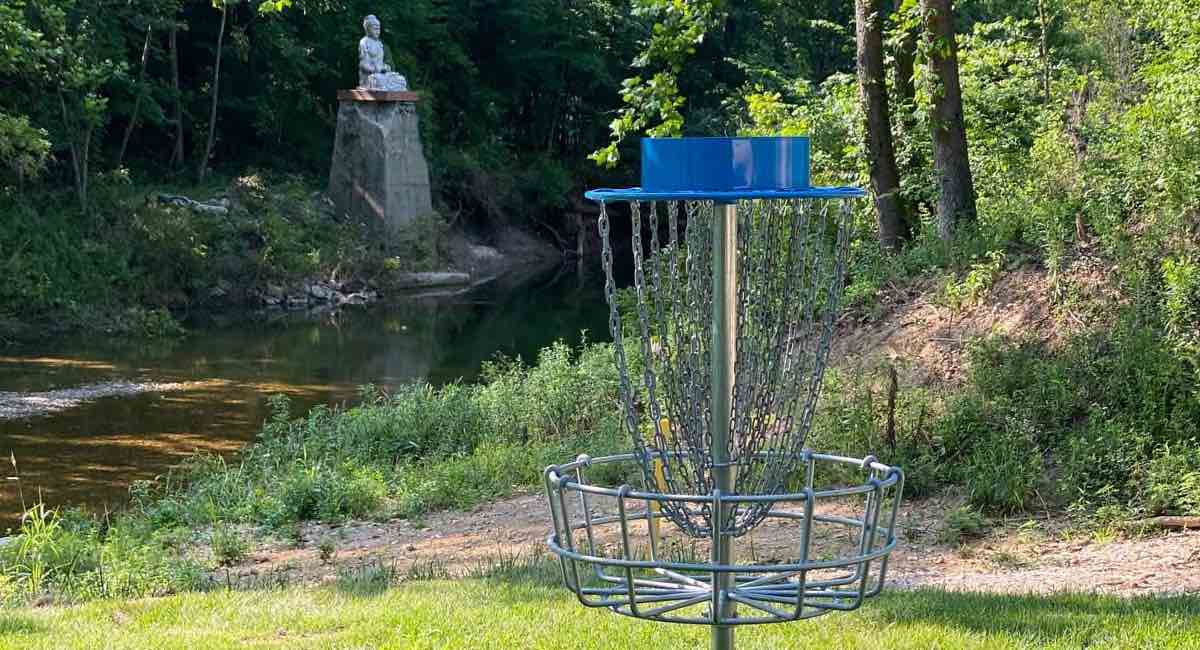 Keep in mind that Samuels has never played a round of disc golf and has seen only a few courses in person. Still, he was confident while planning and building Eagles Crossing that his experience with close observation from collecting and fine art had made him able to assess courses from afar via video and understand what needed to happen for Eagles Crossing to outdo them.

"I see everything, every little detail," Samuels said. "That's what I was trained for. My eye is just trained that way."
And if there was one thing his eye was sick of seeing in disc golf coverage, it was courses where a lot of holes looked the same – which, to him, was every course to some degree. So, along with altering McCormack's original designs to be bolder aesthetically, he also changed things around to assure each hole was more distinct in terms of landscape and visual experience.

"The thing I was looking for was to try to build something very eclectic that had lots of different types of holes and different terrains and different elevation changes and all kinds of things going on so that when you went around the corner you wouldn't know what you were gonna see next," Samuels explained.
Course construction got underway in August 2020, and by the spring of 2021, Eagles Crossing was playable (though not finished). Along with using powerful and expensive machinery rarely available to most disc golf course builders, the construction was extraordinary in other ways. It included literal tons of stonework as well as churning up soil on wooded fairways and laying sod to create the much-loved aesthetic of lush green grass growing under canopies of trees. The course's three sets of tee pads are also jumbo sized so players have a consistent surface for run-ups.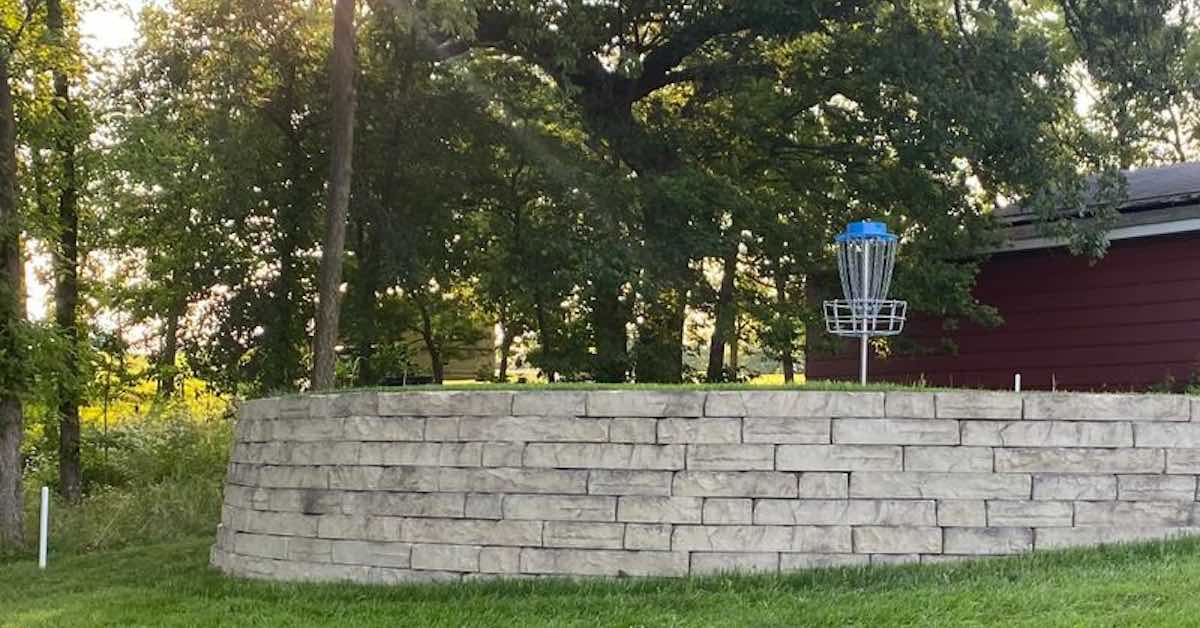 Samuels said nonchalantly that the price tag on the course so far is "over seven figures."
Despite the enormous amount of funding by disc golf course standards, Eagles Crossing could certainly have been a fiasco. There's no way around it: Having a wealthy backer who knows disc golf almost exclusively through videos liberally changing the designs of someone deeply involved in the sport for decades doesn't sound like a recipe for success.

But, almost amazingly, McCormack and Samuels' joint efforts cooked up something fantastic.
The first time Eagles Crossing caught the attention of a large number of disc golfers was when it hosted an OTB Skins Match in August 2021 that featured elite and popular pros Simon Lizotte, Eagle McMahon, James Conrad, and Nate Sexton. When Lizotte talked about the course in a vlog the day before the Skins Match, he called it "the best course I've ever played" and "the full disc golf experience." After the skins match, McMahon named the course his favorite in the world.
Eagles Crossing's presence in the top 10 of the World's Best Disc Golf Courses is another big testament to its quality. Courses earn their place in the top 10 based on ratings of disc golfers with UDisc and not the opinions of UDisc's staff, and this course got here after being open for just one season when it was unfinished and in what its owner called a "test flight" year.

Samuels said the course will only continue to improve, and multiple staff members will have the sole job of keeping everything in pristine condition. If everything goes to plan, he believes there's no disc golf in the world that will truly compare to Eagles Crossing.

"We intend for this course to be maintained at the highest level," Samuels said. "We're not there yet, and it'll take some time. But this is the premier course as far I'm concerned, and I don't expect anybody to catch us."
What's It Like to Play Disc Golf at Eagles Crossing?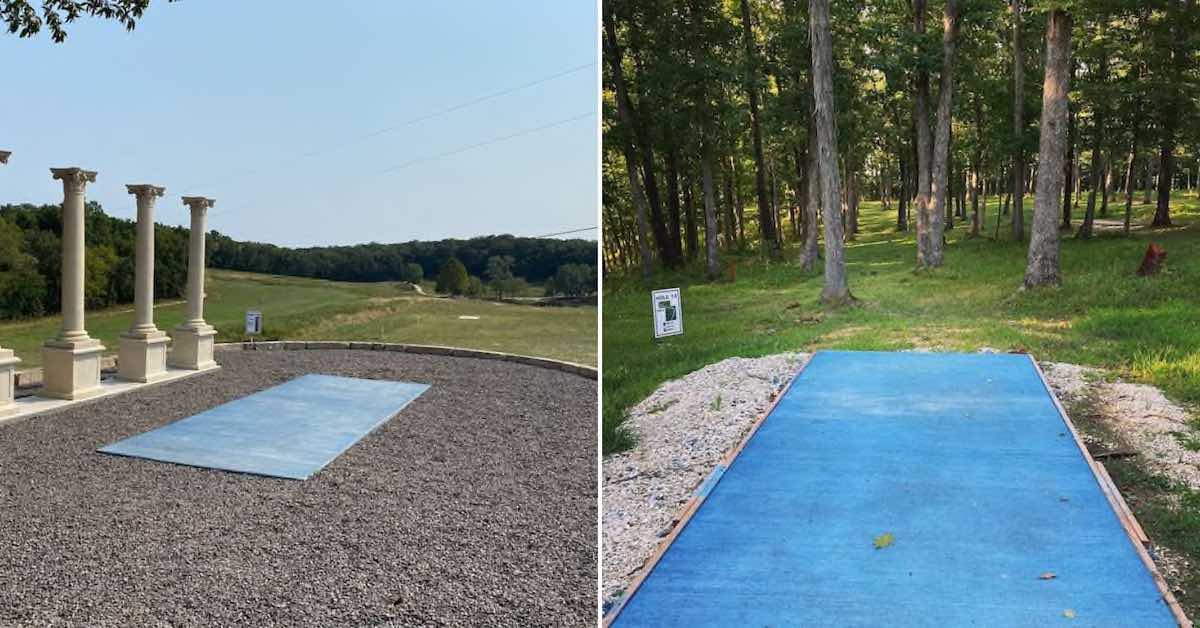 The person Samuels hired to manage Eagles Crossing is Anthony Angel. He was a regional touring pro disc golfer before an injury sidelined him. We talked to him to learn more about what the course was like from the standpoint of a serious disc golf player.

His summary of what disc golfers who make the trek to Hawk Point can expect was simple and bold.

"Take the best holes from every course in the United States, and that's Eagles Crossing," Angel said.

Whether or not every one of the course's holes bests your current personal favorites, Angel's statement underlines two things this Missouri marvel has in spades: variety and excellence. You'll find most every sort of challenge imaginable to disc golfers at Eagle's Crossing. There are uphill and downhill shots, open and wooded fairways, multiple water hazards, and a number of baskets in positions that can make putting nerve-wracking. Additionally, many fairways feature plenty of out-of-bounds (all clearly marked, of course) to make sure imprecision is duly punished.
There are also multiple sets of tee pads, one suitable for newer players, another for more experienced players, and a third designed to test the sport's best.

And all of that is on land designed and reserved for no other purpose than disc golf, maintained with the goal to become an "Augusta for the disc golf world," according to Angel. Additionally, tee time reservations are mandatory, so you're unlikely to be rushed by groups behind or slowed down by groups ahead.
Of course, almost nothing great comes for free. Eagle's Crossing is one of the most expensive courses to play in the world. A single round can cost between $27 and $35 depending on the time and day of the week. It'll be up to you to decide whether the experience seems worth the price, but it may help you make up your mind to know that Samuels doesn't plan for the course to turn him a profit.

"I don't put any money in my pocket," Samuels said. "It all goes back to the course. It's just a matter of if you want to play a really nice course with people that really want to maintain something fantastic for you to play on...[but] if you want it, you gotta pay for it."
Eagles Crossing Disc Golf Course's Signature Hole
Eagles Crossing is full of holes that would be signatures when placed on most other disc golf courses. There's the giant "cake" stone construction that elevates hole 4's basket, the big drop from the tee to an epic tunnel on hole 5, and the picturesque grassy fairways through the woods on some of its par 4s and 5s.

But when we asked Angel to make a call on the signature, he went with hole 16.

From the Championship tee (the longest), players are looking at a nearly 400-foot/122 meter shot to the pin with a formidable water carry. One of the course's signature stone walls surrounds the green, allowing it to be even so that good shots won't hit a slope and unluckily roll into the water. Along with the challenge, Angel really loves the view from the tee at sunset. In summer, the sun comes down in perfect alignment, and its rays reflecting in the water will make most any disc golfer reflect on how lucky they are to be doing what they're doing at that moment.

You can take a look at the hole as it looked in August 2021 in this flyover from GK Pro:


Planned Developments at Eagles Crossing Disc Golf Course
Though there was a small pro shop open at the course in 2021, a newer, larger one is in the works. Samuels told us it will have pinball machines and include a disc museum with a special exhibit dedicated to Sexton Firebirds, which he said he has become the top collector of in the world. If you've never heard of Sexton Firebirds, know that they're a much-coveted, special edition of Innova's Firebird disc released yearly in limited amounts with stamps featuring pro player Nate Sexton. Discs from some years with rare stamps can go for five figures on the collector's market, according to Samuels.
Additionally, a second course is underway on the property. Samuels said it will be rougher and more wooded than Eagles Crossing, providing an interesting contrast to the varied, pristine fairways of the first course on the site.
Events & Leagues at Eagles Crossing Disc Golf Course

Events: There is only one publicly announced event at Eagles Crossing so far for 2022: a Skins Match featuring pro disc golfers. Samuels said that Eagle McMahon, Calvin Heimburg, Scott Stokely, and Brodie Smith have agreed to participate. Those hoping to spectate will have to purchase one of a limited number of tickets.
Leagues: There are no firm plans for a league at Eagles Crossing in 2022.
Amenities at Eagles Crossing Disc Golf Course

Driving range with six full-sized tee pads and baskets at regular, marked distance intervals
A putt and approach warm-up area with five baskets
Restrooms available at the pro shop and portable toilets at intervals throughout the course
A pro shop selling equipment and refreshments
Cabins for overnight rental with full kitchens
Three Real Five Star Reviews of Eagles Crossing Disc Golf Course

Three five star reviews of Eagles Crossing from disc golfers on UDisc:
This course kinda ruined all other courses for me. I can't stop dreaming about it. My buddies and I flew out to play it. 1200 courses played combined, and each of us agreed that this is the best course in the U.S. 
bahnfire18

By far the best course I have played. 9/18 holes are screensaver worthy. The staff are extremely friendly. Overall this is a top tier course and is well worth $25 to play. To anyone hating on the course secondary to pay to play price obviously hasn't played this beautiful course. 
Wow, this course exceeded expectations! The YouTube videos do not do it proper justice. This course combines all the elements of the other worlds best courses into one course. If Maple Hill in MA, Fox Run in Vermont, and Harmony Bends in Columbia had a baby it would be eagles crossing. This will undoubtedly rise to the top of the worlds best courses. Can't wait to see a pro tour event or major here one day!