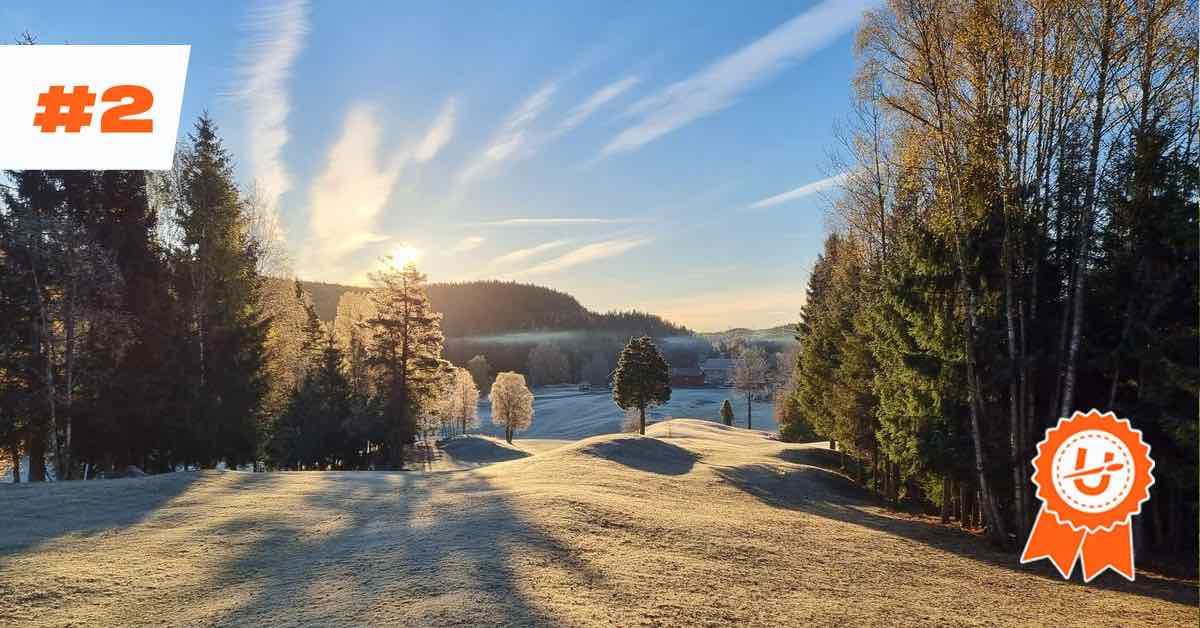 Here you can learn all about one of the world's best disc golf courses: Krokhol Disc Golf Course in Siggerud, Norway, near Oslo.
In 2023 Krokhol will host the Professional Disc Golf Association Euro Tour's Krokhol Open from June 23-25.
Click or tap below to learn about Krokhol's past, present, or future:
All of the World's Best Disc Golf Courses 2023
To see the rest of the world's top disc golf courses for this year, check out World's Best Disc Golf Courses 2023: #1-#100.
Krokhol Disc Golf Course: 2023 Stats & Basic Info
Score: 
95.94
Number of Holes:
18
Rank in World's Best Disc Golf Courses 2023:
#2


Rank in World's Best Disc Golf Courses 2022:
#2
Year Opened:
2018
Designers:
Lars Somby
, Ola Kolle

Availability: As of 2023, only in warmer months. Tee times required on weekends.

Cost:
Free but with donation encouraged to help with course maintenance and improvement. Suggested minimum donation of 30 Norwegian Krone ($3.50 USD/€3).
History of Krokhol Disc Golf Course
In Oslo, there are various disc golf clubs all based around particular courses. Muselunden DiscGolfPark has, naturally, Muselunden Frisbeeklubb. Krokhol owes its existence to a problem that club faced in the late 2010s when its 18-hole course was forced to drop six holes.
The reduction occurred because the Muselunden course is in a busy park, and the 18-hole layout often called for throws over or near paved paths used by a steady stream of bicyclists, pedestrians, and people on roller blade-like contraptions that mimic cross-country skis (it is Norway, after all). Additionally, more and more people were using the open areas that made up the course's fairways for sports like soccer.

When it lost the holes, the club began talking with the city about where it could build a new 18-hole course.

"We looked at a couple of places, but none of them were good or we couldn't get permission to use them," said Lars Somby, Muselunden Frisbeeklubb member and Krokhol's eventual head designer. "Finally, the city told us they had a place we could use in one of the city's forests, and for almost a year we tried to figure out how to build 18 quality holes there before we realized it was impossible. We were really bummed out."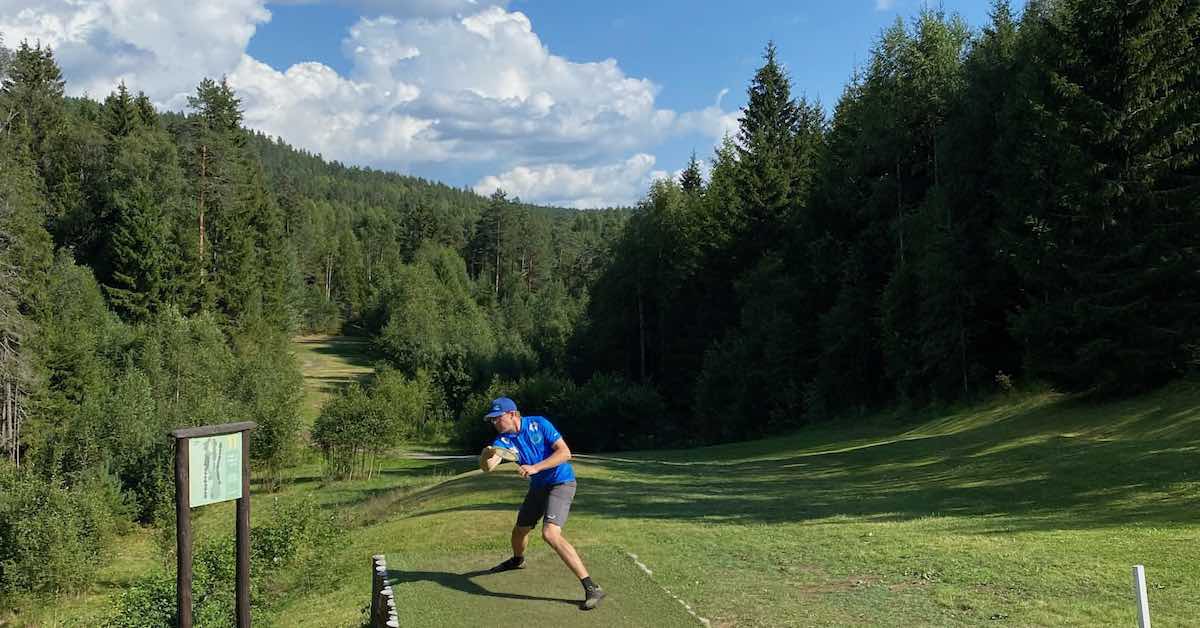 But new hope arose fairly quickly. 

One day, a club member was scanning Google Maps near the area the club had given up on for another possible location. He got curious when he scrolled across land that looked like it might be an abandoned ball golf course and told the club about it. Shortly thereafter, Somby and another Muselundener, Morten Falk, drove to the spot to scope it out.
"When we got to it, we were blown away; it was amazing," Somby recalled. "A couple of days later we took some more people up there, and they were blown away too."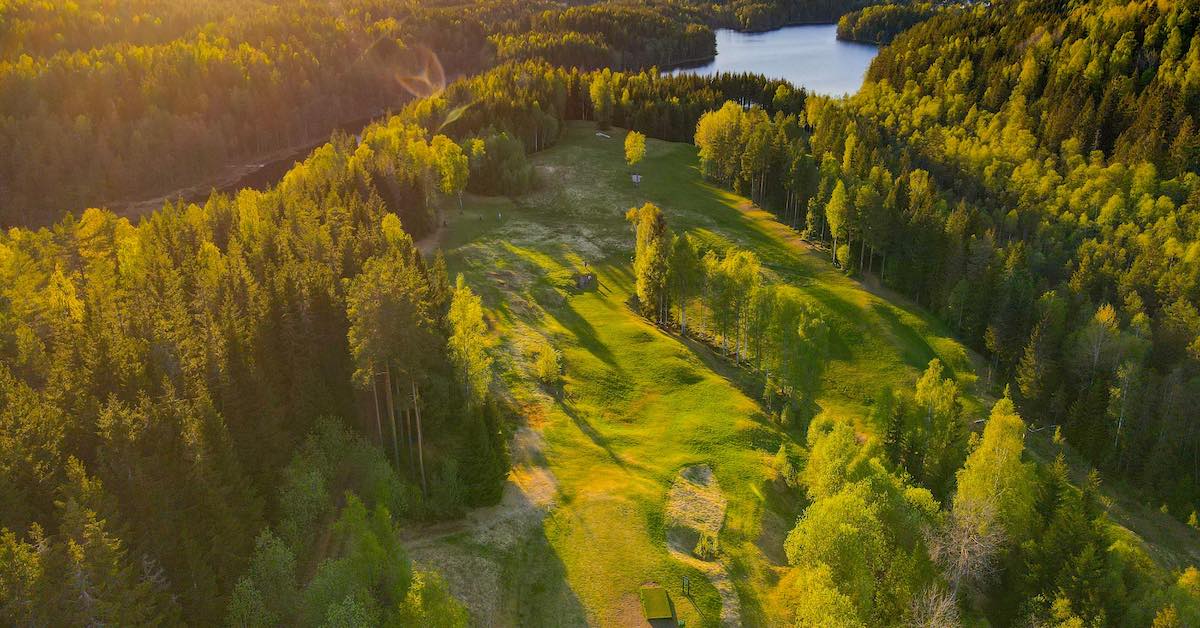 The land the club had discovered was, indeed, the former back nine of a ball golf course that the owner had removed to reduce maintenance costs as ball golf's popularity continued to slip. Along with the benefit of having many potential fairways already cleared, the area offered up thickly forested areas, drastic elevation changes, bodies of water, and protruding rock walls that created both extraordinarily picturesque scenery and all the elements needed for world class disc golf.
To the Frisbeeklubb's delight, neither the course owner nor the local municipality that owned part of the land the group wanted to use had a problem with them molding the area into a disc golf course. In fact, the course owner saw plenty of benefits to it: the land would continue to be maintained, get used, and the course's cafe would have more potential traffic. He even gave the group permission to use some of his equipment for building and maintaining the course.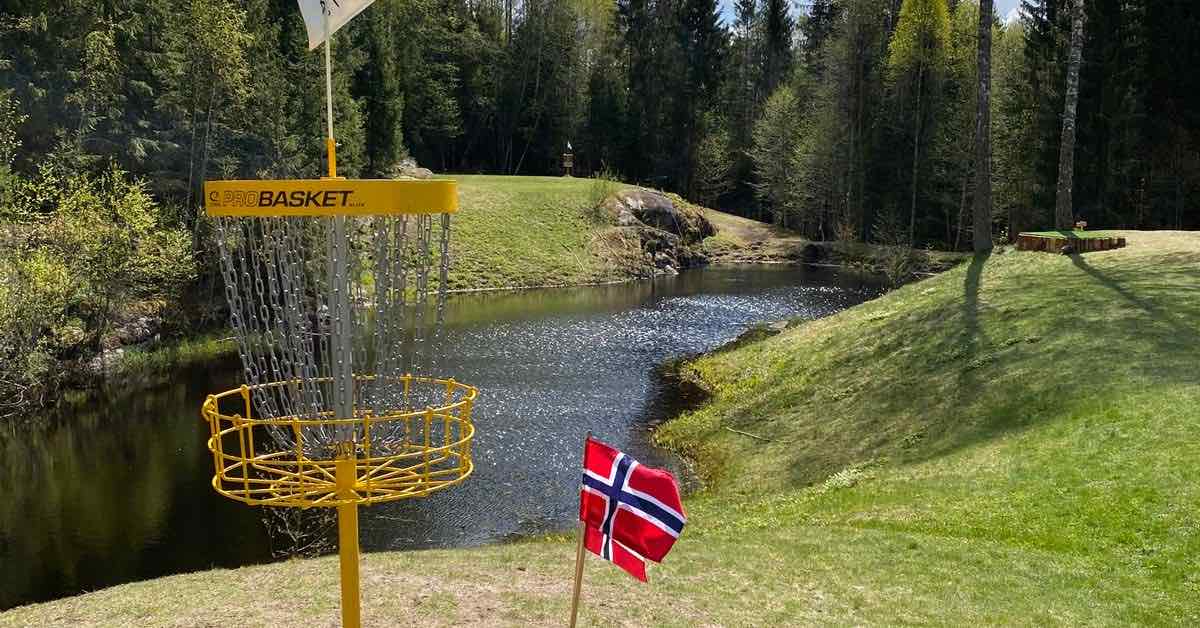 Given the quality of the property, the Muselunden club knew they had no choice but to create something magnificent. To make sure they had the manpower to do it right, they teamed up with another Oslo club, Ekeberg, to create Krokhol. Beyond that, the story of Krokhol is a simple one: a disc golf community putting in long hours to design and build a course with some help from a successful campaign to crowdfund the cost of baskets. The thing that makes the story truly special is that the product of their labors happens to be one of the best disc golf courses in the world, with no bicyclists or soccer players in sight.
What's It Like to Play at Krokhol Disc Golf Course?
Somby said that he and the others who helped build and design the course had one very clear goal for their efforts.

"We want to build up the area's players to be able to compete on a higher level," he said.

And, really, though players need thousands of hours of practice to master them, the skills needed most for high-level play are easy to pinpoint: distance and accuracy. Thus, scoring well at Krokhol requires both power and control. For example, take a look at hole 2 as seen in a flyover from SM Disc Golf Productions' coverage of the 2019 Norwegian Championship (and, yes pro disc golf fans, that's Nate Sexton you hear in the commentary):



The hole is a true par 4, taking two excellent shots to set up even a chance at birdie. You're first asked for a strong, uphill, right-turning shot that most right-handed players would attack with an anhyzer. But with out-of-bounds (OB) all along the right side and forest all along the left, getting enough power while also landing in the fairway will be a huge challenge for most players. And even if you accomplish that, your second shot has to land safely on a dangerously sloped green with tight OB lines. Even one of the best players in the world, Eagle McMahon, didn't manage a birdie after a great first drive.

Holes like hole 2 are what to expect when you play Krokhol. Elevation changes, both downhill and uphill, are constants and occasionally drastic. Though there are some shorter holes featuring tight woods, distance is a must in most places. But distance without accuracy will rack up strokes via OB penalties or fighting through thick rough. 

No matter how hard the course is, though, its beauty is always there to give your spirits a boost. When we featured Krokhol in our post naming Oslo the #2 international city for disc golf in the world, one of our local sources emphasized that aspect of the course, saying, "I'd say that 18 holes at Krokhol feels like an adventure where you explore and unlock more and more of the forest as you go, and you keep feeling amazed."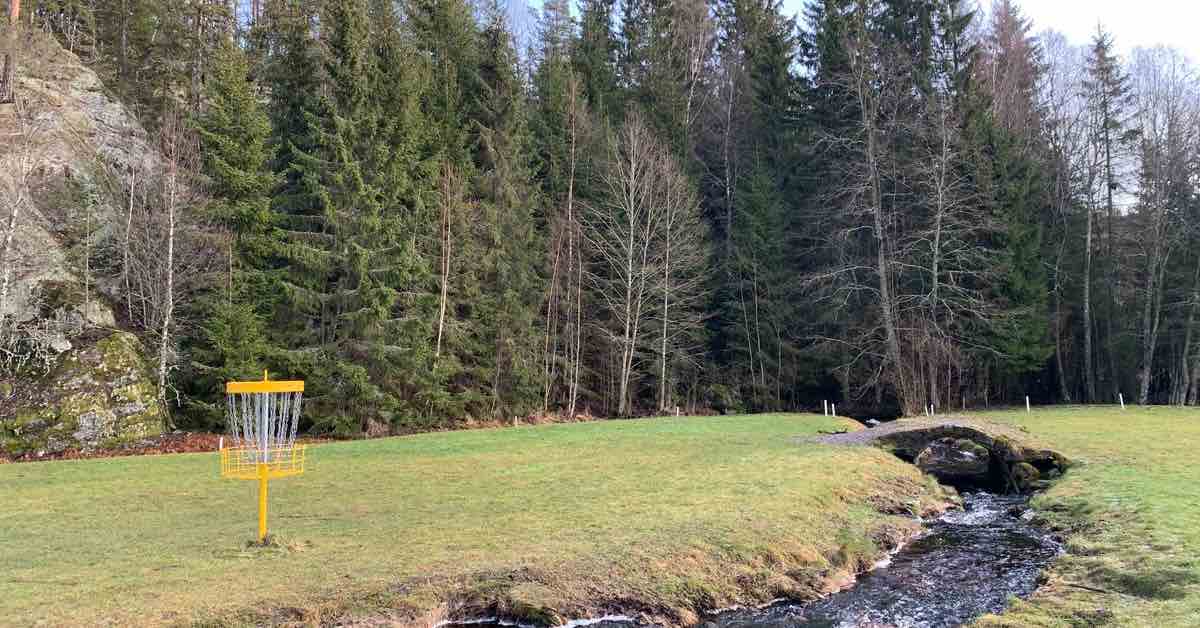 Essentially, when you go to Krokhol, expect every part of your game to be challenged, and if you start feeling overwhelmed by the numbers on your scorecard, take a minute to admire the scenery.

It's also important to note that Krokhol offers two very different layouts: gold and blue. The gold tees are meant to be a challenge for the world's best disc golfers, and if you're not among that group (or not having one of the best rounds of your life), par can be a big ask on many holes. The blue layout is still challenging, but it will feel more approachable – and likely be more fun – for the vast majority of players. If you have the time, our suggestion is give yourself the chance to play both layouts – gold for the experience and blue to remember that birdies do exist.
Krokhol Disc Golf Course's Signature Hole
There was no hesitation from Somby when asked what Krokhol's signature hole is. To him, it's unquestionably the par 4 hole 12 – all 267 meters/876 feet of it. From the tee, the fairway is straight ahead, leading up to a basket in the shadows of the forest tightly surrounding it. There is also OB that comes in on the right side, forcing shots over a pond that is a little over halfway down the fairway. At any point, it looks like a badly-thrown shot could send your disc into endless wilderness.

But why talk about it when you can see it for yourself? Again, here's footage from SM Disc Golf Productions:
Recent & Planned Developments at Krokhol Disc Golf Course
"Krokhol is a dynamic project and we never rest on any laurels," said Krokhol co-designer Ola Kolle. "We have many plans and changes in mind and we will continue making them happen together with our great course crew and generous sponsors."

In 2022, that crew's main focus was using stats to inform alterations to the gold layout.

"We have made changes on some of the easier holes and on holes where we saw that score separation wasn't ideal," said Kolle. "The analysis tools in UDisc were a great way to get info like this. Last winter in early 2022, we made significant changes to holes 4 and 7, and this offseason we have made changes to 3, 6, 13 and 18. All of these improvements have been done to challenge the best players in the world in the fairest way possible."

Along with the work done on those holes, a sponsor helped Krokhol Disc Golf afford a very special addition to hole 1's tee: a metal roof with the Krokhol logo sheltering a rustic wooden teeing area.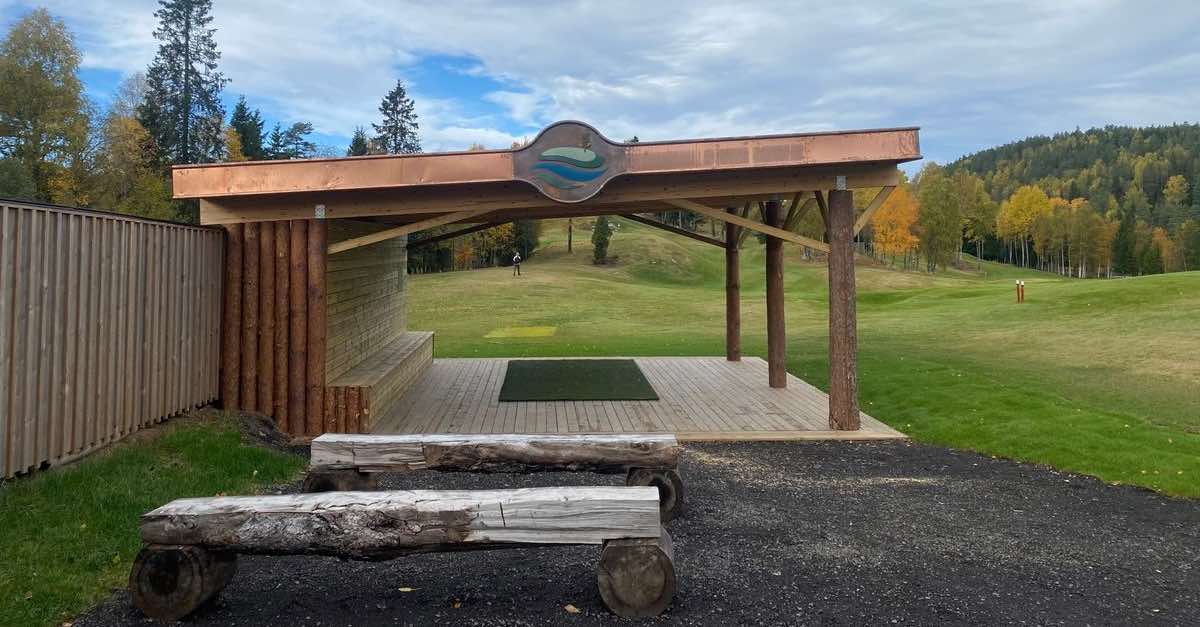 Lastly, the course's fairways have started to show small signs of Krokhol's ever-increasing popularity. To help control this problem, the Krokhol team decided to pull the baskets and close the course over the winter months in 2022-2023 so the grass would have time to heal under the typically thick layer of snow.
Amenities at Krokhol Disc Golf Course
Krokhol Disc Golf Course is partly on the property of Krokhol Golf Course, and here are some of the amenities players can enjoy:
A fully-stocked disc golf shop on site with a wide variety of discs, places to relax, and disc golf coverage on television
A cafe selling food and drinks to all guests that also has restrooms
Opportunity to play rounds of ball golf or footgolf (golf with a soccer ball), both for additional fees
Three Real Five-Star Reviews of Krokhol Disc Golf Course
Three real five star reviews of Krokhol from disc golfers on UDisc:
This is not just a great disc golf course, it's an epic experience. Could be even fun for people to just take a small hike because it's so beautiful, but every hole is part of shaping apparently one of the best courses in the world. Be prepared to see your game challenged throughout every shot on the gold layout - and feel like a king when you execute some shots well -, but even the blue layout itself will most likely be one of the best courses you know. Enjoy it and buy lost discs in the shop.
To fairly rate Krokhol (compared to other courses) you will need 6 stars. An absolute gem!!! ❤️🥏
This course is what disc dreams are made of! Came from the UK to play and delivered on every level of my expectation, unlike my score! The gold tees are very challenging but fun to test yourself against the best. The blue tees are less scary and more managable for your avarage player. Has a well stocked shop, nice cafe, friendly staff and beautiful scenery. A must if your in Norway. 10/10 would Krokhol again👍
boyblue88