The new list is here! Check out the World's Best Disc Golf Courses 2023: #1-#100.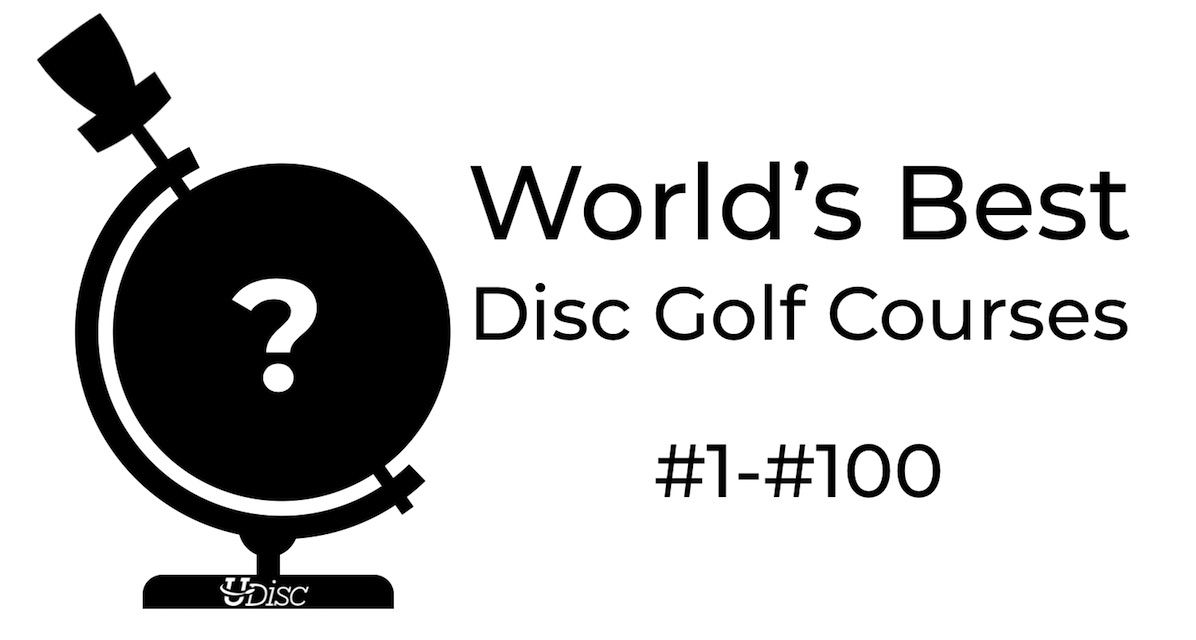 The World's Best Disc Golf Courses is far more than just the list you'll find below. We spoke with people intimately involved with the creation of each course in the top 10 to create individual articles that include fascinating and in-depth course histories, overviews of how each course plays, signature holes, and more.

To find all of those articles, click here. You can also just click on the name of any course in the top 10 below to read its accompanying article.

The rankings in the list are based on the over 1 million ratings of courses all over the planet by disc golfers using UDisc. However, we did some work to account for how regions and cultures tend to rate courses differently, helping to assure the courses that made and missed this list did not do so as a result of regional hype or hypercriticism. That said, the courses on this list earned their spots purely from their stats and not due to the opinions of UDisc's staff. The course grades are relative to how close each course was to a perfect five-star rating.

Read reviews, see course photos, and find lots of other information about any course on this list at UDisc's Courses website or in the UDisc app's course directory.
| | | | | | |
| --- | --- | --- | --- | --- | --- |
| Rank | Name | City | State/Province | Country | Grade |
| 1 | Järva Discgolf Park | Stockholm | N/A | Sweden | 97.38 |
| 2 | Maple Hill | Leicester | Massachusetts | USA | 96.79 |
| 3 | Hillcrest Farm Disc Golf | Bonshaw | Prince Edward Island | Canada | 96.02 |
| 4 | Milo McIver | Estacada | Oregon | USA | 95.91 |
| 5 | The Canyons @ Dellwood Park | Lockport | Illinois | USA | 95.61 |
| 6 | Blue Ribbon Pines | East Bethel | Minnesota | USA | 95.57 |
| 7 | Ale Discgolfcenter | Nol | N/A | Sweden | 95.40 |
| 8 | Brewster Ridge Disc Golf Course | Cambridge | Vermont | USA | 95.13 |
| 9 | Krokhol Disc Golf Course | Siggerud | N/A | Norway | 95.09 |
| 10 | DeLaveaga Park | Santa Cruz | California | USA | 94.99 |
| 11 | IDGC - WR Jackson Memorial | Appling | Georgia | USA | 94.98 |
| 12 | Idlewild | Burlington | Kentucky | USA | 94.92 |
| 13 | Beaver Ranch Disc Golf Course | Conifer | Colorado | USA | 94.68 |
| 14 | Selah Ranch Lakeside | Talco | Texas | USA | 94.67 |
| 15 | Moraine State Park | Portersville | Pennsylvania | USA | 94.47 |
| 16 | Harmony Bends | Columbia | Missouri | USA | 94.23 |
| 17 | Discgolf terminalen Skellefteå | Skellefteå | N/A | Sweden | 94.21 |
| 18 | Selah Ranch Creekside | Talco | Texas | USA | 94.12 |
| 19 | Flip City Disc Golf Park | Shelby | Michigan | USA | 94.06 |
| 20 | Fox Run Meadows | Cambridge | Vermont | USA | 93.82 |
| 21 | Sky High at Mtn. High North | Llano | California | USA | 93.79 |
| 22 | Hobbs Farm Disc Golf | Carrollton | Georgia | USA | 93.76 |
| 23 | Sabattus Disc Golf - Hawk | Sabattus | Maine | USA | 93.73 |
| 24 | Rolling Pines | Wilkesboro | North Carolina | USA | 93.60 |
| 25 | Sandy Point Resort Disc Golf Ranch | Lac du Flambeau | Wisconsin | USA | 93.48 |
| 26 | Rollin Ridge | Reedsville | Wisconsin | USA | 93.37 |
| 27 | Raptors Knoll Disc Golf Park | Langley Township | British Columbia | Canada | 93.27 |
| 28 | Bud Hill | Memphis | Tennessee | USA | 93.25 |
| 29 | Puijo DGP | Kuopio | N/A | Finland | 93.21 |
| 30 | Bryant Lake Park | Eden Prairie | Minnesota | USA | 92.95 |
| 31 | Wilderness | Montello | Wisconsin | USA | 92.95 |
| 32 | Bailey | Bailey | Colorado | USA | 92.93 |
| 33 | Wildcat Bluff | Vinton | Iowa | USA | 92.92 |
| 34 | Flying Armadillo DGC - Gold Mini | San Marcos | Texas | USA | 92.88 |
| 35 | Sabattus Disc Golf - Falcon | Sabattus | Maine | USA | 92.53 |
| 36 | Kaatis | Vihti | N/A | Finland | 92.53 |
| 37 | Kensington Toboggan | Milford Charter Township | Michigan | USA | 92.52 |
| 38 | Solitude Mountain Resort | Brighton | Utah | USA | 92.51 |
| 39 | Stafford Woods | Voorhees Township | New Jersey | USA | 92.39 |
| 40 | Muddy Run | Holtwood | Pennsylvania | USA | 92.36 |
| 41 | Pikkarala Frisbeegolf | Oulu | N/A | Finland | 92.33 |
| 42 | Renegade's Trail (formerly Devil's Den) | Delhi charter Township | Michigan | USA | 92.28 |
| 43 | Blue Gill | Wayland | Michigan | USA | 92.18 |
| 44 | Lausteen Frisbeegolfpuisto | Turku | N/A | Finland | 92.18 |
| 45 | Mayflower Hills | Roanoke | Virginia | USA | 92.13 |
| 46 | Little Mulberry Park | Dacula | Georgia | USA | 92.01 |
| 47 | Tampereen Frisbeegolfkeskus | Tampere | N/A | Finland | 91.98 |
| 48 | IDGC - Steady Ed Headrick Memorial | Appling | Georgia | USA | 91.97 |
| 49 | Shelton Springs | Shelton | Washington | USA | 91.94 |
| 50 | Whistler's Bend | Roseburg | Oregon | USA | 91.93 |
| 51 | Woodland Valley - Black Bear | Limerick | Maine | USA | 91.79 |
| 52 | Turkey Hill Disc Golf Course | La Plata | Maryland | USA | 91.57 |
| 53 | Golf Island Disc Park | Pender Island | British Columbia | Canada | 91.52 |
| 54 | Deer Lakes Park | Tarentum | Pennsylvania | USA | 91.51 |
| 55 | North Georgia Canopy Tours | Lula | Georgia | USA | 91.39 |
| 56 | Westside Disc Golf Course | Rocky Face | Georgia | USA | 91.35 |
| 57 | Bijou Community Park | South Lake Tahoe | California | USA | 91.23 |
| 58 | Ashe County Park | Jefferson | North Carolina | USA | 91.15 |
| 59 | Grand Central Station DGC | Central | South Carolina | USA | 91.14 |
| 60 | Golden Gate Park | San Francisco | California | USA | 91.00 |
| 61 | Moccasin Creek at The Lodge | Pawhuska | Oklahoma | USA | 90.97 |
| 62 | Sabattus Disc Golf - Eagle | Sabattus | Maine | USA | 90.96 |
| 63 | Fort Gordon | Augusta | Georgia | USA | 90.83 |
| 64 | Oggwood | Cedar Hill | Tennessee | USA | 90.77 |
| 65 | Ymergårdens Discgolfcenter | Brämhult | N/A | Sweden | 90.73 |
| 66 | Top O' The Hill | Canterbury | New Hampshire | USA | 90.70 |
| 67 | Milo McIver (west) | Estacada | Oregon | USA | 90.70 |
| 68 | Augusta Disc Golf | Augusta | Maine | USA | 90.68 |
| 69 | Harmon Hills | Limestone | Tennessee | USA | 90.61 |
| 70 | Hornings Hideout - Canyon Course | North Plains | Oregon | USA | 90.58 |
| 71 | Kumm Discgolf | Ober Sankt Thomas | N/A | Austria | 90.39 |
| 72 | Brooktrails | Willits | California | USA | 90.37 |
| 73 | Horseshoe Lake Golf Course | Port Orchard | Washington | USA | 90.37 |
| 74 | Woodland Valley - The Grizzly | Limerick | Maine | USA | 90.31 |
| 75 | Throw Down The Mountain | Brooksville | Florida | USA | 90.30 |
| 76 | Parc des Familles DGC | Marrero | Louisiana | USA | 90.29 |
| 77 | Pineland Farms The Patriot | New Gloucester | Maine | USA | 90.28 |
| 78 | The Rock at Stonewall | Germanton | North Carolina | USA | 90.27 |
| 79 | Clover Cliff Ranch | Cedar Point | Kansas | USA | 90.26 |
| 80 | Tom Brown Park DGC | Tallahassee | Florida | USA | 90.19 |
| 81 | Dexter Park | Dexter | Oregon | USA | 90.10 |
| 82 | The Blockhouse | Spotsylvania Courthouse | Virginia | USA | 90.09 |
| 83 | Camden Park 2 | Milan | Illinois | USA | 90.06 |
| 84 | Flying Armadillo DGC - Big Course | San Marcos | Texas | USA | 90.05 |
| 85 | Kylmäkoski DiscGolfPark | Akaa | N/A | Finland | 90.02 |
| 86 | Langley Pond Disc Golf Park | Warrenville | South Carolina | USA | 90.01 |
| 87 | A.W.O.L | Bayview | Idaho | USA | 90.00 |
| 88 | Turtle Rock | Markleeville | California | USA | 89.99 |
| 89 | Joralemon Park | Ravena | New York | USA | 89.92 |
| 90 | Arrowhead Disc Golf Course | Louisville | Kentucky | USA | 89.90 |
| 91 | Solitude Lower 18 | Salt Lake City | Utah | USA | 89.87 |
| 92 | BuckSnort | Pine | Colorado | USA | 89.78 |
| 93 | La Mirada Regional Park Back | La Mirada | California | USA | 89.77 |
| 94 | Silver Creek Park | Manitowoc | Wisconsin | USA | 89.67 |
| 95 | Country Club | Emporia | Kansas | USA | 89.65 |
| 96 | Kaihun Frisbeegolfpuisto | Mikkeli | N/A | Finland | 89.60 |
| 97 | Baldfoot | Sandpoint | Idaho | USA | 89.59 |
| 98 | Fairfield Park | Round Lake | Illinois | USA | 89.59 |
| 99 | Iron Hill | Newark | Delaware | USA | 89.56 |
| 100 | Patriot DGC | Kernersville | North Carolina | USA | 89.54 |