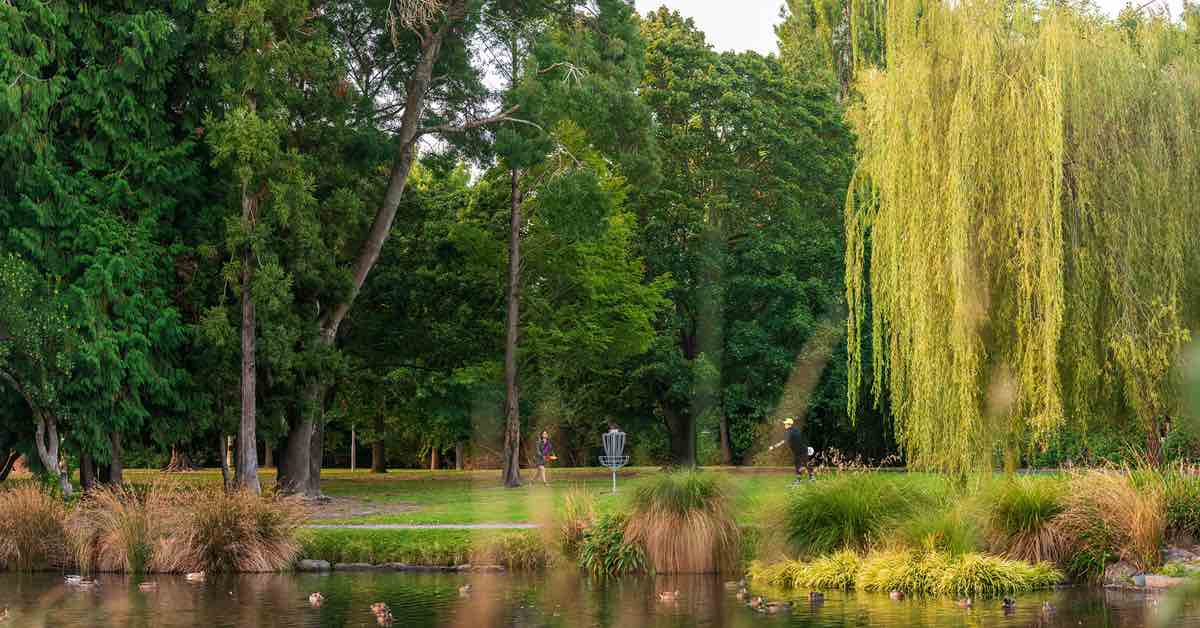 Throughout the verdant hills and tree-filled vistas of New Zealand's North and South Islands, among the cabbage palms and silver ferns, disc golf is thriving. And Christchurch, which lies in the Canterbury region and is the largest city on the South Island, is experiencing the biggest disc golf boom in the nation.
Since 2015, Christchurch has gone from having one disc golf course to six. Another four are approved and in the funding phase, hopefully to be installed by the end of 2021. Disc golf has typically grown slowly over many years in most areas, and this type of rapid expansion is something unseen in most parts of the world (though the Åland Islands know a thing or two about it).
The growth isn't just happenstance. The Christchurch Disc Golf Club (CDGC) has mounted a campaign to increase disc golf's availability on the South Island powered by thorough research and detailed planning, all under the leadership of club chair Paul Deacon.
Originally from the United Kingdom, Deacon retired early and relocated to New Zealand.
"I worked for HSBC [a multinational bank]," said Deacon. "I was employed by them on an international basis. So every two or three years I'd get sent to another part of the world to do a completely different job. We were called international managers. I did that for 20 years, which has given me a lot of very transferable skills for this sort of stuff. Then I took early retirement and trained to be a professional opera singer."
Unfortunately, his operatic dreams were cut short due to the onset of Meniere's disease, a disorder affecting the inner ear, leading to difficulty with balance and hearing. 
"I was in not-so-great shape for five years but it got better," said Deacon. "It's actually why I took up disc golf."
Though Meniere's disease shelved his participation in sports like skiing and cricket, he found his balance issues didn't affect his disc golf performance as much. This propelled Deacon to be further involved with the sport. Using the skills he gained during many years as an international manager, he helped the CDGC become better organized and more directed with its efforts.

Below we take a brief stroll through the history of disc golf development on the South Island before getting to the tactics Deacon and the CDGC have employed to set off the recent disc golf explosion in their area.
Queenstown Gardens: The South Island's First Course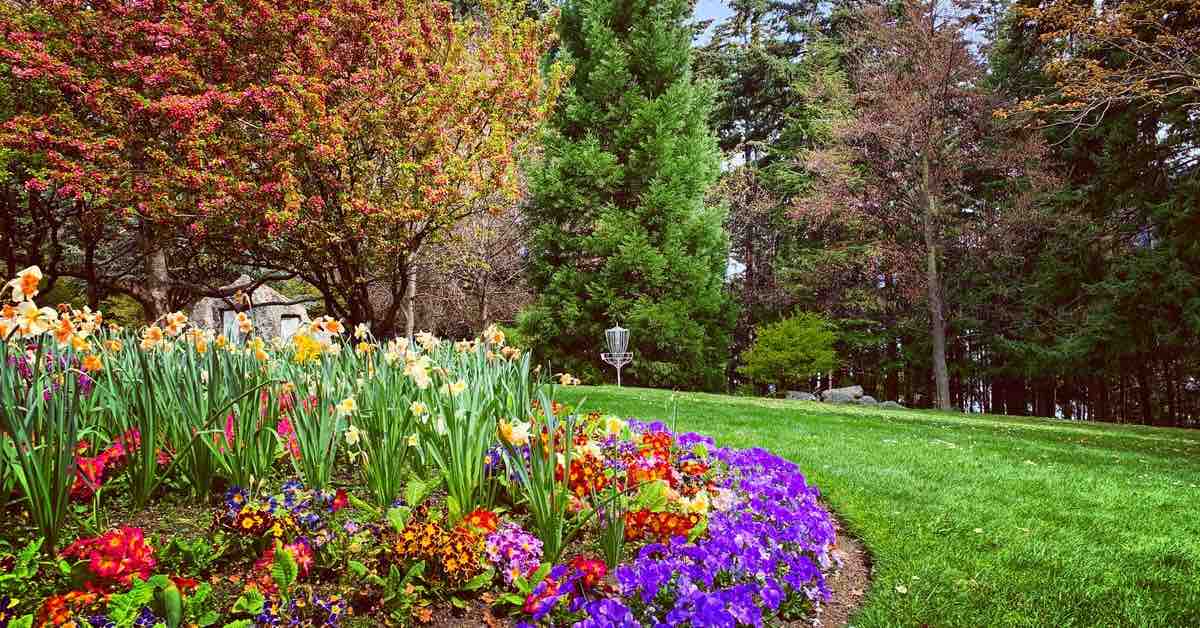 Though the situation has changed with the formation of clubs in cities like Christchurch as well as towns like Invercargill, until a few years ago, disc golf had been a rather niche sport on New Zealand's South Island, with courses tending to be in places with low population density. Given that disc golf course numbers have been growing in North America and Europe since the late 1970s, it wasn't until relatively recently that the South Island got its first course with baskets.
"The first permanent basketed course [on the South Island] went in in 1996 in Queenstown," Deacon recalled. "It's the great resort town of New Zealand. It's been compared to Aspen [Colorado, U.S.], but it's got a more temperate climate plus a lovely lake and vineyards."
That course, Queenstown Gardens, sits beneath the aptly named Remarkables, a picturesque mountain range with peaks over 2,300 meters/7,545 feet high. The course is also set near the pristine waters of Lake Wakatipu. In short, it's an exceedingly pretty place to play disc golf, and a small group of players had enjoyed it by devising and playing an object course in the area before the baskets' arrival.

But the installation of the course in Queenstown didn't immediately whet a huge appetite for disc golf, and it took nearly two decades for the sport to show signs of taking off on the South Island. One of first omens of progress showed up almost 500 kilometers/311 miles away from Queenstown in Christchurch's Jellie Park.
The Most Popular Course in New Zealand: Jellie Park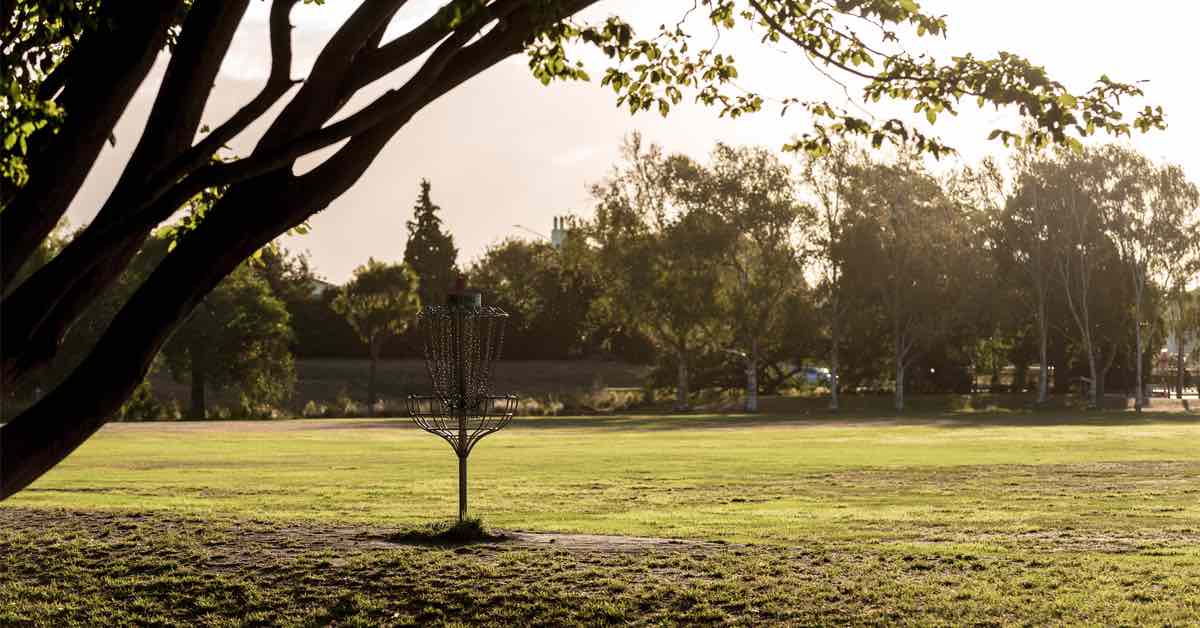 In 1951, James Jellie owned a large plot of land in Christchurch that he leased out for dairy farming and market gardening. He wanted to gift the land to the people of Christchurch, but it took him five years to persuade the city to accept it.
Today, Jellie Park "is likely the busiest suburban park in Christchurch," according to Deacon. So it was perhaps surprising when the council suggested that area disc golfers seeking a place to build a course do it there.
"In 2014, the guys who helped form the club approached the council to install one course," said Deacon. "They were looking at one area and the council said, 'No, but why don't you put one in Jellie Park?' In March of 2015 the course went in with baskets."
Like Queenstown Gardens, Jellie is a gorgeous environment for a disc golf course. There the beautiful Wairarapa Stream flows through a terrain dotted with poplars and weeping willows. But becoming scenery and high foot traffic in the park weren't enough to make the course a success on their own. It took disc golfers dedicating time to welcome and educate people interested in the sport.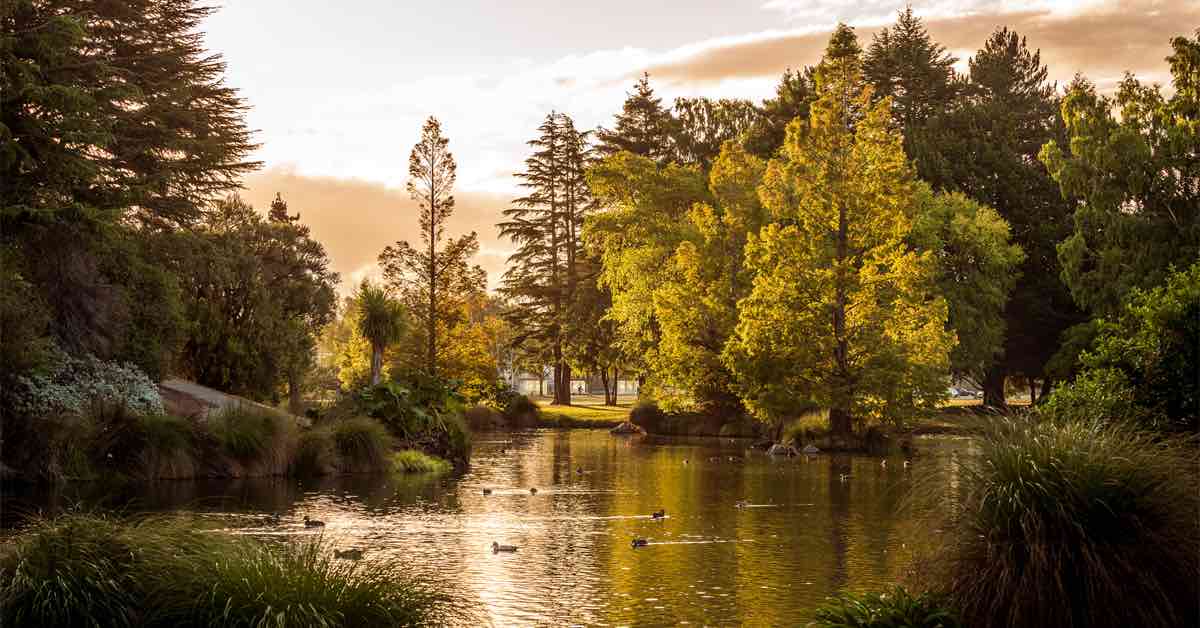 "I would say for about two to three years it wasn't very busy," said Deacon. "As our club started getting organized, we created a really welcoming environment on Sundays. We put a gazebo next to hole 1 with a table and chairs, a practice basket, free training, disc sales – a nice, inviting place to come. That produced explosive growth. Especially in the last year we've had a very noticeable increase in participation by women and girls."
Such efforts have turned Jellie Park into the busiest disc golf course in New Zealand, with thousands of rounds scored on UDisc in 2020 alone. Though the most popular sports played in New Zealand are rugby, soccer, cricket, and netball, the enthusiasm of locals for disc golf in Jellie Park inspired Deacon to expand the number of local courses to meet the growing demand.
"All Disc Golf Is Local"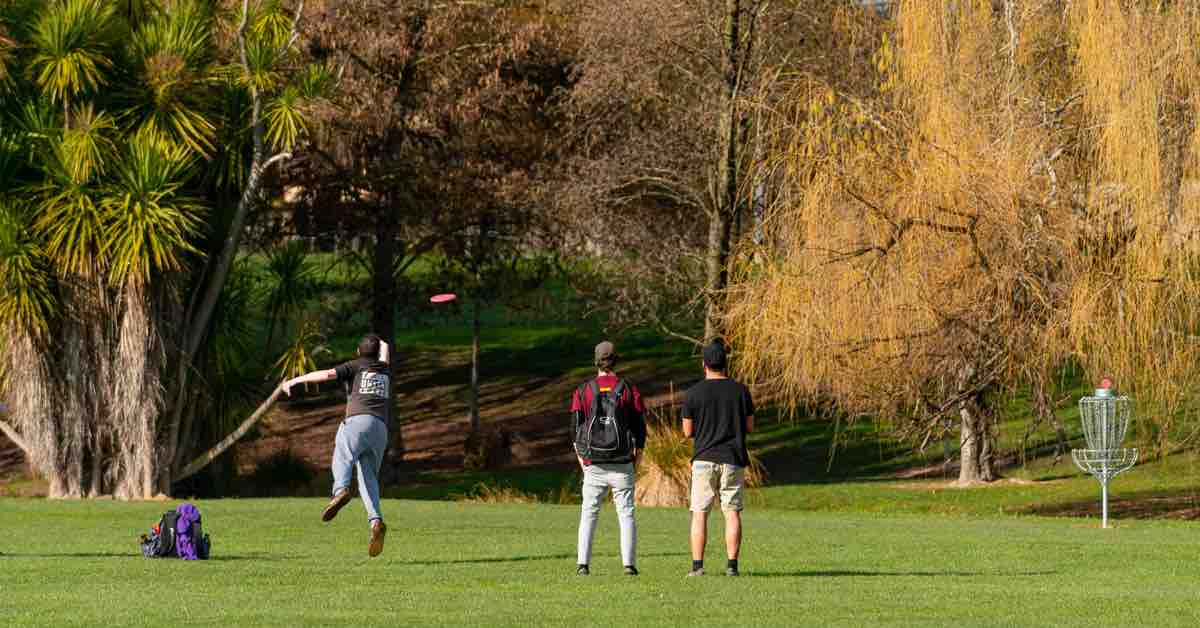 It was October of 2016 when Deacon began organizing the CDGC for rapid expansion.
"It took me two and a half years of lobbying to get a single point of contact in the council," Deacon recollected. "But we guessed correctly that the biggest obstacle in time was the council because it's difficult to get approval and they can be slow and cautious. We've prioritized that relationship above all other things because it's the big driver in time."

While waiting for feedback on their plans and ideas from Christchurch's local officials, Deacon and the club crunched numbers in two areas they believed could help them build strong arguments and reasoning for their plans.
One of those areas was examining what rapid growth looked like in another country.

"We looked at the wider world of disc golf, especially taking the example of Finland," Deacon said. "You can track their growth from about 2005 from 50 courses to 800 or 900 now."
Finland and New Zealand share many demographic and statistical points: similar populations, country areas, population densities, and degrees of urbanization. These likenesses gave Deacon the belief that New Zealand could follow a similar trajectory.

And New Zealand even has one big advantage over Finland: a temperate climate.
"Especially in the South Island, winter is a gorgeous time to play disc golf," Deacon added. "Frosty mornings and sunny afternoons. We've basically got a year-round climate for disc golf."
The second data point they examined was the correlation between where the courses were in relation to the population and where the disc golf growth was happening.  
"I consider that strong correlation the sole driver of growth," explained Deacon. "An aphorism I go by is 'all disc golf is local.' Outside of the hardcore, if there isn't a disc golf course near you, you aren't going to play. You have to be ruthlessly focused not on the current players but on the future players."

There are also plenty of signs that the South Island is ready for aggressive increases in its disc golf offerings.
Though less than a quarter of New Zealand's population of nearly five million lives on the South Island, far more disc golf is played there than on the North Island. UDisc stats show that about 70% of all rounds in New Zealand were played on South Island courses in 2020. Deacon credited a number of factors for this, including how South Island tracks tend to be in suburbs whereas the North Island has more destination courses outside population centers.
Deacon also pointed out that though Chistchurch's scene was growing the most rapidly, other South Island towns like Invercargill, Queenstown, Wanaka, and Timaru are also pushing to make the South Island New Zealand's dominant disc golf island.

Growth by Design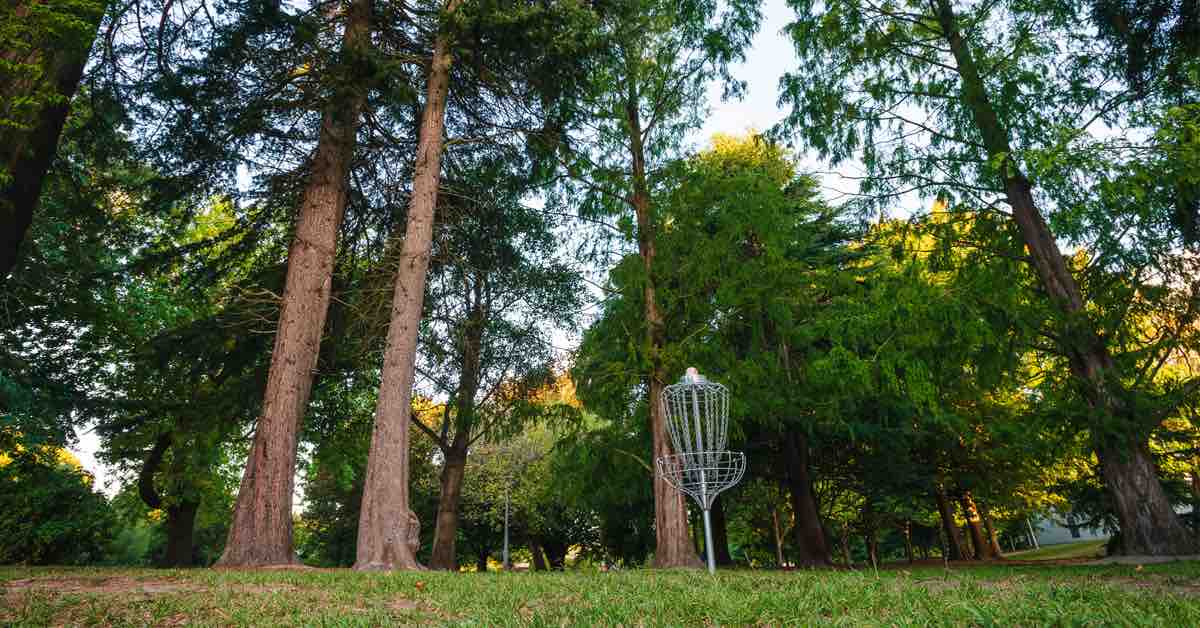 But the planning didn't stop at just gathering numbers. Deacon and his club created a plan of action spanning 15 years.
"We looked at the growth rate – what was a realistic percentage of the population," Deacon said. "And at the time, Finland was powering past two percent of their population being active disc golfers. We thought, 'Well, we don't know what the ceiling is, but let's shoot for four percent.'"
Statistics and population extrapolation are often a tool Deacon uses to predict demand.
"You can take the number of active players and work out how many courses you need to support them," Deacon said. "There's a disc golf rule-of-thumb that a busy 18-hole course can support 1,000 active players. You can then work out how many courses you need in a city or a province or a region."
This means that by the end of the 15 years, the CDGC would like to see 78 or more courses in the Canterbury region. Of those courses, 21 would be in Christchurch alone. Should that plan come to fruition and Christchurch grows as currently estimated, the city would have about one course per 19,047 people. To give a little international context for those numbers, if Christchurch were a U.S. county, that ratio would put it in the top 10 of courses per capita among counties with similar populations (250,000-500,000).

The club has also worked hard to identify viable areas to construct all these courses.

"We took Google Maps and looked at all the green spaces in our city without prejudice," Deacon explained. "And then included or excluded them one by one as to are they potentially suitable for a disc golf course. Equally important – though not always as thorough – is to ask some of the old guys where they like to play imaginary object courses. That produced some really interesting parks. We then engaged the city council using that list."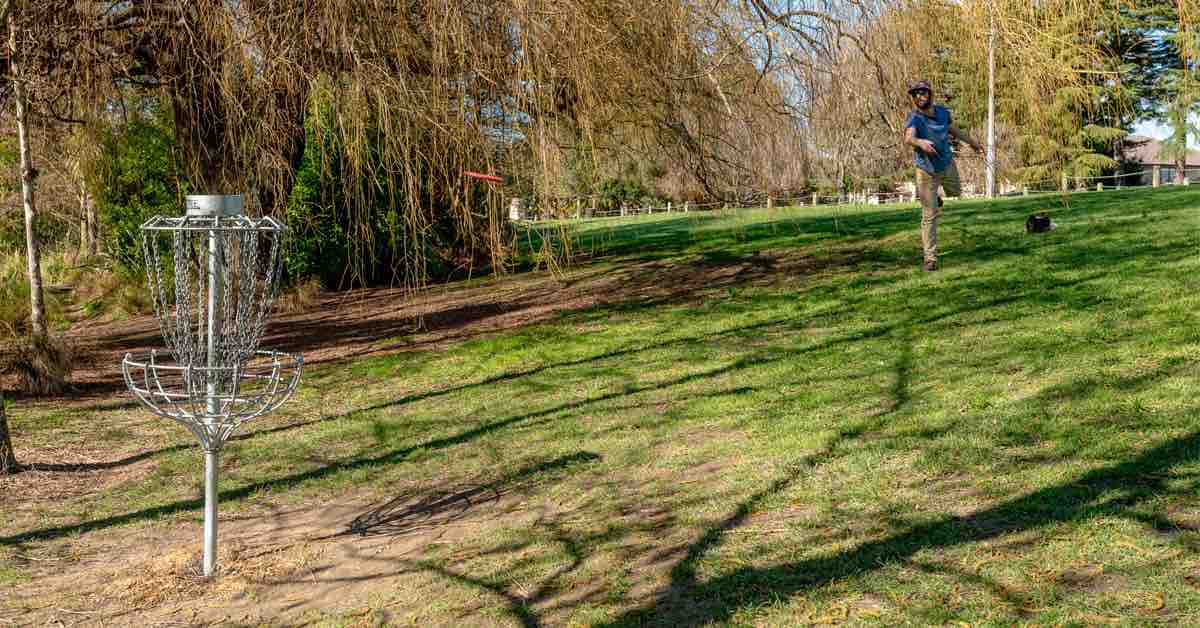 Being so well armed with information has led to considerable success at getting approval for new courses. Deacon said that after he walks through proposed locations with council members, the head of the parks department, arborists, and course designers, he's been given the green light about two-thirds of the time.
"Of ten courses, we've had five approved, two or three eliminated, due to other things or activities the locations are needed for, as well as another two or three on the go," said Deacon, with optimism. "They'll be in the next phase."
Another step the club has taken to better its position is becoming an official charity group.
"Last year we became a registered charity," said Deacon. "The main benefit is it confers a tax benefit to donors. So if an individual gives us money, they can deduct that as an expense against income tax, same with corporations. The main reason was to improve our standing and status with government bodies, so they know we're not doing it for ourselves."
What the Future Holds
Two years into their 15-year plan, Christchurch's disc golf future has never looked brighter. Though only a few short years ago Jellie Park was the only destination for disc golfers in the city, Christchurch now has six courses to choose from: 
The club aims for the other four approved courses to be completed by the end of 2021:
Warren Park 
Cypress Garden Reserve
Nunweek Park
With progress like that, it's clear that Deacon and the CDGC are keeping to two mandates stated in the first section of the club's Articles of Association: (a) to promote, maintain and develop the sport of disc golf; and (b) to do anything necessary or helpful to the above purposes. And it's evident, too, that their data-based and highly organized approach to getting courses approved and funded is generating an excellent rate of success.

So, while many of us won't directly enjoy the fruits of the CDGC's labors any time soon, examining and replicating the club's techniques could have us all enjoying new courses in our home areas sooner than we would have ever thought possible.