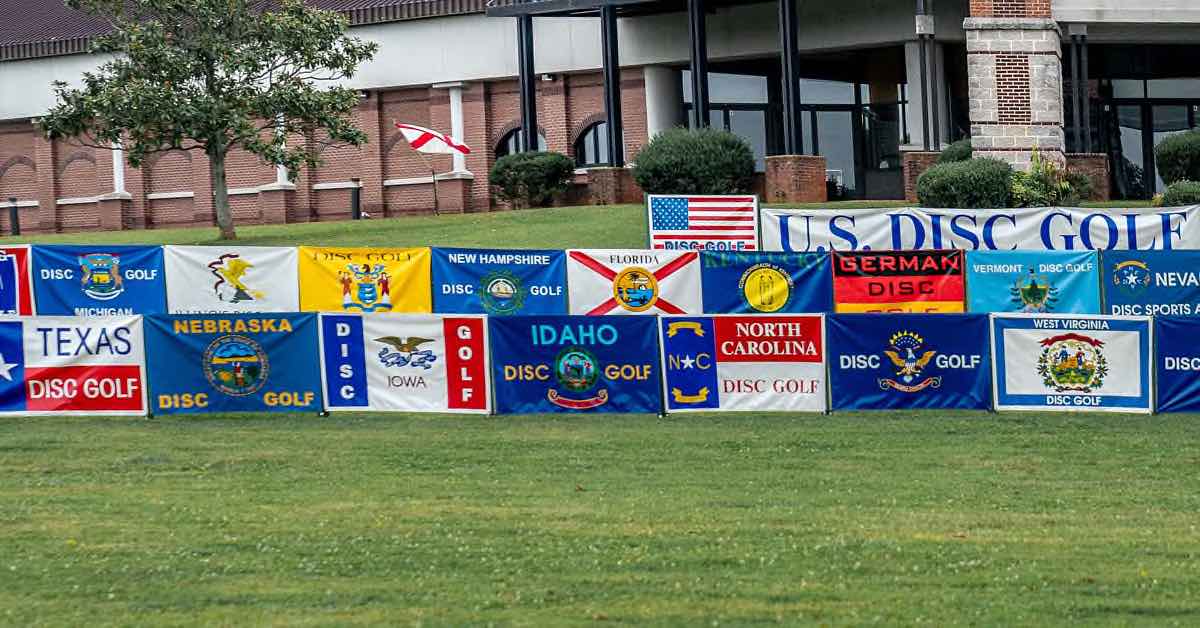 There are thousands of disc golf courses across the United States and ever more people contributing to the millions of rounds played on them each year. Here, thanks to disc golfers with the UDisc app, you can find out how popular disc golf is in each U.S. state.
What Do You Mean by "Most Popular"?
To learn which states disc golf was most popular in, we didn't want to just use total plays because states with higher populations would have a huge advantage. Instead, we looked at which states played the most rounds of disc golf per capita. In other words, we answered this question: Which states recorded the most disc golf rounds relative to their populations?

Why is rounds per capita a stronger measure of popularity than raw total in this instance? We'll show you with a quick comparison of two states: California and North Carolina.
California is the country's most populated state with around 39.2 million residents. North Carolina has just 10.5 million. Unsurprisingly, California had more disc golf rounds recorded with UDisc than North Carolina in 2021: 880,764 in California to 597,615 in North Carolina.

But when you think about the over 28 million person gap between those states' populations, the difference of under 300,000 between their rounds played is tiny. In fact, when you look at their round totals relative to population, North Carolina easily outdoes California by averaging about 5.7 rounds played per 100 people in the state to 2.2 per 100 in California.

The Golden State would have needed over 2 million recorded rounds (much more than double its actual 2021 total) to match North Carolina's rounds-per-capita stat.
Numbers like these made it an easy decision to use rounds per capita rather than total rounds in each state to create the rankings.
Interesting Takeaways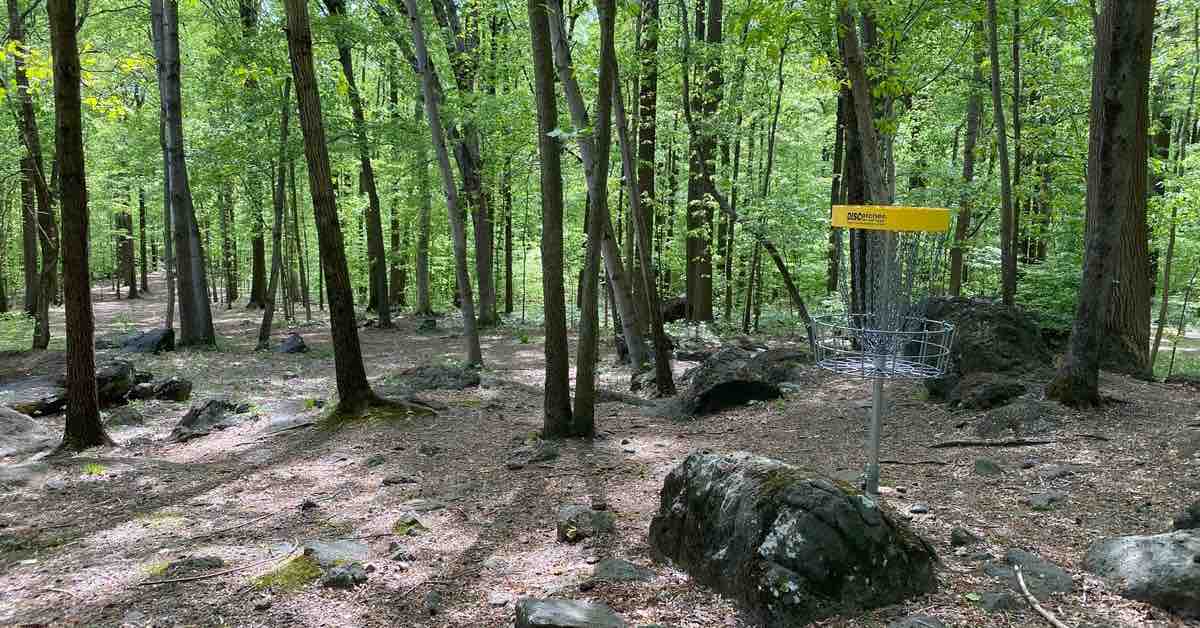 These three things most caught our eye as we looked over the U.S. states where disc golf was most popular in 2021:
4 of 5 U.S. regions represented in top 10
The U.S. is often thought of in terms of five geographic regions: the Northeast, Southeast, Midwest, Southwest, and West (check this map from National Geographic to see which state is where). We know these regions and which states are in them aren't official, but it's still interesting to note that at least one of the top 10 states in disc golf rounds per capita can be found in four out of those five regions. The Southwest is the only one without a state in the top 10.
Maine! (spoiler)
Mainers are crazy for disc golf. The state is home to the best metro area for disc golf in the country, and it's also the top state in the nation by rounds-per-capita by a long shot. The state in second would have needed a round total 50% higher to catch up.
Delaware is an outlier
While having a large population doesn't seem to be bad for disc golf numbers (five of the top 10 states in population are in the top 25 of rounds-per-capita), it appears that states with high population densities don't play as often as less crowded states – likely because higher populations equal less space for courses.

Delaware is an exception.

Delaware is the only state within the country's top 10 by population density that made the top 20 in disc golf rounds per capita (all the way up in 12th!). What makes this even more surprising is that Delaware has relatively few disc golf courses per capita by U.S. standards (it ranked 39th out of the 50 states in that category in 2020).

It seems that in 2021 Delawareans got a lot of use out of the few courses they have. Hopefully these stats can help convince the right movers and shakers it's time to give the good people of The Blue Hen State a few more places to play.
What to Know Before Reading the Stats
Here's where all the stats you'll see in the table below came from:
Disc Golf Rounds in UDisc: This is the number of rounds recorded in a state by disc golfers with the UDisc app in 2021. Clearly, not every round of disc golf is recorded with UDisc. However, research from 2020 suggested about 20% of all disc golf rounds are.
Population: State population per U.S. Census data.
Disc Golf Rounds in UDisc Per 100 People: You get this total by dividing round totals by population and then multiplying that sum by 100.
Where Is Disc Golf Most Popular in the U.S.?

| | | | | |
| --- | --- | --- | --- | --- |
| Rank | State | Disc Golf Rounds Per 100 People in UDisc (2021) | Total Disc Golf Rounds in UDisc (2021) | Population |
| 1 | Maine | 12.38 | 169,862 | 1,372,247 |
| 2 | Minnesota | 8.04 | 458,988 | 5,707,390 |
| 3 | Vermont | 7.99 | 51,575 | 645,570 |
| 4 | New Hampshire | 7.99 | 110,920 | 1,388,992 |
| 5 | Kansas | 7.31 | 214,728 | 2,934,582 |
| 6 | Colorado | 7.02 | 408,321 | 5,812,069 |
| 7 | Oregon | 6.52 | 276,880 | 4,246,155 |
| 8 | North Carolina | 5.66 | 597,615 | 10,551,162 |
| 9 | Michigan | 5.62 | 565,735 | 10,050,811 |
| 10 | Wisconsin | 5.23 | 308,148 | 5,895,908 |
| 11 | Idaho | 5.22 | 99,214 | 1,900,923 |
| 12 | Delaware | 5.17 | 51,834 | 1,003,384 |
| 13 | Missouri | 5.14 | 316,989 | 6,168,187 |
| 14 | Iowa | 4.96 | 158,435 | 3,193,079 |
| 15 | Arkansas | 4.84 | 146,336 | 3,025,891 |
| 16 | Utah | 4.81 | 160,620 | 3,337,975 |
| 17 | Oklahoma | 4.32 | 172,326 | 3,986,639 |
| 18 | Ohio | 4.23 | 498,542 | 11,780,017 |
| 19 | South Carolina | 4.21 | 218,783 | 5,190,705 |
| 20 | Kentucky | 4.17 | 188,088 | 4,509,394 |
| 21 | Indiana | 4.10 | 279,234 | 6,805,985 |
| 22 | Washington | 3.99 | 308,525 | 7,738,692 |
| 23 | Tennessee | 3.76 | 261,999 | 6,975,218 |
| 24 | Texas | 3.48 | 1,027,574 | 29,527,941 |
| 25 | Pennsylvania | 3.45 | 447,007 | 12,964,056 |
| 26 | Montana | 3.44 | 37,944 | 1,104,271 |
| 27 | Alabama | 3.39 | 170,763 | 5,039,877 |
| 28 | South Dakota | 3.36 | 30,077 | 895,376 |
| 29 | Nebraska | 3.33 | 65,481 | 1,963,692 |
| 30 | Alaska | 3.31 | 24,276 | 732,673 |
| 31 | Virginia | 3.29 | 284,653 | 8,642,274 |
| 32 | West Virginia | 3.28 | 58,456 | 1,782,959 |
| 33 | Connecticut | 3.21 | 115,710 | 3,605,597 |
| 34 | Massachusetts | 3.13 | 218,365 | 6,984,723 |
| 35 | Georgia | 3.11 | 336,146 | 10,799,566 |
| 36 | Illinois | 2.88 | 365,407 | 12,671,469 |
| 37 | North Dakota | 2.73 | 21,137 | 774,948 |
| 38 | Wyoming | 2.41 | 13,926 | 578,803 |
| 39 | Arizona | 2.39 | 173,651 | 7,276,316 |
| 40 | Florida | 2.34 | 509,780 | 21,781,128 |
| 41 | Mississippi | 2.28 | 67,202 | 2,949,965 |
| 42 | California | 2.24 | 880,764 | 39,237,836 |
| 43 | Nevada | 2.24 | 70,450 | 3,143,991 |
| 44 | Maryland | 2.07 | 127,653 | 6,165,129 |
| 45 | New Mexico | 2.07 | 43,759 | 2,115,877 |
| 46 | Louisiana | 1.69 | 78,100 | 4,624,047 |
| 47 | New Jersey | 1.55 | 143,414 | 9,267,130 |
| 48 | Rhode Island | 1.51 | 16,493 | 1,095,610 |
| 49 | Hawaii | 1.34 | 19,350 | 1,441,553 |
| 50 | New York | 1.28 | 254,667 | 19,835,913 |