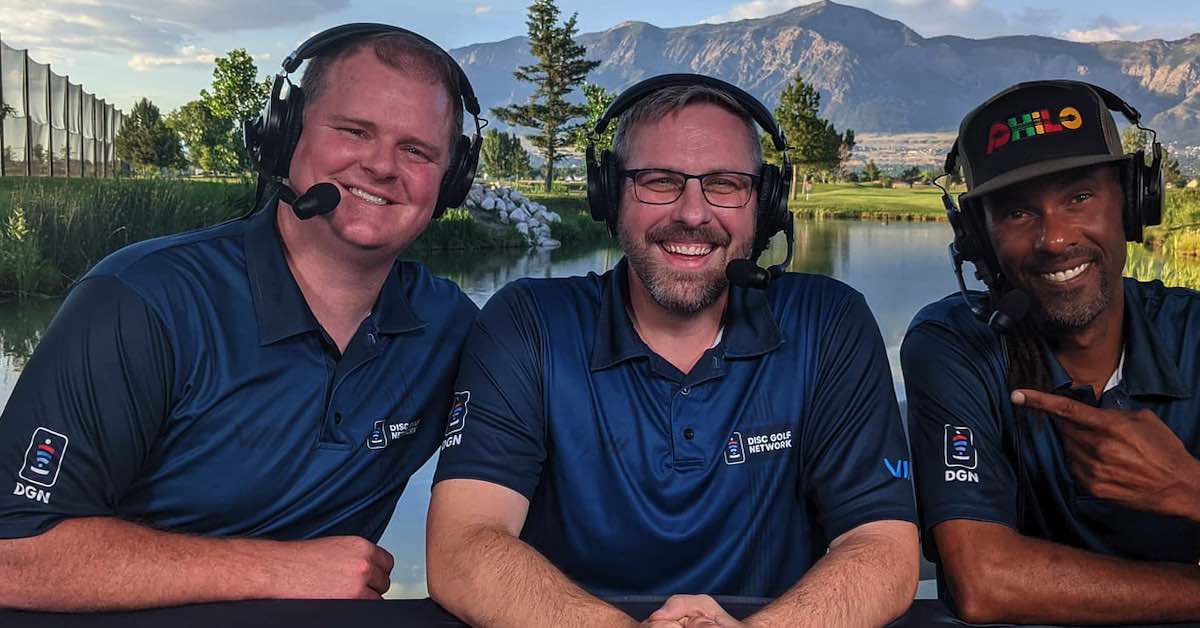 Ian Anderson lives near San Diego, California, and spends most weekdays working as an industrial engineer for a fast food franchise. When he's not at his main job or spending time with his family, he's often busy doing something many disc golfers dream of: Getting paid to watch and talk about the best disc golfers in the world as they compete at the highest-tier events in the sport.

Longtime disc golf fans will know Anderson best as the founder and main voice of disc golf media company Central Coast Disc Golf (CCDG). Those who've discovered pro disc golf more recently may have only heard Anderson on the Disc Golf Network (DGN), a streaming service owned by the Disc Golf Pro Tour (DGPT) that has become the exclusive purveyor of live coverage for most of disc golf's elite tournaments.

Unlike some DGN commentators, Anderson isn't an accomplished pro with a gift for gab. He's an amateur disc golfer who has earned his regular spot on DGN through a decade of dedication to producing disc golf media with a small team and improving his videos and commentary by paying close attention to the public's feedback.

Below you can learn more about Anderson's journey from amateur hobbyist to disc golf media elite, including the early days of CCDG, what it's like to grow as a commentator under ever-increasing public scrutiny, and how he feels about his current role in the disc golf world.
Starting & Expanding Central Coast Disc Golf
The first disc golf tournament Anderson ever filmed or commentated on was the final round of the 2011 Santa Maria Open in Waller Park, which took place not far from his home. The tournament was shortly before that year's World Championships in nearby Santa Cruz, California, and many top players were using the event as a warm-up.

Having recently discovered the then-fledgling disc golf subreddit (a community of about 250 at the time whereas now subscribers number over 170,000), Anderson posted there to ask whether anyone would be interested in watching footage of the tournament if he went out and filmed it. Enough people responded positively that he decided to give it a go.

Armed with a digital camera he'd given his wife the previous Christmas and its 2.5x max optical zoom (his current cameras are 12x), Anderson headed out to capture the action on the final round lead card. He admitted that though his equipment was far from ideal, feeling awkward was his biggest issue during that initial outing.

"The first time I went out there, I was so bashful," Anderson said. "Nobody else was out there doing it. People weren't filming disc golf that much. I was standing in a terrible spot 20 feet [6 meters] back of the tee pad; you could barely see the disc after a second."

Still, Anderson stayed with the card throughout the round and caught everything he could on camera. Back home, he drew on experience he had from editing and commentating on footage of himself playing the video game Battlefield: Bad Company 2 to put together what would be his first-ever posts on the CCDG YouTube channel.

Amusingly, one of the first things the future World and U.S. Championship commentator says in the video is, "If you don't wanna listen to me, feel free to mute it and play some music in the background. Won't be offended."

You can take a look at a brief clip from that video below:


Though it's rudimentary by today's standards, free disc golf coverage of any kind was hard to come by in 2011. The people who saw it were appreciative and grateful enough that Anderson was inspired to do more.

"The comments were nice, probably got a couple hundred views on those first videos," Anderson said. "I just kept at it – kind of kaizen, continuous small improvements."

He invested in a better camera, went to more tournaments, and his friend Kevin Estrada began helping with filming. All the while, Anderson was learning on the fly how to do all the technical aspects of advanced camerawork, video editing, and sound mixing while also religiously reading the increasing numbers of comments on CCDG videos to figure out how to make the product better.

Over the next few years, elite players started recognizing Anderson and Estrada and appreciating their work, making filming less and less awkward. By 2015, CCDG had earned commissions, including funding from disc golf equipment giant Innova to film the 2015 Beaver State Fling and World Championships. The next year, MVP Disc Sports struck a deal with CCDG that allowed them to send someone on the road to film throughout the tournament season. Cory Murrell, who had started working with CCDG in 2015, jumped at the chance, and soon CCDG was putting out more content than ever before from a series of high-profile events.

Another change was that other channels devoted to disc golf coverage had started popping up. You can see the major ones in the chart below, which shows the number of views various disc golf-focused YouTube channels got between 2013 and 2018: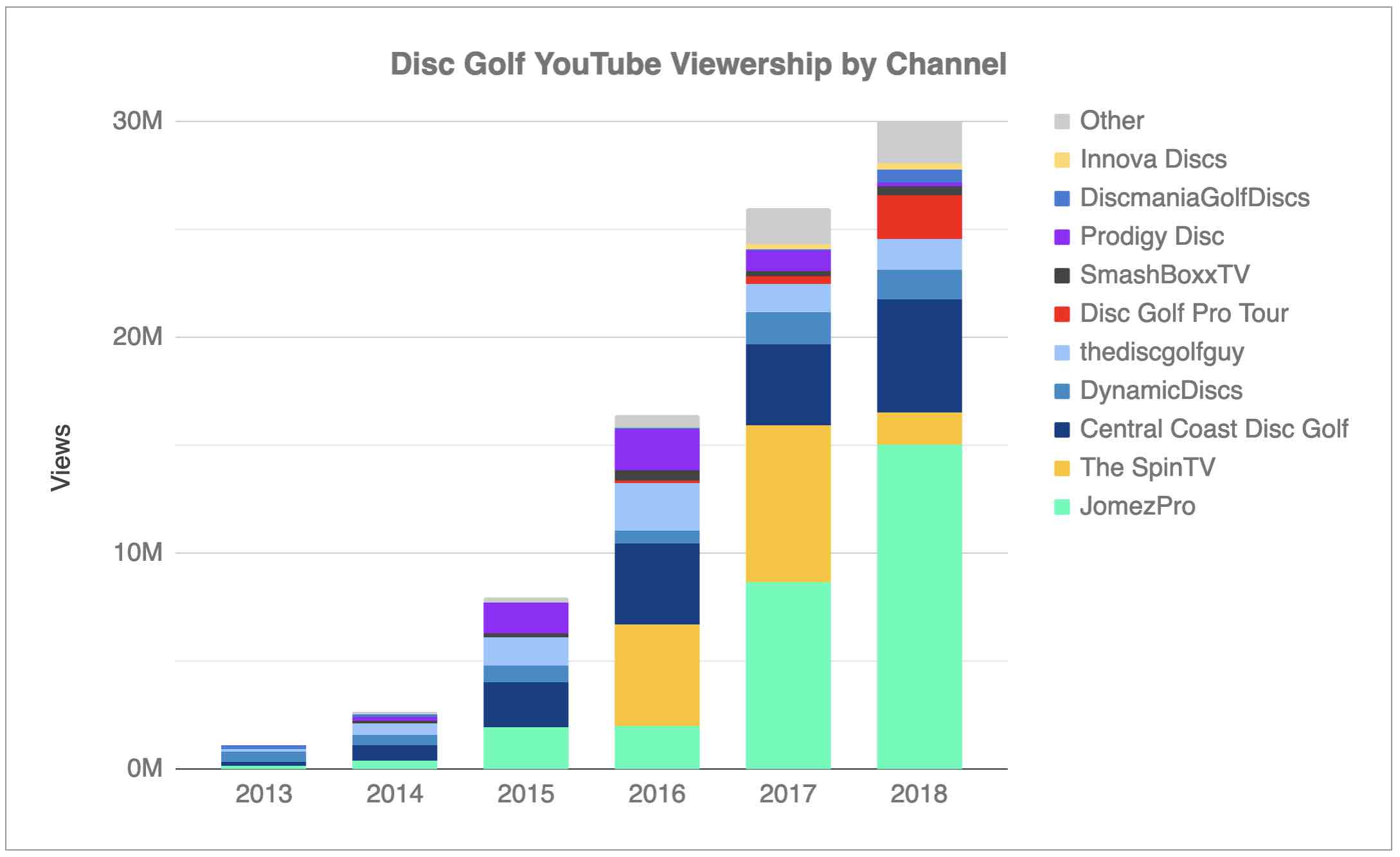 Though The SpinTV's videos were getting plenty of views, too, Anderson said that in the mid-2010s, he felt like CCDG and current post-production titan JomezPro were each other's true competition.

"For a while there, it was a serious rivalry," Anderson said.

With other channels to contend with and increasing interest in and funding for tournament coverage, the quality of CCDG's product quickly improved. The graphics got slicker, the transitions smoother, the sound better mixed, and little extras like the speed of players' drives caught by a radar gun were added. Still, once the JomezPro crew decided in 2017 to take the leap and dedicate themselves to disc golf coverage full time, there wasn't much of a question which channel would grow the most.

"By now, they've obviously passed us by," Anderson admitted. "I still love our [CCDG's] product, but with them being on the pro tour full time, it's just the natural progression of things."

There are various reasons Anderson didn't try to make CCDG a full-time gig, a big one being that he actually likes his weekday job. But another is that, though he cares greatly about creating an excellent all-around viewing experience, being the head of a video production company isn't his true passion.

"Honestly, all the Central Coast stuff is so I can do commentary," Anderson said.
Growing as a Commentator & Getting Dream Gigs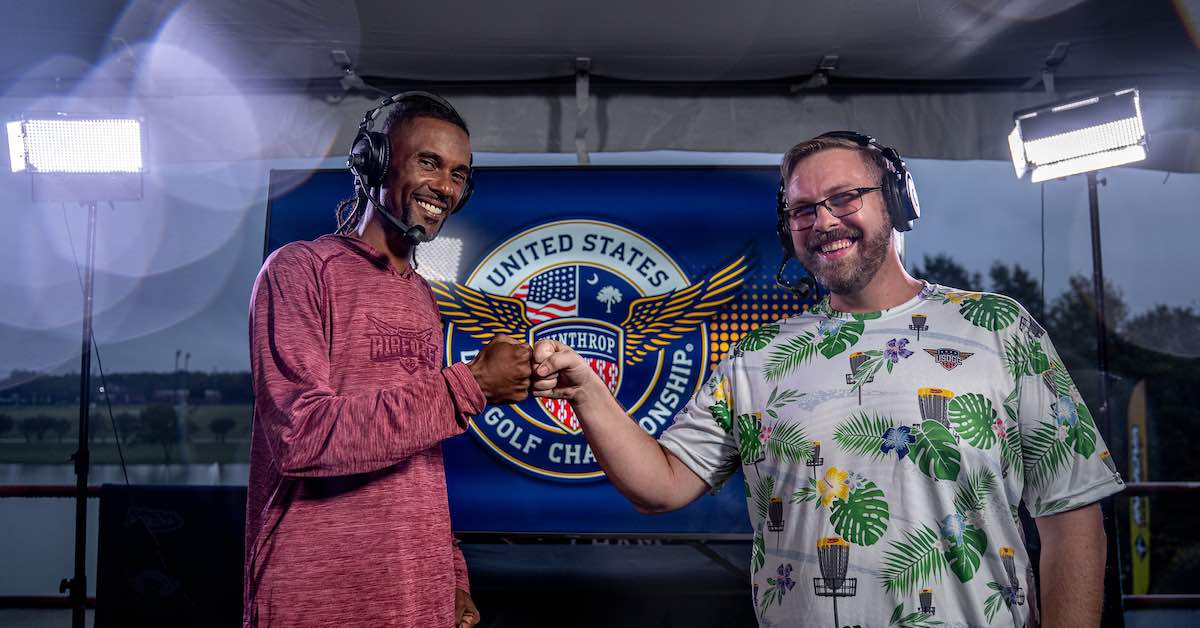 While talking to us for this piece, Anderson shared an interesting comparison that had recently popped into his head.

"I had the thought the other day that sometimes Central Coast feels a bit like disc golf media college," Anderson mused.

Anderson was referring to how a number of CCDG alumni have gone on to take notable jobs or make their own marks in the disc golf media world. For example, the DGPT's Media Manager, Mahmoud Bahrani, worked with Anderson at CCDG before assuming his current role. A current full-time camera operator, graphics editor, and content producer for JomezPro named Brian Guice took that position after shooting slow-motion shots for CCDG for years. The aforementioned Murrell – who still does CCDG work from time to time – started his own YouTube channel and now does various video-related work for a number of disc golf entities.
But if CCDG is a college, we have to think of its founder as a graduate of his own institution, or perhaps more aptly as someone researching for his doctorate while continuing to teach.

Over a decade of leading CCDG, Anderson has very purposefully tried to grow as a commentator by taking to heart constructive criticism from consumers of his product.

"I feel like my commentary is comment-created," Anderson said, referring to comments on YouTube. "It started where it was, and I just listened to feedback and tried to get better constantly."

A specific example Anderson gave of altering his style based on audience critique was working at seeming surprised at footage he's spent hours filming and editing. Though live coverage is rising in popularity, condensed, post-produced videos are still the way most fans watch the sport. Despite being well aware the event is over, fans want to be as surprised by the coverage as if it wasn't. Anderson said creating this conceit takes a lot of effort.

"It's like there's an internet full of people reading my poker tells," Anderson said. "I can say, 'Ricky [Wysocki] is lining up a putt from 45 feet [14 meters],' and they're like, 'Oooh! Now I can tell he makes the putt by the way you said Ricky.' I'm not a thespian; I'm doing my best. But every time someone tells me I have a tell, I change it up. It's a constant battle."

A bit ironically, Anderson's care to cater his commentary style to the tastes of the disc golf-watching public in this manner (as well as others) helped him get a job where none of that acting was necessary. When the U.S. Disc Golf Championship (USDGC) team was looking for someone to co-host pay-per-view live coverage of their event in 2020, Anderson's long experience and many fans made him an attractive option.

"They just reached out to me, and I said, 'Amazing, how do we make this happen?'" Anderson recalled warmly. "It was a dream come true."

It was the first time Anderson had ever done live commentary, and it took some adjustment. He had to concentrate while people talked in his ear with information about the broadcast, learn to transition smoothly to ads, and pre-prepare stories and topics to talk about with his co-host Philo Brathwaite – a longtime touring pro who Anderson had done commentary with before on CCDG – during inevitable lulls in the action.

But when it came to talking about the actual disc golf, Anderson felt in his element and freer than he ever had when commentating for a CCDG video.

"It was honestly nice not having to pretend anymore," Anderson said. "I could react genuinely again."

That was a freedom that felt sweeter than ever the next year when Anderson got another dream gig: Live commentator for the 2021 Professional Disc Golf World Championships. He'd been tapped for that job after his well-received 2020 USDGC performance and subsequent appearances on DGN covering other events live during the 2021 season. And when the magical moment that happened on the last regulation hole of the tournament went down, there could be no doubt about how genuine his reaction was:


That, of course, was James Conrad's "Holy Shot" that was essential to forcing a playoff for a world title that Conrad would go on to win. It's perhaps one of the best sports moments ever caught on film, and without the years of prior dedication to honing his commentary craft, Anderson wouldn't have been the one whose shouts of shock and awe mingled with the thousands of similar reactions from those who watched live at home.

Hoping to Be a Part of Disc Golf Media's Future

Though no one can be sure where disc golf media is heading, Anderson suspects that both live and post-produced coverage will attract larger audiences over the next few years. He plans to keep a foot in both mediums by (hopefully) staying on as a DGN commentator and continuing post-production coverage at CCDG, which most notably covered all Open Women lead cards at PDGA National Tour and Major tournaments in 2021.

Continuing at this pace and simultaneously holding down his full time job will often leave him with little time for anything else, and Anderson recognized that without a strong partner willing to help him follow his dreams, none of it would be possible.

"I'm really thankful for being where I'm at...for my amazing wife for supporting me through all this stuff," Anderson said. "Me being gone all the time, especially when we had three kids, was rough. I really appreciate her and am just super grateful."

Note that Anderson referred to having three children in the past tense because for a little over a year he and his wife parented two foster children along with their biological child.

When asked if he had any big ambitions for his future as a disc golf commentator, Anderson needed to think about it. He mentioned a desire to cover a big European event like the European Open but also that he felt like commentating Worlds and the USDGC (which he's commentating again in 2021) are two of the highest honors he could think of in disc golf media. In the end, he only had one real answer:

"Just keep doing it, I guess," Anderson laughed.