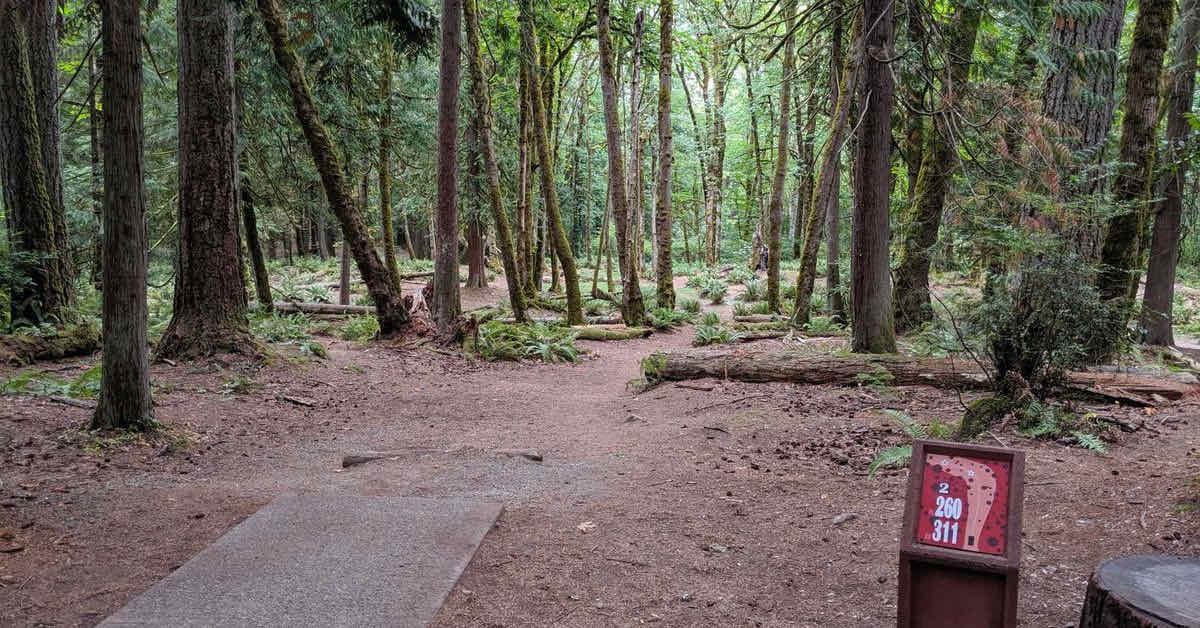 Great Disc Golf on the Kitsap Peninsula
Bremerton and Port Orchard, Washington, and surrounding communities on the Kitsap Peninsula make up the 10th best metropolitan area for disc golf in the United States.
Take a ferry west from Seattle, and after a fairly short ride with stunning views of the not-too-distant Olympic Mountains, you'll get to the Kitsap Peninsula. For more than a century, the area has largely been known for its importance to the U.S. Navy, and it's still home to Naval Base Kitsap.
But the region's natural beauty and other charms have drawn a diverse group of people over the years, helping a buzzing disc golf scene emerge in the last two decades. Kitsap course designers have been able to craft truly fun and unique courses thanks to the peninsula's mystical evergreen forests and ample elevation changes.
Below you can learn more about Kitsap's best disc golf courses, get an overview of its disc golf history, and learn how to find disc golf leagues as well as disc golf gear in and around Bremerton and Port Orchard.

Additionally, we give you tips on a few places to get a drink or a bite to eat in between and after rounds and some highlights for off-the-course sightseeing and activities.
All Top 10 Disc Golf Cities
Want to see who else made the list? Check out Top Disc Golf Cities – USA: 2021, our master page for all things Top Cities.
Bremerton/Port Orchard Disc Golf Stats
Bremerton-Silverdale-Port Orchard Metropolitan Statistical Area, Washington
Overall Disc Golf City Rank:
10


Weighted Course Count Rank:
135


Weighted Course Density Rank:
3
The Top 10 Disc Golf Cities – U.S.A. rankings are based on the number, quality, and density of courses within nearly 400 metro areas in the country. The most populous cities within these metro areas are featured in posts' titles. Cities' positions hinge entirely on course information and reviews from players with disc golf's #1 app, UDisc, not the opinions of UDisc's staff.
If you'd like to learn more about the system behind these rankings, give "How The 2021 Top Disc Golf Cities – USA Rankings Worked" a read.
The Bremerton & Port Orchard Area's Disc Golf History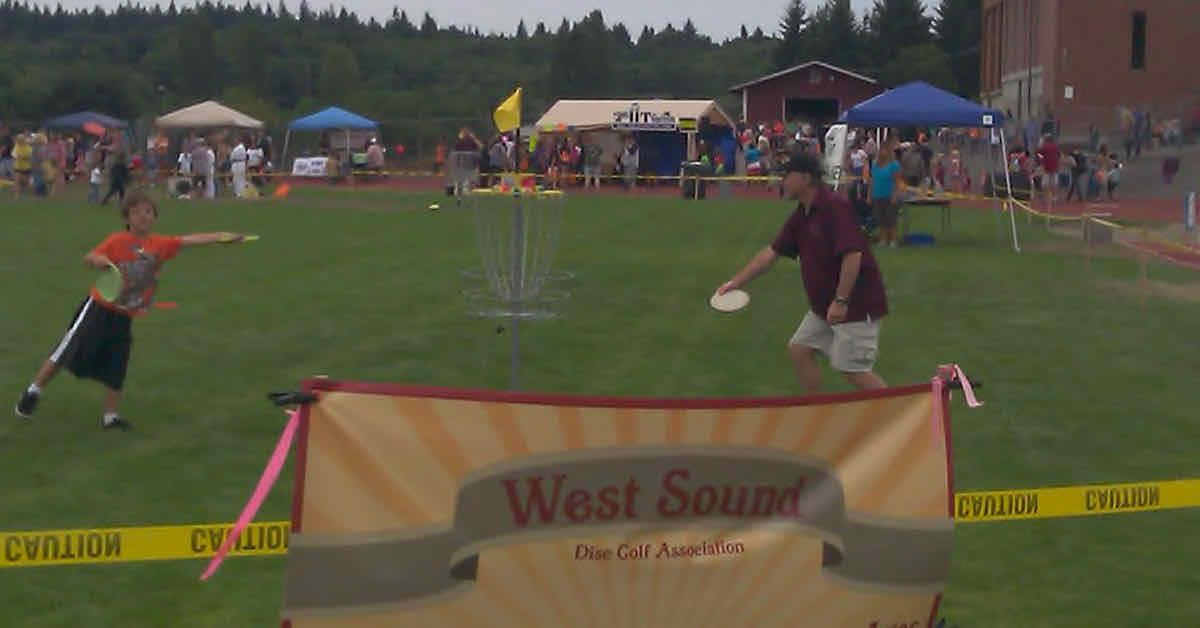 Many of the top 10 cities have histories of organized disc sport communities that go back 30 to 40 years, but that's not the case on Kitsap. The West Sound Disc Golf Association (WSDGA) is the area's first and only formal disc golf club, and it was founded in 2005. In the relatively few years since, the WSDGA has accomplished quite a bit thanks to its philosophy of growing the sport with players of all ages and skill levels in mind.
Before the WSDGA existed, the disc golf offerings around Bremerton and Port Orchard consisted of a few private courses. But at the turn of the century, the sport's popularity started rising. Growing demand led to the addition of a disc golf course in Bremerton's NAD Park, which was the region's only public course when it opened in 2004.

It quickly became clear to some players that they'd need a dedicated disc golf organization to keep up this momentum, and the WSDGA was born.

The club's first priority was getting more courses, and their efforts resulted in the openings of the nine-hole Van Zee Park in Port Orchard in 2006 and Bremerton's 18-hole Kitsap Fairgrounds in 2007.

Now that there were more holes, club leadership turned its attention to creating leagues and events that would grow the disc golf community further. According to current WSDGA Treasurer Sam Huff, that process was done in two steps.

"As the club and player base grew, we focused on bringing more people to the sport by hosting events such as Saturday morning family-friendly doubles, bag tags, tournaments, and clinics," Huff said. "As the player development increased, the need for more events increased. The West Sound area now hosts a large lineup of PDGA [Professional Disc Golf Association] tournaments: one A-tier, two B-Tiers, several C-tiers, and recurring PDGA leagues."
The leagues and tournaments have helped expand the region's player base greatly, and though there have been some excellent courses added in recent years, the community is large enough to support more. Currently, the emphasis of most new WSDGA business is updating current courses and obtaining permission to construct new ones, none of which would be possible without the community spirit that's powered disc golf around Bremerton and Port Orchard from the start.

"[We] have a great group of volunteers to get the courses built and maintained," Huff told us. "The list is very long of all the players that have volunteered hundreds of hours of their time to improve and maintain their local course and courses maintained by neighboring clubs."
What's Disc Golf Like Around Bremerton & Port Orchard?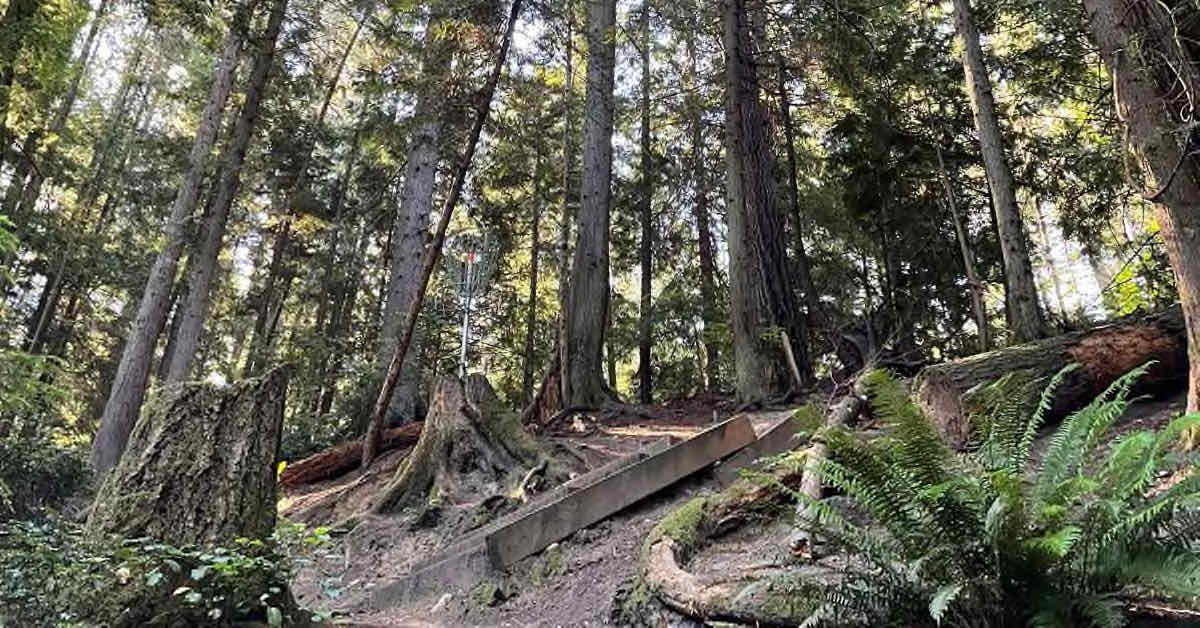 Washington is nicknamed "The Evergreen State," and if you play on the Kitsap Peninsula, you'll know exactly why. The area and its courses are filled with evergreen trees that create beautiful, challenging settings for disc golf. Additionally, elevation changes are common, and it's not an oddity to find baskets planted in the middle of slopes that generate nerve-wracking putts and the potential for disastrous roll-aways.

Along with trees and elevation, courses meant for more advanced players always call for a wide variety of shot shapes and a mixture of finesse and power throws.
Bremerton & Port Orchard Area Disc Golf Course Highlights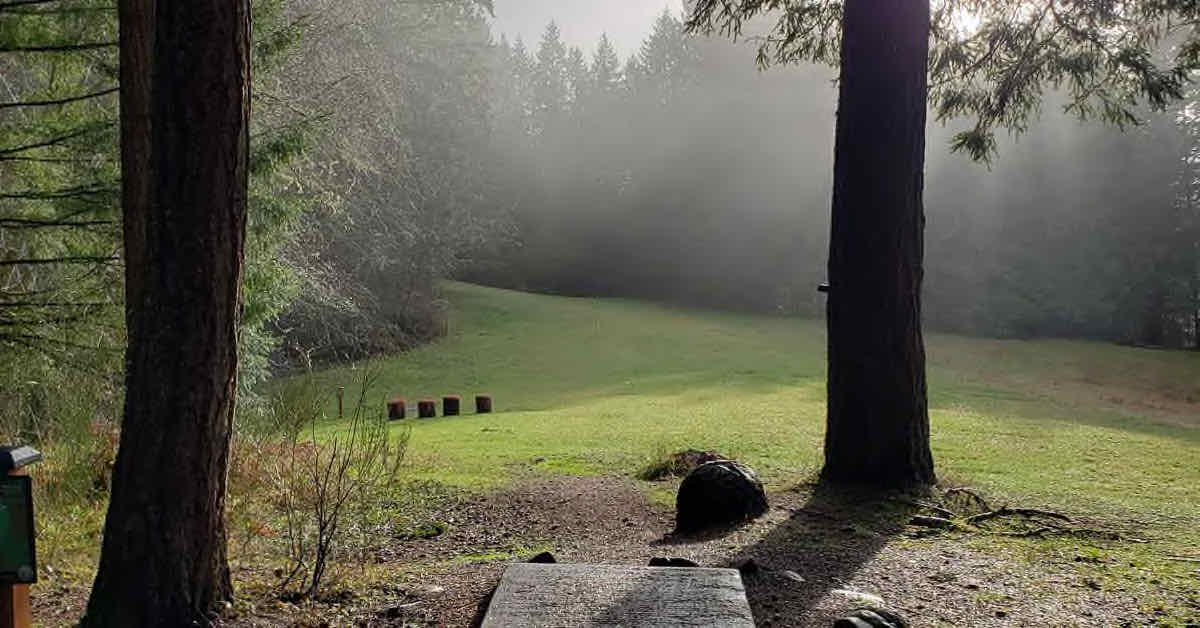 To see photos, hole distances, and reviews for each course, just tap or click on its name, which is linked to its UDisc Courses page.
Bud Pell at Ross Farm: Named for a late member of the WSDGA, Bud Pell is on private property owned by the Ross family. The course is open to all and free to play – though a minimum $2 donation is suggested. It is a well-maintained gem that has a mixture of technical and wooded lines and – rare for the area – fairly wide-open shots that allow players to really let it fly. Established in 2011, Bud Pell has long been a local favorite and was one of Washington's five best disc golf courses in 2021. This course will, unfortunately, disappear within the next year due to residential land development. Notably, that loss could be enough to push Bremerton and Port Orchard out of the ranks of Top 10 Disc Golf Cities unless a new highly-rated course pops up soon to replace it.
NAD Park: The oldest public course in the region is still one of its most fun. Essentially, be ready for an old-school woods golf experience at NAD Park. Everything is par 3, and no hole breaks the 400-foot/122-meter mark. But don't be fooled into thinking this is a cakewalk: The course demands that players either throw true lines or put themselves at the mercy of the trees. With two sets of tees and baskets for each hole, you'll need to play a few rounds at NAD to get the full experience.
Other highlights:
1. Horseshoe Lake Golf Course: An active ball golf course that has added disc golf to its repertoire, Horseshoe Lake is currently the highest-rated disc golf facility on the Kitsap Peninsula and has two courses on the property. That said, you must call for a tee time in order to play, courses are pay-to-play, and small group sizes (two to three players) are highly encouraged.

2. Want more suggestions? See all disc golf courses in Bremerton, Port Orchard, and surrounding communities on UDisc Courses.
Disc Golf Shops in Bremerton/Port Orchard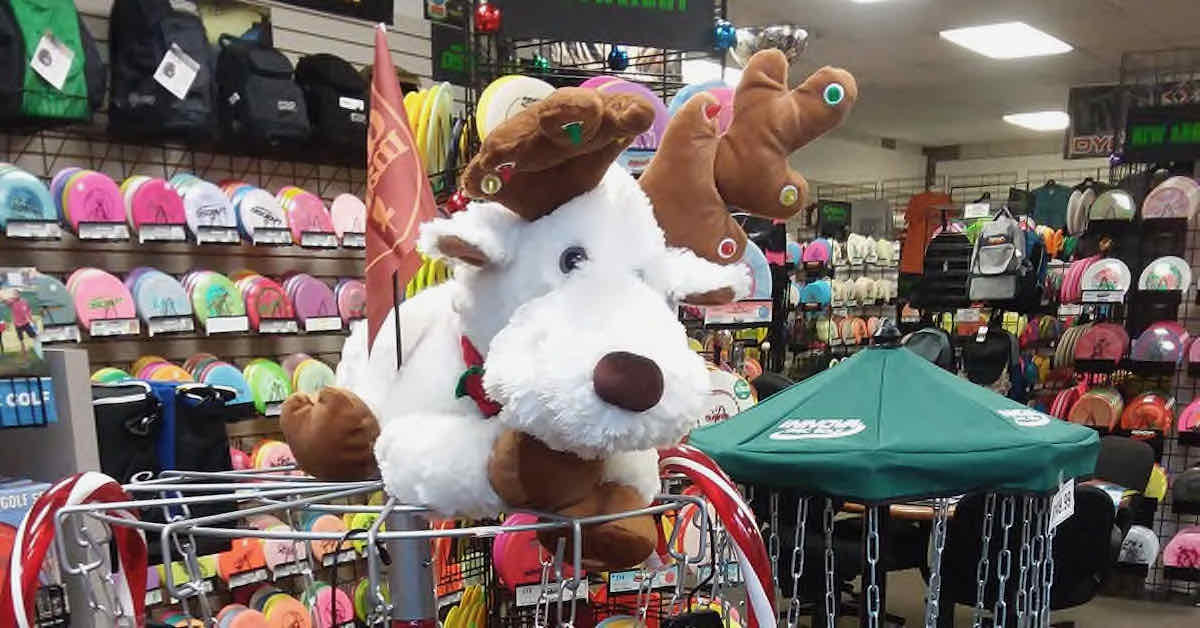 360 Disc Golf in Bremerton is your one-stop-shop on the Kitsap Peninsula for everything disc golf. It has a large stock of discs and other gear from a wide range of brands. Stop in for some new plastic and friendly local advice. 360 is open every day but Sunday.
Bremerton & Port Orchard's Online Disc Golf Community
If you'd like some advice from locals before visiting the area, there are two Facebook groups you can go to: West Sound Disc Golf Association or Kitsap Disc Golfers.

Those not on Facebook can find additional information on the WSDGA's website or email the WSDGA at discgolf@wsdga.org.
Disc Golf Leagues & Events Around Bremerton & Port Orchard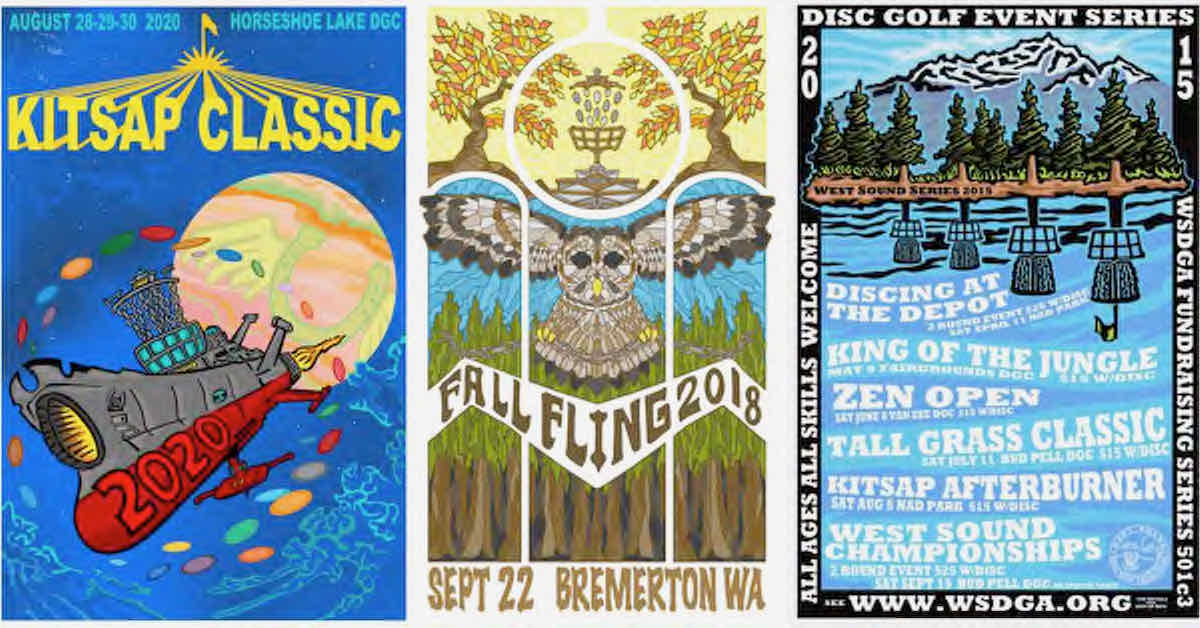 Leagues: If you're interested in playing a league in the area, you have a few options. One of them is seeing where the Crooked Rooks Kitsap Disc Golf League is playing by going to their Facebook page. Additionally, there's a women's-only league in the area that's currently scoring with UDisc Leagues. There are also doubles leagues – one of them a family-friendly, free-to-play league held at NAD Park. At the time of publication, that doubles league was on hiatus due to the pandemic situation. We recommend checking in with the WSDGA on their Facebook page or through email (find both in the "Online Disc Golf Community" section) to find out what's being offered currently.
Events: You can see upcoming tournaments in the area on the WSDGA's "Events" page or by using the Events tab in the UDisc app. The area's most-anticipated event is an A-tier called the Kitsap Classic.
Chow Down & Drink Up Around Bremerton & Port Orchard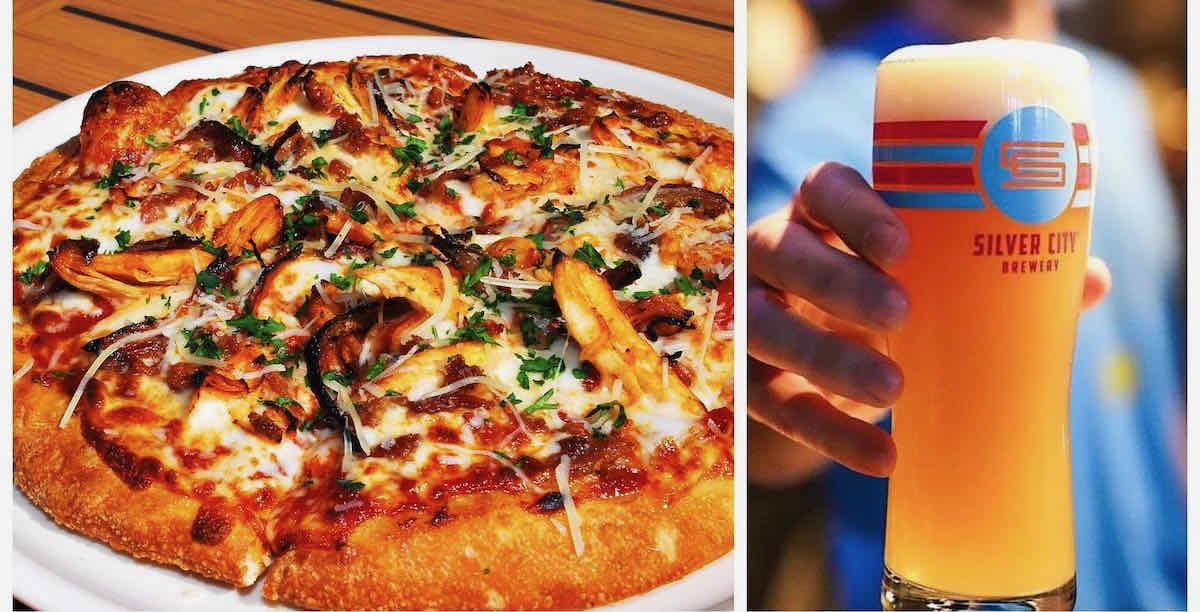 For local craft beer, sandwiches, pizza, burgers, steaks, and plenty of other food options, the Silver City Restaurant and Ale House in Silverdale (about 15 minutes north of Bremerton by car) is the place to go on Kitsap. Food prices are mid-scale and there are a variety of beers, but there's a particularly wide range of IPAs. If you just want to try the beer, there's the Silver City Brewery and Taproom in Bremerton.

Craft beer enthusiasts can find all the area's craft breweries in this handy guide.

Those seeking some casual dining will likely enjoy Tony's Pizza, which serves up Italian classics and has a room with a great view of Oyster Bay.

There are many other interesting places to eat in the region, and you can find a full catalog of them on Kitsap Bites.
What Else Is There to Do Around Bremerton & Port Orchard?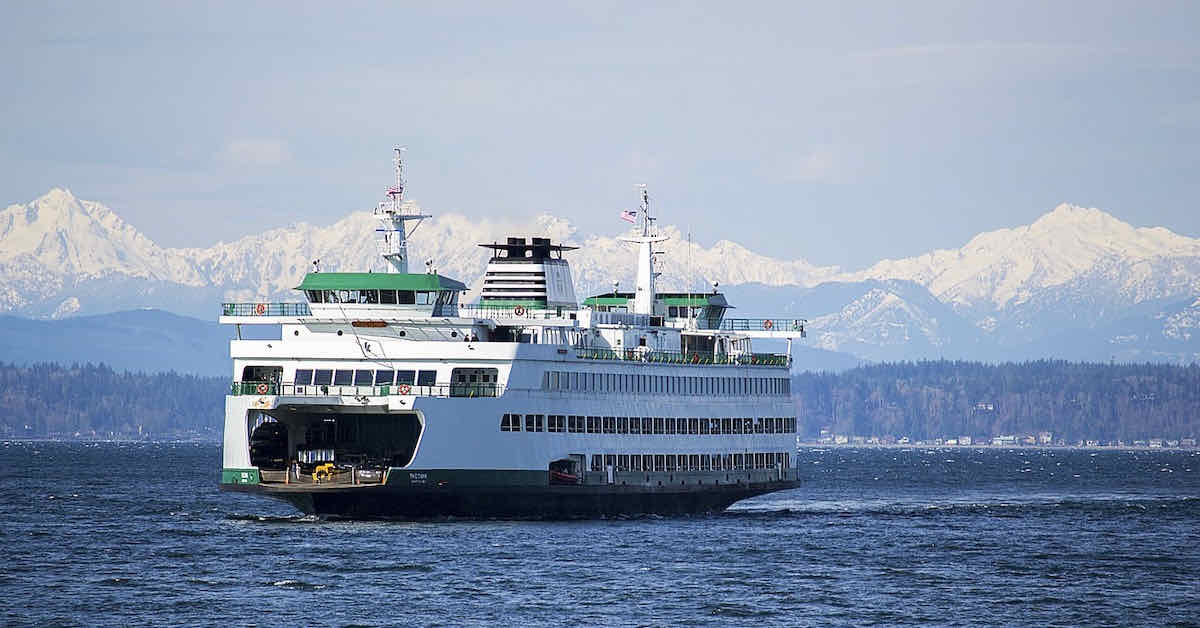 If you're looking for off-the-course entertainment, here are a few good options:
Take a walk: The Kitsap area is full of beautiful scenery and trails. Check out maps of local walking and hiking paths to see if one catches your fancy. Those planning to be in the area awhile could also consider making the trip out to Olympic National Park.
Quaint downtowns: Bremerton, Port Orchard, and other towns in the area (notably, Poulsbo, Silverdale, and Gig Harbor) all have interesting downtowns with a number of independent shops that are well worth a visit.
Ferry ride to Seattle: Seattle has plenty of options for the whole family, and the ferry ride from Kitsap to Washington's largest city is simply gorgeous. If you take a Fast Ferry (which only takes passengers without cars), you can be in Seattle in just 30 minutes. Taking a car on the ferry makes the ride about an hour.