Update: Kansas City was in the top 10 of the first Top Disc Golf Cities –  U.S.A. rankings. From December 6-December 17, 2021, we're revealing an updated list of the United States' best disc golf cities. Check out "Top Disc Golf Cities – USA: 2021" each weekday to see if Kansas City made the top 10 again in 2021.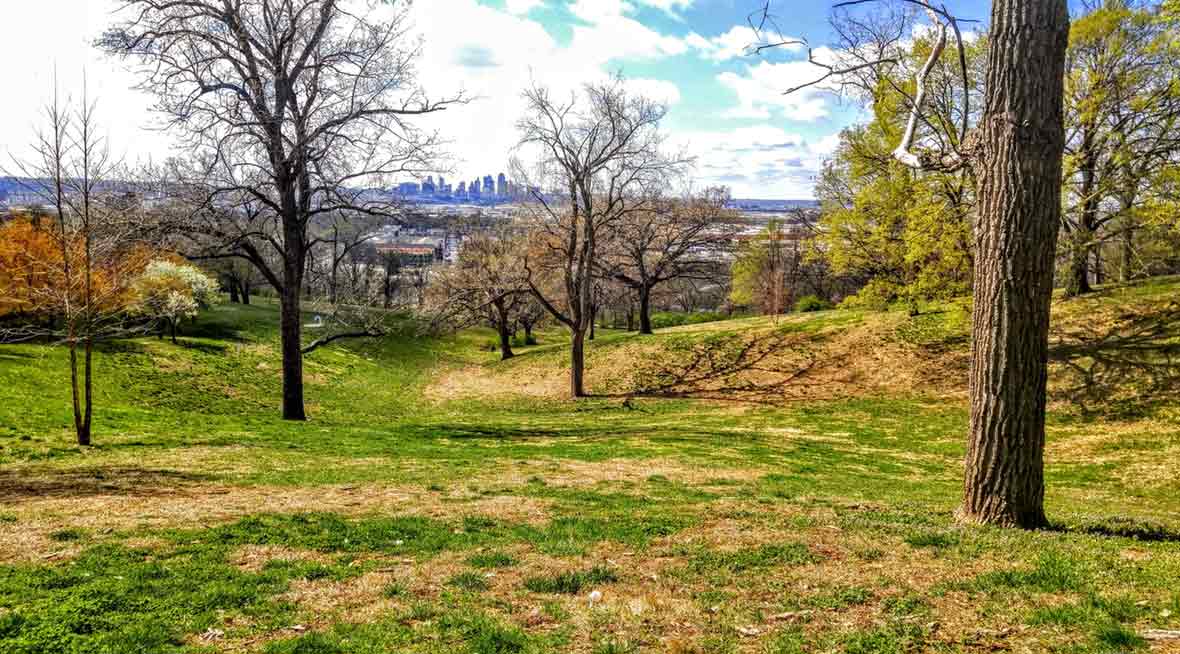 THE FLYOVER
Kansas City is a place where things meet: the borders of Kansas and Missouri, the Kansas River and the Missouri River, and, of course, discs and chains. With the Kansas City Flying Disc Club promoting the sport in the area since 1988, the city offers a wealth of courses that can delight players of all skill levels. Oh, and we've heard the BBQ isn't half bad either.

We got two locals to give us their takes on what makes Kansas City one of the best disc golf cities in the United States: Ladies of the Chains hostess and former Ultiworld Disc Golf contributor Becca Kephart and course designer, former GM of Dynamic Discs Kansas City, and current local disc golf promoter and tournament director Scott Reek.
WHAT GOLF CAN I EXPECT?
The mere mention of Kansas might put images of flat, treeless, windswept courses in your head. However, while Kephart admits that wind could be a "defining quality" of golf in the area, she also pointed out that it's the kind of place where "you can play just about whatever kind of golf you'd like."

Reek echoed that sentiment, saying, "If you want a flat course, wooded course, long course, or elevated course, you have a choice within a short drive."

Also, if a little time in the car isn't something you mind, other disc golf hot spots Emporia, Kansas and Columbia, Missouri are both under two hours from the city, making the array of course choices for visitors truly enormous.
COURSE HIGHLIGHTS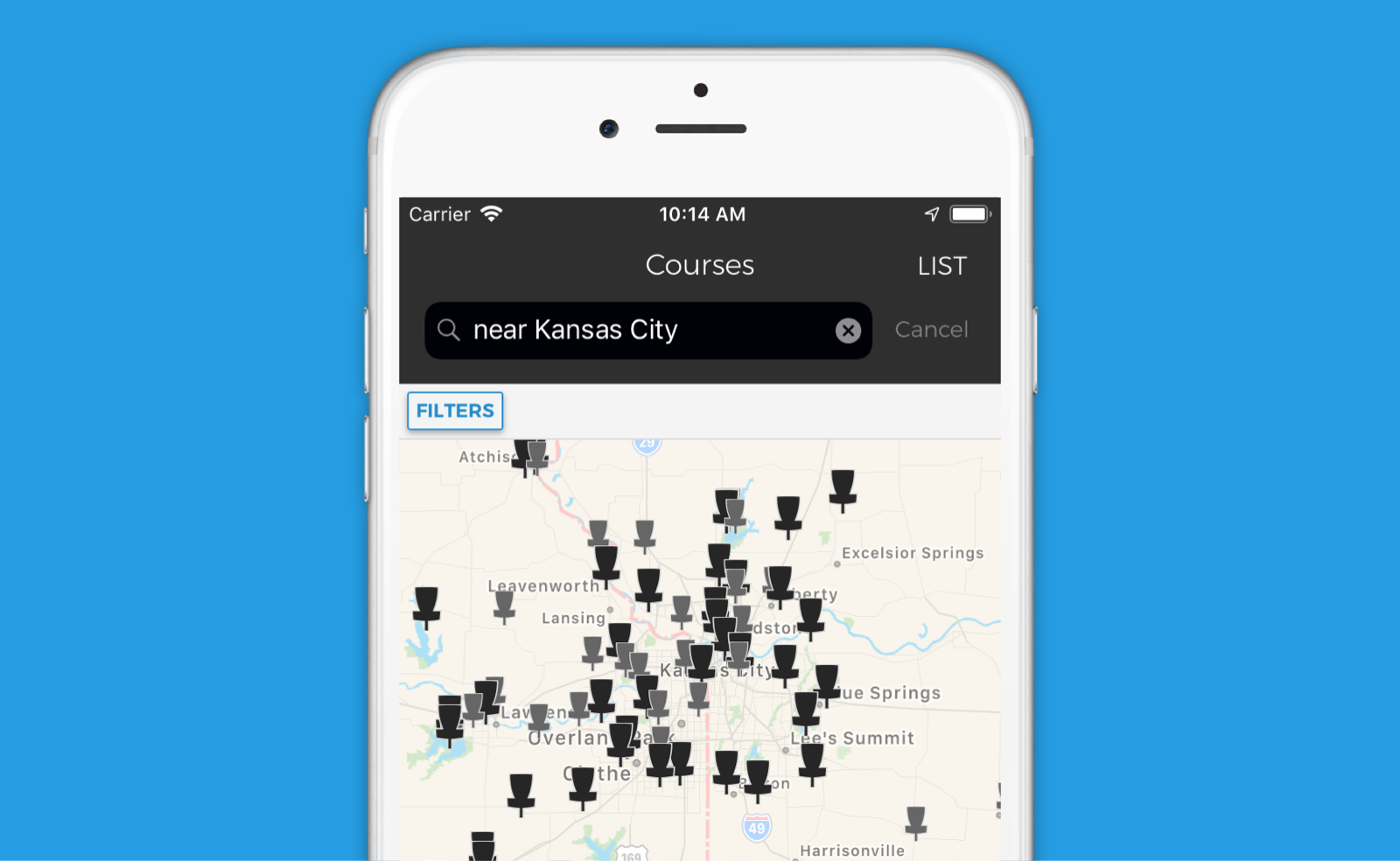 Click the name of any course in this section to see reviews, average ratings, its exact location, and, likely, photos on the UDisc Courses website.

Waterworks Park: Originally built by Depression-era water treatment plant workers in their spare time (the park, not the course), Waterworks Park offers a somewhat rare commodity for Midwest disc golf: elevation changes. Reek said the "fairly wooded" Waterworks is "a landmark course…[that] has been one of the most popular courses, not only in Kansas City but also to many of the top professionals over the years." Along with great golf, the course's elevation also offers players some spectacular views of the city and Missouri River. The course—found on the Missouri side of Kansas City—is the highest-rated course in the city by UDisc users.
Rosedale Park: Hopping over to the Kansas side, you can hit two courses in one park at the centrally-located Rosedale Park. First designed in the '80s, the original course on the property—known as Rosedale Up Top—consists of "mostly open fairways [that] feature steep drop-offs to punish errant shots" according to the Kansas City Flying Disc Club's description of the course. Up Top's counterpart, Down Under, was added in the late '90s and is a haven for those who prefer their fairways with some trees. Kephart said Rosedale Park was where she "fell back in love with the game" and also said it's near "lots of places to grab lunch between rounds."
Other Notables: Heritage Park (Olathe, KS — 30-minute drive from city center), Bad Rock Creek (Liberty, MO — 30-minute drive from city center)
THE LOCAL ROUTES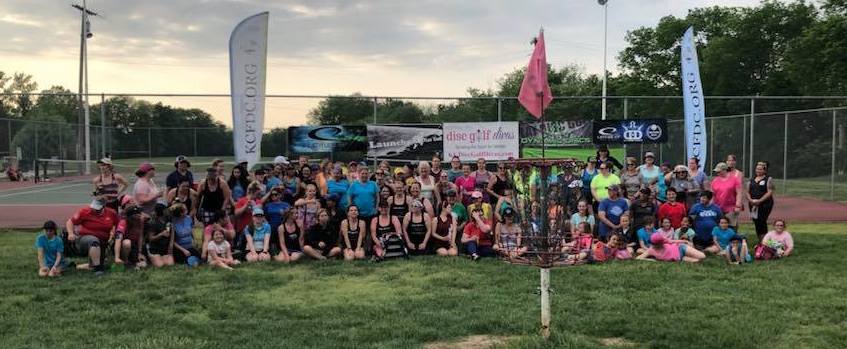 Gear: To beef up your overstable disc supply to fight those prairie winds, both Reek and Kephart say you're likely to what you need at Dynamic Discs Kansas City. You can check out that and other places to pick up equipment in our directory of disc golf shops in the UDisc app (see how to do that here) or on our Stores website. 
Guides: The Facebook group for the Kansas City Flying Disc Club is a great place to reach out to locals for advice or guides. Kephart also recommends the Kansas City Disc Golf Divas to anyone looking for tips from female disc golfers' perspectives.

Leagues and Weeklies: You can find UDisc Leagues in the Kansas City area on the Kansas City, MO and Kansas City, KS UDisc Places pages.
Chow Down and Drink Up: Unless you're vegetarian or vegan, no trip to Kansas City is complete without some BBQ. This list from Southern Living gives you a good place to start your research into finding the perfect Q, but if you want a shortcut, Reek seconds their choice of Joe's Kansas City Bar-B-Que (which Kephart says also has vegetarian options). If you've had your fill of the grill, Kephart recommends trying out the brewpubs McCoy's Public House and Brewery and Brew Lab—both of which serve their own beer. Reek's suggestions on where to get a few pints is Crane Brewing in Raytown, MO (20-minute drive from city center), who he says sponsor many disc golf events in the area.
What city is #6? Find out.
Looking for great destinations outside the USA? Find the Top 5 Disc Golf Cities — International here.