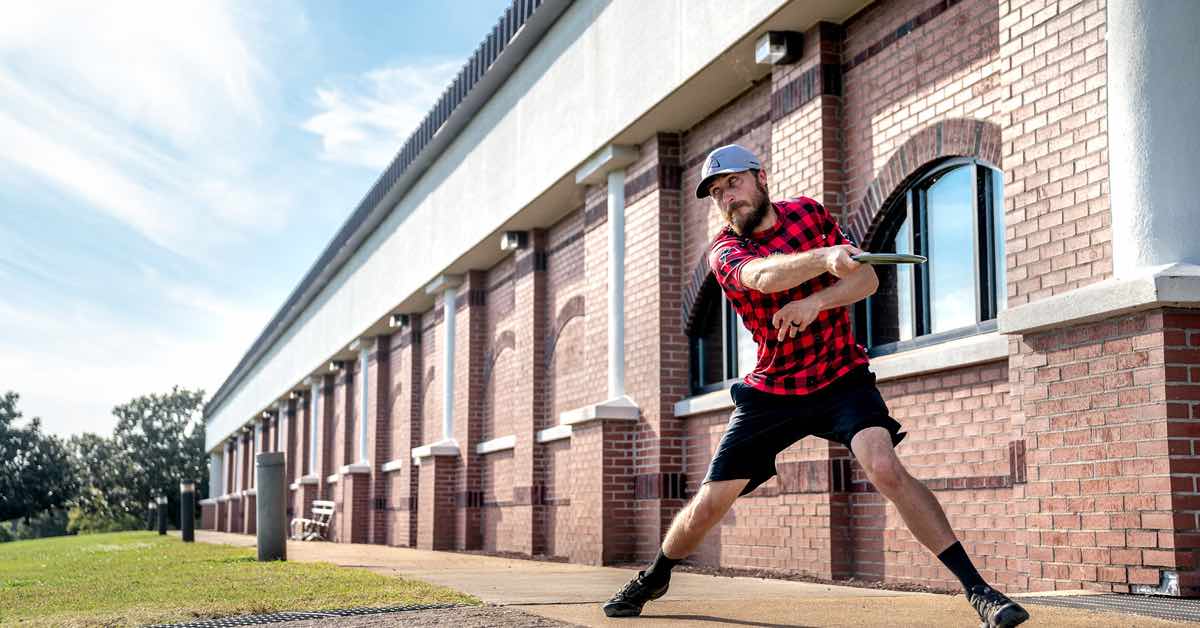 Anyone who's followed the professional disc golf scene over the past several years is familiar with the name Chris Dickerson. As someone with a United States Disc Golf Championship victory under his belt, an insane career tournament win rate, and a seemingly permanent position near the top of the Disc Golf World Rankings, Dickerson is clearly one of the biggest talents in disc golf.
Dickerson was nice enough to talk with us about his humble beginnings, his disc golf triumphs, and his goals for the future. 
Dickerson's Early Disc Golf Days
Like the first time almost anyone plays disc golf, Dickerson's initial round was far from astounding.
"I think it was my junior year in high school," Dickerson recalled. "I went with a couple of friends. We bought a three-disc starter pack and went out and played a round. We ended up losing two out of the three discs within 15 holes."
Despite donating 66% of his discs to the Tennessee wilderness during his first round, Dickerson was instantly hooked. Luckily for him, he lived in the eastern Tennessee town of Limestone, and the disc golf scene – with help from an enthusiastic Lakefront Disc Golf Club – was growing rapidly in the region when he first got interested.
"Before I really got into disc golf, they used to have the Lakefront Open," said Dickerson. "It used to be a pretty good sized B-tier and they would have a pro and an am weekend, and people like Avery Jenkins, Will Schusterick, [Dave] Feldberg, and a few others would come out and play it every now and then."
Surprisingly, he didn't have anyone around him substantially more versed in disc golf to learn from, so he just honed his skills independently. When asked how he, as a mostly self-taught player, managed to become one of the world's best, he put a major part of it down to work ethic. 
"I want to say I practice more though I don't really know," Dickerson explained. "Growing up I always tended to pick up on things in different sports a lot quicker than others, but my work ethic whenever it comes to playing disc golf or any other sport, I just want to get out there and play. I want to spend as much time as I can practicing and getting better."
Along with disc golf every weekend and on weekdays when he could squeeze it in, Dickerson excelled in both soccer and football during high school. He believes that his experience in both sports helped make him "lighter on [his] feet" than others without similar sports backgrounds.
First Tournament Win & Sponsorship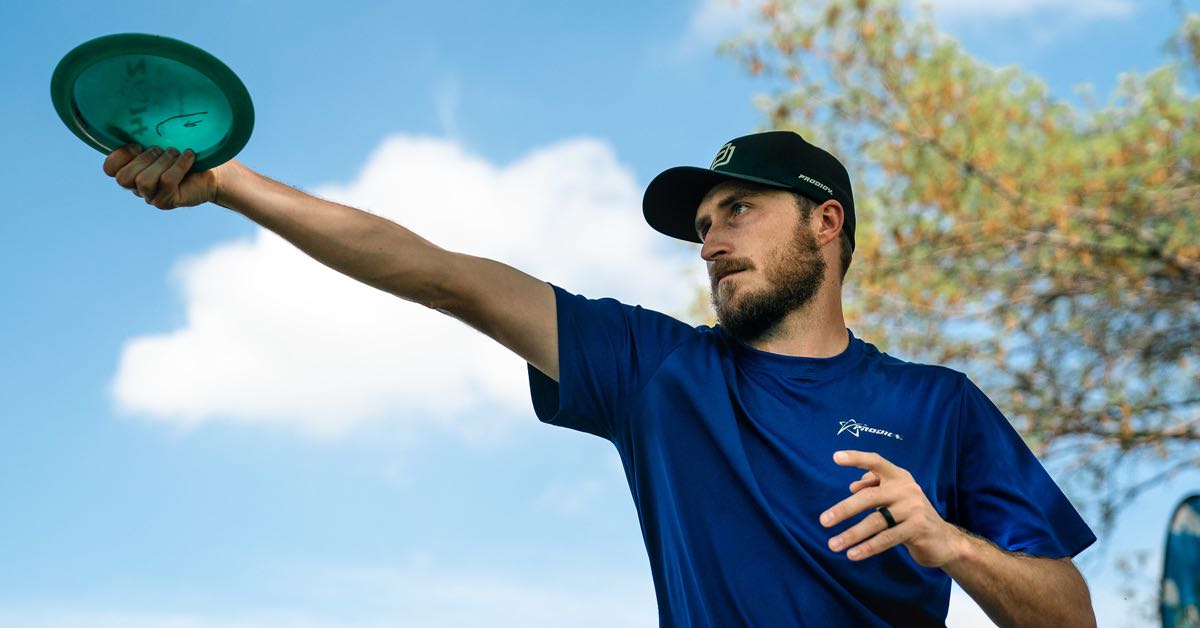 Along with his natural talent for athletics, a big reason Dickerson enjoyed organized sports in high school was his love of competition. That passion carried over to disc golf, and it didn't take him long to go from casual player to tournament regular.
In his first year of playing Advanced (the highest level amateur division), he won 10 of his 15 tournaments, so he quickly moved up to Open tournaments.
"My first local Open tournament I played in, I finished sixth out of 10 or 12," said Dickerson. "It wasn't very good. But my first Open tournament I went to outside of my area, I finished third. I can't remember how much money I got, but I want to say between $200 and $300. And at the time, just out of high school, I was like – this is a decent amount of money.
"So I started playing more open tournaments and I eventually got my first win in Virginia at All Hyzer's Eve," Dickerson recalled. "It was a C-tier and I think it only paid out $160. But there was some good competition – Cody Bradshaw, Stephen Miller. That's kind of the point where I thought, 'You're competing with a lot of the good players around here; you're not really winning every time, but you're competing, so you can definitely do this.'"
Dickerson's good showings helped him quickly make a name for himself in the southeast. Eventually, he found himself playing doubles at a local course in 2013 with Will Schusterick, who was one of the world's top players at the time and a co-owner of then-upstart disc golf equipment manufacturer Prodigy.
"Somebody mentioned to Will, 'You need to try to get Chris on Prodigy,'" said Dickerson. "And I would've loved to. So I said, 'Yeah, I'm all for it.' That just kind of planted the seed. It took longer than I would've thought because it seemed like almost a year went by and I kept asking, and Will kept giving me the answer, 'Pretty soon.' I think it was a little bit into 2014 when I finally got an offer from Prodigy."
The financial assistance and supply of discs greatly aided Dickerson in growing his skill in the sport, but what really fueled his competitive side was Prodigy's performance-based bonus system.
"I remember I would get bonuses for winning B-tiers and I just happened to play a lot of B-tiers, so I went out and had a really good year," Dickerson said. "I can't remember how many I won, but I brought in quite a bit off of bonuses just for B-tiers alone."
Big Moments of His Career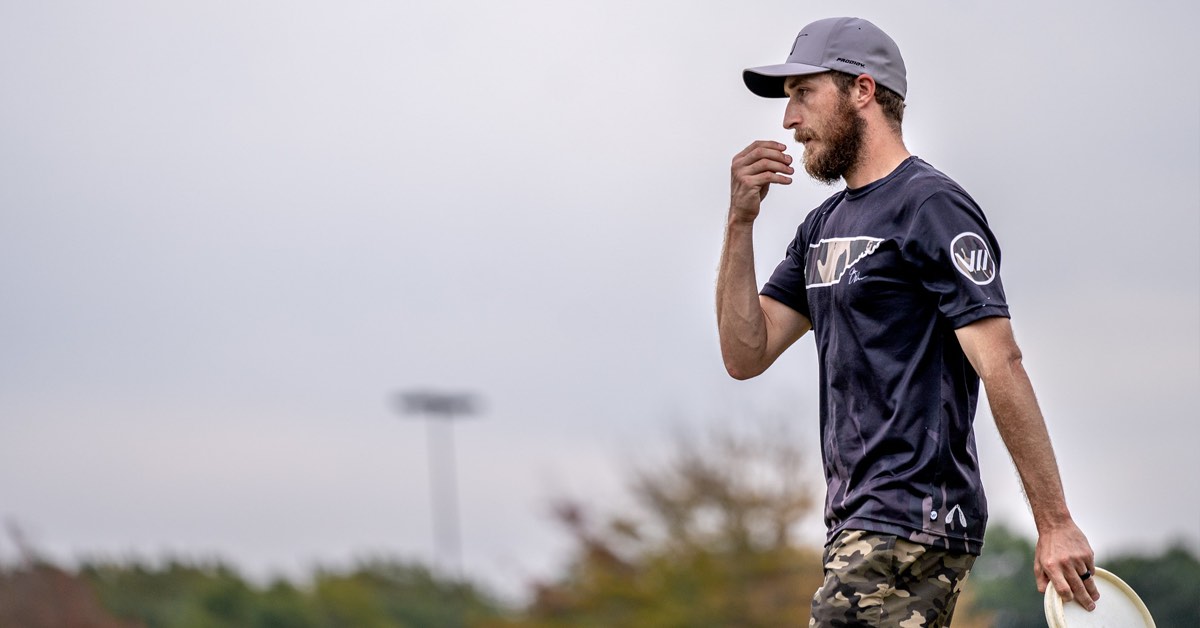 A trend in Dickerson's career over the last three years has been winning a ton of local tournaments, finishing near (but not in) the top spot in many bigger tournaments throughout most of the season, but then bringing it hard to claim victory at one big event just before the winter break. Those end-of-season victories – 2018 and 2019 Disc Golf Pro Tour Championship titles and his 2020 USDGC win – are the three accomplishments Dickerson points to as the highlights of his career so far.
Along with topping other of the world's best players at the DGPT Championships (which are played in a unique, round-by-round knockout format rather than the typical method of total score over multiple rounds), Dickerson is also proud of earning those wins on two very different courses: New World Disc Golf in Florida and Hornet's Nest in Charlotte, North Carolina.

"I just happened to be playing really good golf both weekends, and they were on two different courses," Dickerson said. "I like that because one is more wooded, one is more open. I know a lot of people say that I'm more of a woods player, and I do prefer playing in the woods, but being able to win both courses made me think that I could do it on whatever course."
It turned out "whatever course" in 2020 included the hallowed fairways of Winthrop Gold, annual host of the USDGC, which is an event some players esteem equally with the World Championships. Dickerson said simply sticking to and executing his game plan was what led to his victory.
"So my mindset going into the tournament didn't really change," Dickerson explained. "I had certain holes that I would try and get a birdie on, and there were some holes that I was just playing for par. For example, hole 9 this year I was just playing for par."
Something not in that game plan, however, was the torrential rain that pummeled competitors during the final round. Keeping discs and hands dry was virtually impossible, so Dickerson had to go with what felt safest.
"As for the rain, it was so hard I had to switch to a base plastic disc for the most part even coming off the tee," said Dickerson. "I was throwing a 300 PA-1 on some holes just so I would have that grip."
Somehow one competitor, Calvin Heimburg, seemed unaffected by the rain and almost overtook Dickerson from the chase card. An extremely unfortunate roll-away on the penultimate hole, however, ended Heimburg's chances, and Dickerson toughed it out to take the win.
"It really felt good to get a win that big because the first one can give you more confidence going into any other event," Dickerson said.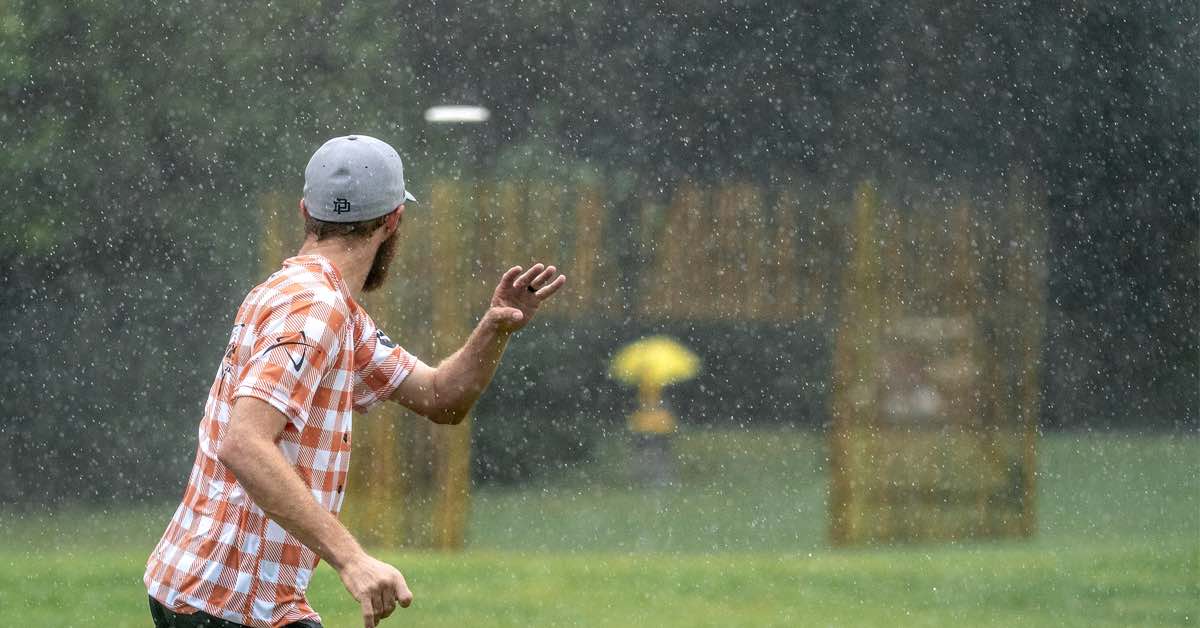 Though his career is filled with great moments, Dickerson doesn't shy away from examining the tough ones in just as much detail. The example freshest in most pro fans' memories will be a missed putt on hole 17 of the last round of the 2020 DGPT Championship that likely cost him a three-peat as the event's winner.
"My putting wasn't really good going into that, and when I say that, it just didn't feel good," recalled Dickerson. "I had putted good up until that point but I could tell there was a little something off. I'm not a push putter and I don't really practice it, but my putts felt like I was coming upwards, more like a push putt than a spin putt. So, that's kind of what happened on that hole. It just felt like an odd putt."
Dickerson uses these moments of difficulty as motivation to improve and has done so since early on in his career.
"A tournament in Kentucky, it was a B-tier and this was...early on in my career [and] I was playing pretty decent going into that, and I go to this tournament and I don't cash," Dickerson said. "It was the first time I hadn't cashed in a pro tournament. I didn't feel like I played really badly, but it was just – the kicks and breaks were also not in my favor. I want to say it just made me go home and practice even more."
The tournament was the Louisville Open in 2016, and it was the last singles tournament Dickerson didn't cash at. He currently has the third longest active cashing streak in disc golf.
Practice Makes Perfect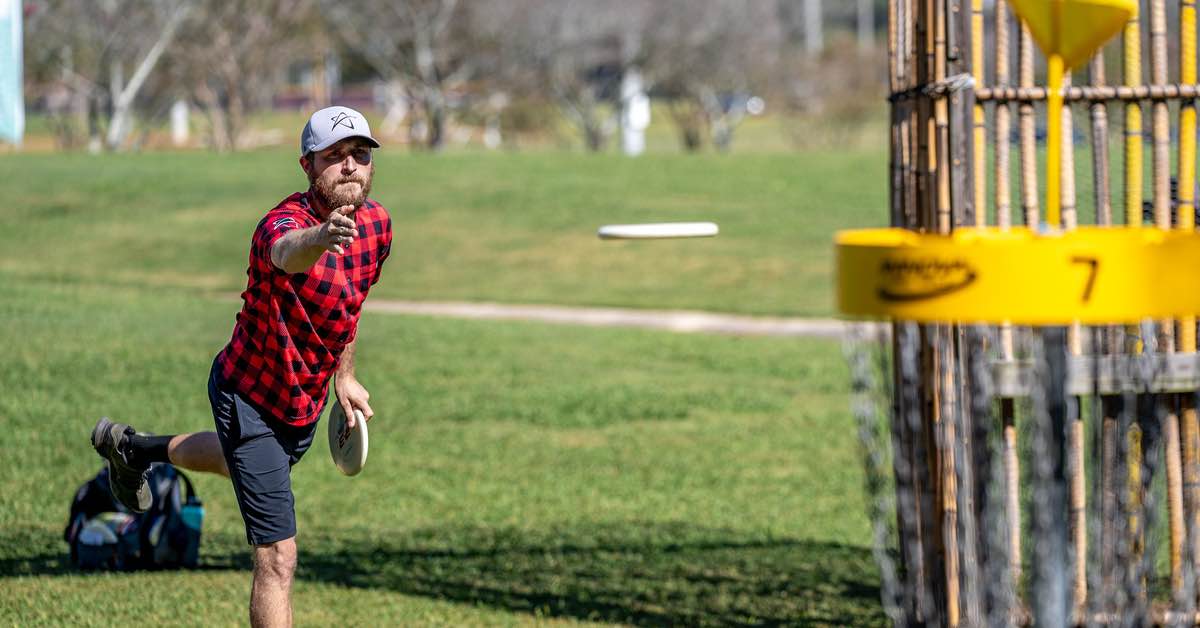 Though Dickerson's ambitions are growing, he has no plan to change up the formula that's got him this far.

"As far as preparation, I'm just going to keep doing the same thing and keep hoping to get better," Dickerson said.
The "same thing" doesn't consist of hours in a field filming and honing his form, however.
"I don't do field work – I do something similar but on the course," explained Dickerson. "What I mean by that is, let's say a hole is 250 feet [76 meters] straight in the woods. I'll throw two backhands that are hyzer flip to straight shots, and I'll throw two sidearms that are as well. Next hole if it's a hyzer [left], I'll throw two backhand hyzers and two sidearm turnovers. Instead of being in an open field throwing a bunch of different shots all the same way, I will go out to the course and throw a bunch of different shots off of every tee, whether it's backhand, sidearm, tomahawk, thumber – just things like that to keep my game sharp.
"I keep three putters in my bag specifically for putting and putt from each of my shots off the tee," Dickerson added.
Depending on the tournament layout he's practicing for, Dickerson plays different courses in his local area.
"If I'm playing Glass Blown Open or a course where it's going to be a more open, longer course, I'll go play Harmon Hills," Dickerson said. "That way I can throw some drivers and fairways. If I'm going to play a course where it's shorter and more technical, I'll go out to Warriors Path."
Why is Chris Dickerson the Robot Chicken?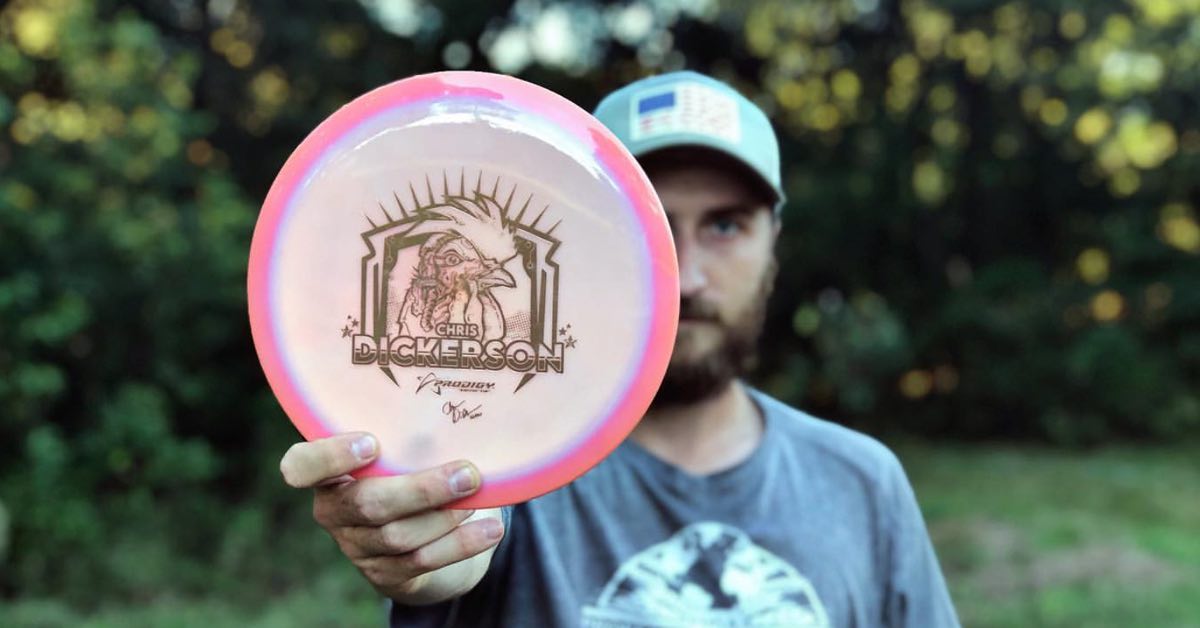 Whenever Dickerson makes it onto filmed tournament footage, it's almost certain that a commentator will call him "Robot Chicken" at some point.
"I got that nickname from Big Jerm," recalled Dickerson, referring to fellow pro and tournament footage commentator Jeremy Koling. "He called me that on Jomez and it just stuck. It comes from him saying I'm very robotic in my routine – that it always looks the same. And because my diet consists of mostly chicken. Mostly fried, but every now and then grilled."
His favorite chicken? It's a tie between Raising Cane's and Chick-Fil-A, naturally without sauce. As for the robotic side of Dickerson's nickname, it doesn't bother him, but he doesn't always see himself that way. 
"Whenever I go to a course, people ask me what I'm trying to shoot, and I hardly ever have a number in mind," Dickerson said. "I just go onto the course playing it to the best of my ability, and that's basically how I play it that day. If you go into a course and you expect to shoot 10-under, and through four or five holes, you're even or 1-under, you're not on pace. That's gonna put more pressure on you to pick it up and do better, which can cause you to make more mistakes. So if I just go into the course thinking I'm going to just play the course see what it gives me, it doesn't add any extra pressure and it still allows me to stick to my game plan."
Goals in 2021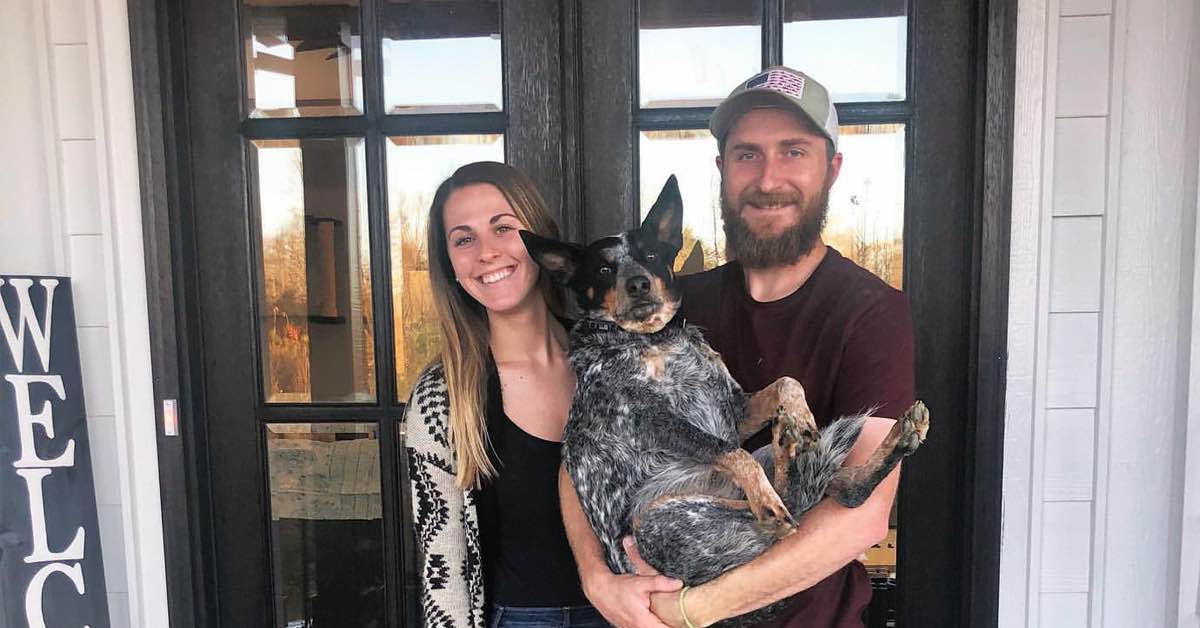 Known in the past as a player who didn't venture far out of his region for competitions, Dickerson is planning to travel more in 2021 following his success this year.
"That's kind of what we're planning on," Dickerson said, referring to himself and his wife Brittany. "We've already bought our plane tickets for Worlds out in Utah. I've never flown on a plane before but it looks like as of now, we're going to that. Brittany really wants to go to Europe next year, so as long as we can travel and as long as I don't have a really bad freak out on my first flight on a plane, we should be going to Europe."
When speaking of his wife Brittany, who has essentially taken on the role of publicist for Dickerson and travels with him to tournaments, it's clear her assistance and moral support help him both on and off the disc golf course.
"Whenever I first started going to tournaments that were five or six hours away, I would leave on Thursday or Friday and I would have to drive there, the tournament would end, I would drive back home that night," recounted Dickerson. "So it was a lot of driving back and forth. Now that Brittany's able to come with me, it makes it a lot easier. I can go out to the first tournament, we can leave from there and go to the next one, and then the next one if there's a pretty good loop close together."
In their camper, the pair also brings their Blue Heeler Sam with them on the road. 
"Brittany connected with him instantly," Dickerson said. "I used to breed them with my dad growing up and she knew how temperamental they can be, but she saw Sam and knew he was supposed to be ours. We were preparing to go on the road together, so she got him trained and we went on the road as a family."
The Limestone Laser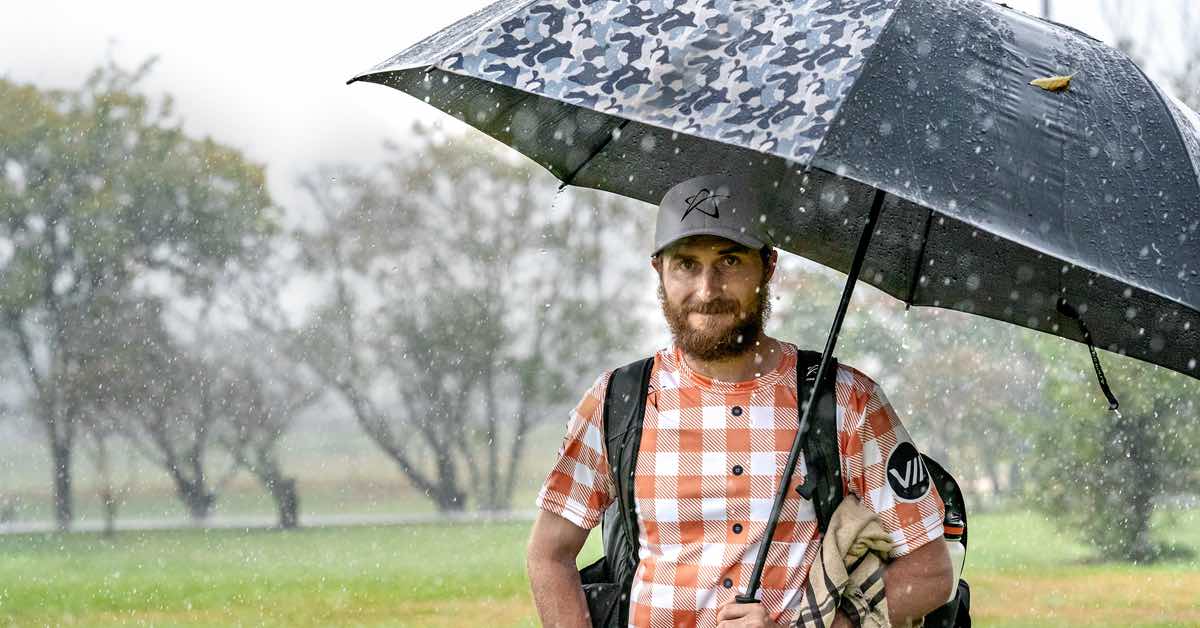 Looking at Dickerson's record – 134 wins in 258 tournaments – it's obvious why he's one of the most talked-about names in disc golf. An incredibly humble, reserved player who often lets his disc golf ability speak for him, Dickerson is a force to be reckoned with on the course – one we'll likely be reckoning with for quite some time.