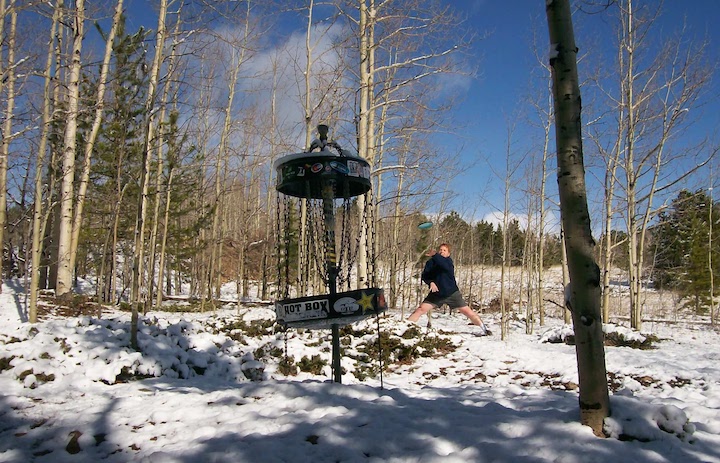 When Derek Tonn plays disc golf, he often plays alone and with a mindset that favors decisiveness and speed over contemplation.  

"You see some people simulating their putt, you know, they gotta practice four times and then they still chunk the band or the top of the cage," Tonn remarked. "All of that 'concentrate, concentrate, try and make this 30 foot putt,' I'm already like halfway down the next fairway. I'm just moving. Let's go. I missed the putt. Sucks to be me. Let's go. What's interesting is when you take that pressure off, like you're not thinking the world's gonna end if you miss that 30-footer, you make a lot of 'em. You're playing fast and you're playing loose."
You likely haven't heard Tonn's name before. And, no, he isn't an obscure master disc golf tactician. What he is, however, is one of the most prolific disc golf "course collectors" on the planet. Tonn has tossed plastic on over 1,400 courses, a total that ranks him #1 on the UDisc leaderboard for courses played.

To look at Tonn's total in a different way, think of this: you would need to play one new course every day for almost four years to catch him.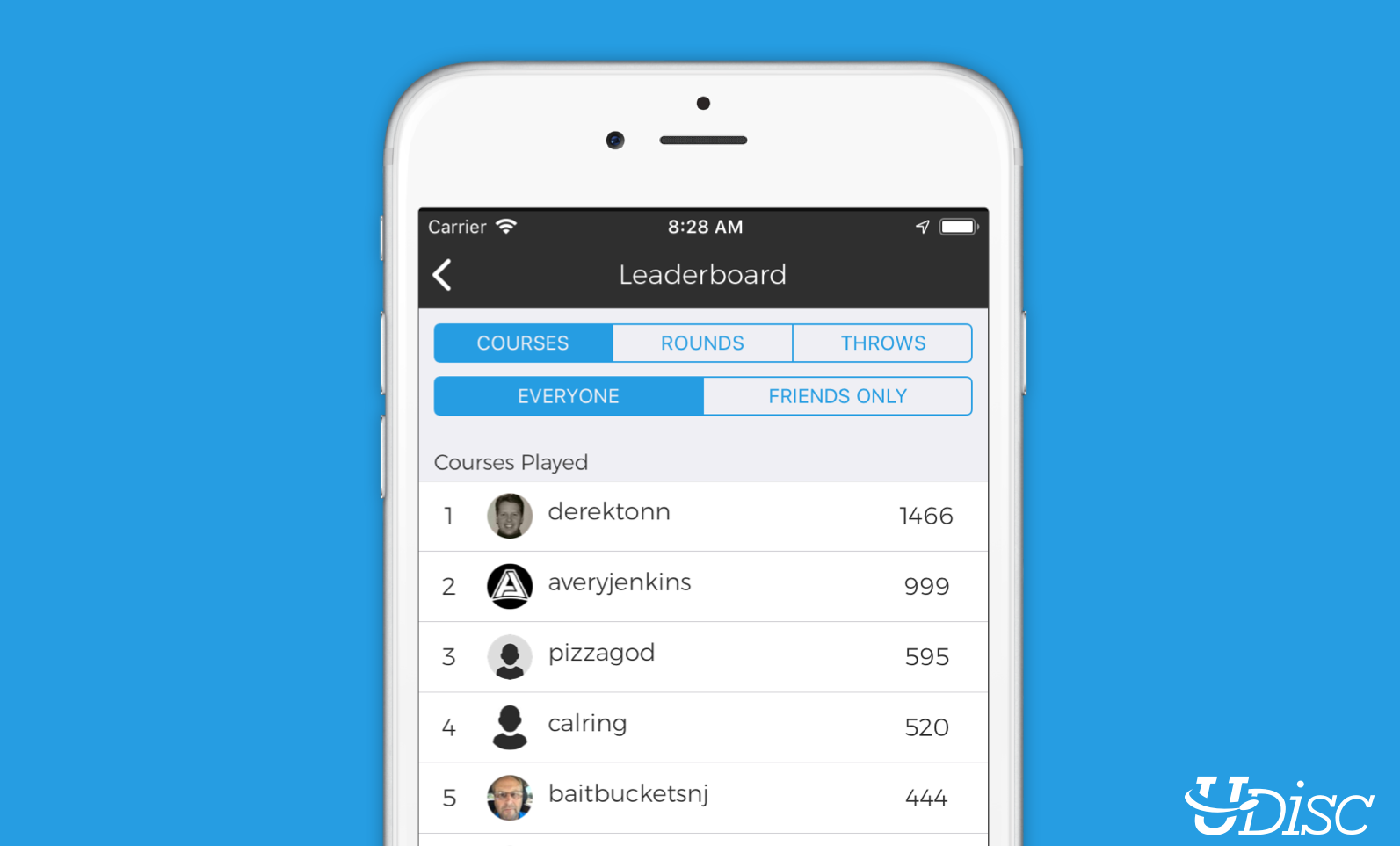 I came to chat with Tonn after taking a look at the Courses Played leaderboard and becoming curious about the stories behind the people and numbers on it. How do these players structure their lives around feeding this passion? Are they aware of each other, and if so, are they consciously competing? What motivates them to continuously seek out the new?
To look into these questions, I talked with the UDisc users who are top five in courses played:  Tonn (derektonn),  professional disc golfer and 2009 World Champion Avery Jenkins (averyjenkins),  Bryan James (pizzagod), Chris Claring (calring), and Neils Johnson (baitbucketsnj).
Becoming a Collector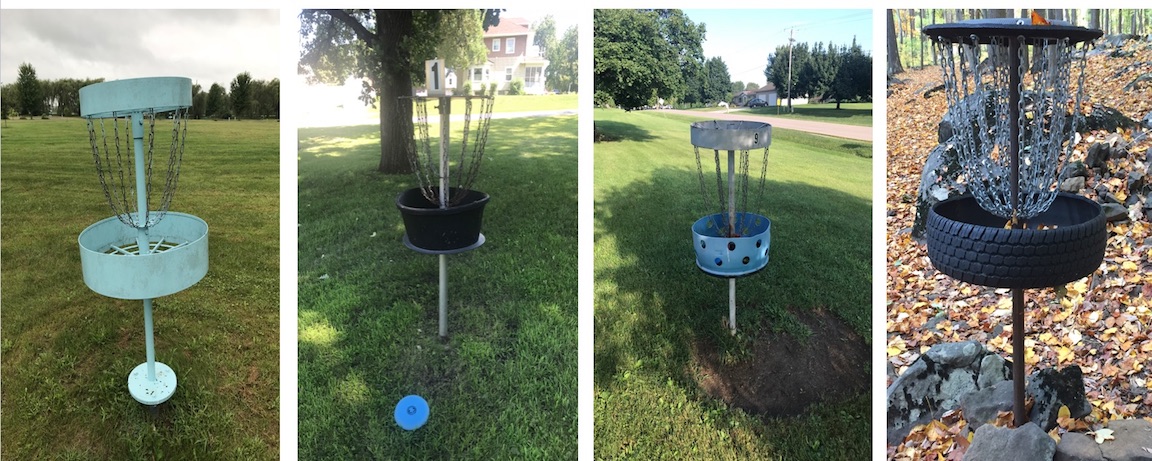 The people at the top of the Courses Played leaderboard didn't get there by chance. They have all made a conscious commitment to the pursuit of playing new courses. 

"The first course I ever played outside of Minnesota was in southerwestern Wisconsin," Tonn, a Minnesota resident, explained. "And I'm like, 'Yeah! I played two states!' If I played in two states, maybe I could play three, and I figured out how to play down in Iowa. And it just kinda grew from there, and after I got to two or three hundred courses, I thought, 'This is a lot of fun.'"

Jenkins' revelation that he was a course collector came around a decade ago.

"It was a rainy day in Texas, and I was playing the Veteran Park Open," Jenkins recalled. "I couldn't go out and practice, so I'm sitting at my friend's house and looking at all the courses in the area and I'm thinking, 'Huh, I wonder how many courses I've played in Texas?'"

From there, Jenkins began compiling his list and made it a point to continue adding to it. It's also interesting that though you would think Jenkins' life as a professional disc golfer would be a benefit to any course collector, reaching his current total wasn't a breeze.
As a pro, he often plays the same big events in the same places year after year and needs to practice the same courses for those events. Tournament play as a hindrance to growing course collections was brought up specifically by #3 on the leaderboard, James.

"In the last three years, the only time I have played a course I've played before has been at a tournament," he said. 
Trippin'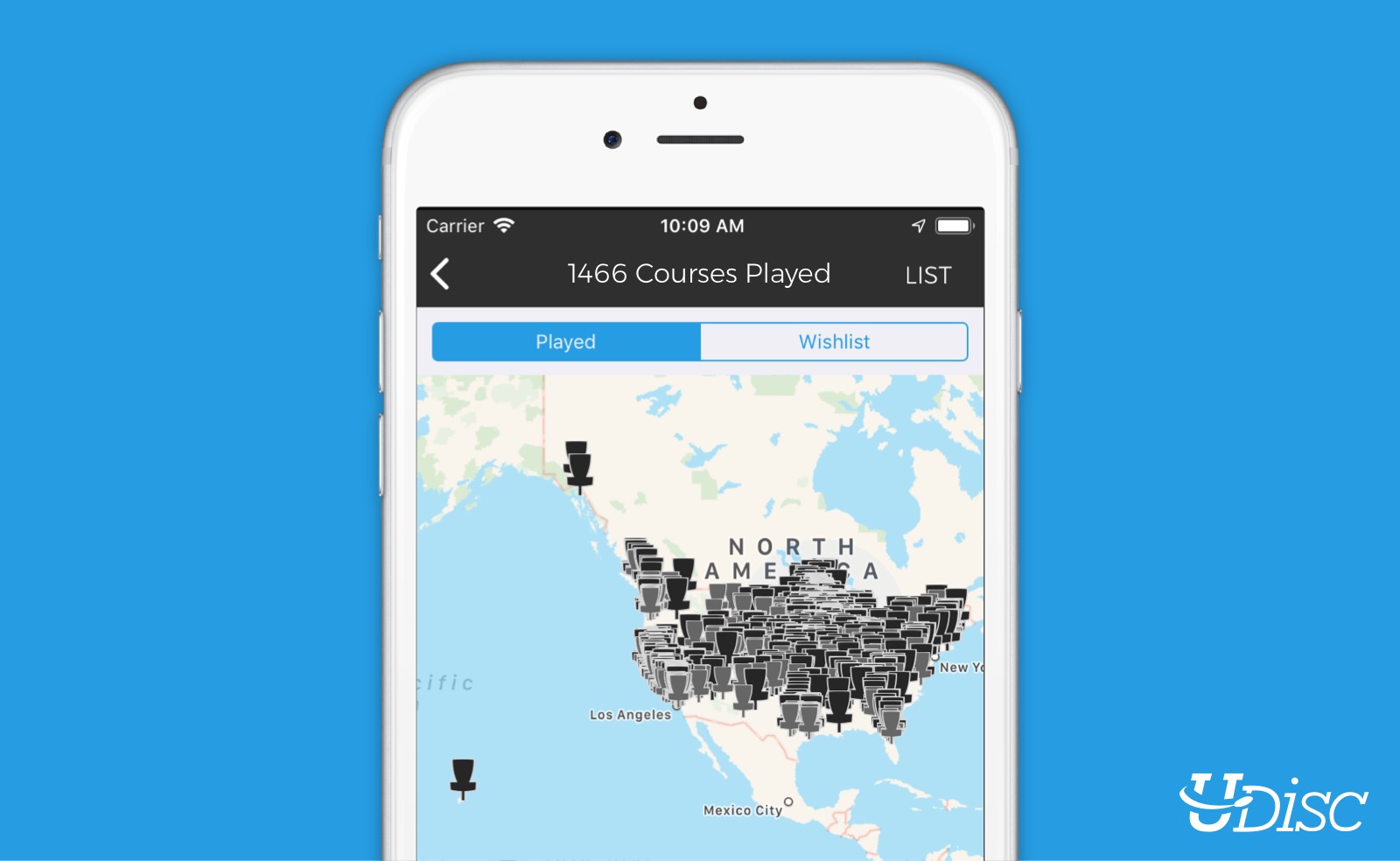 Course collecting gets harder and harder as you go. So, for serious course collectors it becomes almost a necessity to build epic trips to cover as many courses as possible. A perfect example of what I mean by "epic" can be seen in a description of such a trip taken together by the friends Claring and Johnson, #s 4 and 5 on the leaderboard.
"We played 27 [courses] in one weekend once," said Claring. "We left Friday night and drove about two hours, playing a couple on the way. Spent the night, got up early and played 15 more on Saturday. We then played 10 more on Sunday before heading home early afternoon. We could have played more but since we were almost four hours from home we stopped."

Johnson has gotten his wife enthusiastic about collecting, too.

"We may go all day and never stop to eat," Johnson said. "We leave home here, we get to the course there. We finish. Next place. I'll map out our whole weekend sometimes, and how long we've got at each course."
When I got in touch with James, he'd just returned from a 461-mile (742-kilometer) trip the day before that had gone anything but smoothly. 
"The trip yesterday...I had an adventure," James said. "I was trying to go up the northern part of Oklahoma. Seven and a half hour drive. I had five or six courses on the list to play. However, I had a flat before I even got out of Texas. I still decided to push it with a spare, which lasted about 80 miles [129 kilometers]. I actually spent last night on the side of the highway with all the big trucks going by. I managed to find a tire shop, and yesterday morning at 7 I was pushing my tire down the side of the road and a good samaritan stopped and took me to get a new spare tire." 

James concluded this tale by saying, "And I still got in eight courses yesterday."
Personal Goals and Friendly Rivalries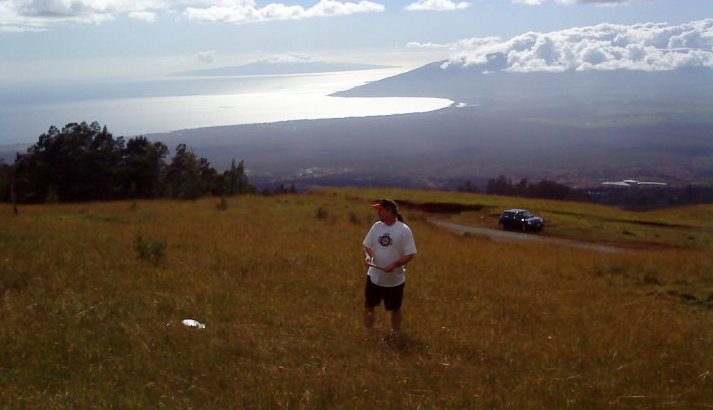 Each of the players I talked to were extremely competitive and looking to move up the leaderboard. For example, when I talked to Johnson, he told me to give Claring this message: "I'm catching him someday."
Beyond just improving their place on the board, however, each player also has personal milestones they're hoping to reach. Tonn hopes to be the first person to play 2,000 courses and even has a sponsorship from DGA to help him do it. Most of the players also want to play a course in all 50 states. 

Jenkins, however, might have the most specialized goals of the group.

"My goal's to play the oldest existing course in every state and country," Jenkins said. "Of the ones that exist today, I've played 32 of the oldest in the 50 states. And then with countries I think I've played 12 or 15 different oldest courses per country. And then I'm trying to play on every continent. I'll throw this out there just for the stat board: there's no American player that's put in more countries than I have. I'm at 22. There are European players with more, but again, going a country over in Europe is like going a state over here, so it's different."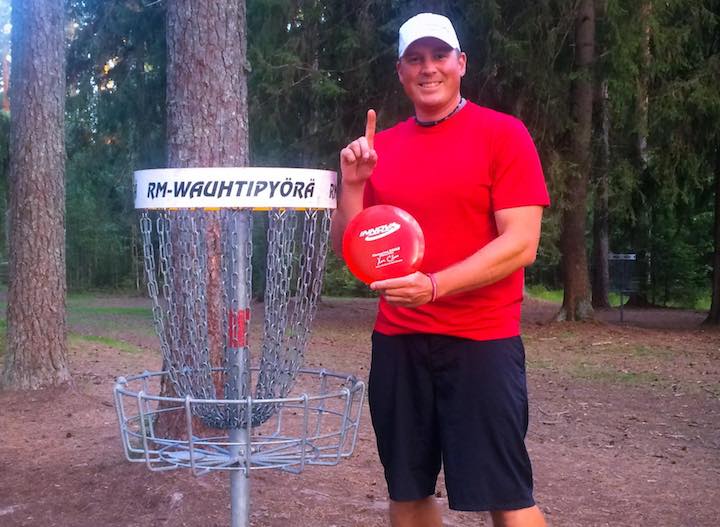 Though Jenkins is obviously proud of his achievements, he's not out simply to have stats higher than every other collector.

"With the oldest courses I'm trying to get a feel for what disc golf used to be in the late 70s, when Steady Ed was going out there and dropping courses," Jenkins said. "That's a historic portion that's special to me."

And it's the same with each of these players. While their collection tallies are definitely on their minds, staying in touch with the spirit of the sport is still a high priority. 
#DiscGolfLife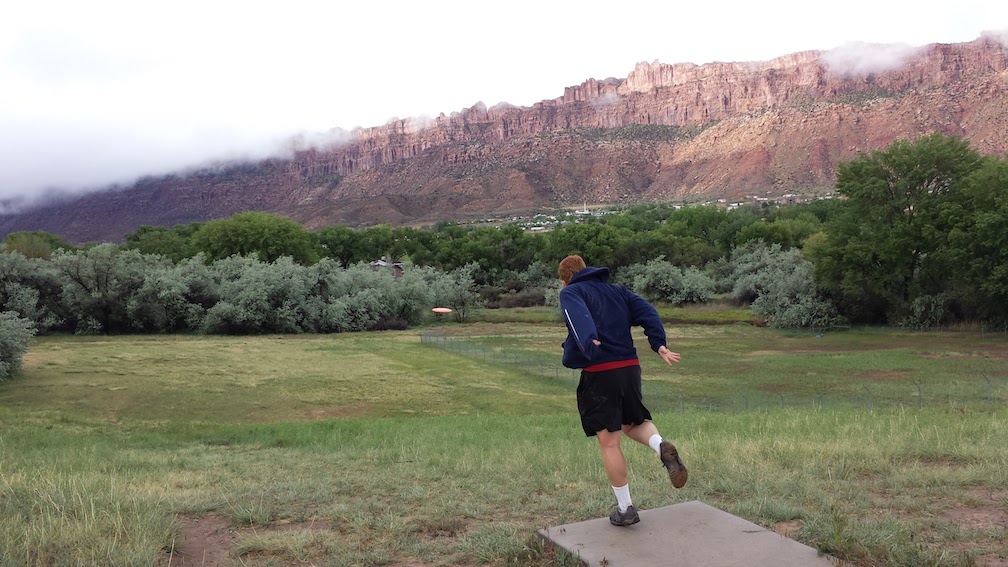 As I talked to the collectors over the course of a week, it became obvious that course collecting isn't just about playing courses but about the boundless new experiences the hobby offers. Jenkins encapsulated this sentiment in my conversation with him.

"It's just cool that you can go out there and experience so many courses and cool venues and cool locations where you're throwing off the mountains or playing through the woods," he said. "It's great where disc golf takes you and the adventure and experience it provides."

And while many experiences are specifically interesting to disc golfers, like puzzling over ambiguous course layouts or seeing baskets made of car tires and dog food bowls, there are plenty that almost anyone could enjoy. For instance, Johnson spoke fondly of the times he had spotted wildlife like bald eagles and wild turkeys, as well as about the human relationships the sport has helped him form.

"I love playing; I love meeting the people," Johnson said. "The people are so friendly compared to what it was 20 years ago when I played ball golf. When you lose a disc, people stop and help you look, or you stop and help them look. Those are the people I do stuff with now, the friends I've made playing golf."
Ultimately, during all my conversations I was struck by how I could just feel it—the energy in their voices, the emotion when I asked what disc golf meant to them. They love it for all of its complexities, for its competition and its camaraderie, for its history and its changes, from hallowed courses like Maple Hill to the city park pitch 'n' putts.
And though their stories are all different, I couldn't help but think that remarks from Tonn just before we ended our call seemed to express the type of love for the sport that runs through all five of the collectors I spoke with.

"So many people in my life tell me the same thing," Tonn began. "That disc golf, I don't want to say saved me, because that sounds overly dramatic, but I was at a point in my life where, you know, middle aged, needed to lose some weight, struggling with, not depression, but you feel like you should be having more fun, doing cooler things things with your life. And I got into disc golf and I was like, this is it. Disc golf, sometimes we joke it's like the Island of Misfit Toys, like people who are broken or have had problems in their life they come to disc golf and it almost saves people. It gives them a new lease on life and they're excited and they have all these friends and they get exercise and fresh air. It just makes people better, and that's exactly what happened in my life, too."


Interested to learn more about the collectors? Visit Tonn's blog about his adventures or James' Facebook page.