What do shaving cream, lotion, vinyl, and synthetic dye have in common?
To most people, nothing. But to a growing group of artists pushing the boundaries of what can be put on disc golf discs, these ingredients are a source of nearly unlimited potential.
We spoke with a number of disc dyers to learn more about the incredible art they're creating with discs as their metaphorical canvasses.

If you're also interested in how to dye a disc yourself, you can find a clear, detailed how-to for one dye method in our post "How To Dye A Disc Golf Disc: Easy Step-By-Step Guide."
The Process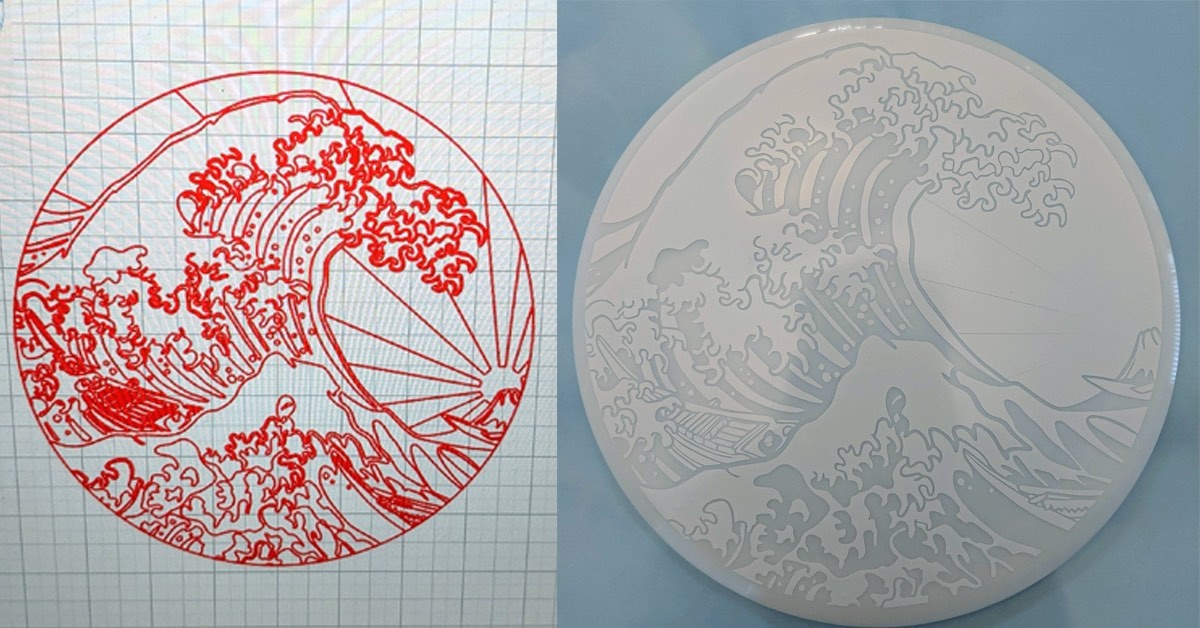 In disc dyeing, the general idea is to use a medium—be it shaving cream, lotion, glue, or a number of other materials—to embed a synthetic dye into the plastic of a disc. The use of multiple layers and vinyl stencils allows for a huge range of possibilities.
We first spoke with Keith Lempa of DiscDyeing.com to learn more about the process of dyeing discs. After a severe leg break, he needed a disc golf-related hobby that was easier than trying to play a round in a wheelchair.
"A buddy of mine came over and showed me the basic process on how to do hand-cuts [stencils] and then actually painting with dye on the discs," recalled Lempa. "I did a few of them, but with me everything is always, 'Let's make it more complex.' I quickly found myself limited by how small I could cut by hand, so I got a Silhouette cutting machine and started going bananas with designs."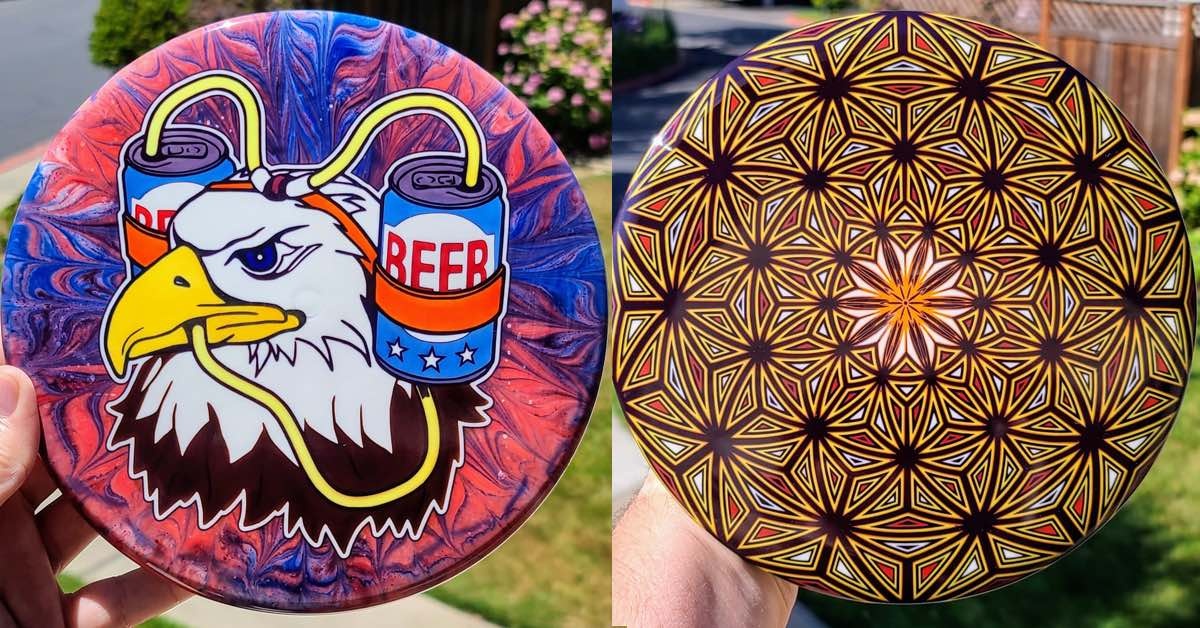 A Silhouette is one of several brands of computer-guided cutting machine that can cut intricate patterns into adhesive vinyl, which is perfect for creating patterns for disc dyeing. Lempa employs it to great effect, often printing precise designs with over 1,000 cuts (his most ever was over 8,000). As for vinyl, Lempa uses Oracal 651.
"Oracal 651 is permanent," Lempa said. "That means the adhesive is not water-based. If you use contact paper or Oracal 631, a liquid dye can dissolve the adhesive."
The actual dyeing process varies between artists, but the most frequent theme is the creation of "beds"—a dyed substrate that transfers color to the disc. Common substrates are lotion and shaving cream, but there are many other mediums used by dyers.
The disc is placed top-down onto the dye and left to rest. Set times vary, but the longer the duration, the more saturated the color. For quicker results there is a method known as "hot dipping."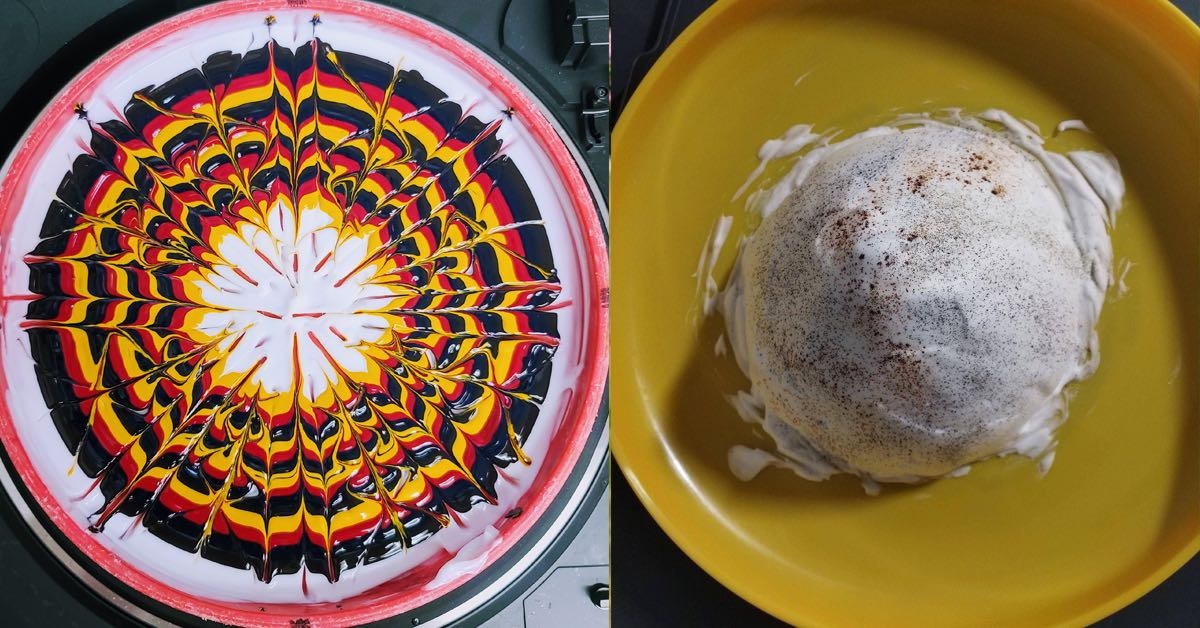 "Heat the dye up on a pan in the stove—you don't want it boiling, just a bit of steam," said Lempa. "You float the disc on top of it for five minutes and that's it. For me, that's the way to go. You get a smoother color application. A lot of people use a hot dip for the black outlines and then use other methods for the rest of the disc."
Lempa also uses a very specific dye for his creations.
"I used iDye Poly for years, and then once I found ProChem—it is a totally different level of quality," said Lempa. "The colors are better, they're brighter, the uptake is much faster, and it's cheaper. The only problem is you can't go to a fabric store and buy ProChem. You can only get it from the manufacturer."
Along with iDye Poly and ProChem, other dyers use everything from CS Coatings Worm Dip (used for fishing lures), Rit DyeMore fabric dye, and even hair dye. If you're interested in trying dyeing at home, Lempa did stress two things.
First was the importance of using synthetic dye because natural dyes won't work. Second, soft plastics used on more affordable discs won't hold dye, so premium plastic is a necessity.
You can check out more of Lempa's work on his instagram @discdyeingdotcom or his website here.
Jeff Ash & Brainwave Dyes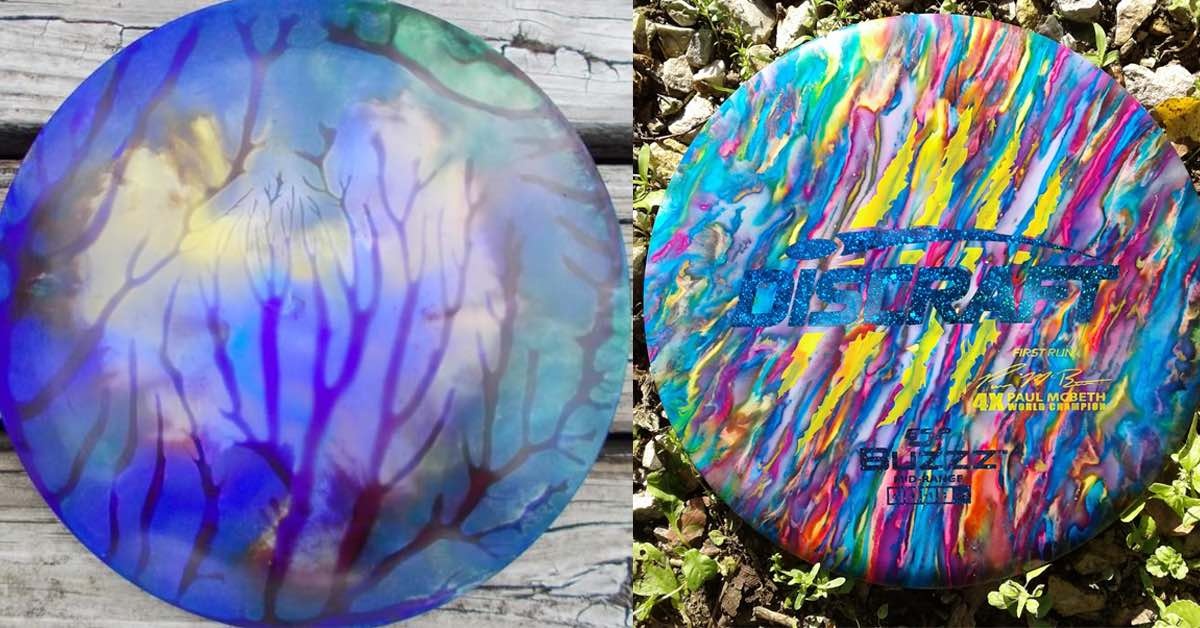 Referred to affectionately as "Mr. Brainwave" by 12-time Open PDGA World Champ Ken Climo, Jeff Ash is well-known for his signature Brainwave pattern, a multicolor pattern of fractal swirls and Lichtenberg figures.
Often mentioned by other dyers with reverence, Ash has been dyeing discs since the late 1990s. He quickly made a name for his work, pushing the boundaries of what was done at the time through endless trial and error. 
Like most dyers, Ash came to his art by first falling in love with the game of disc golf. He had experienced some personal hardships and found it to be a great outlet. Then, after seeing some early work by dyers J-Bird of Innova and Joel Kelly, Ash wanted to give disc dyeing a try. 
"At the time, Discraft's signature series line of plastic was discontinued, and Scott Stokely had a lot of the product," Ash said. "He would sell me discs at a really good price, so I had the opportunity to practice. Somewhere during the process of cleaning up, I noticed what happened and started testing the original Brainwave effect—the coral-like, dendrite-neuron pattern that became my signature style."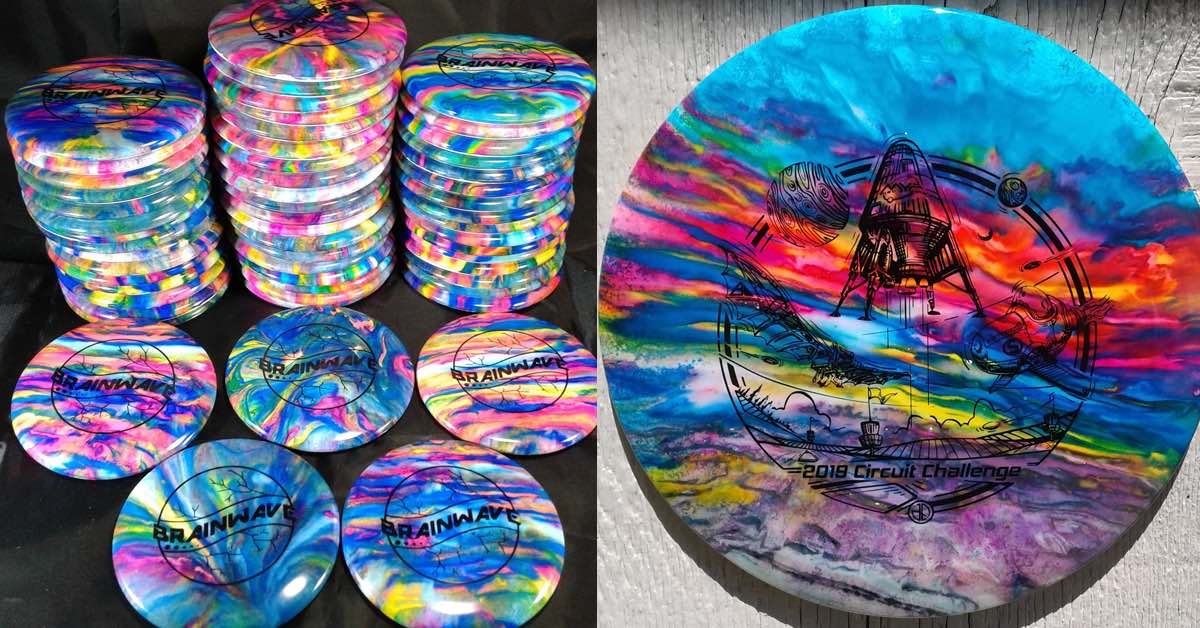 Because there wasn't YouTube or Facebook to learn about disc dyeing techniques, Ash was constantly trying new methods on his own.
"I would go to veterinary supply stores, hobby shops; I contacted companies in India and China," Ash said. "I still have dyes that are almost 20 years old. I tried so many different things—everything under the kitchen sink, alcohol solvents, different application techniques. I would cut discs into eight pieces just to use as tests."
His persistence paid off as he's estimated dyeing around 16,000 discs in his career. At this point, his dyes have become ubiquitous in the disc golf world, with pro players like Garrett Gurthie, Avery Jenkins, Jessica Weese, and five-time and reigning world champion Paul McBeth throwing his work. After all this time, he still perseveres to create new patterns and techniques
"One of my fears has always been getting burnt out, where I don't want to do it anymore," said Ash. "That hasn't happened in all these years. And that's what makes it all so fun and worth it."
See more of the work by Jeff Ash at his website or contact him at thejeffash@att.net.
Greazy Dyes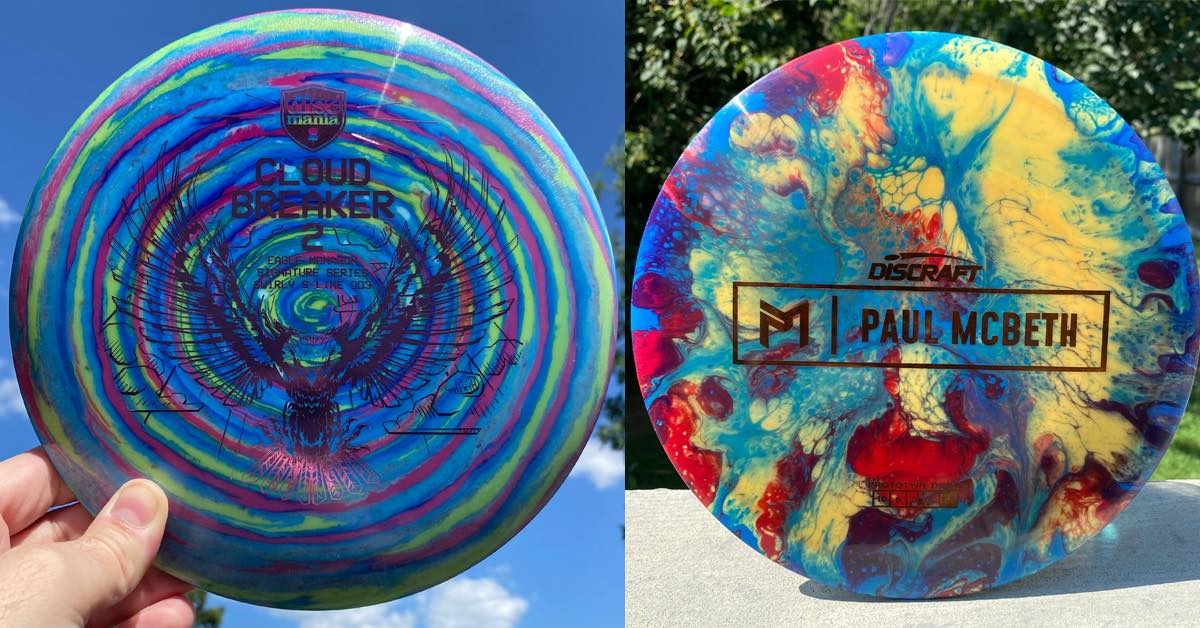 Greazy Dyes are the product of Chase Marcus of Seneca, Missouri. He played his first round of disc golf while also battling leukemia and was immediately smitten despite the challenges of cancer and chemotherapy.
"As I dove into the world of disc golf, I couldn't help notice some of the beautiful discs some people were making," recalled Marcus. "At first I was just curious about what went into it and after days of research, I got up the courage to get the supplies and try it on some discs. I figured it would be great art therapy for me."
Marcus used the spin dye technique on the first disc he ever dyed, applying color to a disc as it spun on his wife's record player. He said that despite making just a simple pattern, he loved the look of his work and was "hooked instantly." He was also already thinking bigger.
"I was thankful that I could dye my own discs to a certain degree, but I knew I wasn't yet making something I could market long-term," explained Marcus. "Literally the last disc I put in a dye bed, I discovered the key to what has led me to continue dyeing discs and experimenting. For me, it all had to do with science, creativity, and a little bit of luck."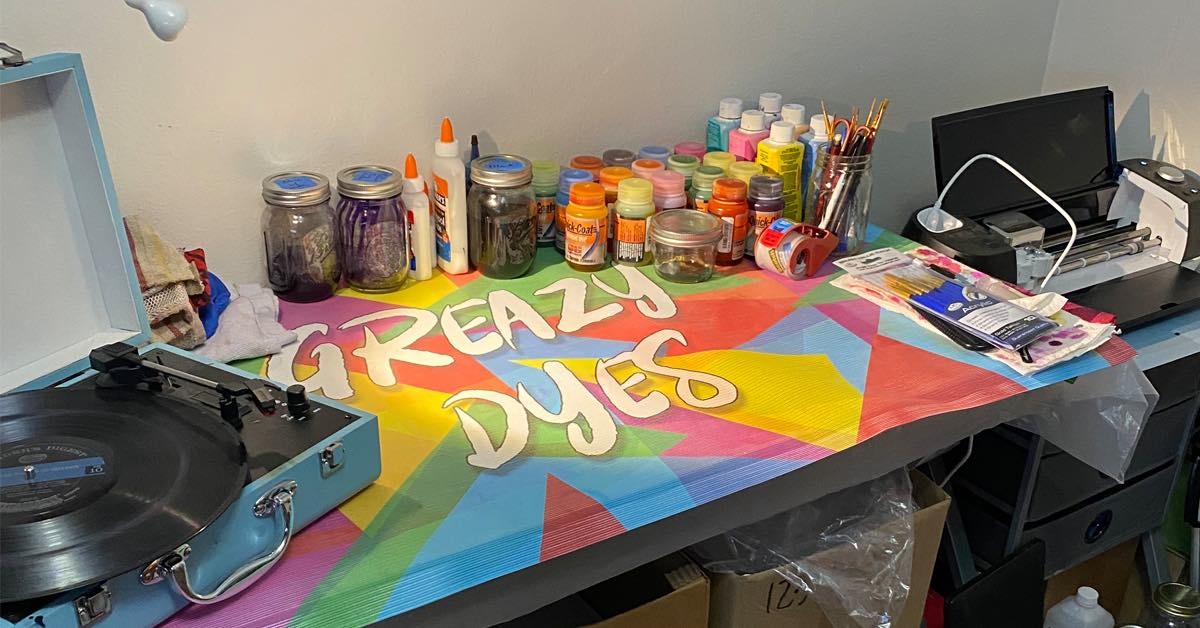 After long, deep dives on the internet looking into topics like dye dispersal and the science of color saturation, Marcus still isn't satisfied and is hungry to continue to learn more and integrate what he learns into his art.

"The result has taken me down a path in which I'm still discovering new patterns and color saturation every week," Marcus said. "I'm continuing the process of experimenting every week with the hope that I'll make something so unique and special that when someone sees it they'll instantly say, 'that's a Greazy Dyes disc.'"
You can see more of Marcus' work on his website here.
A Community of Dyers
The disc golf dyer community is larger than most people probably believe, and those featured in the sections above just scratch the surface. We talked to even more dyers in the process of making this piece, and their experiences also offer great insight into the art of disc dyeing.

Glow Butter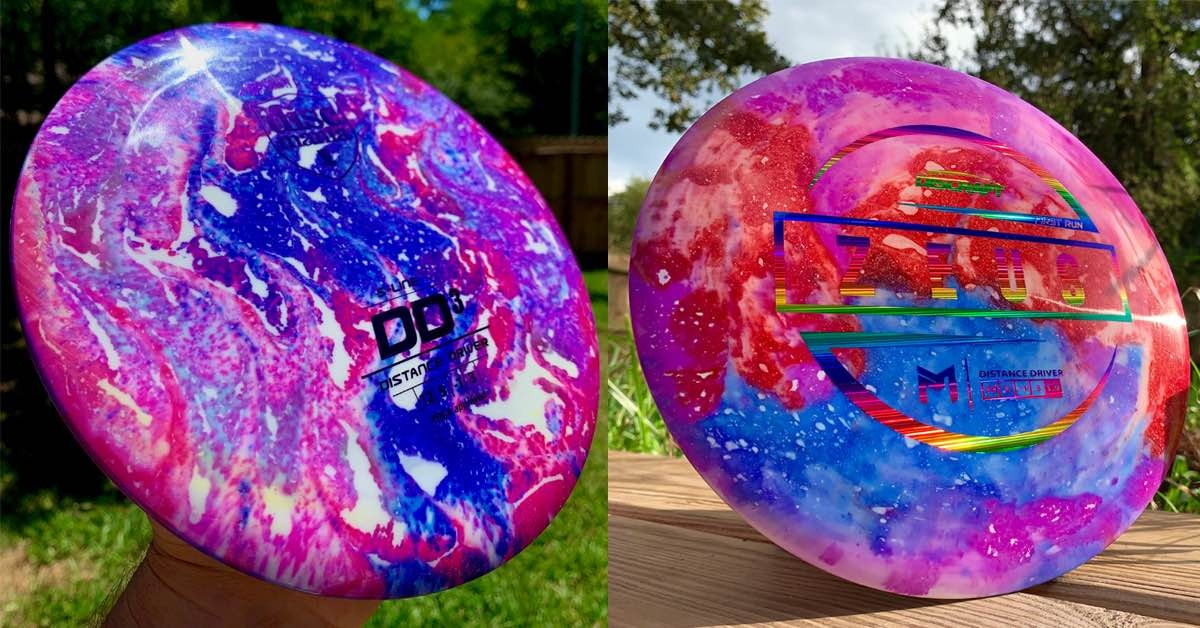 Glow Butter Discs is the handle of Kris Cox, who calls his most popular coloration "cotton candy."
"The coloration on my discs is mainly attributed to my dye-to-water ratio," Cox explained. "Too much dye, and the colors are too dark. Too little dye and it will almost not show up. I also keep an eye on the temperature I store the discs in. This can affect the density of the shaving cream, potency of the dye, and willingness of the plastic to accept the coloring."
Idyeufly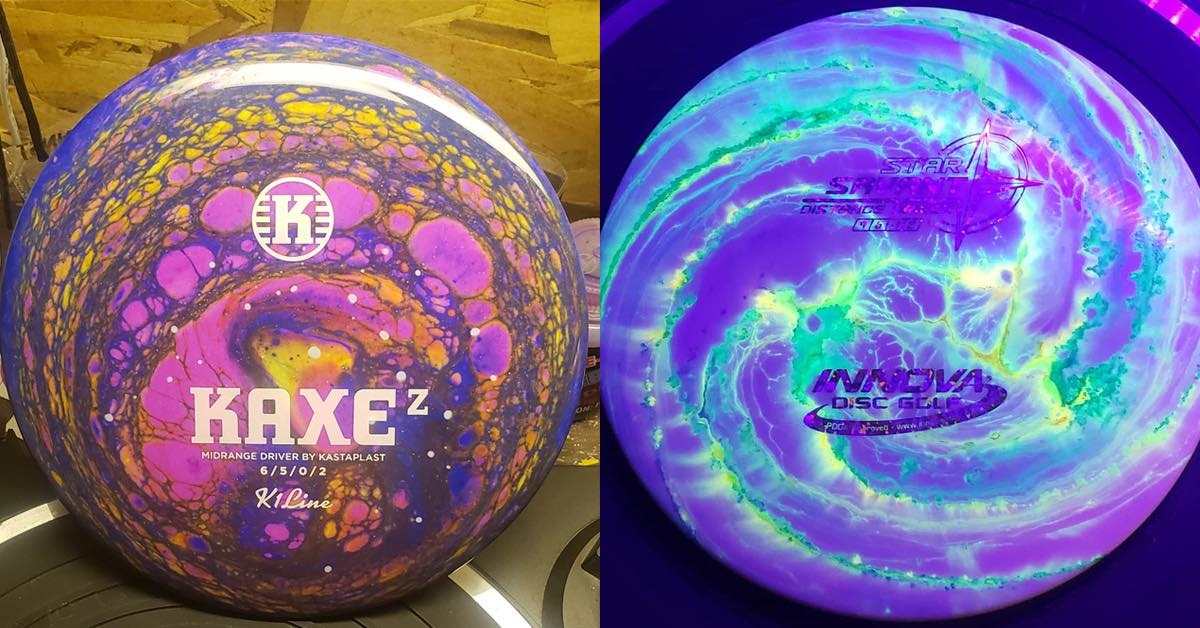 Brian Costley runs Idyeufly, and has been experimenting with different materials to create a unique cellular pattern.
"Floetrol is something I mix with glue to get the more cellular look," said Costley. "It is actually a latex paint additive. I am no scientist, but to the best of my understanding and the way that I use it is to keep the colors separated therefore giving it the cellular look when pouring."
Enchantè Creations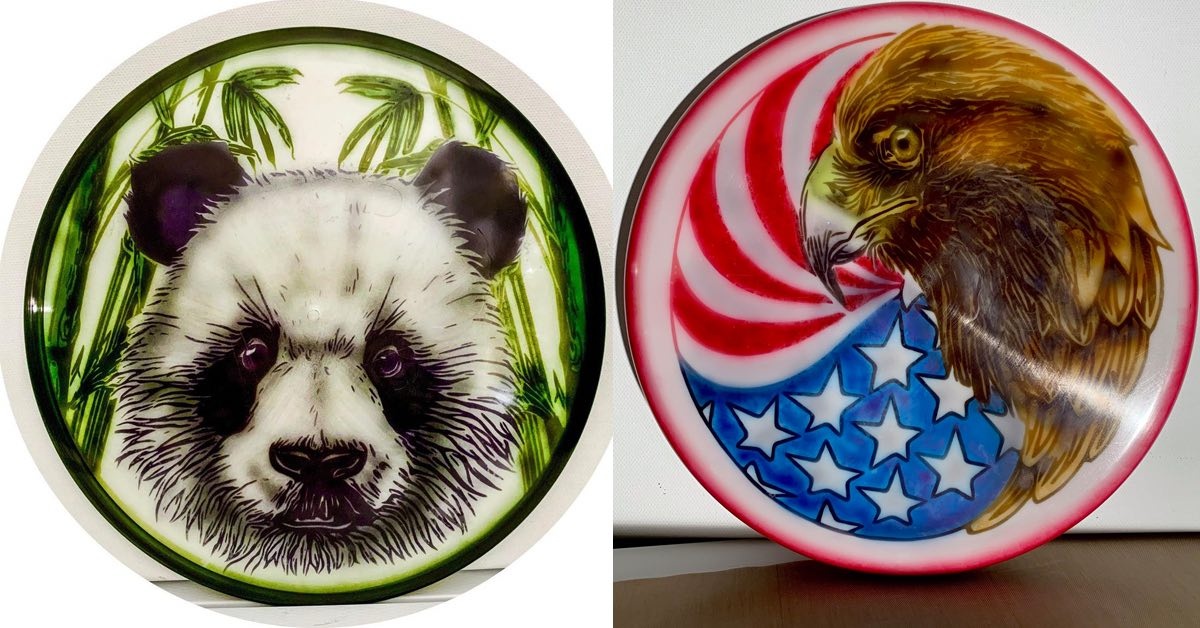 Chantee Cox is Enchantè Creations, airbrushing and hand-painting discs directly.
"I approach every disc as if I was a tattoo artist," Cox explained. "You have to use the white of the disc in your design for all the light parts, and you have to work backwards in planning your design. I draw my design on my iPad and create a stencil outline of the design to apply to the disc. After each layer, the disc is put underneath heat to set that color to be ready for the next layer, and this process is repeated until the desired color is achieved." 
Chains or Dye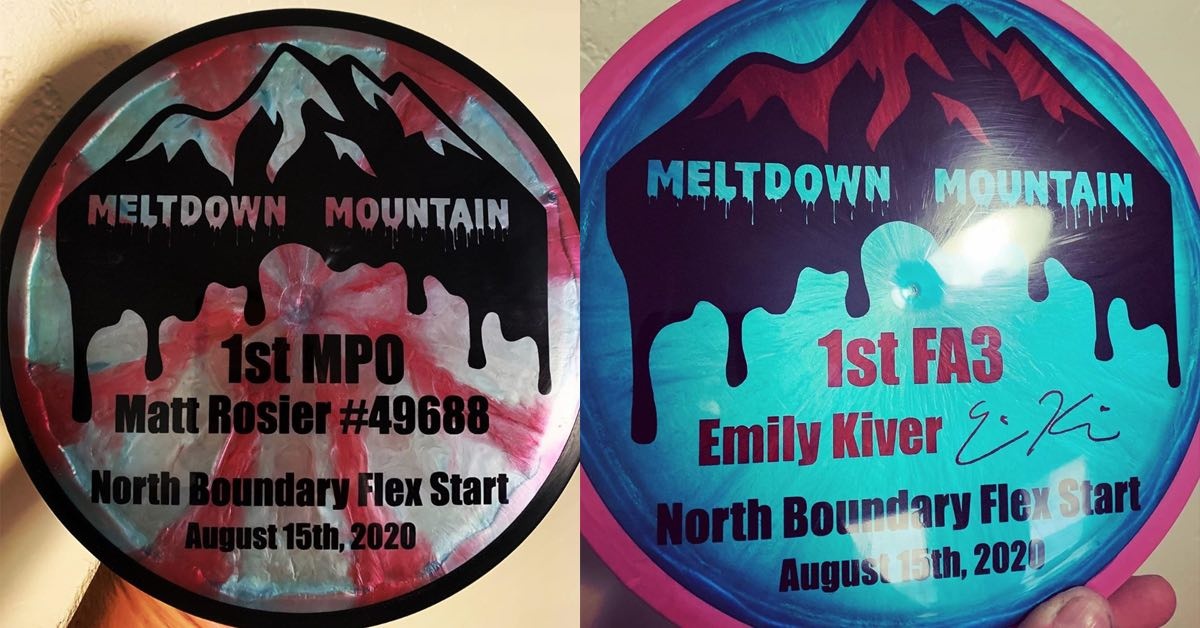 Howie Kocher is Chains or Dye, creating personalized trophies in his community.
"Jeremiah Libby, the Tournament Director for an upcoming event asked me if I would be able to create a design for the tournament," said Kocher. "I sent him the logo that would be used on a total of 26 discs produced for Meltdown Mountain. Every player was able to pick a blank disc from what I had and then personalize it to their preference. Some chose my idea of adding a signature and PDGA number, some chose a standard font. Each was dyed according to their choices."
 Tiffany Shaw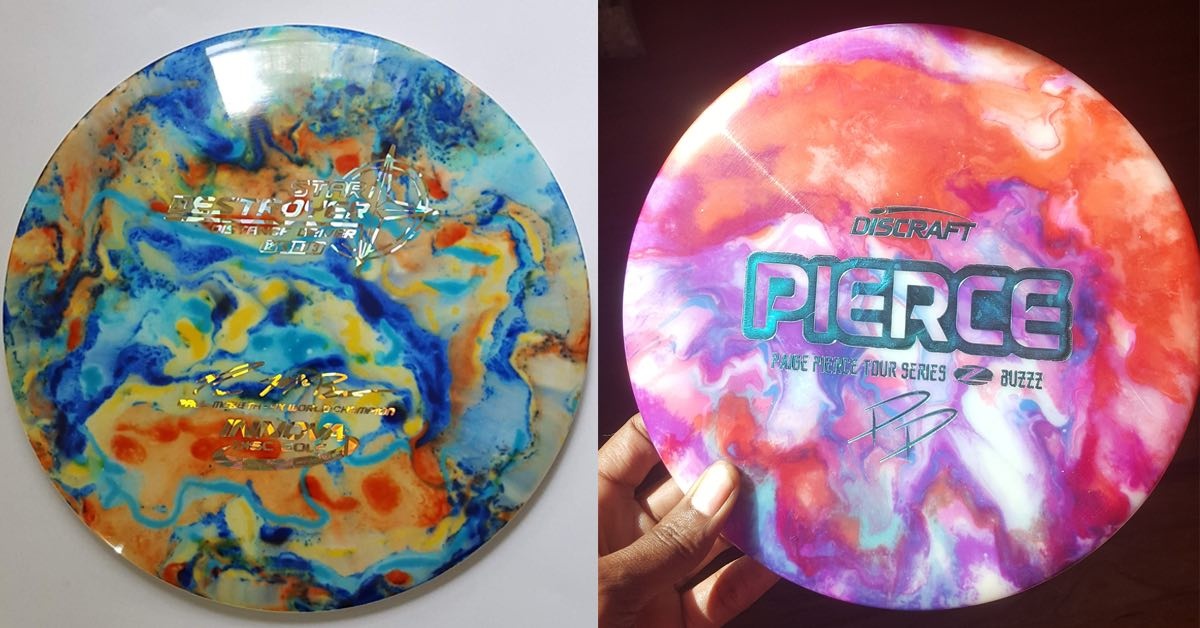 Tiffany Shaw creates dyes for DiscGolfFlyMart and commissioned work on Facebook. 
"One of the most important lessons I've learned with art is don't skimp on quality supplies," Shaw said. "Some things you can get cheap and it won't matter—glue, lotion, or alcohol—but when it comes to pigment in just about any art medium, quality is your best bet."
Have Something to Dye For? Let Us Know!
Have you developed your own unique method of dyeing or crossing disc golf and art in a special way? We'd love to hear your story. You can reach out to our editor, Alex Williamson, at alex@udisc.com.