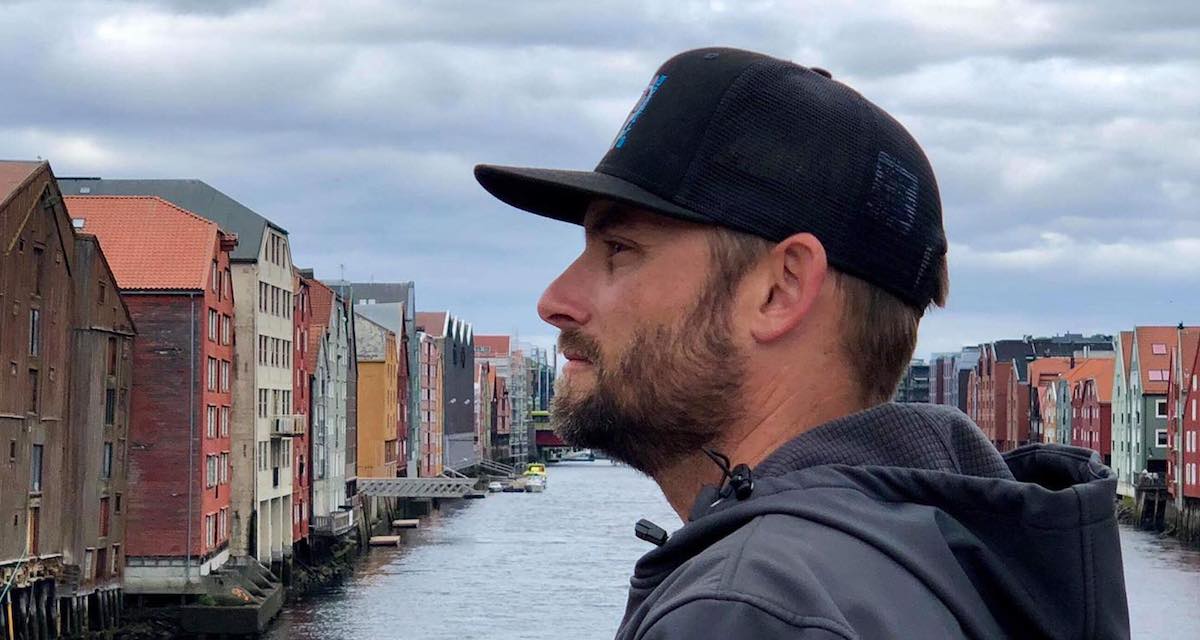 Seth Munsey understands sports in a much larger context than most of us.

"One of my favorite classes from one of my favorite professors in college was Sports, Games, and Culture," Munsey said, recalling his time studying Kinesiology (a.k.a. Exercise Science) at California State University Fullerton. "He really opened our eyes to how important sports and games have been throughout the world—how they've helped shape cultures, start revolutions, stop revolutions...the Roman circuses and gladiators, even from the beginning where they used games to learn how to hunt and to teach people to be warriors."
And it's such ideas about the importance of athletic pursuits that makes Munsey, founder and head performance coach of disc golf fitness and training organization Disc Golf Strong, sure that "we need to change the culture in our sport." Exactly what culture is he referring to? The one that fosters the belief that we can engage in a demanding physical activity without making our bodies better prepared to handle it.

Or, in Munsey's words: "If we want to play this sport every day and play it forever, we're going to need to put more work into it than just going and playing."
The goal of Disc Golf Strong is to make this belief mainstream among disc golfers, from top pros to the most casual of players. To accomplish this, Munsey has put out a wide variety of material, including video series available on YouTube, a blog, and even an app with sets of workouts tailor-made for disc golfers. He's also working with big names like two-time Open World Champion Ricky Wysocki, four-time Open Women World Champion Paige Pierce, one-time Open Women World Champion Sarah Hokom, and superstar Eagle McMahon to help them stand up to the athletic demands their chosen profession puts on them day in and day out.
Below we dive into what led Munsey to champion his cause, how he's grown a business to further it, and where he hopes the sport will be in the near future.
From Sea to Shining Disc Golf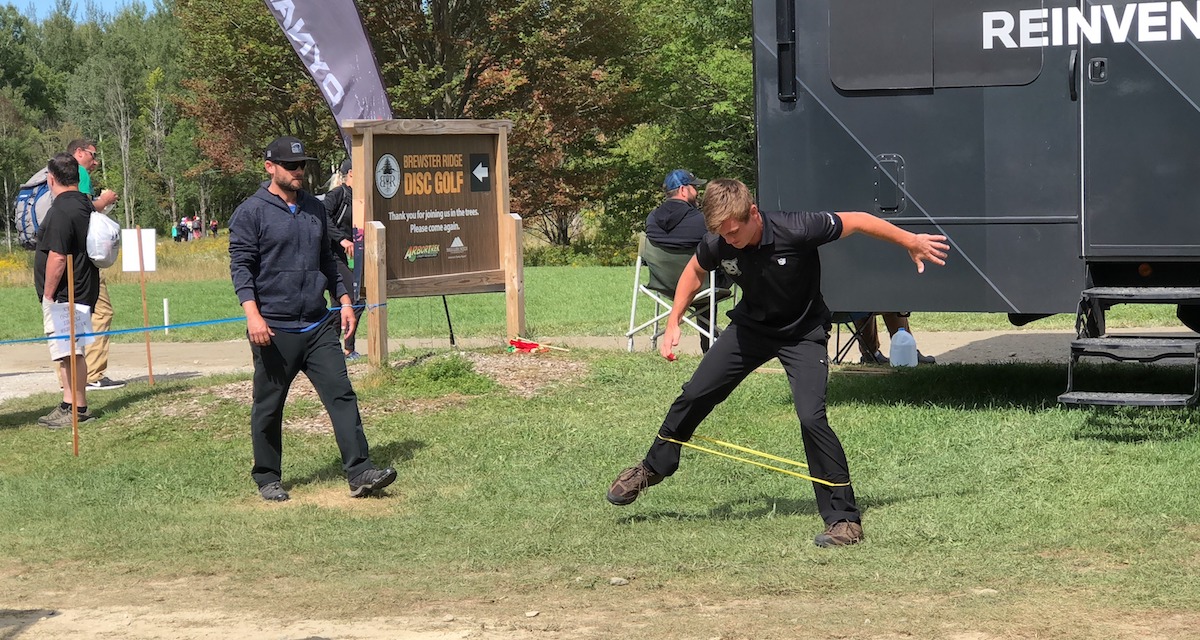 Hearing Munsey describe his pursuits before entering the world of athletics and performance training, it's hard not to notice a theme of wanting to help others. His first real job was a post in the U.S. Coast Guard in San Francisco from 1999-2003. After leaving the service, he worked in an ambulance team and was a reserve fire fighter. He even went through fire academy and believed that firefighting would become his full-time profession.
However, he eventually decided to take the opportunity presented by the GI Bill—which helps those in the service, veterans, and their dependents better afford higher education—to attend the aforementioned California State University Fullerton. There, Munsey, a lifelong and passionate sports fan, chose to focus on strength conditioning as part of his Kinesiology major. And in his senior year, he landed a job as an intern coach with the Anaheim Ducks, where he worked to keep athletes ready to compete at the peak of their sport.
Munsey stayed with the Ducks for a season before leaving to open Iron Republic, his own gym. At Iron Republic his focus was on helping everyday people become fitter in order to enjoy a better quality of life.

About this time Munsey also caught the disc golf bug, and for someone with his background, it was hard not to get concerned by a recurring problem among fellow players.

"I started noticing how many people were complaining about injuries," Munsey said. "From my education and experience, I knew that improving their [fitness] was going to lower the injury rate and also improve their performance on the course."

And, just like that, the seeds that grew into Disc Golf Strong were planted. 
Building Disc Golf Strong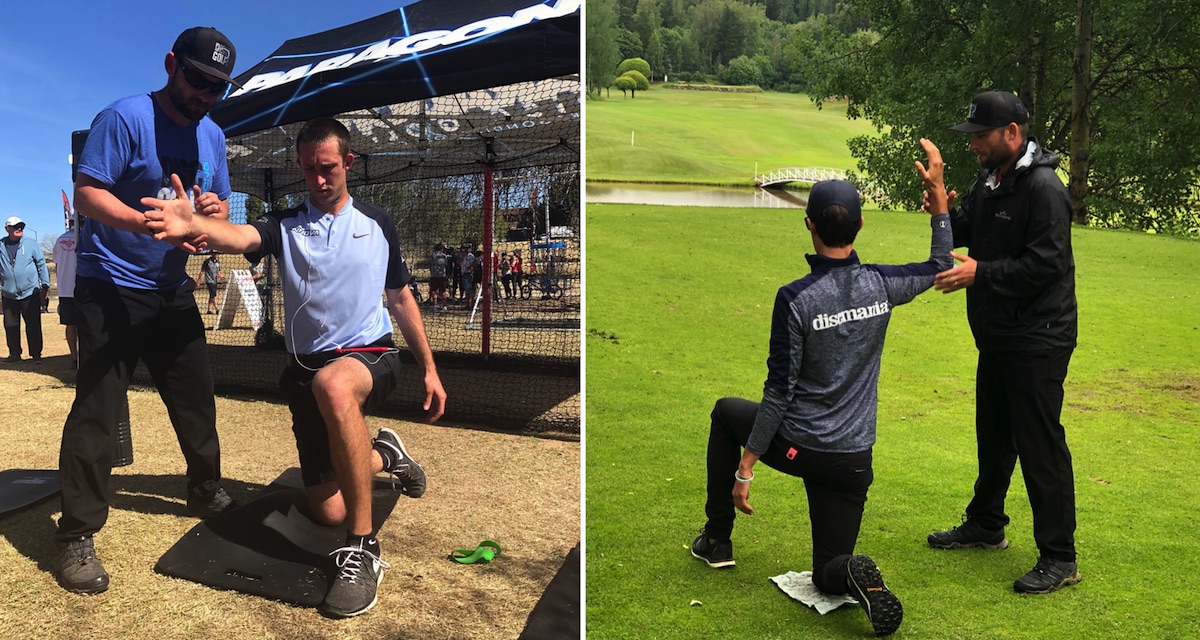 Though Munsey was sure that his philosophy was correct, what he saw day in and day out on the course made him unsure whether anyone would pay attention to it.

"Very few people had the identity of being an athlete," Munsey said. "They knew they were playing disc golf either on a professional or recreational level, but when you think of yourself as an athlete and of disc golf as a sport and not just a game or hobby, you realize that disc golf demands you to be athletic and think, 'Oh, I need to do things athletes do.' Athletes train, athletes warm up, athletes cool down, think about their nutrition—athletes do all that."

It took a chance meeting at a local event to finally give him the confidence to share his point of view with the greater disc golfing world.

"I got put with a guy at a triples event named Jon Baldwin—the 2011 Masters World Champion," Munsey recalled. "Disc Golf Strong was in my head, but I really hadn't talked through it seriously with anybody. I started talking about it with him, asked him if he thought it would be a good idea. I began working with him, put together a YouTube channel and an Instagram, named it Disc Golf Strong, and just started putting videos out there to start sharing some content with people and it started to take off from there."

Some of those who took notice of Munsey's early efforts—which focused largely on basic, easy-to-perform exercises—are the likes of Sarah Hokom and Madison Walker, familiar names to those who follow the pro side of the sport. Along with pros getting interested, the disc golf equipment manufacturer Dynamic Discs also wanted to help spread Disc Golf Strong's message. They released a series of videos featuring Munsey explaining various simple workouts to help players prepare their bodies to perform at a high level on the course, like the warm-up routine in the video below:


Perhaps the biggest boon to Munsey's notoriety, however, was beginning work with Ricky Wysocki, the two-time World Champion and one of the top three highest-rated players in the world. That relationship began with Munsey attending the 2017 Glass Blown Open tournament, where the two talked and exchanged e-mails. Eventually, they set up one-to-one trainings and even released videos of Wysocki's workouts during the 2017 off-season.

In comments to UDisc, Wysocki expressed high praise for Munsey's efforts.

"Seth has changed the game for the top players in such a good way," Wysocki said. "He has offered himself, his time, and expertise to help us stay in shape and prevent injuries, and we all couldn't be more thankful. He spends so much time with us either in person, over the phone, or through the Disc Golf Strong app. All in all, Seth is doing a great thing for the sport as the athletes have to be healthy to make a living and play at a high level while also being assets for sponsors."

Having sold his gym, Munsey's professional life now revolves heavily around working on Disc Golf Strong (including traveling to large tournaments to make himself available to all players) though he also presents at fitness conferences and works for a fitness organization certifying other professionals.
Changing the Culture
"The great thing about our sport is you can do it every day—the bad thing about our sport is you can do it every day," Munsey said, making the comment so quickly that it was clearly a well-worn mantra. 

He went on to clarify his meaning.

"Disc golf demands that you be athletic, whether you play one round a year or five or six times a week," Munsey said. "You can choose not to be, but that is going to increase your risk of injury and lower your performance....I get so many messages saying, 'I just fell in love with the sport, and I've been playing every day, but now I can't pick up my kid; I can't pour a cup of coffee; I can't open my door because my elbow feels on fire.' This is what I want to keep from happening."
Those comments allude to the pervading culture in disc golf that exasperates and dismays Munsey—a culture where the switch from car to tee or putting green is rarely interrupted by the nuisance of a warm-up, and people who are demanding highly athletic movements of their muscles and joints over and over again are doing little to nothing to prepare or rehabilitate their bodies before or after rounds.

But through his work with Disc Golf Strong and his position on the newly-formed PDGA Medical Committee, Munsey hopes to bring about a huge paradigm shift.

"My vision is to help usher into disc golf that people on the professional and even recreational level engage in training programs, warm up, cool down, and be athletes," explained Munsey. "Doing that is not just going to help them on the course, but off the course, too. It'll help them live a longer, more fruitful life." 

As evidenced by his impressive list of clientele, the Disc Golf Strong philosophy is already resonating with many at the top tiers of the sport. However, only time will tell if Munsey's efforts to make basic physical preparation the norm at all levels will bear fruit. But in a sport where perhaps the worst punishment most players could think up is not being able to play, he makes a compelling argument for why everyone should pay attention:

"They say disc golf is a lifelong sport, but it's not going to be for many people if they blow their knee out."
Those interested can find free workout routines for disc golfers from Munsey on the Disc Golf Strong YouTube channel and the Disc Golf Strong app.