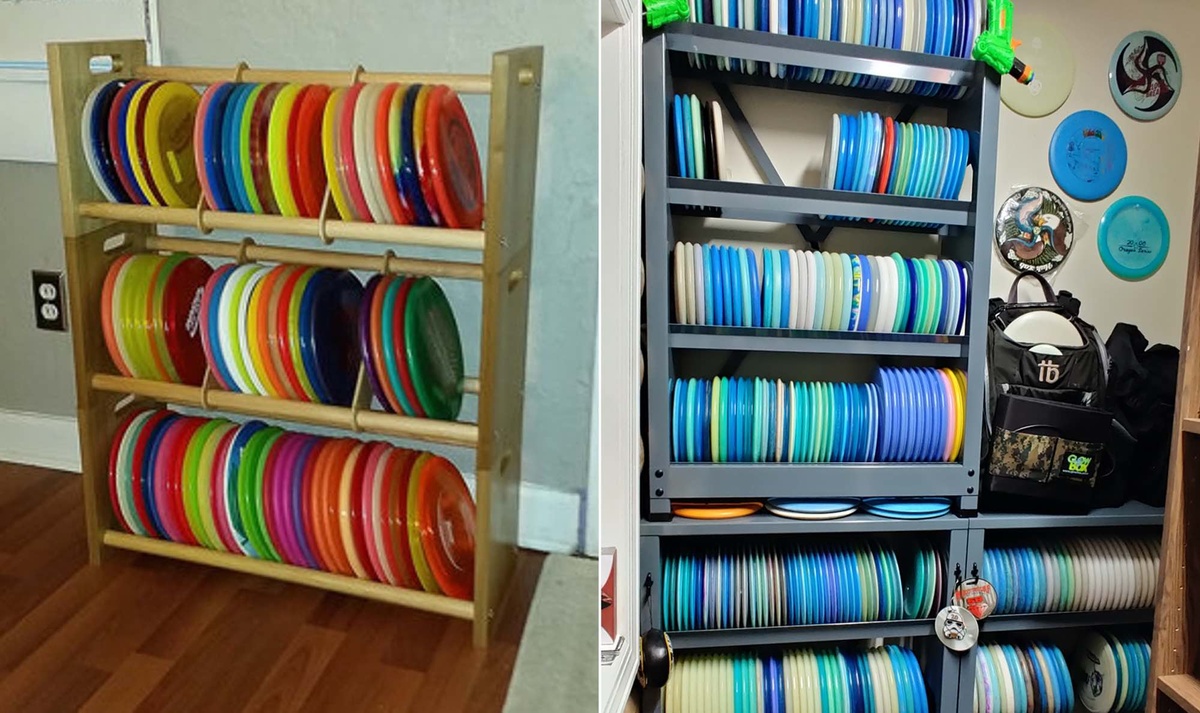 It's a common problem in disc golf: amassing dozens and dozens of discs when your bag can only hold about ten to twenty. With the release of every new disc comes the alluring call of new plastic. Before you know it, guests rooms have been taken over by the ever-growing stash of discs and the garage has become a maze of teetering stacks of plastic.

Luckily, there are many solutions to these problems online—both professionally made display racks for sale from top companies and do-it-yourself solutions of PVC and plastic that you can copy at home. We've highlighted some here to help our readers get their collections under control.
The Hyzer Rack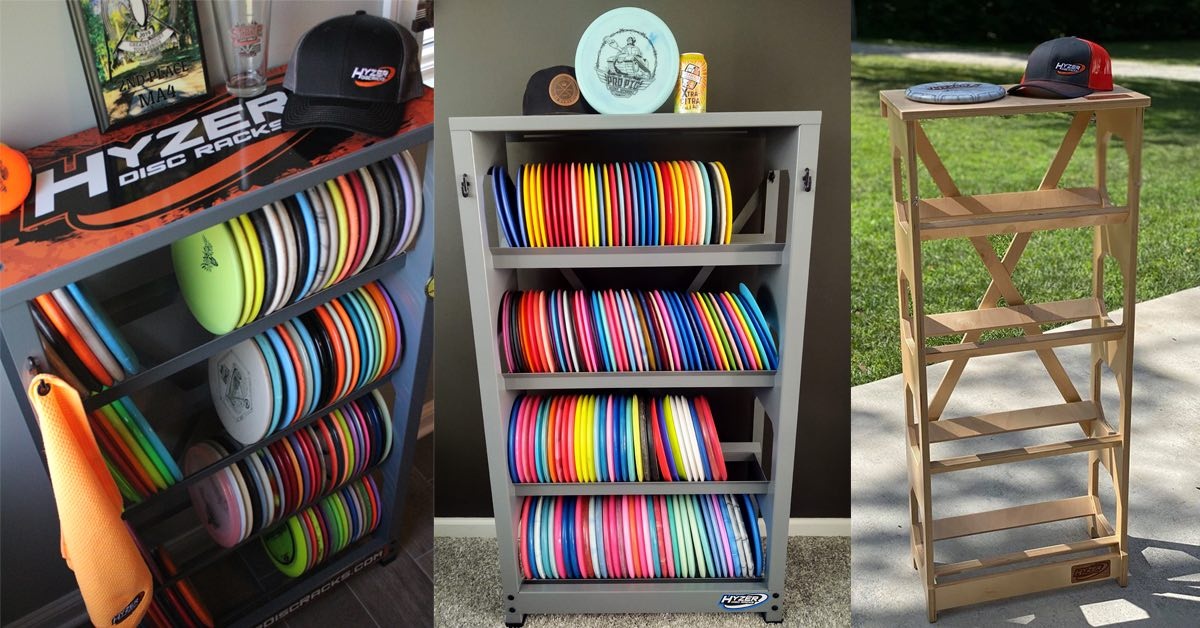 Available from Infinite Discs, Dynamic Discs, and the personal website of its creator, the Hyzer Rack is the brainchild of Shannon Berryhill, a carpenter and disc golfer from Illinois. He saw the need for a large display rack that was both aesthetically pleasing as well as easy to ship and assemble.
"My first wooden rack was made from scrap laying around the garage," said Berryhill. "It only held around 30 discs and I quickly outgrew it. Then I made two larger wooden ones that my buddies quickly took off my hands. After that, the light bulb went off."
Berryhill went on to say that past work experience gave him the confidence and know-how to move forward with making Hyzer Rack into a profitable business venture.

"I've owned several small businesses over the years, so the entrepreneurial spirit in me wanted to invent a product for the industry I just recently got passionate about, so I went to the drawing board," said Berryhill.
His first prototypes were designed with pen and paper and were made out of cardboard. From there, he looked for a better material.
"My neighbor is in the steel business, so I asked him his thoughts on the product and he turned me to a farm implement company not far from my house," Berryhill said. "I was slightly familiar with who they were, and they took my exact design and made me a prototype.".
That first fabrication is the same design currently available today from Infinite Discs and Dynamic Discs. They're made of powder coated 16-gauge steel that is flat-packed and can be assembled with no tools required. If the product looks familiar, you may have seen it packed with Discmania discs on pro disc golfer Simon Lizotte's popular YouTube vlog.
"Simon was on Facebook asking about racks, so I messaged him and offered to send him one for free," Berryhill recalled. "He wanted me to come up with a design and he wanted it to be a surprise, so my graphics guy took some ideas from me, and Simon loved it."
When fully assembled Hyzer Racks can hold around 150 discs, with two hooks for towels or bag tags, a shelf on top for your bag, mini discs, and—if you're skilled—trophies. In a few weeks Berryhill will be debuting a wooden model and a trunk rack after that. You can find his current products here.
Etsy: The Disc Rack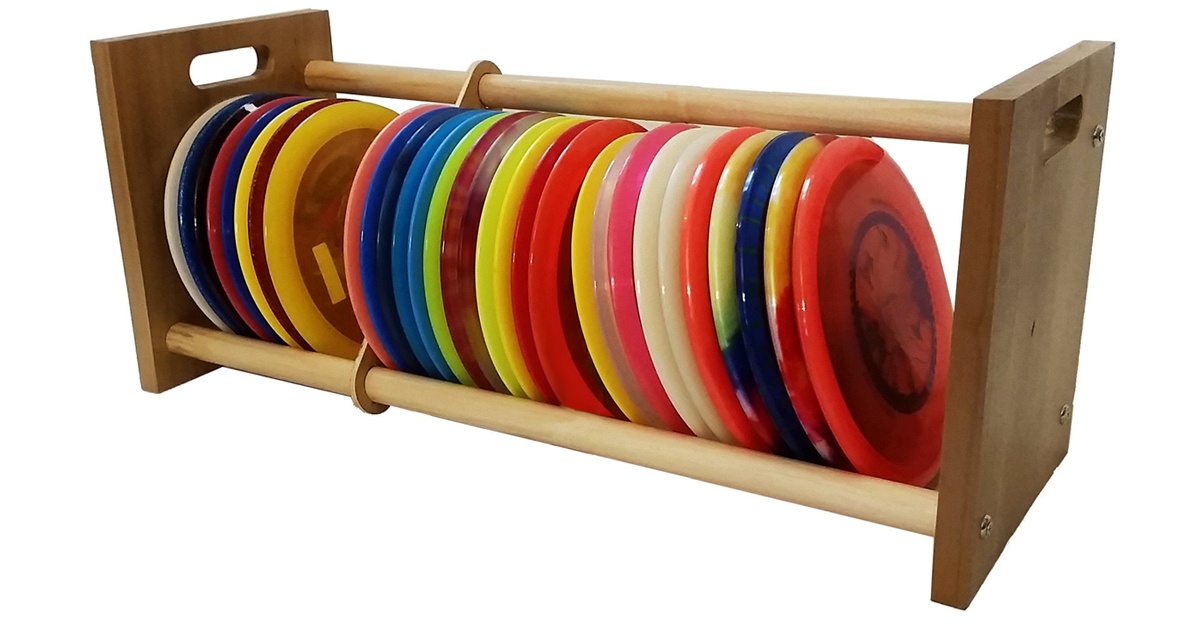 Mark Janssen, Tournament Director of the 2021 Amateur Worlds, operates an Etsy shop out of Orlando, in which he sells wooden disc golf racks he's built. Having sold nearly 200 racks, it's the most popular disc golf related storage option on Etsy.
"Years ago I had this idea for storage, and I made myself a prototype out of dowel rods and some plywood; I made a couple of those that sat around my house," said Janssen. "Years and years went by. Finally, two to three years ago I got a little more serious and refined my design and figured out the best way and started producing, got my website going, and started 'The Disc Rack.'"
Janssen also wanted to design something that would look nice around the house, even to those supportive roommates or spouses that may not play disc golf. Each rack is constructed with poplar wood, stainless steel hardware, and finished with polyurethane.  
"If you don't have a big place—maybe you're in an apartment or something—a nice polyurethane-finished wood product, you might be able to sell that in the family room or living room as opposed to the garage," Janssen said.
The racks are stackable and many sales are to repeat customers as their disc collections grow. Because of this Jannsen says he plans on releasing a two-tiered or three-tiered rack in the future. You can check out The Disc Rack on his Etsy shop here.
Dynamic Discs Storage Bins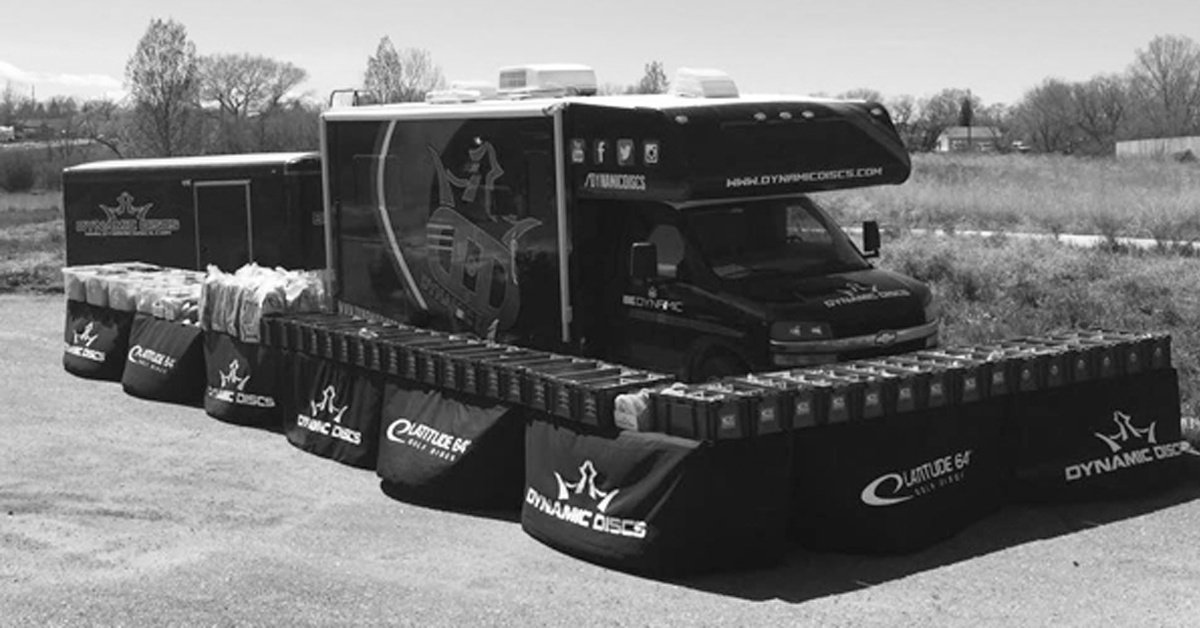 One of the first products you'll find when searching for pre-made disc storage options are Dynamic Discs plastic storage bins. Stackable, durable, and portable, these are a perfect option for those that need an affordable option for on-the-go disc storage.
Jamie Rusco, National Sales Director at Dynamic Discs, talked with us about their usefulness.
"The storage bins that we offer are stackable and last a lifetime," Rusco said. "They also hold right around 30 discs, which is very nice. These have sold well and there has been an increase in these sales over the pandemic."
And though Dynamic's bins may cost a little more than other plastic storage options that seem similar, Rusco said there's a reason.
"You get what you pay for in most cases," explained Rusco. "Rubbermaid or Sterilite boxes break or crack in a relatively short amount of time with travel and transportation."
Because of their durability, many Dynamic Discs professionals use these bins on tour.
"Almost every tournament director that travels and vends has resorted to this style of storage bin," Rusco said. "Eric and Tina Oakley of WhalePants come to mind, Paige Shue, all of the Dynamic Discs RVs."
If you're interested in affordable and durable storage from Dynamic Discs, you can find them here.
Do-It-Yourself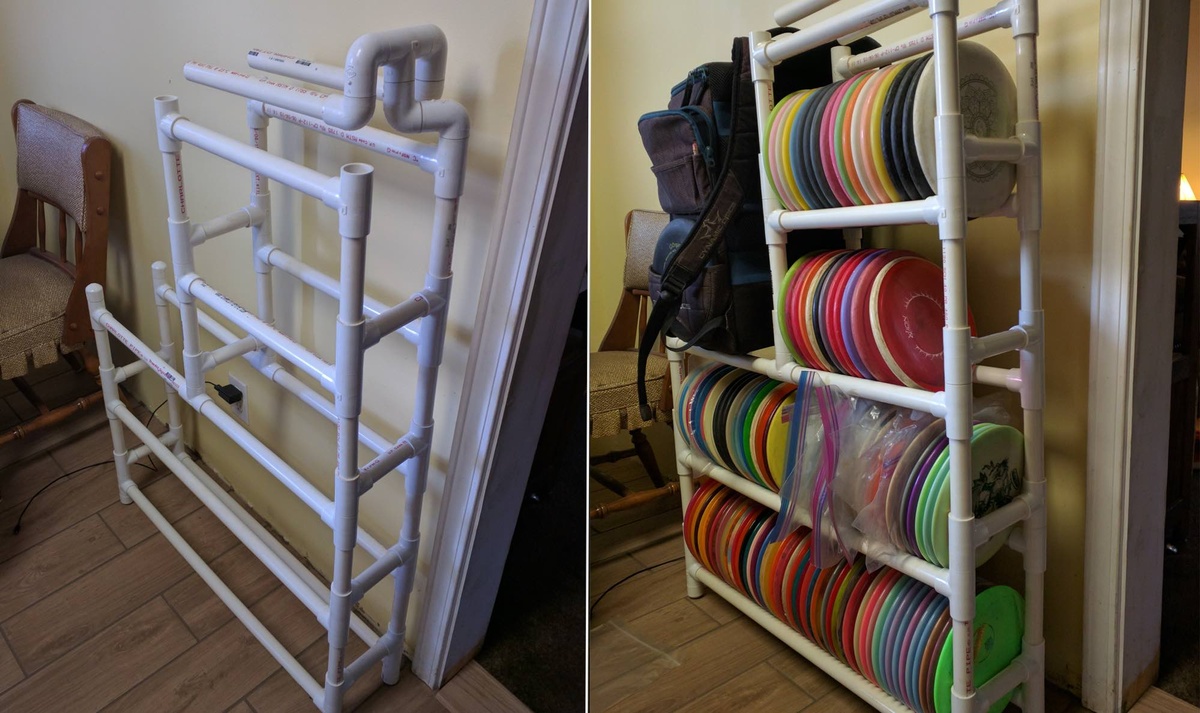 If you're feeling more creative and want to flex your crafting muscles, there are plenty of examples online of methods to store discs. The ones you'll see most often are made of easily accessible materials like wood and PVC. 
PVC is a great option because of the affordability and accessibility of the material at any hardware store, and it's also quite user-friendly to build with. If you need to design a rack  to fit a peculiar space, the ease with which PVC can be cut and the many different pre-made joints available for it make it an attractive option.
Redditor SeedlessTom uploaded a guide to create your own variant of a PVC disc rack, featuring four tiers, a bag stand, and a mini rack. His most crucial piece of advice was to use Schedule 40 PVC as it holds up much better over time than Schedule 20. 
"I've had that rack for four to five years now and it still looks like it did in the pictures—it hasn't sagged one bit," said Tom. "It's also fully loaded now. I'd say it's a little shy of 150 discs on there plus a fully stocked Ranger bag."
At the cheapest end of the DIY spectrum, you can use cardboard, foamcore, or corriboard to make a storage box. Plans are found across the web, but a particularly useful set using corriboard can be found at Vortica Sports, a New Zealand disc golf retailer. They've made printable PDFs to help you plan your box.
Show Us Your Storage Solutions
Whether you have hundreds of discs or you're just starting your collection, it's great to have a designated place for your discs, collectibles, and a place to hang your bag at the end of the day.
Have you built your own custom disc storage solution or know abut a great one we didn't mention here? Let us know! E-mail Release Point's editor at alex@udisc.com.