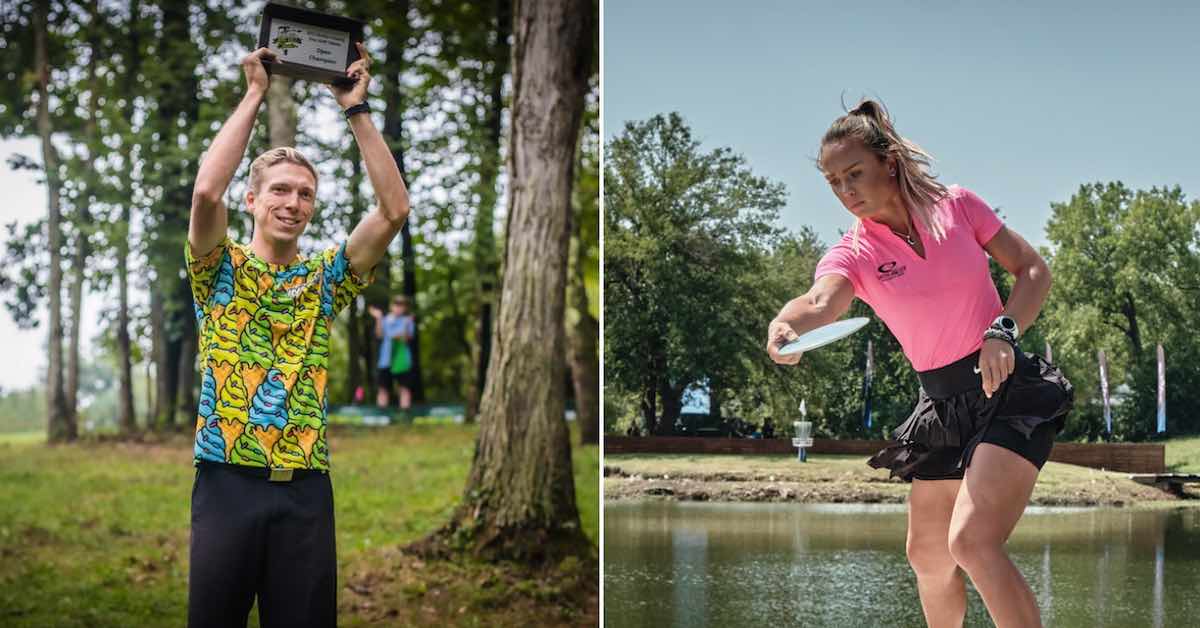 As in previous years, UDisc is using the first few weeks of pro disc golf's offseason to dig into the stats from the world's most prestigious tournaments and shine a light on the most impressive and interesting takeaways. Since all of the world's top pro tournaments were scored with UDisc Live in 2022, there's a lot to talk about, and it'll take a series of posts throughout the next few weeks to cover it all.
If you're interested in learning who played the best rounds and tournaments in pro disc golf in 2022, this is the right place.
Understanding the Best Rounds & Tournament Performances of 2022
We figured out which pro disc golf rounds and tournaments from 2022 were most impressive by seeing who most exceeded the expectations of UDisc's recently unveiled Win Probability model.
The model accounts for differences in player skill and course difficulty. Any time a pro with a UDisc Live history competes at an event scored on the platform, the model assesses that player's past performance on holes that are similar in length and difficulty to the course(s) at hand as well as how previous fields of competitors did on the course(s). It then predicts a player's likeliest score, which is used to inform winning percentages.

The model also suggests a range over and under the predicted score that's fairly likely for that player on that course.

The pros who most defied our model's expectations (in a good way) got the nod for best rounds and tournaments of 2022.
Terms Explained
You'll see some lingo and logic in the ranking tables that are probably unfamiliar. Here's some clarification:
Expected Score
The score our Win Probability model projected for a player (see "Understanding the Best Rounds..." for how that works). Up until now, these numbers have not been published.
Expected Deviation
The number of strokes a player could shoot over or under their Expected Score that our model would consider fairly normal for that player on that course. This is what the math world calls a standard deviation.

Generally, the more consistently players score within a certain range, the lower their Expected Deviation will be. Players who have a history of high highs and low lows will have higher Expected Deviation. The history of score deviations at particular courses can also alter Expected Deviation.
Z Score
The higher the Z Score, the more impressive a performance is.

In technical terms, the Z Score is the number of Expected Deviations a player's Actual Score is from an Expected Score. If you want to do the math, subtract Expected Score from Actual Score, divide that sum by Expected Deviation, and you'll get Z Score.
Why does Z Score trump the difference in Expected and Actual Score?
Z Score is a better measure of how unusually well a player did. An amateur shooting 12-under on the local pitch-and-putt isn't the same as a pro shooting 12-under on an already hard course jacked to the max for tournament time, right? Though the differences among courses and players are smaller at the sport's upper echelons, they're still significant. Z Score is a fairer way to judge how impressive performances were than simply "Who was most under par?"
Why do some rounds/tournaments have the same Z Score but different ranks?
Excluding Actual Score, no values used to create these rankings were whole numbers. In the interest of readability, we rounded these values to a single decimal point in the tables you'll see below. However, the rankings are still based on the more precise stats produced by our model.
The Best Rounds in Pro Disc Golf: 2022
For some sports, it's easy to tell which performances were most outstanding in any given year. In indoor swimming, for example, everyone is measured against the clock. Conditions are consistent enough that it's not outrageous to compare the time someone swam a 100-meter freestyle in Australia versus someone in Mexico or France.
No matter where they were, whoever did it fastest did it best.
We all know disc golf is different. To identify the best rounds from pro disc golf this year, we needed our version of indoor swimming's clock – a single benchmark of quality that we could measure all players against.

So we looked to the highest standard we could think of: The predicted performances of the world's current #1 disc golfers in FPO and MPO, Kristin Tattar and Ricky Wysocki.
This means that, for FPO, we pretended that we expected world-leading, Tattar-level performances out of every player during every round and found out who most outperformed that lofty standard.

In MPO we looked at how everyone fared when asked to live up to our sky-high predictions for Wysocki.

No matter who they were, if they most outperformed our expectations of Tattar or Wysocki, they did it best.

Brief Notes About Rankings
Rounds were ranked by Z Score (see last column in any table).
(Player Actual Score - Division #1 Expected Score) / Division #1 Expected Deviation = Z Score

As we mentioned earlier, though some Z Scores are the same, the rounds are ranked according to more exact numbers not shown in the tables.
See 'Terms Explained' for further explanation.
The Five Best FPO Rounds in Pro Disc Golf: 2022
Estonian Kristin Tattar put on an almost unprecedented show of dominance in FPO in 2022. In all, she completed 16 events scored with UDisc Live in 2022. She won 50% of those (including claiming her first world title) and never placed lower than third. The three rounds above where she leaped well over her own very high bar are particularly prominent milestones in a historic season.
But Tattar didn't produce 2022's most impressive round. That honor goes to Paige Pierce, who's tied with two other players for the most all-time World Championships in FPO.
Pierce's 2022 season ended in a slump. But back in May, when she shot her spectacular second round at the OTB Open, she wasn't far past two big wins at March's Texas State Disc Golf Championship (a DGPT Elite event) and April's Champions Cup (a PDGA Major) – seemingly on the road to a typically outstanding year.

Take a look at Pierce sinking a C2 putt for birdie during the best FPO round of the year:
​​
The Five Best MPO Rounds in Pro Disc Golf: 2022
Joel Freeman's 14-under par during the soggy final round of the DGPT Silver event the Butler County Disc Golf Classic made a splash when it happened in early September 2022. Freeman started the round four behind the leader and ended up winning by nine.

In case you're not impressed yet, know that the average score of all competitors for that round was more than 2-over par.

It was such a feat that fellow pro competitor and popular disc golf media personality Jeremy 'Big Jerm' Koling took to social media to praise it. In his post, Koling even said that "his [Freeman's] round will never receive the historical recognition it deserves."

Well, we don't know if this is exactly the recognition Koling was thinking of, but it seems like recognizing it as the best pro disc golf round in 2022 is a good place to start.
Take in the last throws – and loads of commentator praise – of Freeman's historic round in these two clips from the par 4 hole 18:


The Five Best Tournament Performances in Pro Disc Golf: 2022
Here we used the same math that went into determining 2022's best rounds to pinpoint the year's best full tournament showings. Read the intro to the section about the best rounds, sub in "tournament" for "round," and you'll understand the rankings in this section.
Best FPO Tournament Performances in Pro Disc Golf: 2022
Tattar won the most prestigious event in disc golf – the World Championship – by eight strokes, so we weren't too surprised when that result popped up as the best tournament showing of the year.

Check out one of the many incredible shots from Tattar's Worlds triumph in the clip below, where she launches a prayer of a birdie shot from outside Circle 2 during the fourth round:
Best MPO Tournament Performances in Pro Disc Golf: 2022
Due to battling an injury that forced him to stop throwing one of the most powerful and accurate sidearms in the game, Eagle McMahon played just two Elite and three Major tournaments in 2022. That's compared to most top competitors playing all four Majors and over 10 Elite events.
Still, when McMahon showed up at the European Open, he didn't fail to live up to his reputation as one of the best disc golfers in the world. He smashed our expectations for Wysocki by not just exceeding our expected score for his fellow top pro but outdoing it by a whopping 16 strokes (and change).
If McBeth hadn't also churned out one of the year's best tournaments (see #3 in the rankings above), McMahon would have left every competitor light years behind. He and McBeth were, respectively, 17 and 16 strokes clear of third place...at a Major.
Now, take a few seconds to watch the righthanded, sidearm-less McMahon coolly birdie a 381-foot/116-meter hole throwing lefthanded.

Lefty drive:
Righty putt:
The Biggest Overachievers in Pro Disc Golf - Single Rounds & Full Tournaments: 2022
Whereas we needed a single standard to measure all players against to objectively say who played the best rounds and tournaments of 2022, figuring out the biggest overachievers was simpler.

All we had to do was check which players most outperformed our model's predictions for them.
For example, the biggest overachiever at a tournament in MPO outperformed our model's predicted score for him by about 38 strokes. He shot a 42-under when our model predicted he would finish around 4-under.

Again, we use Z Score and not the difference in Actual and Expected Score for the rankings here. If you haven't taken a look at what those terms mean yet, you can find explanations here.
Biggest FPO Overachievers in 2022 Pro Disc Golf - Single Rounds
Paige Pierce's round at OTB comes in as not just the best FPO round of 2022 but also the biggest overachievement.
Biggest MPO Overachievers in 2022 Pro Disc Golf - Single Rounds
*These round numbers reflect where you'll find the scores on UDisc Live, which matches the Worlds A Pool schedule. These players were in the Worlds B Pool and played courses in a different order.

Freeman, like Pierce, claims the top spot for best and most overachieving round of the year in his division, and he said in a social media post that it was the "best round of disc golf [he] had ever played" and made it clear he knew it was something truly extraordinary.

Here's another telling snippet from his post:
I was playing well, but I was also getting lucky. On 11, 12, and 13 I got lucky breaks three holes in a row, which ended up extending my lead. It made me feel weird, but luck will always inevitably be a part of this game, especially when playing in the woods. It's a rare combination to play really well and get lucky in the same day, which is part of what made yesterday's round so special.
Biggest FPO Overachievers in 2022 Pro Disc Golf - Full Tournaments
With four FPO players producing the most unexpected performances of the year at Worlds, it seems quite a few competitors really brought their A-games to the sport's biggest stage.
Biggest MPO Overachievers in 2022 Pro Disc Golf - Full Tournaments
Like in FPO, 2022's Worlds saw some players reaching deep and coming up with showings that were hard to believe. It's still crazy to think that the #2 performance above put little-known Aaron Gossage into a playoff with superstar Paul McBeth for the title of MPO World Champion. And it's maybe even crazier that at the same tournament another dark horse, Tristan Tanner, overachieved more than Gossage.
Thanks to Everyone!
Nothing you see above would have been possible without all the amazing volunteers who scored and tracked stats for the pros throughout 2022, or UDisc Live's partners.

We want to extend a huge "Thank You" to them all.
And if you like what you saw here, keep an eye out for upcoming posts exploring which pros did it best in 2022. Or, better yet, subscribe to our Release Point newsletter and never miss any post we put out.