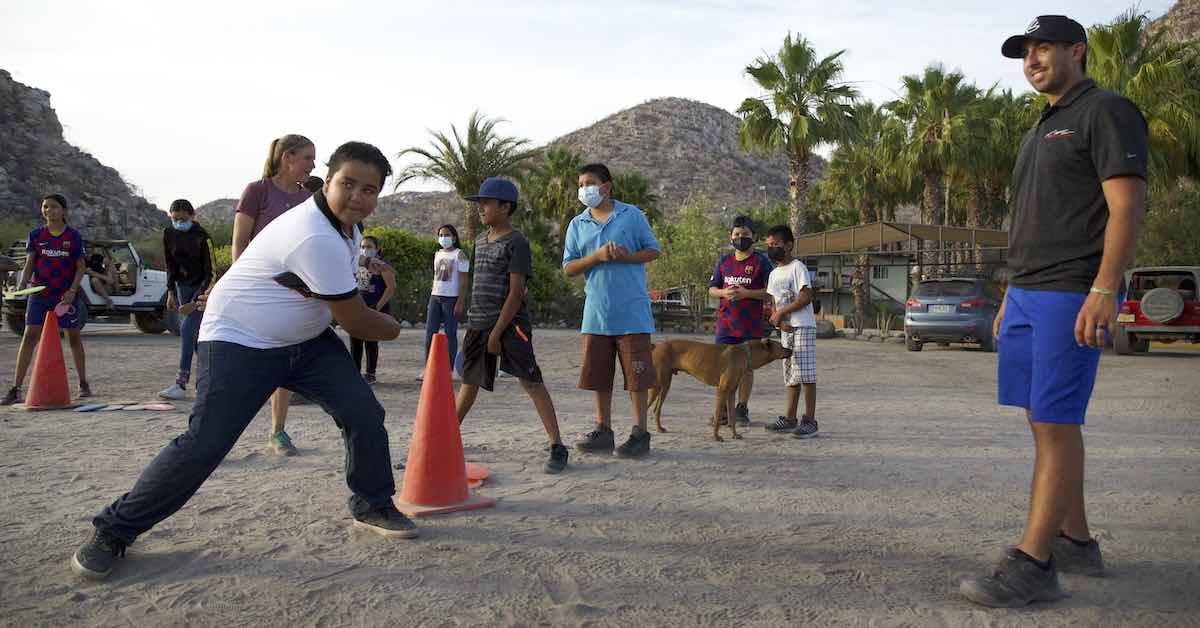 Paul McBeth is the most successful professional disc golfer currently competing at the sport's highest level. He has more world championships than any other active male player, he has earned more money from tournament purses than anyone else in the sport, his recent $10 million deal with Discraft is the largest pro disc golf contract in history, and his mere presence on disc golf coverage makes it must-watch for many pro fans.

At the beginning of this year, the disc golf superstar revealed that he'd started a non-profit to grow the sport he loves. Bearing the name of its influential founder, the Paul McBeth Foundation aims to bring disc golf to areas where the sport is virtually unknown and resources to build up infrastructure for it are scarce.

Now, just a few months after its founding, the first course supported by the Foundation has opened in La Paz, Mexico, capital of the Mexican state of Baja California Sur. On May 21, McBeth himself – who is of Mexican heritage – as well as other representatives of the Foundation and its partners were there to both facilitate and celebrate the occasion.
We spoke with McBeth and the Foundation's Executive Director, Dustin Leatherman, to learn more about how this initial project came together, its special meaning to McBeth, and their vision for the Foundation's future.
Why La Paz Was "The Right Move"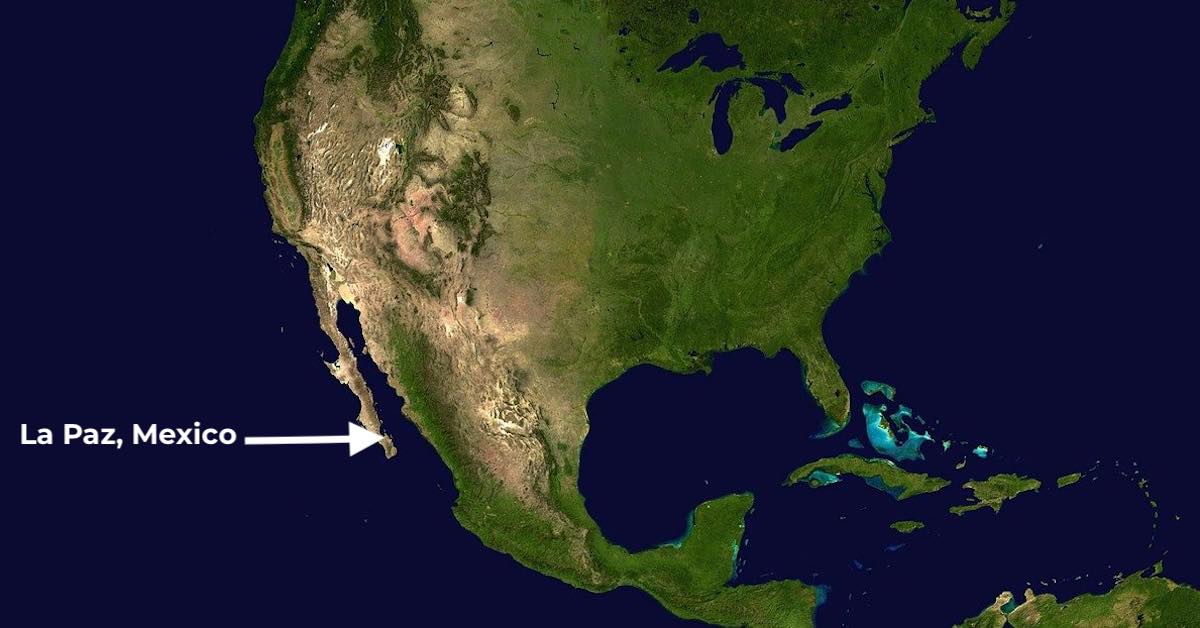 McBeth's grandfather was born in Bakersfield, California, making him the first in his family to come into the world outside of Mexico. Due to his heritage, McBeth said that when he started the foundation, he always had the idea that its first project would be in the country of his forebears.

"My family is from Chapala in Jalisco, so I was thinking it would be more over there," McBeth said. "But the opportunity in La Paz came up and came together so perfectly with the resources, the location, and the community that was already there that was willing to take in disc golf though they didn't know what it was. Mexico was definitely on my mind, and for it to be the first project seemed like it was the right move for all of us at the Foundation."

It's a sign of the perfection of the match that the project went from idea to physical course extremely rapidly. It was just a few months ago in February 2021 that the Foundation learned that Rancho El Camino was interested in offering disc golf to those it served. Rancho El Camino is a civil association (one of various types of non-profits recognized in Mexico) working to strengthen the local community, particularly through programs for youth and families. After initial contact between the organizations revealed mutual enthusiasm and visions for the course, it didn't take long for talk to turn to action.

"We coordinated logistics of sending equipment in advance, and put together a team to travel and do the installation," Leatherman said. "We took a team of seven people for the actual project itself including representation from Dynamic Discs, Jomez, and the Paul McBeth Foundation. Paul felt it was important to be there in person for our first project, and he was the one to design the course working closely with the staff from the Ranch. We were able to use some resources to hire local youth to assist us with the installation of the course, which was great."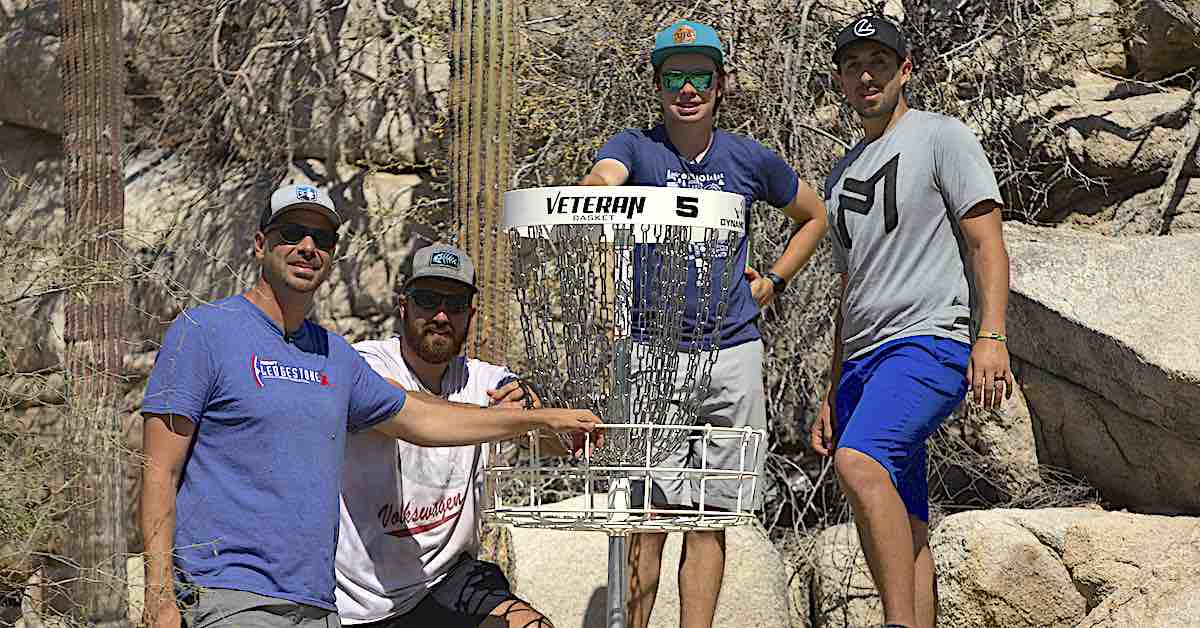 That series of events also reveals an ethic that will be a norm for the Foundation. It shows big companies within the sport – disc golf equipment retailer Dynamic Discs (a competitor of McBeth's sponsor Discraft) and disc golf media company Jomez Productions – collaborating to make disc golf more accessible worldwide.

"We want to bring the disc golf community together to provide these opportunities," Leatherman explained. "It's not just about Paul and his name and his sponsors. It's about Paul using his name to bring people together to make really cool things happen."

McBeth added to that idea.

"This is about disc golf and the opportunity of disc golf," McBeth said. "It has nothing to do with brands, sponsorships, or anything like that."

Dynamic supported the course by providing baskets, tees, and feet on the ground. The Jomez crew filmed during various stages of the project and will produce media the Foundation and Rancho El Camino can use to publicize the fruits of their partnership.

Notably, Discraft is also a top-level partner of the Foundation and is slated to be the main supporter of a soon-to-be announced project.
Creating Sustainable Disc Golf Communities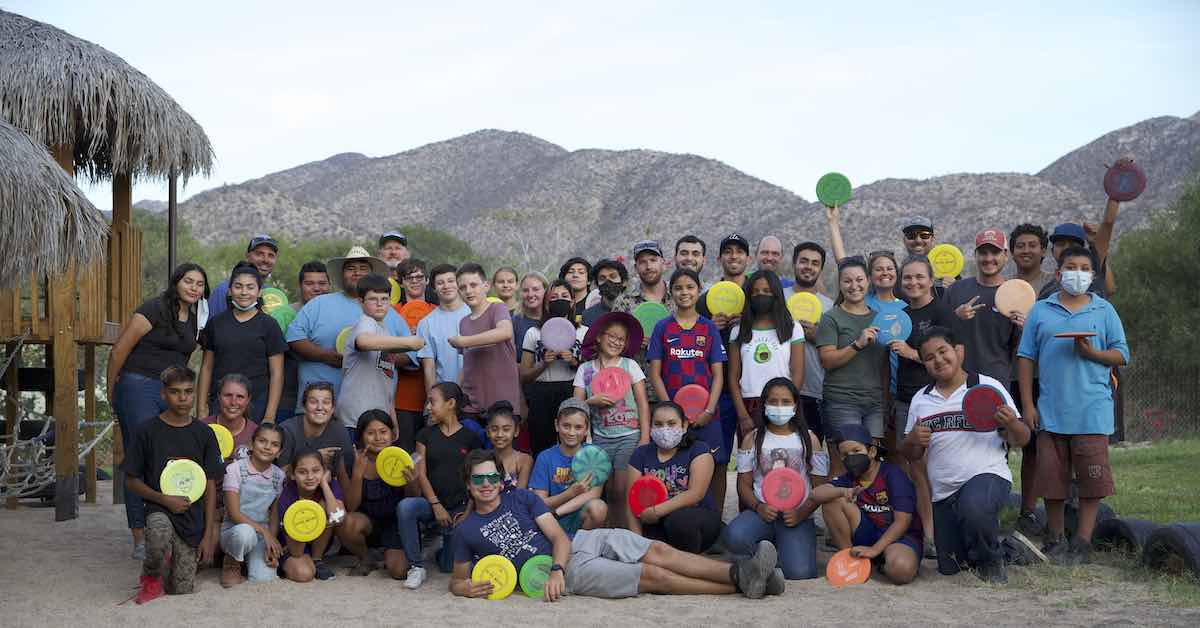 Though the course in La Paz is in the ground, the Foundation sees its work as far from finished. Leatherman, who helped create disc golf courses and communities in Zambia and Costa Rica prior to taking on his current role at McBeth's organization, made it clear that the Foundation wants to do everything it can to assure the long-term success of the project.

"As an organization our plan is to not just install courses, but to support them each year to make sure they are sustainable and successful for the future," Leatherman said. "We were able to provide a lot of training on how to play, how to teach, and how to make upgrades to the course while we were there and plan to touch base quarterly going forward to help them find the best ways to utilize the course and build a community. We also had several La Paz locals connect with us, and they were actually able to be onsite for most of the week and will be able to serve as local contacts with a lot of disc golf knowledge. We also plan to keep them stocked with discs in the years to come, and may even return with a team to add an additional nine holes in the future."

Though creating courses is the tangible goal of the Foundation, its real mission is to help communities bond over the enjoyment those courses bring them. And without local buy-in from the start and continued support for disc golf from the Foundation, that's unlikely to happen.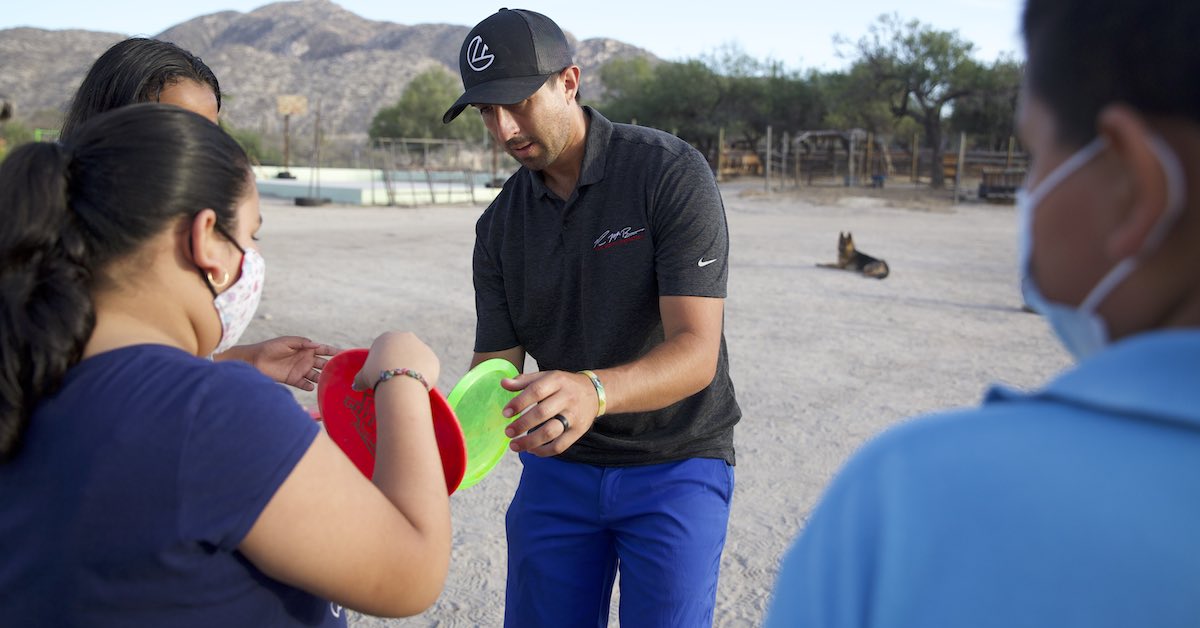 "Designing and installing a nine-hole course is not difficult in itself, but getting the local staff and community on board and invested in the project is key," Leatherman said. "We always want the local people we work with to get a good understanding of the process so that they feel ownership and come away prepared to continue to expand and develop new opportunities in the sport."

As measured and strategic as the organization is in regards to its partnerships and community building, it also knows that it needs to let local populaces have space to find the joy of disc golf at their own pace. McBeth alluded to this when he described how he planned to run clinics in La Paz for the brand new players who would be there. He said beyond teaching the basics of forehands and backhands, there was only one other aim.

"We're just letting them throw the disc and have fun," McBeth said.
"The Same Opportunity I Had"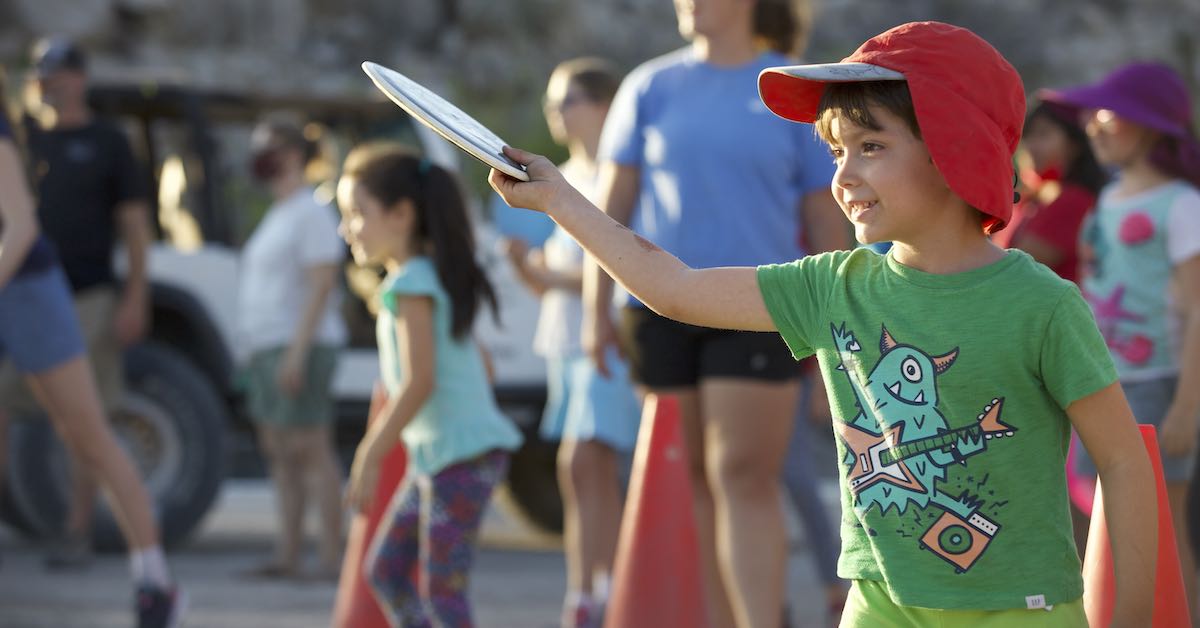 La Paz is likely to be just the first of many, many projects the Foundation undertakes as it is currently receiving a large volume of requests for help with course installation. The ones it is seriously considering match its aim to bring disc golf to areas where there is no access to the sport and where there are few affordable, healthy outlets for the community. Leatherman specifically mentioned that the Foundation's priorities include developing countries as well as urban areas in the United States.

For McBeth, developing disc golf communities in such places has a lot of personal meaning.

"I just want to give people the same opportunity I had," the five-time World Champion said. "I was very fortunate to have a course nearby."
Those interested in learning more about the Paul McBeth Foundation or contacting the organization can do so at its website, www.paulmcbethfoundation.org.