The past year has seen a host of practice tools added to the UDisc app, with the goal of helping players hone their disc golf skills even when they can't get to the course.

A quick glance at the 'More' tab in the app can unlock a bevy of options. There's Putting Practice to help clean up your short game and Measure Throw when it comes time to break your own personal distance records. But it's that tricky middle-distance component where you can really shave some strokes, which is where Accuracy Practice comes in. This tool makes a game out of practicing shots from a variety of ranges and lets you compete against both your own high score and, via a leaderboard, the whole UDisc community. And you don't even need a basket to do it!

A notable player rising up the pro ranks, Brodie Smith, gave Accuracy Practice a shot last year and raved about its potential.

"It adds a competition element to your practice and is a great way to see improvement over time," Smith said. 

Learn everything you need to start the first of many Accuracy Practice sessions below.
I. How Does Accuracy Practice Work?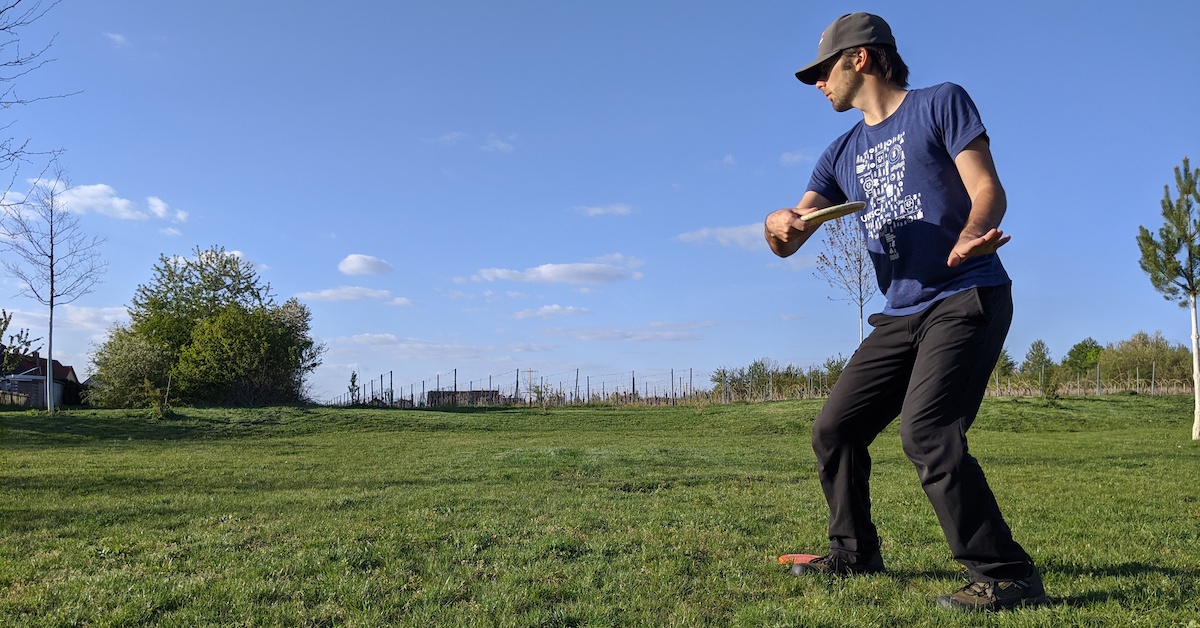 One round of Accuracy Practice consists of 20 total shots toward a target (use a practice basket, tree, cone, empty soda bottle, or, really, anything). Those 20 shots are done in sets of five from four predetermined distances.

You can choose to complete a round at short, medium, or long distances. Here's an example of what a short round looks like:
A short round begins with a set of of five shots from 100 feet/30 meters. The game includes a GPS function that will tell you how far from your target you are (more on that in Section III).
After throwing your five shots, you go toward your target, locate your discs, and enter how many shots landed in Circle 2 (C2) or Circle 1 (C1) or were parked (within 11 feet/3.3 meters). If a shot was outside of C2, you won't enter it and will receive no points for it. You can either mark these zones off before beginning with flags or other means or use the one step = one meter rule of thumb if you're unsure about which zone a disc is in.
The closer to the basket a shot is, the more points it's worth, as you can see in this example screenshot:




You pick up your discs and then throw another set of five from 130 feet/40 meters, repeating the same process as before after all five throws are complete. The base points for landing in the zones are higher now that you're farther away.
This pattern repeats at 160 feet/50 meters and 200 feet/60 meters.
You finish your round and see your total score. 
For each set where at least four of your shots landed within C2, you'll receive a bonus.
You can see the distance ranges for short, medium, and long rounds below: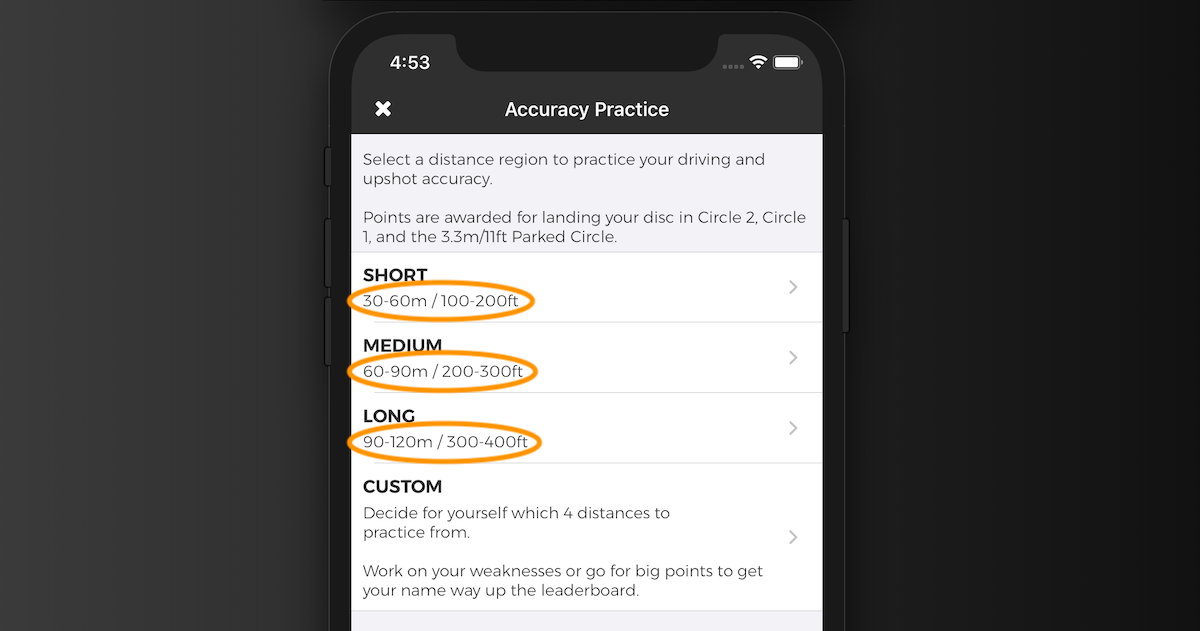 In a custom round, you can pick any four distances you wish. They go up at 10-meter (roughly 30-foot) intervals starting at 30 meters/100 feet and ending at 300 meters/984 feet. 

It's also good to note that the possible high scores go up the farther your zones are from your target. So, a long round gives you the potential to earn more points than a short round. This mostly matters if you're interested in beating your own high score or moving your way up UDisc's Accuracy Practice leaderboard, which we discuss more in Sections IV and V.
II. How Do I Find Accuracy Practice?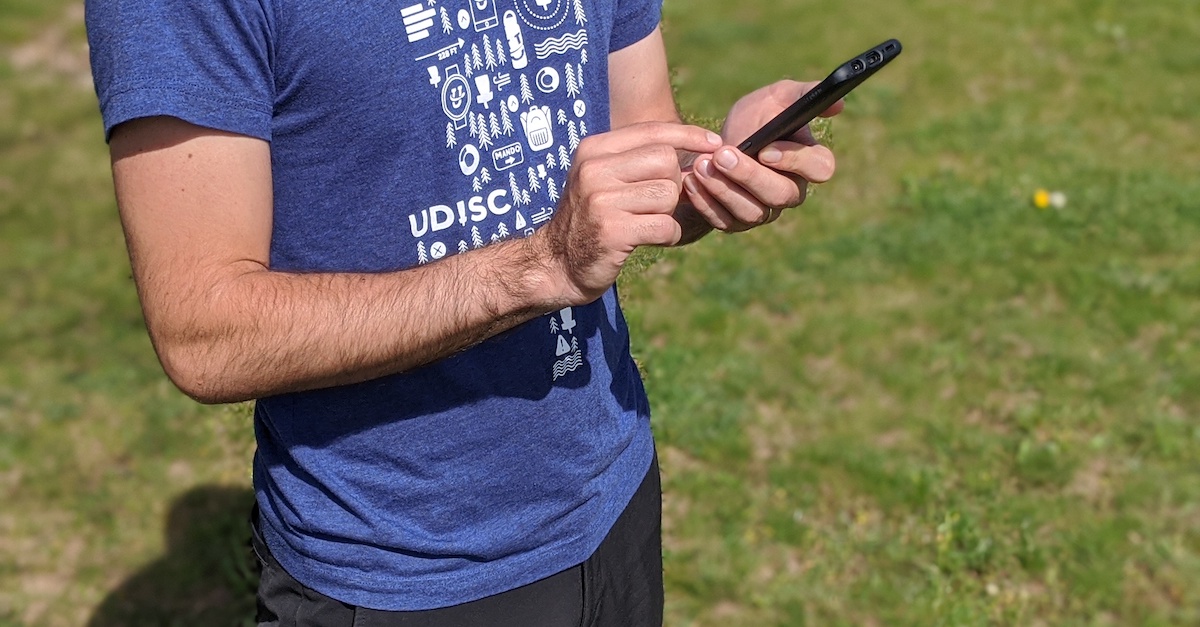 1. Open the UDisc app and go to the More tab in the bottom right corner.
2. Accuracy Practice is just below Putting Practice.
3. Choose which range you'd like to practice (Short, Medium, Long, or Custom) and begin!
III. How Do I Set My Target & Know How Far I Am From It?
Once you begin an Accuracy Practice session, you'll see crosshairs in the top left corner of your screen. You can see what we mean in this screenshot:





Tap the crosshairs. You'll see a map of where you are, a blue dot indicating your specific location, and a white basket. Place the base of the white basket where your target is. If you have a moveable target (basket, cone, etc.) you may want to stand next to it and put the base of the basket where your blue dot is. If you're using a tree or some permanent feature on the map as a target, place the basket at that point on the map.

When the white basket is in place, tap Done. You will return to the scorecard for your practice session.

The number next to the crosshairs will indicate how far away from your target you are, moving up and down as you get closer or farther away. You will use this number to know when you've reached the correct distance for each of your five throw sets.
IV. Finding Your Previous Scores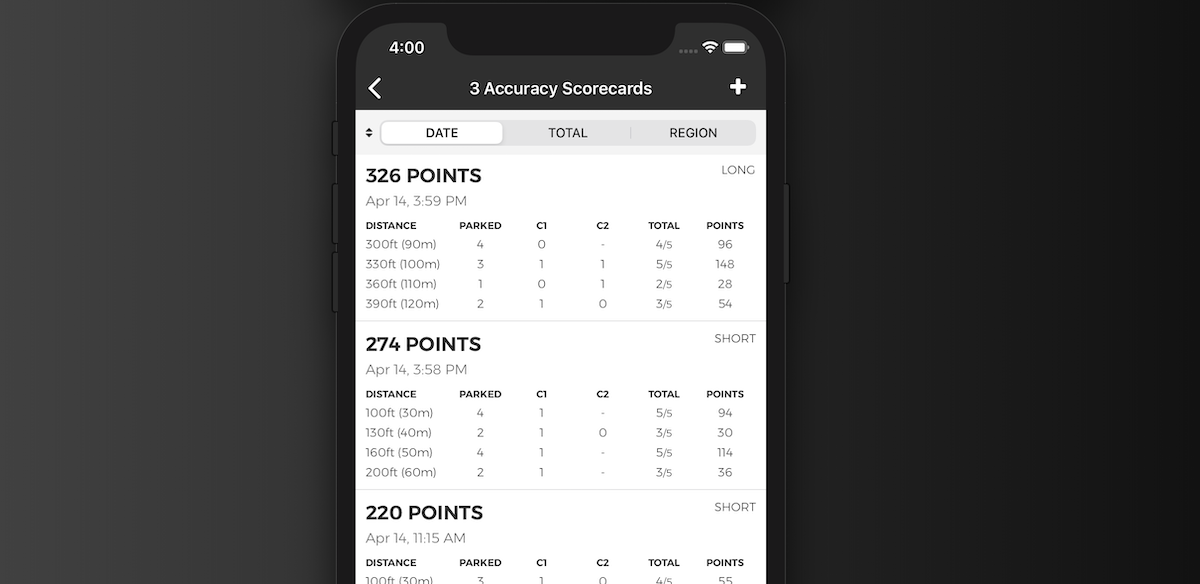 1. Go to the More tab.
2. Accuracy Scorecards is just below Putt Scorecards. Tap it to see all your previous rounds.
V. The Leaderboard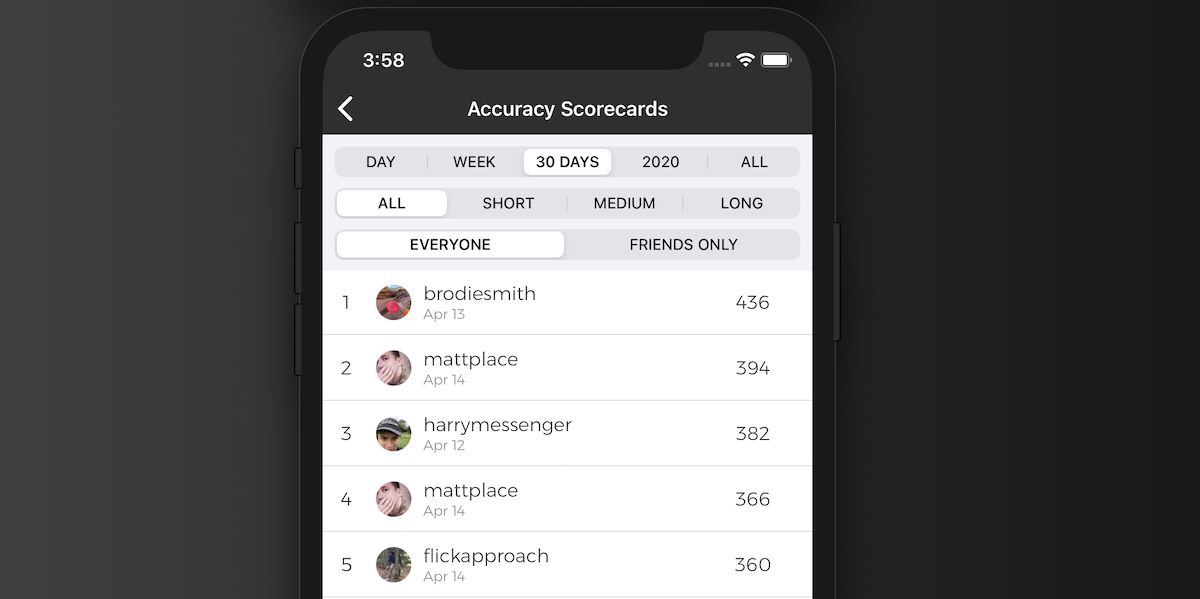 To see how your best score matches up with others in the UDisc community, you can check the Accuracy leaderboard by doing the following:

1. Go to the More tab.
2. Tap Leaderboards just below Accuracy Practice.
3. Tap Accuracy Scorecards to see the top scores. As you can see in the screenshot at the top of this section, you can adjust to see just your friends and for timespan.
Enjoy!
We hope this addition to the app helps keep you motivated to practice so your game will be sharper than ever. Thanks for using UDisc and consider subscribing to our newsletter in the gray area below if you want to make sure you never miss out on announcements like these!