Find more recent disc golf course per capita stats in our 2022 update.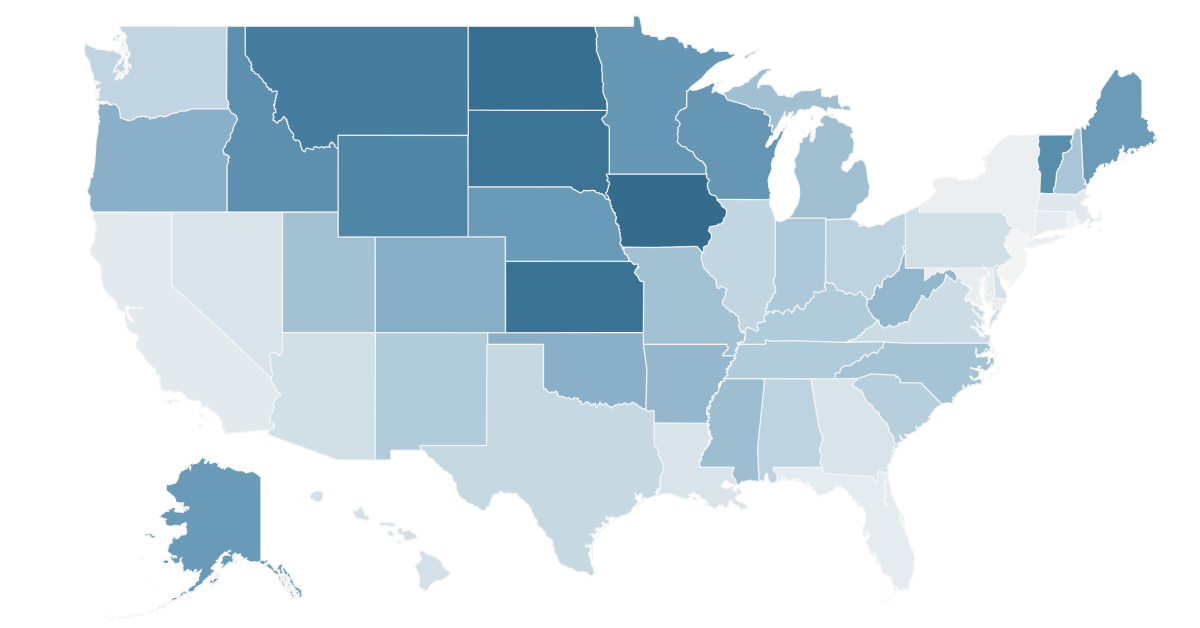 We recently revealed which countries have the most courses per capita. The U.S. ranked seventh on that list. However, the populations of the European countries ahead of it were much, much smaller, perhaps making it seem like an unfair contest.

Today we're taking a look at the stats for each U.S. state and showing how they rank in relation to each other. You can find that full list at the end of this article.

Fun fact: The #1 U.S. state would still only rank fourth if it was eligible for the countries list.
Where'd the Numbers Come From?
As with our previous article on countries, the course totals for each state are based on courses disc golfers have submitted to UDisc's course directory. You can search this extensive directory either on UDisc's Courses website or in the UDisc app.
Who's #1 (& Who's Chasing Them Down)?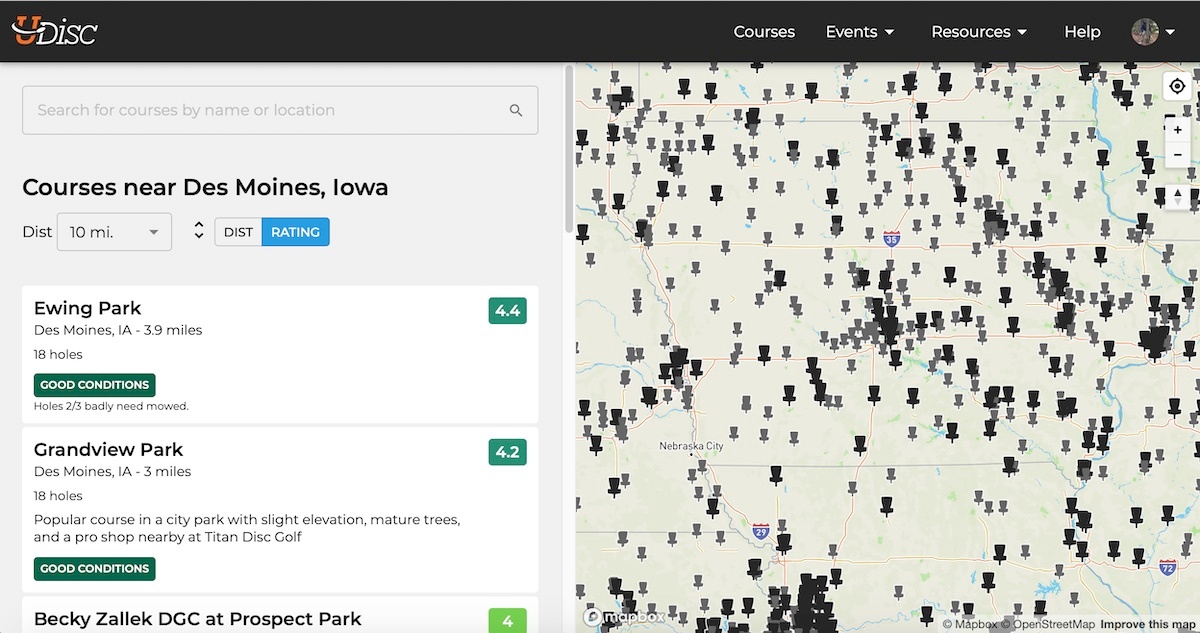 Iowa has the most courses per capita in the U.S. and is the only state to have less than 10,000 people per course. It has more than 300 courses for a population of just over 3 million. 

Disc golf is so readily available in the state it might be taken for granted by many Iowans.

"I think the casual Iowan disc golfer would be surprised to learn that many players in other states don't have a course they can conveniently access for a quick round after work," said Michael Deeter, PDGA coordinator for Iowa.
But it seems that even some of Iowa's most avid disc golfers might not be aware of the disc golf gold mine their state is. For example, Iowa's #1 status took the state's highest-rated pro by surprise.
"I was not aware Iowa was number one in the country," said Ben Callaway. "That's a pretty cool stat. If I had to guess based on the disc golf scene which state would be number one, it would have been a larger, warmer state."
Callaway's assumptions are likely common in the disc golf world, but none of the top ten states per capita would count as "warmer" for most of us. Half of them are in the Midwest and many are in more northerly parts of the country.
Deeter explained the pattern that's leading to high numbers of disc golf courses in Iowa, and it's probably one that's happening in many of the states at the top of the list.
"Smaller communities are installing nine-hole courses in their parks after learning that disc golf is an activity that can be enjoyed by people of all ages for a relatively low cost for a municipality," Deeter said. "Additionally, disc golfers throughout the state are working hard to add bigger and better courses to help satisfy the hunger for the game in our more populated areas. Iowa has been blessed with a wide variety of courses spread throughout the state and it's easy to notice that players are embracing them. There are many small-town clubs and even county-based clubs that enjoy running leagues at their local area courses. And the metro area clubs are noticing more activity and new players showing up on the courses and at local events."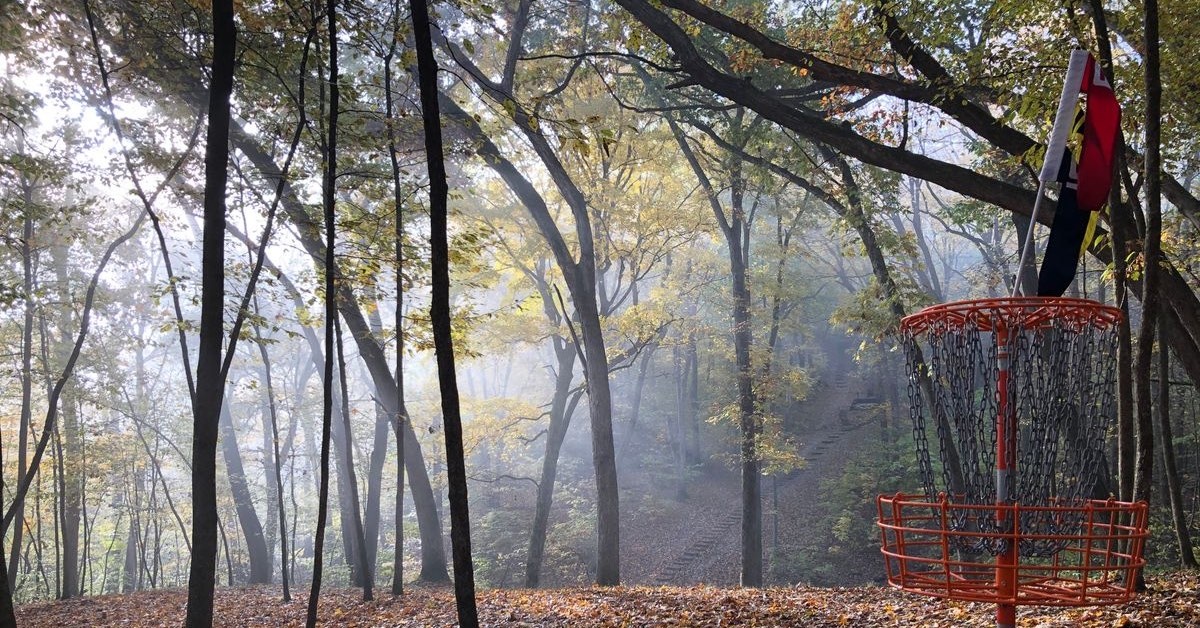 But Iowa does have some competition for its throne.
"It's very easy to find the courses and play them [here]," said Travis Hagen, PDGA coordinator for North Dakota, the state with the second most courses per capita in the United States. "All of them are at local parks or recreation areas."
When asked about the competition with Iowa, Hagen seemed in the mood for some friendly rivalry.
"I guess it has crossed my mind about the competitiveness," said Hagen. "I do have some courses in the works. You never know; we could be number one soon."
To set the stage for a rivalry we're not sure anyone saw coming, if North Dakota creates two more courses and Iowa stays where it is, the Peace Garden State (yes, that's ND's real nickname) will take the lead.
Who's on Top by Raw Numbers?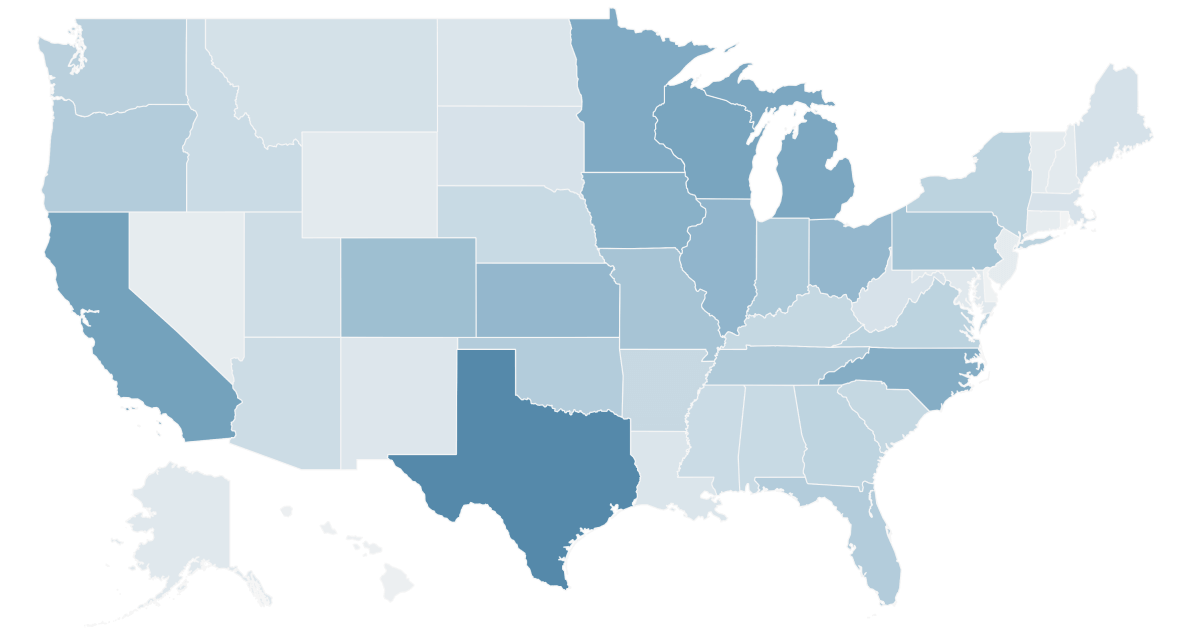 If you disregard per capita and look at which states simply have the most courses, the two top places are no surprise: #1 is Texas and #2 is California. Both are so big and have such large disc golf scenes that they are the only two states that need two PDGA coordinators.
Even by this metric, though, Iowa comes in seventh, and the Midwest is dominant with seven of the top ten states.
Still, right now Texas has 135 more courses than California. To put that in perspective, 28 states have fewer than 135 courses total. Also, although both are populous states, Texas has about twice as many courses per capita as the Golden State. And those courses are being built right where people need them.
"There has been a large surge in courses over the past 10 years," said A. Michael Hopper, PDGA state coordinator for north Texas. "With many Texas courses being free to use, the courses saw an increase of disc golfers on them. The visibility of the sport was key to the expansion. This visibility and exposure to the sport made it easier for smaller towns to take a chance on the sport. You also started seeing cheaper but just as sturdy baskets popping up like the Recruit or Black Hole, and the cost to the smaller towns shrunk, making it an easier sell to them. You get a course put in the ground, people come play, get exposed to the sport and take it to their friends who play and so on. Some of those friends live in different cities and then want that for their park or city."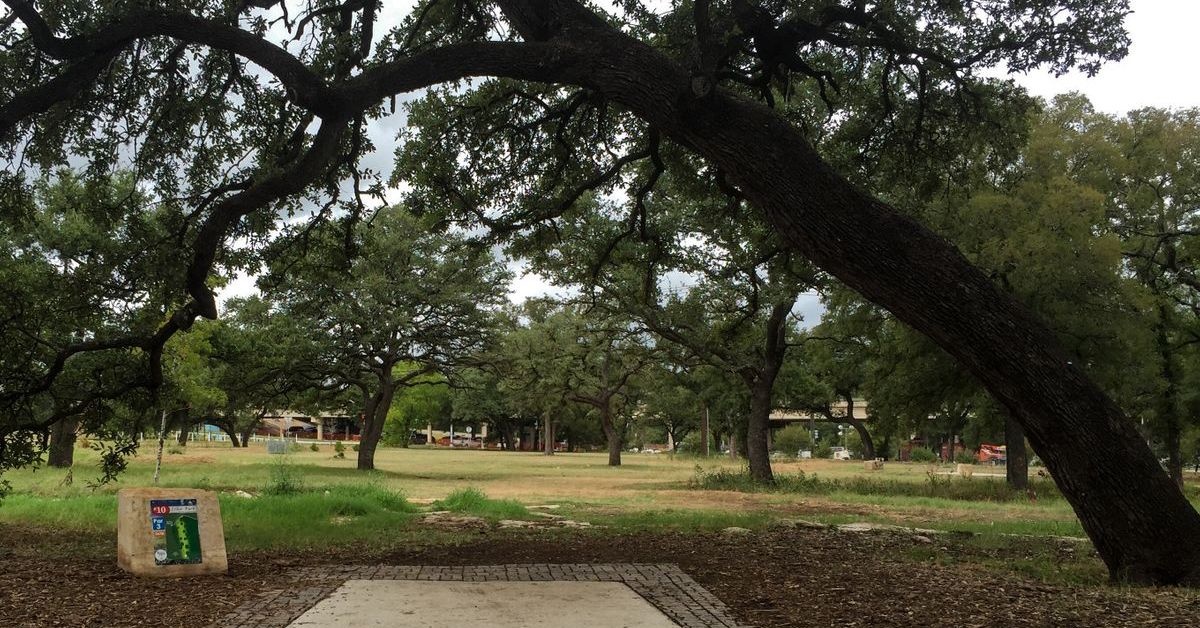 Stephanie Vincent, PDGA coordinator for south Texas, echoed Hopper's sentiments.
"Every day I hear of new courses being installed, and as of now we have 519 courses," Vincent said. "In the past courses have mainly been in big cities. Now that small towns are investing in disc golf, it makes the sport more accessible."
Even though everything is bigger in Texas, as the saying goes, the story of Texas disc golf right now is all about the small, which takes us back, full circle, to what it feels like on the Iowa scene.
"Now that courses are popping up all over the state, it is easy to hop on a course after work and have time to finish all 18 before dark," notes Vincent.
Conclusion & Full Rankings
Any competition that results in states building more disc golf courses is a win for everyone, we'd say. More than that, though, everyone we talked to for this story talked highly of the friendliness and community in their state's disc golf scene, which is probably true of folks in the other 47 states, as well. 
Thirty years ago, sociologist Ray Oldenburg argued that what he called "third spaces" that were not home or work were needed for the health of democracy and civil society (something that must seem especially clear to us in the time of COVID when our total spaces might have been reduced to just our homes!). Twenty years ago, academic Robert Putnam argued in his bestselling book Bowling Alone: The Collapse and Revival of American Community that such spaces have long been declining or disappearing. One of his key examples was bowling leagues.

Based on what we see on a day-to-day basis at UDisc and the people we talk to regularly for articles like these, we think Putnam might want to think about doing some new research and titling his next book Disc Golfing Together.

With our nerd-out over, you can finally have a look at the full rankings and see where your state landed:

| | | | | |
| --- | --- | --- | --- | --- |
| Rank | State | People Per Course | Total Course Number | Population |
| 1 | Iowa | 9,988 | 305 | 3,046,355 |
| 2 | North Dakota | 10,191 | 66 | 672,591 |
| 3 | Kansas | 10,528 | 271 | 2,853,118 |
| 4 | South Dakota | 10,713 | 76 | 814,180 |
| 5 | Montana | 11,779 | 84 | 989,415 |
| 6 | Wyoming | 12,810 | 44 | 563,626 |
| 7 | Vermont | 13,905 | 45 | 625,741 |
| 8 | Idaho | 14,381 | 109 | 1,567,582 |
| 9 | Wisconsin | 15,496 | 367 | 5,686,986 |
| 10 | Minnesota | 15,646 | 339 | 5,303,925 |
| 11 | Alaska | 16,142 | 44 | 710,231 |
| 12 | Nebraska | 16,162 | 113 | 1,826,341 |
| 13 | Maine | 16,400 | 81 | 1,328,361 |
| 14 | Colorado | 21,131 | 238 | 5,029,196 |
| 15 | Oklahoma | 21,559 | 174 | 3,751,351 |
| 16 | Oregon | 22,018 | 174 | 3,831,074 |
| 17 | West Virginia | 24,065 | 77 | 1,852,994 |
| 18 | Arkansas | 24,504 | 119 | 2,915,918 |
| 19 | Mississippi | 26,975 | 110 | 2,967,297 |
| 20 | Michigan | 27,920 | 354 | 9,883,640 |
| 21 | Utah | 28,203 | 98 | 2,763,885 |
| 22 | Missouri | 28,515 | 210 | 5,988,144 |
| 23 | North Carolina | 29,431 | 324 | 9,535,483 |
| 24 | New Hampshire | 31,345 | 42 | 1,316,470 |
| 25 | Indiana | 32,913 | 197 | 6,483,802 |
| 26 | New Mexico | 34,320 | 60 | 2,059,179 |
| 27 | Tennessee | 34,490 | 184 | 6,346,165 |
| 28 | Kentucky | 34,715 | 125 | 4,339,367 |
| 29 | South Carolina | 37,605 | 123 | 4,625,364 |
| 30 | Alabama | 41,928 | 114 | 4,779,736 |
| 31 | Ohio | 42,258 | 273 | 11,536,504 |
| 32 | Washington | 43,666 | 154 | 6,724,540 |
| 33 | Illinois | 45,499 | 282 | 12,830,632 |
| 34 | Texas | 48,450 | 519 | 25,145,561 |
| 35 | Virginia | 54,061 | 148 | 8,001,024 |
| 36 | Pennsylvania | 58,536 | 217 | 12,702,379 |
| 37 | Arizona | 60,302 | 106 | 6,392,017 |
| 38 | Hawaii | 61,832 | 22 | 1,360,301 |
| 39 | Delaware | 64,138 | 14 | 897,934 |
| 40 | Georgia | 68,707 | 141 | 9,687,653 |
| 41 | Louisiana | 69,744 | 65 | 4,533,372 |
| 42 | Nevada | 72,988 | 37 | 2,700,551 |
| 43 | Massachusetts | 86,153 | 76 | 6,547,629 |
| 44 | California | 97,016 | 384 | 37,253,956 |
| 45 | Connecticut | 102,117 | 35 | 3,574,097 |
| 46 | Florida | 105,035 | 179 | 18,801,310 |
| 47 | Maryland | 108,935 | 53 | 5,773,552 |
| 48 | New York | 132,727 | 146 | 19,378,102 |
| 49 | Rhode Island | 175,428 | 6 | 1,052,567 |
| 50 | New Jersey | 219,797 | 40 | 8,791,894 |