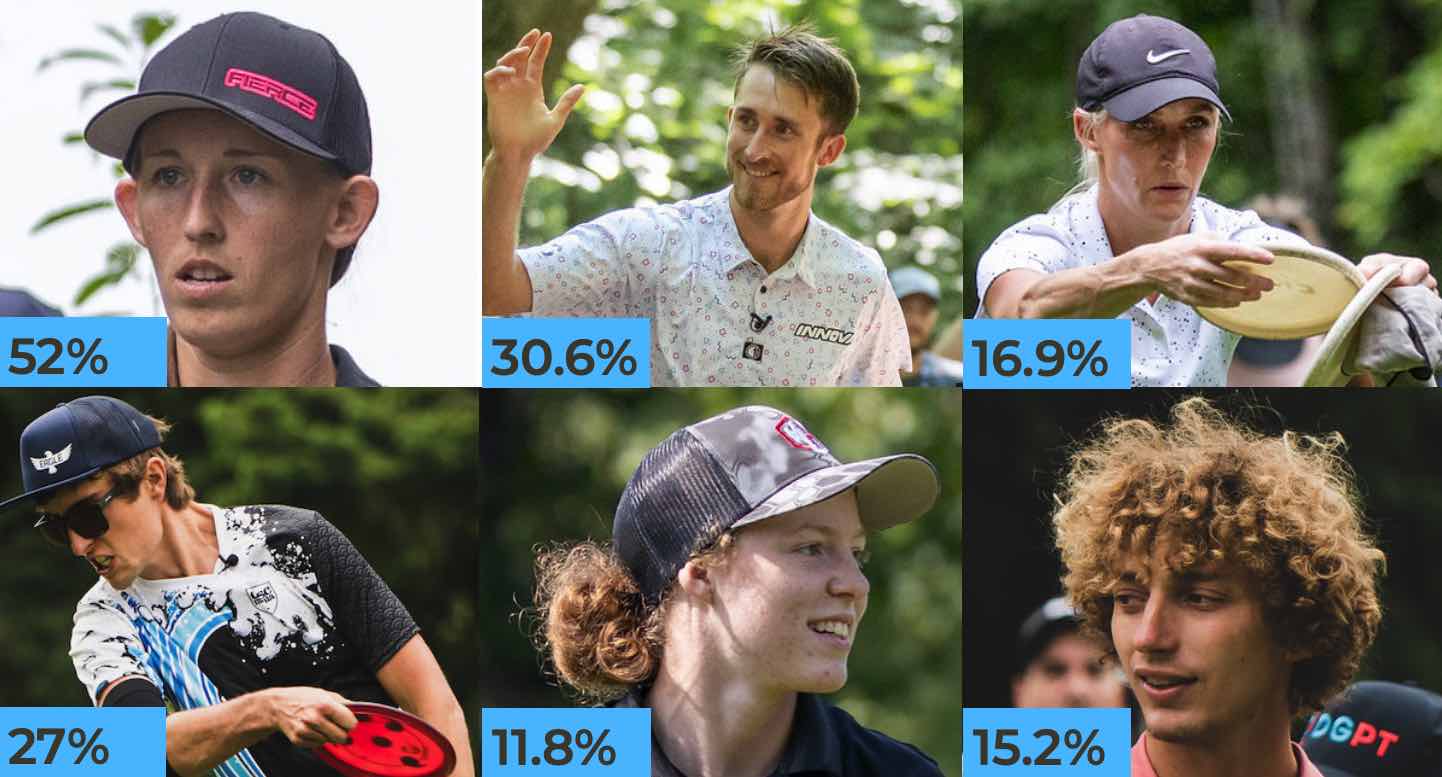 The Disc Golf Pro Tour Match Play Championship is taking place from Friday, September 17 to Sunday, September 19. The field consists of the 16 MPO and eight FPO players who had the most DGPT points after the Idlewild Open in mid-August 2021.

Those who know how match play works (and for those who don't, we have a post on match play rules) also know that the format tends to create dramatic moments that are rare in normal stroke play. Because players want to do everything possible not to lose holes and don't care about overall stroke totals, there's often impetus for them to go for aggressive and tricky shots in situations where they'd lay up during a normal tournament.

At the DGPT Match Play Championship, we'll get to see some of the best disc golfers in the world in all-out attack mode, and it's bound to be thrilling.

Another reason we're excited about the event is that, thanks to the stats powering the Disc Golf World Rankings, we can see exactly how likely each player is to win a match based on recent performances at big tournaments. It'll be extremely fun to have an idea of just how evenly matched two opponents are, or, if there appears to be an upset in the making, know the precise probabilities the underdog is trying to thwart.

Below we take a look at some of the most interesting stats related to the DGPT Match Play Championship, including who's most and least likely to win each division, which MPO and FPO favorites have the easiest and hardest brackets, and the chances all competitors have of making it to each successive round of the event.
Where Is the DGPT Match Play Championship Being Played?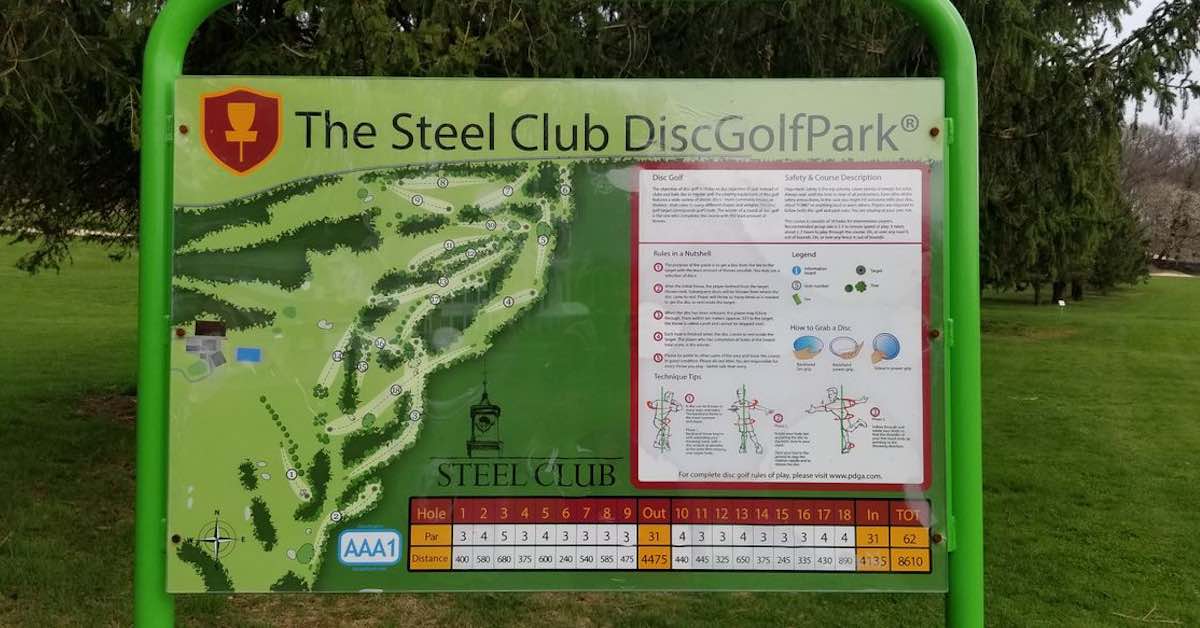 The Steel Club in Hellertown, Pennsylvania, is hosting the DGPT Match Play Championship. It's home to a traditional golf course and a disc golf course, but the Championship will take place on a temporary 12-hole layout.
Who's Playing in the DGPT Match Play Championship?
These are the players competing in the 2021 DGPT Match Play Championship along with their seeds, chances of winning the event based on the stats powering the Disc Golf World Rankings, and their current world rank:
If you're on mobile, swipe left to see the full table.
MPO Field: 2021 DGPT Match Play Championship

 
FPO Field: 2021 DGPT Match Play Championship
Seed
Player
Probability of Winning Event
Current World Rank

Seed
Player
Probability of Winning Event
Current World Rank
1
Eagle McMahon
27%
2
1
Paige Pierce
52%
1
2
Ricky Wysocki
30.6%
1
2
Catrina Allen
16.9%
4
3
Calvin Heimburg
15.2%
4
3
Missy Gannon
7.2%
8
4
Kyle Klein
3.6%
8
4
Sarah Hokom
9.5%
7
5
Kevin Jones
3.2%
10
5
Jessica Weese
1.3%
11
6
Nikko Locastro
0.7%
26
6
Kona Star Panis
1.2%
15
7
James Conrad
2.1%
12
7
Hailey King
11.8%
6
8
Adam Hammes
5.9%
6
8
Deann Carey
< 0.1%
31
9
Ezra Aderhold
0.2%
40
10
Joel Freeman
1.4%
15
11
Gavin Rathbun
7.5%
25
12
Garrett Gurthie
2.9%
33
13
Chris Dickerson
8.4%
5
14
Chris Clemons
0.3%
36
15
Emerson Keith
0.3%
32
16
Colten Montgomery
0.1%
60
How Did Players in the DGPT Match Play Championship Get Their Seeds?
The DGPT awarded seeds based purely on DGPT point standings as of August 15, 2021. The more points a player had, the better their seed.

You'll notice in the table in the previous section that some players with better seeds are less likely to win the event than those with worse seeds. This is because the stats we used to predict winning probabilities were based on broader and more recent data than what was used to seed players. The stats we utilized took into account tournament performances up to September 12, 2021, and factored in how players did at top tier events that weren't part of the DGPT.
How Does the DGPT Match Play Championship Work?
The 16 MPO and eight FPO competitors' seeds have been used to create brackets players must advance through to win the event. Most rounds will be played in groups of four, but players will only be competing against one other person in their group at any time. All MPO competitors will play one additional round compared to FPO.

Here's a look at the MPO bracket: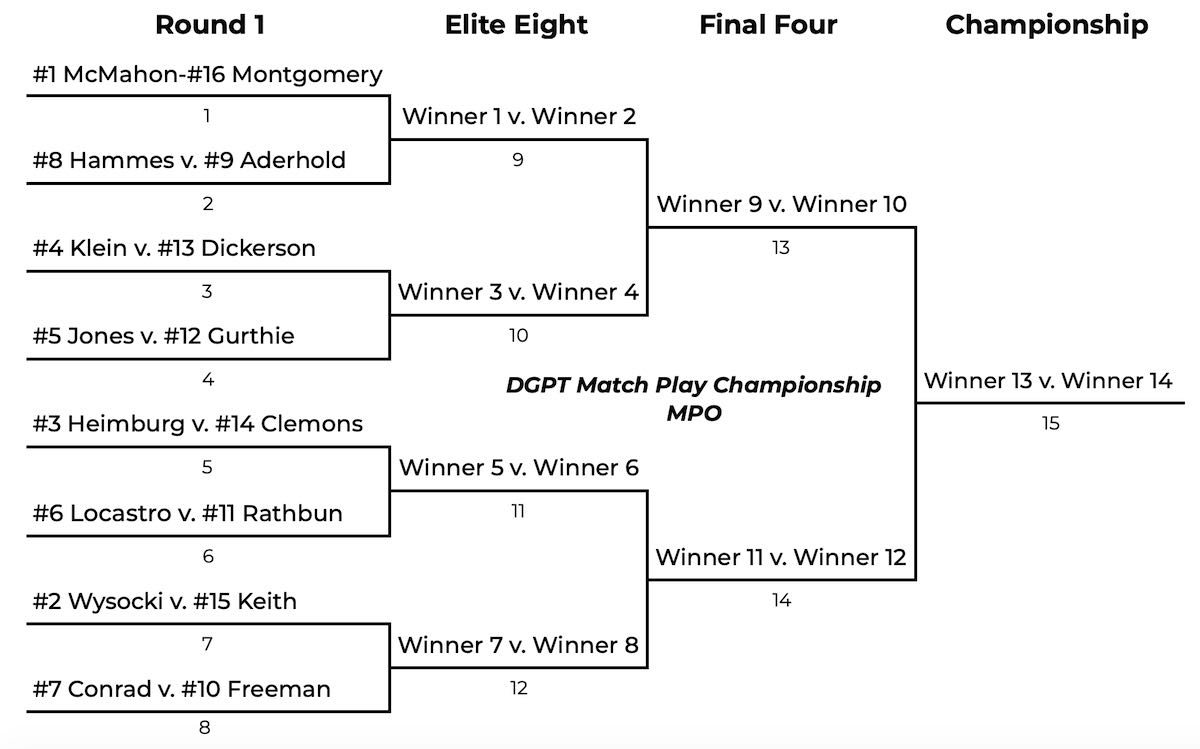 And here's the FPO bracket: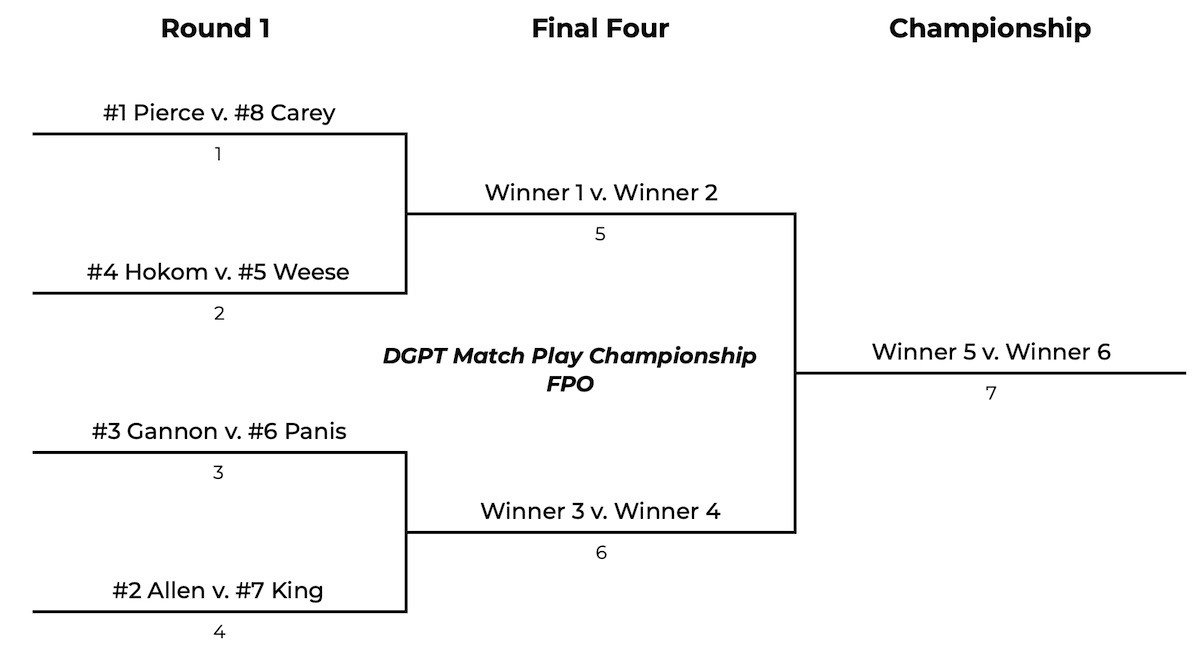 A Free Tool to See Players' Chances of Winning Matches
The Disc Golf World Rankings come with a Compare tool that can show you players' chances of winning in a head-to-head match (it can actually compare up to six players, but you won't need that for this event). Here's how you do it:
On a phone, tap a player to highlight them. On a computer, click the empty box to the left of a player's name.
Do the same for the other player in the match.
Click or tap Compare, which shows up in a blue box near the top of the table once you've selected at least two players.
If you follow those steps, something like this will appear on your screen: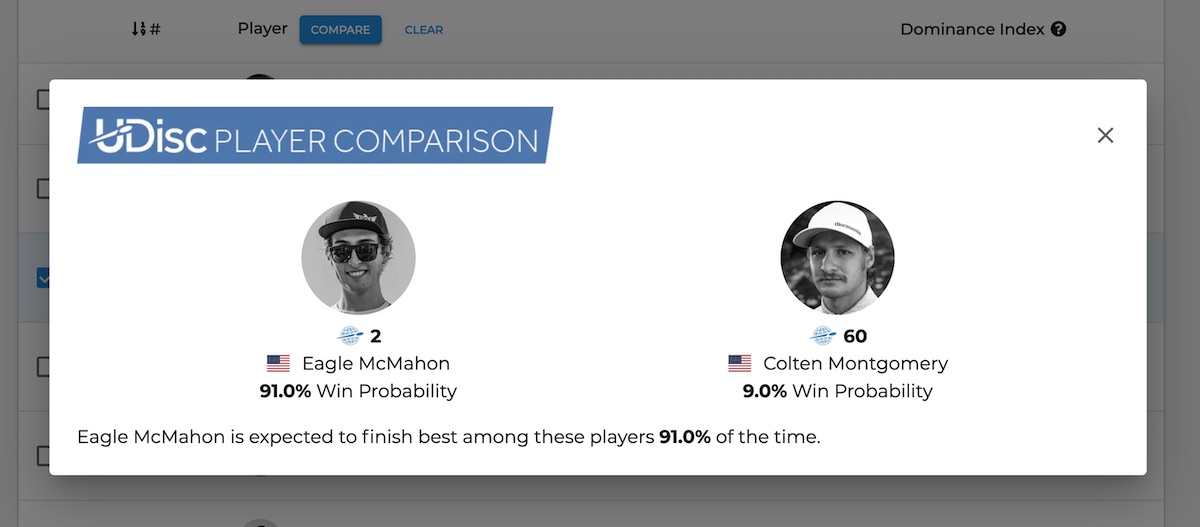 We've already gone through and done comparisons for all the first round match-ups, which you can see below. But as the event goes on and new match-ups are set, you can use the Compare tool to know which matches are likely to be most exciting or keep tabs on just how improbable an upset is.
If you're on mobile, swipe left to see the full table.


Winning Probabilities
Round 1 Matches: MPO

 
Winning Probabilities
Round 1 Matches: FPO
Match
High Seed %
Low Seed %

Match
High Seed %
Low Seed %

 
 
 
 
 
 
#1 McMahon
v.
#16 Montgomery
91%
9%
#1 Pierce
v.
#8 Carey
96%
4%
#8 Hammes
v.
#9 Aderhold
76%
24%
#4 Hokom
v.
#5 Weese
70%
30%
#4 Klein
v.
#13 Dickerson
41%
59%
#2 Allen
v.
#7 King
55%
45%
#5 Jones
v.
#12 Gurthie
69%
31%
#3 Gannon
v.
#6 Panis
68%
32%
#3 Heimburg
v.
#14 Clemons
81%
19%
#6 Locastro
v.
#11 Rathbun
50%
50%
#2 Wysocki
v.
#15 Keith
87%
13%
#7 Conrad
v.
#10 Freeman
53%
47%
Who Gets the Biggest Edge in this Format?

The way the event is structured and how the seeding worked out is good for some players and bad for others. We know this because we took a look at how each competitor's chances of winning the DGPT Match Play Championship stacked up against the probablility that they would win a normal free-for-all stroke play tournament against the players in their divisions.

For example, if Catrina Allen were to play in a tournament against all the players in her division at a normal event, she'd have a 21% chance of winning. However, she only has a 16% chance of winning every possible match she could have en route to conquering the Match Play Championship. That means the seeding and possible matches she has are likely to make things a bit harder on her than they would be if this is was a traditional event.

Here's how those numbers work out for all competitors:
If you're on mobile, swipe left to see the full table.
MPO Field: Easier or Harder to Win Match Play?

 
FPO Field: Easier or Harder to Win Match Play?
Seed
Player
Easier or Harder?

Seed
Player
Easier or Harder?

1
Eagle McMahon
0.4% easier
1
Paige
Pierce
6.9% easier
2
Ricky Wysocki
0.6% easier
2
Catrina
Allen
4.3% harder
3
Calvin Heimburg
2.2% easier
3
Missy
Gannon
0.9% easier
4
Kyle
Klein
1.4% harder
4
Sarah
Hokom
0.1% harder
5
Kevin
Jones
0.1% easier
5
Jessica
Weese
0.1% easier
6
Nikko Locastro
0.3% easier
6
Kona Star
Panis
0.3% easier
7
James Conrad
0.1% harder
7
Hailey
King
3.7% harder
8
Adam Hammes
0.5% harder
8
Deann
Carey
0.1% easier
9
Ezra Aderhold
0.1% easier
10
Joel
Freeman
< 0.1% easier
11
Gavin Rathbun
0.4% easier
12
Garrett Gurthie
0.1% easier
13
Chris Dickerson
2.4% harder
14
Chris Clemons
0.2% easier
15
Emerson Keith
0.1% easier
16
Colten Montgomery
< 0.1% easier
As you can see, most players' advantage or disadvantage in this format is neglible. However, there are patterns to those who break the 1% mark in either direction.

The players who are deepest in the "harder" category are Kyle Klein and Chris Dickerson on the MPO side and Allen and Hailey King on the FPO. There's a connection there: Both sets of competitors play each other in round one, and both contain a player whose world ranking is higher than their seed.

Dickerson is seed 13 while Klein is 4, but Dickerson is currently #5 in the world while Klein is #8. So not only are these players closer together in performance this year than their seeds suggest, the lower seed is actually the favorite. Two players at such a similar level taking each other on in the first round lessens both players' overall chances of winning the event.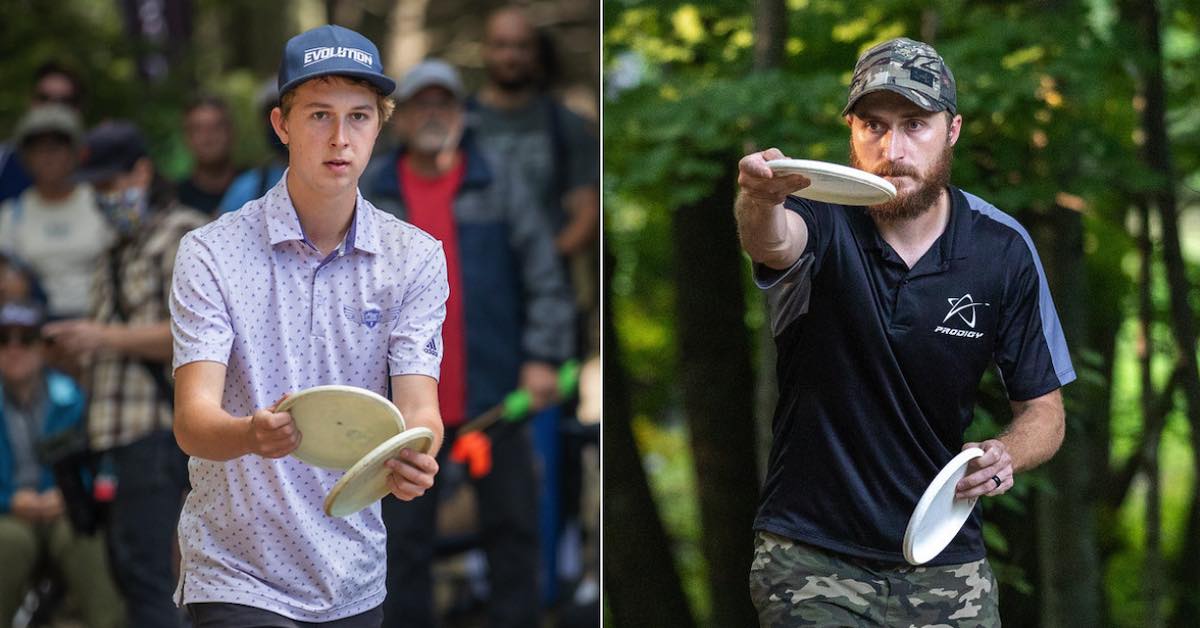 The story is similar in FPO where seed 2 Allen faces seed 7 King in round one. Though King is lower in World Rank than Allen, they are only two ranks apart (#6 to #4 respectively) despite being five seeds apart. Them having to face each other in the first round makes their roads to victory difficult.
However, King and Allen's problem is Paige Pierce's good fortune. With Allen and King in a different bracket, Pierce only has the possibility of facing just one of her two closest competitors at the event instead of having to defeat both. That's a big reason she's 6.9% deep in the "easier" category.

For MPO, Heimburg is the biggest winner. His 2.2% increase in winning probability comes from how the next highest-seeded player in his bracket, seed 6 Nikko Locastro, earned his seed in part thanks to a surprise DGPT win early in the season but hasn't kept up a champion's pace since. In fact, Locastro's 11th-seeded opponent, Gavin Rathbun, is one World Rank ahead of him at 25 and is the highest-ranked player other than Heimburg in the bracket.

Heimburg is the only top four seed who has zero chance of meeting a player in the World Rankings top 10 before reaching the Final Four.
How to Watch and Follow the DGPT Match Play Championship
You can watch the DGPT Match Play Championship live via the Disc Golf Network, which requires a paid subscription. The network will stream the matches live from Friday, September 17 to Sunday, September 19. The full live streams are also available to subscribers as archived footage.

Free, post-produced coverage of some matches will be available through Gatekeeper Media and GK Pro's YouTube channels.

If you can't watch every round but want to see what's happening in real-time, UDisc Live will have instantly updated, shot-by-shot scores and match results.