It's not typical that someone first picks up a sport after turning 20 and is able to rise to its upper echelons. But Estonian disc golfer Kristin Tattar, who is 29, has done just that.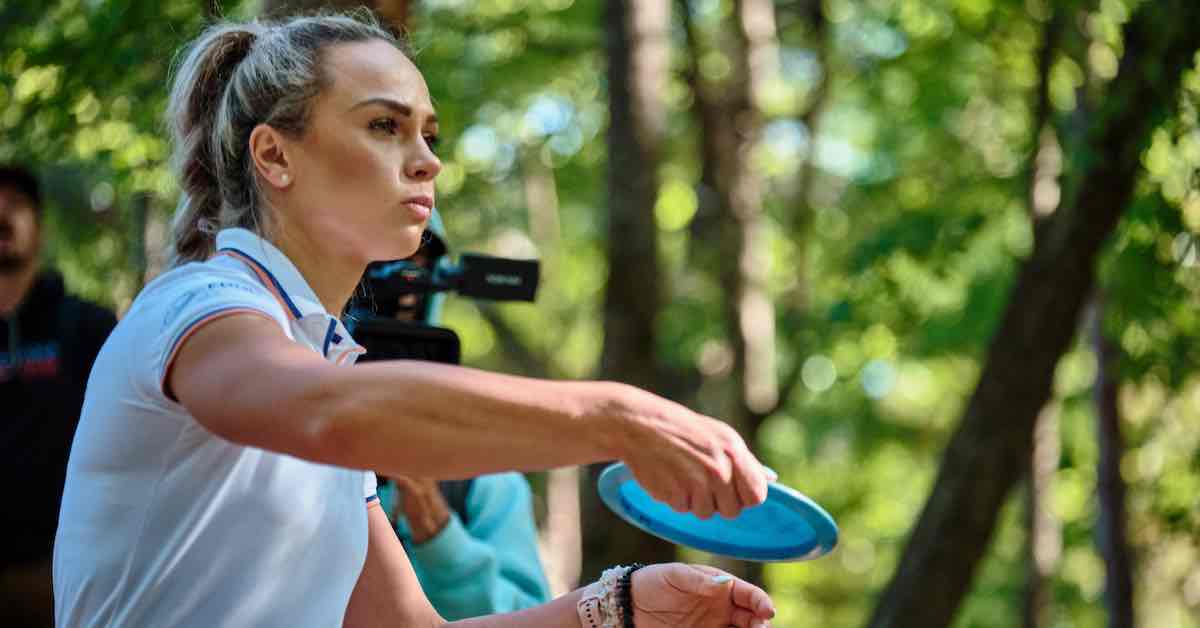 After playing disc golf for the first time just nine years ago, Tattar has turned into one of the most consistently great disc golfers in the Female Professional Open (FPO) division. The Baltic superstar has finished in the top three in FPO at every event she has played since 2019 with just three exceptions (2019 European Open, 2019 and 2021 World Championships), earned a Major title in 2019 when she won the U.S. Women's Disc Golf Championship, and had three wins at Disc Golf Pro Tour (DGPT) Elite Series events (one in 2022 and two in 2021). She's also become a mainstay in the top five of the Disc Golf World Rankings, including a stint in the #1 spot earlier in 2022.

Her accomplishments and popularity led to her earning one of the largest contracts ever offered to an FPO competitor in 2021. That year, she signed a four-year sponsorship contract with Swedish disc golf equipment manufacturer Latitude 64° worth around $500,000 USD.
We were lucky enough to get in touch with Tattar and hear about her journey as an athlete and how she's learned to trust her skills as she's climbed to the highest rungs of the competitive disc golf ladder.
Kristin Tattar's Athletic Background
Tattar lives in Pärnu, Estonia – the same town where she was born and raised. The city of just under 40,000 borders a bay of the Baltic Sea and is in southwestern Estonia about an hour's drive north of the Latvian border.
It was there that the current disc golf superstar began competing in her first organized sport, volleyball, just as she was starting school.

"One of my mom's friends was a volleyball coach, and since the sport is super popular in Pärnu, my mom encouraged me to take volleyball lessons," Tattar said. "She thought that I should also have some hobbies after school once I started first grade. I really liked playing volleyball and our team won medals in Estonian Nationals in our age group."
The activity she truly fell hard for, though, was cross-country skiing. A harbinger of her future tastes, Tattar enjoyed the demands of the individual sport more than navigating team dynamics. Still, she competed in both skiing and volleyball up until her volleyball coach asked her to pick a focus when she was in fifth grade.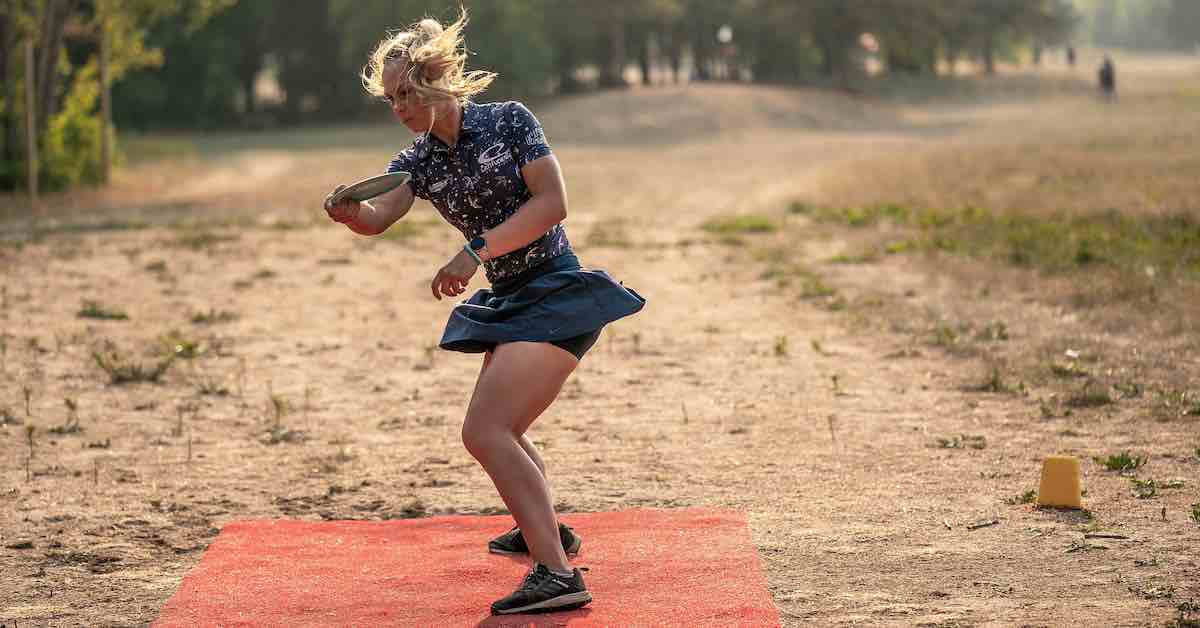 The young Tattar opted to stick to the snow and skied competitively throughout her youth. However, after years of training and competition, she found her iron will to improve was pushing her flesh-and-blood body too far.

"I...won medals in Estonian Nationals and was really dedicated to cross-country skiing," Tattar said. "Unfortunately I was training too hard and my body just couldn't handle it, so after high school I quit."
She still skied for fun, though, and in the early 2010s – a period when she lived in northeastern Estonia – she saw disc golf baskets near a skiing trail and got interested in trying them out. The course was Alutaguse in Vasavere, Estonia, and Tattar believes she played it for the first time in the fall of 2013 with a group of friends.

Once the snows melted the next year, she dived into disc golf head first. A new mother at the time, Tattar was excited to have a sport that she could easily play while her daughter, Isabel, accompanied her in the stroller.

"I really got into disc golf in 2014," Tattar said. "That's when I took part in my first competitions and realized that I might have potential to do well in this sport, but of course I didn't think I would be competing with the best in the world one day and making this my job."
Tattar's Road to Disc Golf Dominance
The initial indication that disc golf could turn into more than just a hobby for Tattar came quickly. The very first year she played regularly, she won the Estonian national title in FPO, and everything snowballed from there.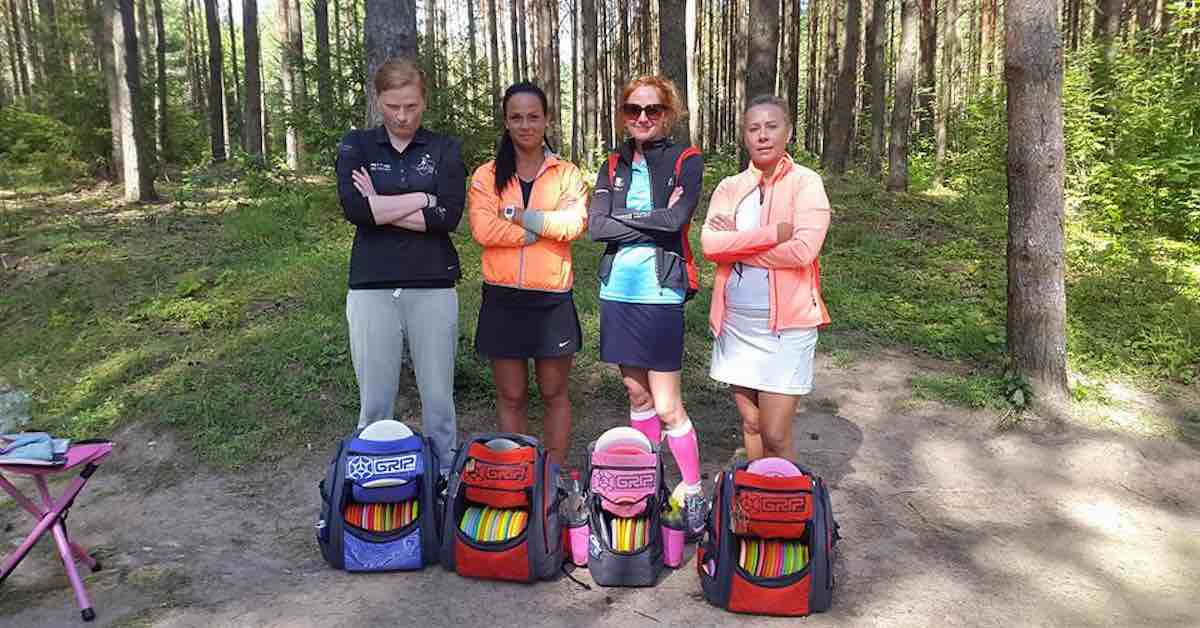 "I remember my friends encouraged me to take part in the Estonian Championships in 2014 and by some miracle I won in a playoff," Tattar recalled. "So that really pushed me to continue and take part in more tournaments the following year. At some point I think I took part in every PDGA [Professional Disc Golf Association] event there was in Estonia, but I also took part in the Baltic Sea Tour, which is a series of events across Baltic countries. Year after year my ambitions got higher and I took part in even bigger events until I made my way to U.S. in 2017."

Though Tattar was steadily honing her skills, the lack of a formal coaching structure in disc golf left her feeling somewhat adrift. Whereas in other sports there had always been someone who could tell her how to work on her weaknesses, disc golf training strategies were mostly guesswork. Additionally, there was no one setting bars for her to reach, so the only way she could have any idea of her skill level was to compete against the best players possible and see where she ended up.

Without that professional reassurance that her game was at a truly elite level, Tattar found that self-doubt would creep in when she ended up neck-and-neck with the sport's top competitors.

"I've always thought that in sports you have to start early to reach the top, so [being a top player] definitely came as a surprise to me," Tattar said. "I remember that when I first competed with the 'big names,' I was in disbelief every time I was able to keep up with them. Then I always thought, 'Wait, I should not be as good as them,' so the nerves kicked in and I played badly."
Eventually, Tattar worked through her confidence issues thanks to both building experience playing big-time events and encouragement from her partner, fellow professional disc golfer Silver Lätt. Tattar and Lätt – also an Estonian – did their first-ever stateside tour together in 2018 and made the trip again in 2019 (the U.S. is where the majority of high-tier pro disc golf competition occurs). That second year, Tattar made a huge statement by winning the 2019 U.S. Women's Disc Golf Championship over the likes of perennial U.S. standouts Paige Pierce, Catrina Allen, and Sarah Hokom.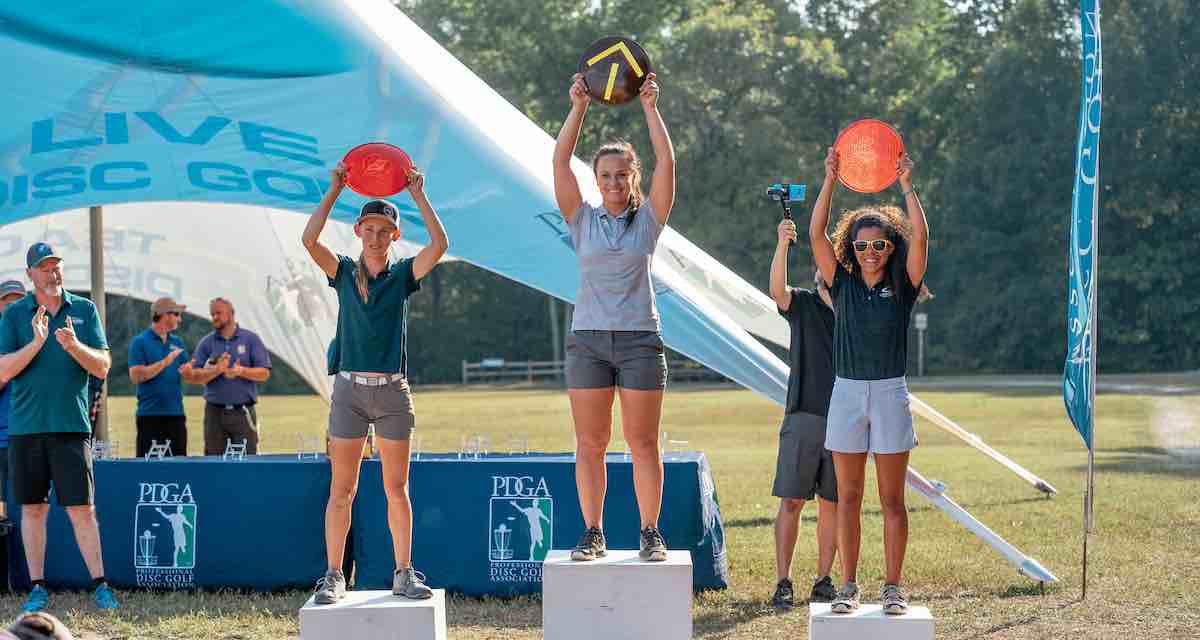 Following the USWDGC victory, Latitude 64° presented Tattar with a deal that included a salary, and that was the first time Tattar truly saw disc golf as a viable professional option.

"I never thought that disc golf could actually be my career," Tattar admitted. "I always thought that this was just a great hobby. But I guess after winning USWDGC when Latitude 64° offered me a contract where I actually got paid for playing disc golf, I thought, 'This is it; this is my job and I love it!'"
She hoped to make her presence felt even more keenly in 2020, but the pandemic put the brakes on her tour plans. When travel became somewhat easier in 2021, she jumped at the chance to again compete at high-tier U.S. events. Her growing confidence and sense of belonging among the best showed through clearly as she won a Silver Series DGPT event and shortly thereafter two Elite Series events back-to-back all in the month of July.
One of those wins was the result of a moment that Tattar counts as a standout in her career so far. On the penultimate hole of the 2021 Great Lakes Open, she was over 40 feet/12 meters from the basket putting up a steep slope for eagle. At that point, she was tied with multi-time world champion Paige Pierce for the lead, and Pierce had an eagle putt that was much closer than Tattar's.
With the pressure of an Elite Series win on the line, Tattar sank what she considers the most clutch putt of her career:
"When I made that huge eagle putt to put the pressure on Paige, it literally gave me goosebumps – something that I had never experienced," Tattar said. "This is a powerful moment that will be forever in my mind. This gives me courage to never give up and stay focused until the end."
Pierce went on to miss her eagle putt, giving Tattar a one-throw advantage. The Estonian protected that lead on the the tournament's final hole and earned her first Elite Series win.
Tattar's $500,000 Deal with Latitude 64°
Tattar's original deal with Latitude 64° ran through 2022, so when the equipment manufacturer told her they wanted to make a new deal in the offseason of 2021, it was a surprise. Tattar said she had engaged in no negotiations with the company about upping her compensation when they got in touch.
In a press release calling Tattar a "world class athlete, passionate, dedicated, and with a world class personality," the Swedish company made it clear that they believed a hefty increase in their support of Tattar was an economically sound decision. As for Tattar, the four-year deal worth around $500,000 USD made it much easier to justify completely dedicating her professional life to disc golf.
"I was incredibly happy and surprised to hear how much they value me and how much they are willing to invest in my career," Tattar said. "What an amazing partnership! The new contract gave me the opportunity to commit to disc golf even more and not worry so much how I'm going to manage. Also, now I have the chance to travel more and be present at all the major events and most of the DGPT stages."
Reaching for the Top of the Disc Golf World
One easy way to know that Tattar has truly accepted her place among the elite in women's disc golf is what she told us when we asked about her biggest goals.

"A huge goal is to win the World Championship," Tattar said. "It is the biggest competition in disc golf, and I would definitely feel very proud if I was able to achieve that."
That's a huge jump for someone who said that just eight years ago she "probably would have laughed" at anyone who suggested she'd be where she is today.
Tattar also emphasized that important people in her life have made it easier to take the path she has. She credited Lätt with pushing her to dream big about what sort of disc golf competitor she could be, saying that she was "grateful to have him in [her] life" and that she "couldn't imagine having a partner who doesn't understand disc golf and [her] career." Additionally, she said that her nine-year-old daughter has been incredibly understanding when she's had to travel for competitions.

"She is such a sweetheart and seems like an old soul," Tattar said. "Despite her young age, she understands why I have to be away from home sometimes and even though it is very hard on both of us, we have made it work so far. Usually we chat via Skype when she is home and I'm traveling, but for some trips she is actually with me which is exciting for both of us."
Overall, Tattar is clearly thrilled by her current life, no matter how unlikely it seems.
"[It was] a huge win for me to even find disc golf," Tattar said. "I was incredibly sad after I realized that there was no way I could continue cross-country skiing and reach the top. Who would have thought that when you are 20-plus, you could still find a sport you could be professional at? But that's what happened to me and I couldn't be happier about it!"