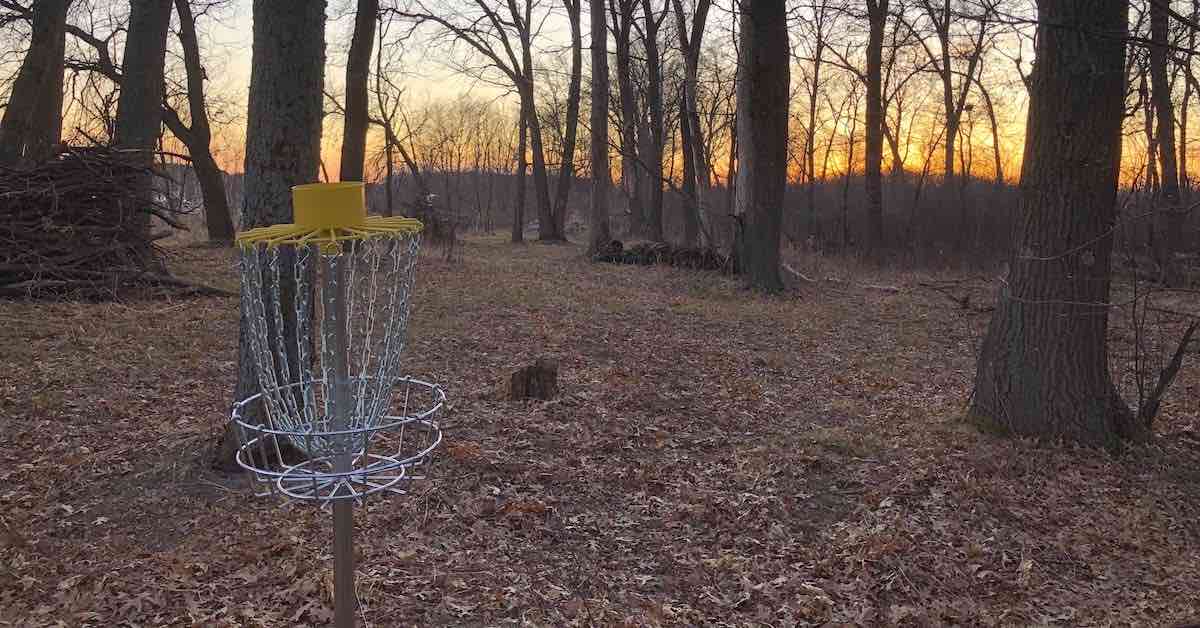 Even people with no more than just one basket have created courses in their yards or nearby areas to scratch their disc golf itch. And many of them have put their layouts into UDisc so they can keep up with their stats and best rounds. Whether you have a basket or baskets that are played to from multiple teeing areas or are using trees, poles, or other features for targets, you can create a map of it in the UDisc app.

Below, we provide an overview of best practices for entering your self-made disc golf course into UDisc. If you're looking for information on how to add any course to UDisc, we recommend you read our help article "Contributing To UDisc's Course Directory."

Creating Custom Scorecards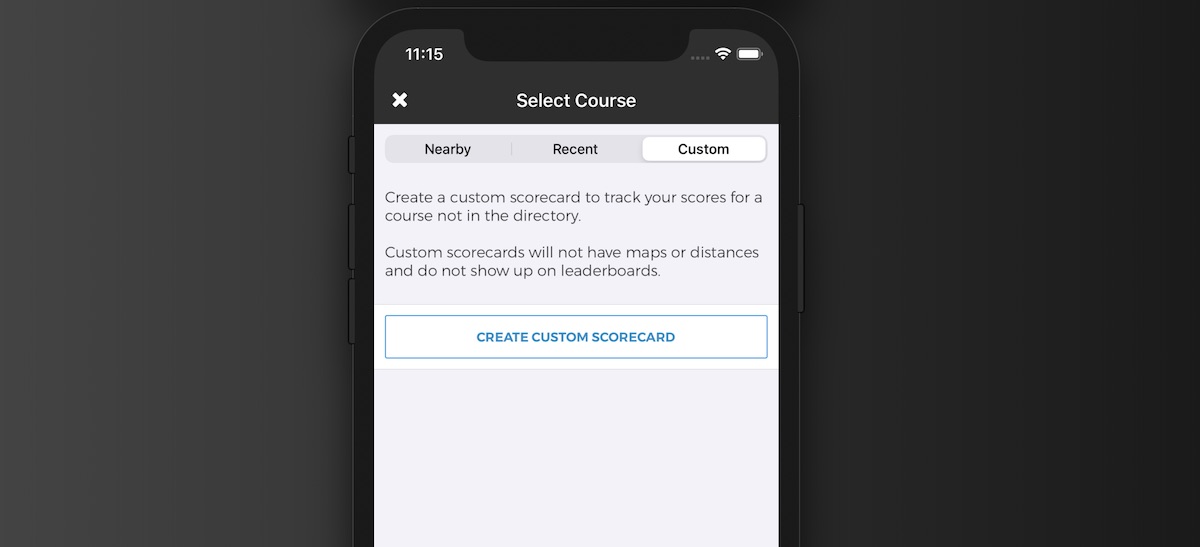 If you create a layout you only plan to play a few times or change frequently, it's best to just create a Custom Scorecard rather than a new course. Here's how:

1. Tap Create Scorecard after opening the UDisc app. 

2. Tap Custom in the upper-right corner of the next screen.

3. Give the course/layout a name.
4. Pick a number of holes.
5. From here, continue just like you would with any other scorecard.
6. Every hole defaults to being a par 3. You can change that when you reach a hole by tapping PAR 3 in the upper right and then selecting the desired par. 
Creating a Course



If you'd like the course you've created to be permanently in UDisc and visible to others (we talk about the options for limiting which UDisc users can see it in the next section), you'll need to create a course:

1. Tap the More tab.
2. Find Add New Course.
3. On the next screen, you'll be asked to give information about your course.
4. Provide as much information as possible about the course to assure the best chances of it being approved the first time you submit it.
5. When you're done, tap Submit New Course For Review.
6. You'll receive an e-mail regarding your course's approval status.
Restricting Who Can Find a Course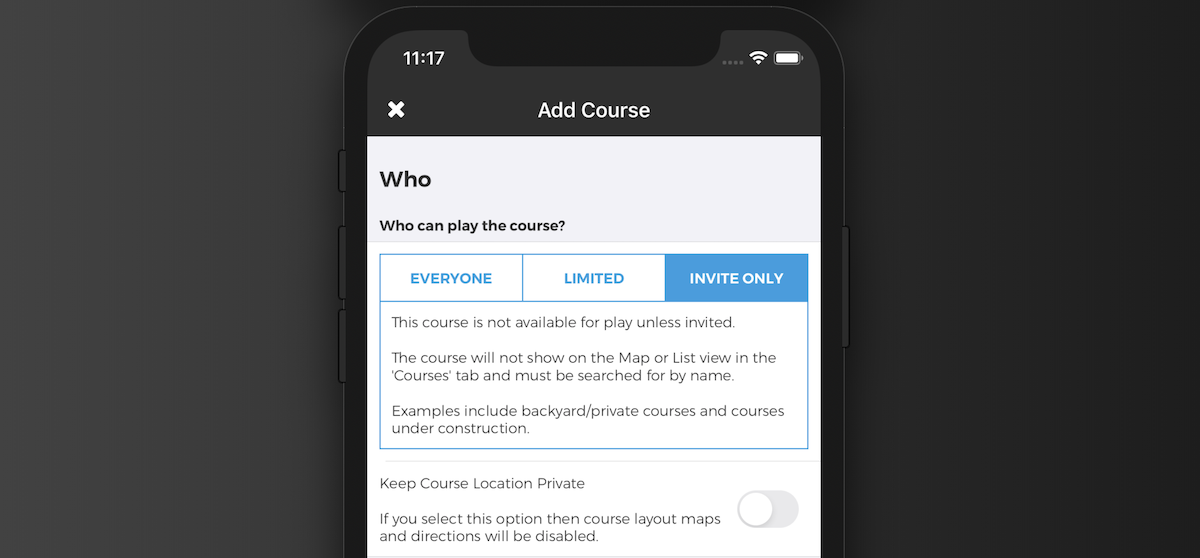 Though you may have some friends or family you want to be able to access your course in the app, it's likely most people want to keep their self-made courses to themselves. When creating a course, part of the information you're asked to enter is who can play it. The options you have for that are Everyone, Limited Access, or Invite Only. Here's what those mean:
Everyone: Any person with UDisc can see your course and its location shows on the public map.
Limited Access: Any person with UDisc can see your course but will see that access is limited and the information you provide about why.
Invite Only (recommended): Your course must be searched for by name to be found and will not show on the public map or nearby courses list. You also have the option to Hide Location for an invite only course, which means people will not be able to use the app's Get Directions function to find it even when searching by name (and you will not be able to create a map).
Saying When Your Course Can Be Played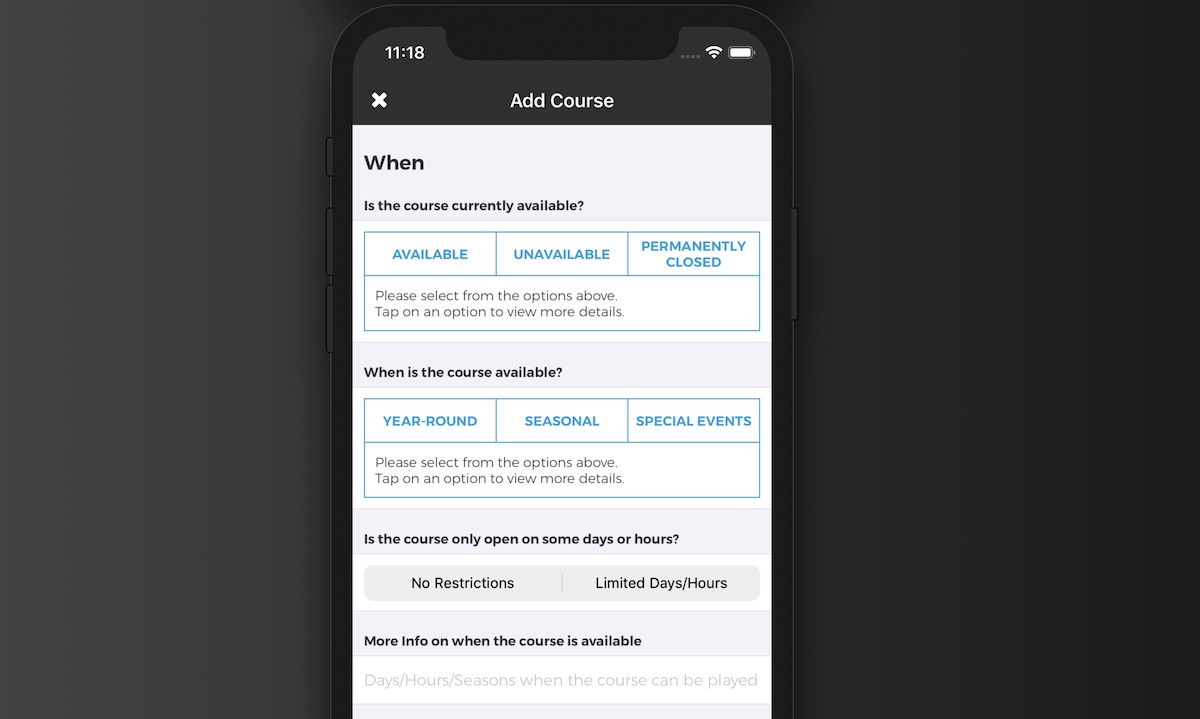 In the When section of new course information, you have Available, Unavailable, and Permanently Closed as options. Though Unavailable usually indicates a temporary course closure, it could also be a way to clarify that you're not accepting guests to play your course right now. We would recommend also selecting Limited Days/Hours and describing the availability of your course.
Once the course is approved, you can add a note about Conditions to indicate whether your course is open or to mention that players should exercise caution.

Adding Other Information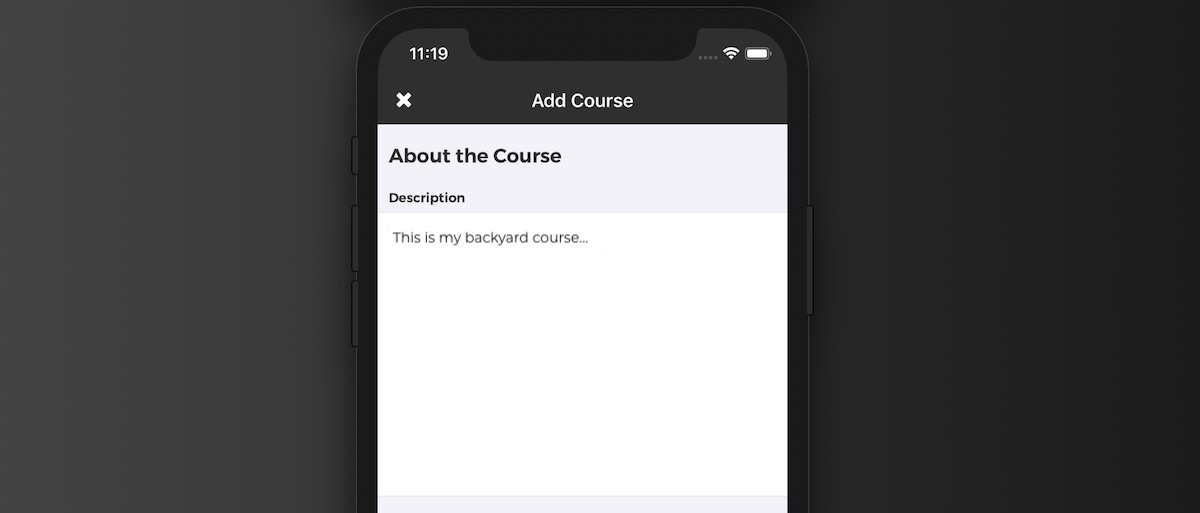 In the Where section, just pick the type of land that best matches the location of the course. If it's one at your home, the best option is Private Land.

Keep in mind that it's important to provide as much information as possible about a course so that we can add it to the directory. We want to make sure UDisc provides disc golfers with clear ideas of what to expect at the courses they plan to visit. Things like putting a thorough description of your course in the About the Course section go a long way toward meeting that goal.
Other Questions?
Still have questions about adding your course into UDisc? Take a look at this article which covers the process even more thoroughly. If you're still scratching your head after that, just reach out to help@udisc.com and we'll be happy to assist!