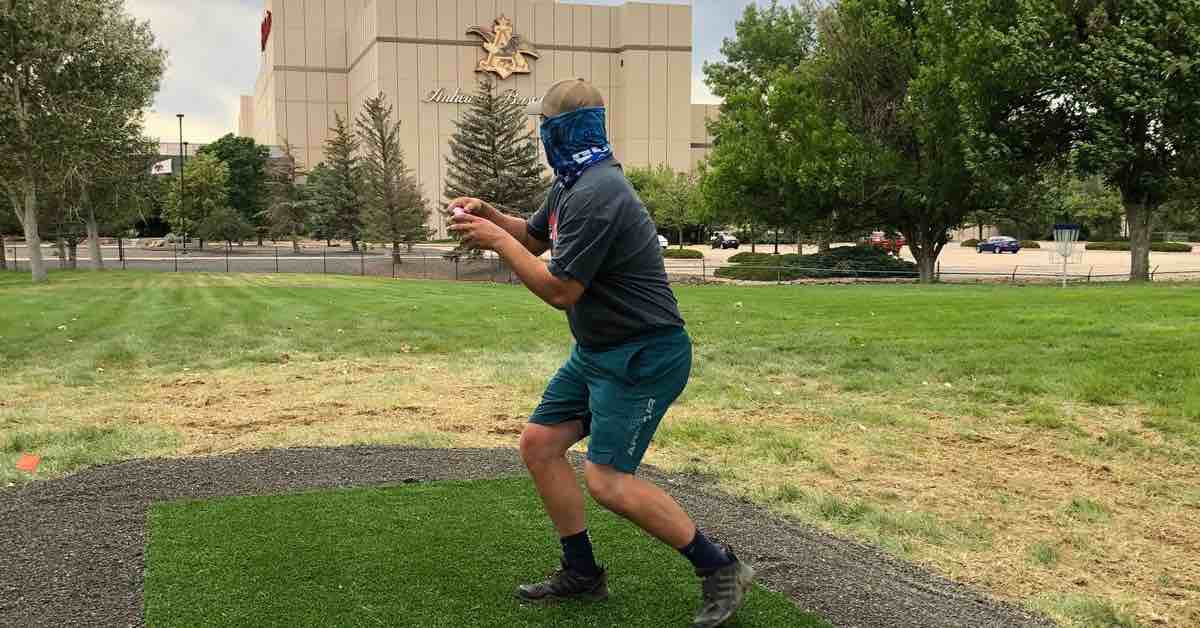 If Anheuser-Busch isn't a familiar name to you, its brands definitely will be. The extremely popular beers Budweiser, Bud Light, and Michelob Ultra are all brews invented by this company founded in the mid-1800s by a German immigrant to the United States.

In 2008, Anheuser-Busch was bought by a Belgian-Brazilian company called InBev, and today AB InBev is one of the five most profitable consumer packaged goods companies in the world. In 2021, it reported over $54 billion in revenue.
At one brewery for this titan of potent potables in Fort Collins, Colorado, you can enjoy a different sort of round than one pulled from freshly-tapped kegs in the biergarten. There you'll find the 18-hole ULTRA DiscGolfPark designed by 2009 Pro Disc Golf World Champion Avery Jenkins.

First opened in 2020, ULTRA has become a popular destination for Fort Collins disc golfers as evidenced by the over 500 rounds a month disc golfers with UDisc have recorded there on average in 2022 so far (in 2021, a research team estimated that about 20% of disc golf rounds were scored with UDisc). It's a go-to location for area leagues and tournaments, too, and just recently hosted a 2022 U.S. Disc Golf Championship qualifying event called the 303 Open.

Discover how a company the size of Anheuser-Busch learned about disc golf and the pressure and pride Jenkins felt as he designed and helped install the course.
Getting Things Hoppin'
The Anheuser-Busch brewery in Fort Collins is visible from the extremely busy I-25, and its little-used but well-manicured grounds dotted with mature trees caught the eyes of disc golfers who drove by day after day. In fact, a local had already run a few disc golf events there with temporary baskets well before anyone approached the company about creating a fixed track.

In early 2019, disc golf equipment manufacturer Discmania moved its U.S. headquarters from California to Wellington, Colorado, which is just a few minutes from Fort Collins. Discmania is part of Spin18 Disc Golf, which is also the parent company of course building enterprise DiscGolfPark.

When Discmania staff learned that disc golf was already known to management at the brewery, they reached out to see if they had interest in a permanent course.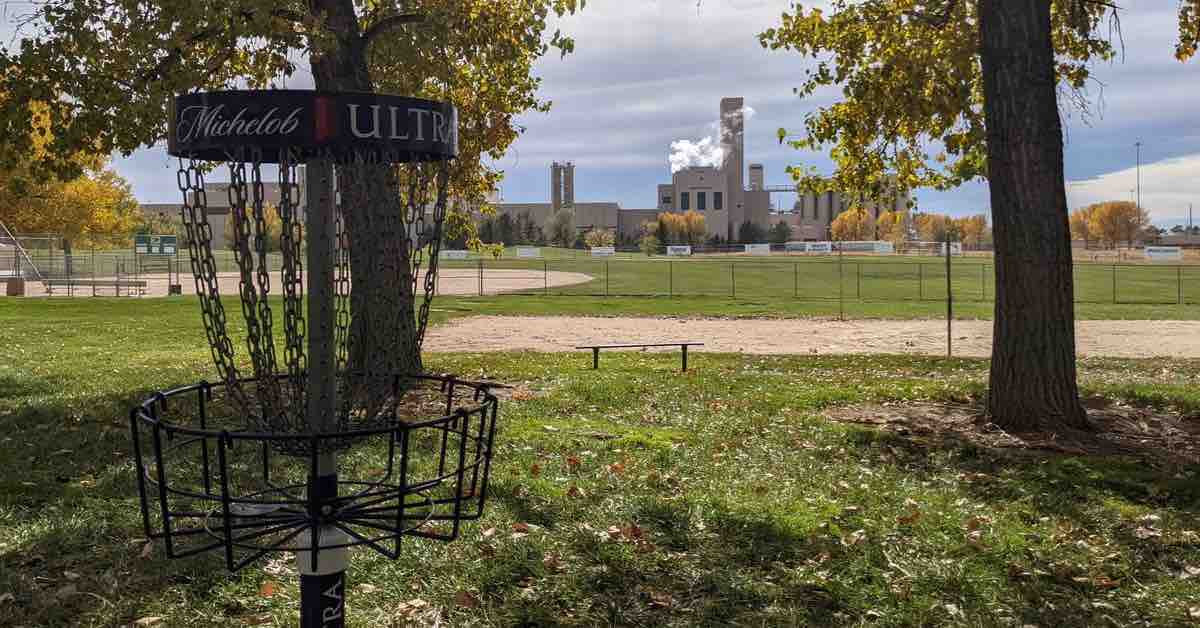 "It wasn't a hard sell," Jenkins said. "What a disc golf course costs compared to what Anheuser-Busch is – it was a no-brainer."
One reason disc golf was so appealing was that the area best for the course happened to be adjacent to the brewery's public biergarten. Disc golf would provide healthy entertainment for visitors and be a draw for new customers. Additionally, the brewery could connect with the community by hosting tournaments.
Though local management loved the idea of having a disc golf course off-the-bat, the approval process took about a year as people far up the ladder within the company had to green-light the project.
"This Is How You Grow the Sport"
Initial talks focused on a course designed for experienced disc golfers where local leagues as well as big tournaments could be held. But when Jenkins went up for a week-long sprint of designing and installing the course in July of 2020, he realized that not adding in some basket positions for beginners would be a huge missed opportunity.
"I'm sitting on the patio enjoying beers, looking at the mountains, watching the Clydesdales walk by, and I'm thinking, 'This is how you grow the sport,'" Jenkins said. "If there's someone sitting on the back patio watching discs fly who says, 'Hey, I want to try that,' I want to provide a course they can try and enjoy, not a course that's so long that they get intimidated and never want to pick up a disc up again."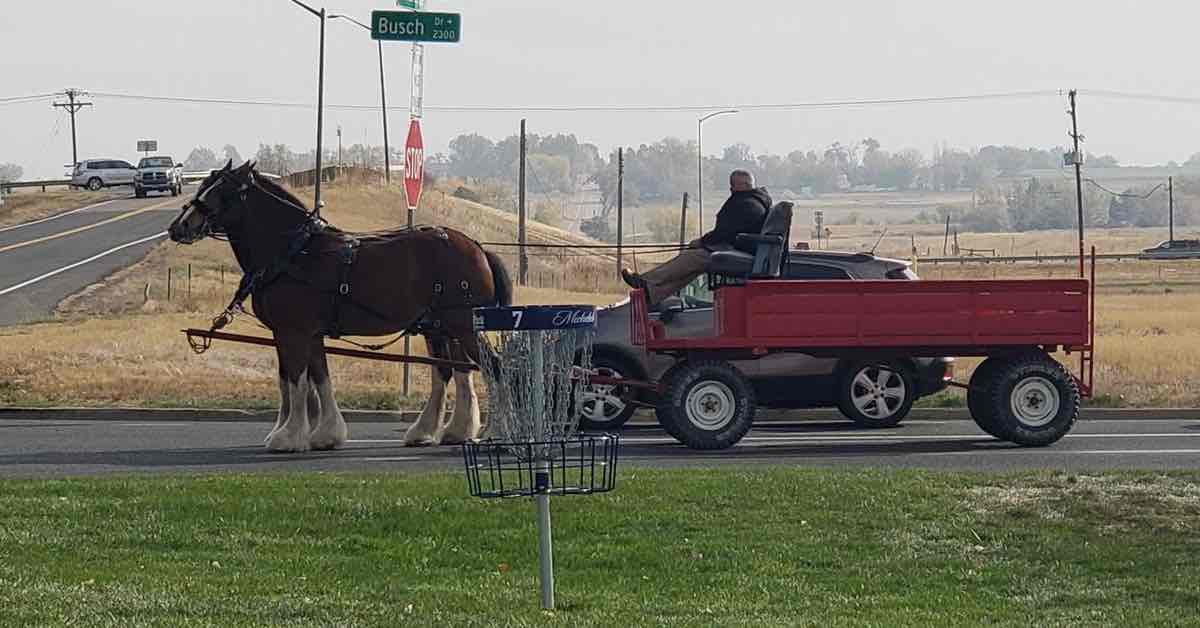 Those thoughts led Jenkins to create a front nine that started and ended at the biergarten with all holes but one having long and short pin positions. On the short layout, only three holes on the front nine crest 300 feet/91 meters. The back nine also has long and short positions, but it's generally longer and tougher than the front, with only one hole under 330 feet/101 meters even on the shorts.

The idea is that a front nine in the short positions will show newer players a good time while the back nine will get the competitive juices flowing for more experienced players no matter which positions the pins are in.

With just two par 4s in the mix, the short positions add up to 6,520 feet/1,987 meters and the longs to 7,440 feet/2,268 meters. Jenkins said that at the time the course was built, it was the longest in northern Colorado.
A Grueling Install
Not only was seven days a short time span to both design and install a course, the week happened to fall during a heat wave in the area when temperatures were near or over 100° Fahrenheit/38° Celsius every day. Once the design was finished and install began, the days were long and grueling.

"Doing the design was one thing, but doing the install was a monster," Jenkins said. "I've done installs where you do a couple of holes on a Saturday, come back the next weekend and do a couple more holes. My first day out [at Anheuser-Bush] we did 30 basket placements. Thirty sleeves cemented in the ground with irrigation covers and caps. And I touched every basket – on my hands and knees scraping cement, making sure everything was perfect."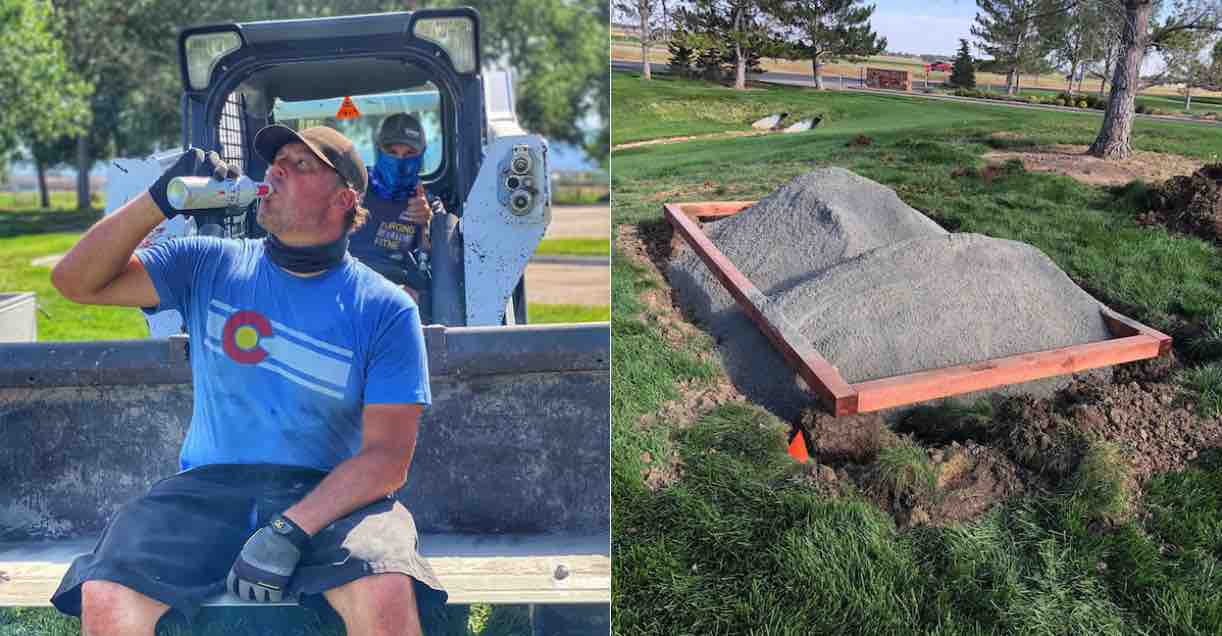 Though he put in a ton of work himself, Jenkins emphasized that he was just one player on a big team.
"The Mile High Disc Golf Club and other local clubs put the word out that we needed volunteers, and we had some players come out there all four days," Jenkins said. "It wouldn't have been possible without them."

The volunteers even got a few perks other than working alongside a world champion and helping install a course on the land of an iconic company.

"They're a brewery, and there was no shortage of beverages," Jenkins said. "A girl named Amy was driving around in a golf cart with coolers full of Gatorades, waters, beers, and other refreshments. And they also catered food to us, taking care of everyone's lunches every day."

Thanks to the hard, hot work of everyone involved, the course was installed on time, and Discmania staff and volunteers had the chance to play the first full rounds ever on the track.

For a course collector like Jenkins, the round was particularly special. Along with being an important course to him given who he designed it for, it was also the 1,200th course he'd played in his lifetime.
More Than Just a Course?
Jenkins said that once the course was finished, Discmania's U.S. Director of Operations Austin Montgomery told him that seeing a pro-level disc golf course on the property of a company like Anheuser-Busch was "one of the proudest moments he's ever experienced."
And it's not hard to figure out why. In the last few years, more companies from outside the sport have started paying attention to disc golf, but catching the eye of a behemoth like Anheuser-Busch is a rarity. Clearly, building one course isn't the same as repeatedly buying ad time on disc golf coverage or signing on to be the title sponsor of an event, but it's progress nonetheless.
"I think this could help us get our foot in the door with bigger corporations," Jenkins said.

If you're thinking of making a trip out to the course, know that it costs $5 to play all day (there's also a yearly membership).