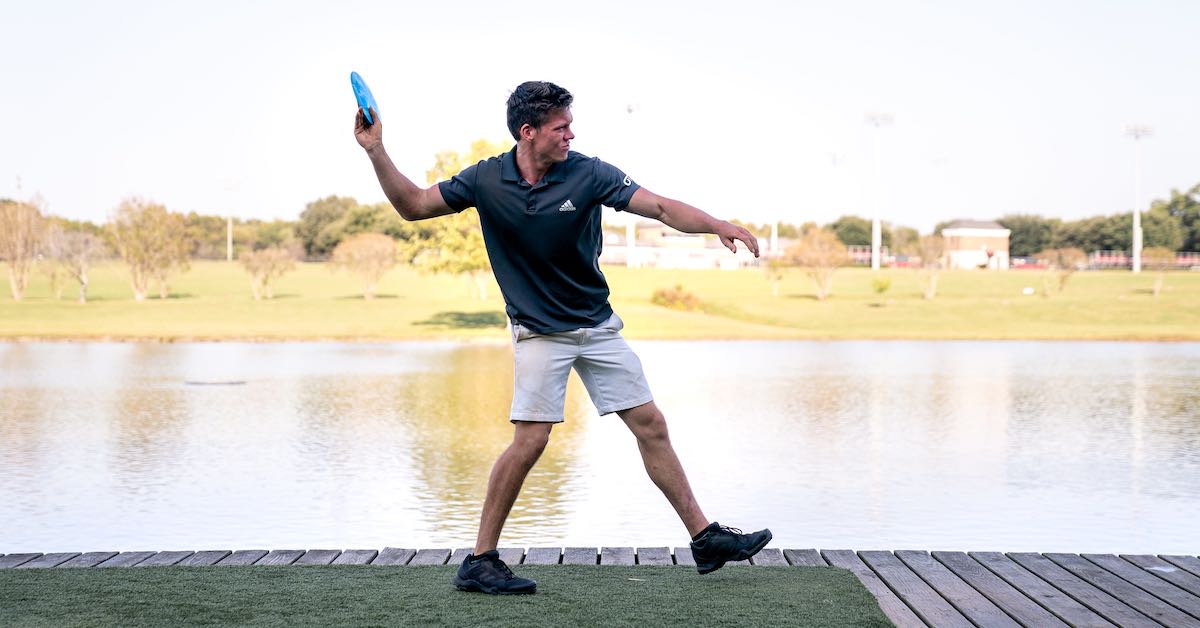 Though he only made it on filmed coverage during the very last big event of the 2020 season – the Disc Golf Pro Tour Championship – Ezra Aderhold made quite an impression when he got the chance. His quick pace of play created an air of easy confidence, and his powerful throw matched perfectly with his imposing frame.

You can take a look at how one of Aderhold's shots flabbergasted fellow pro and disc golf commentator Jeremy Koling in the clip below from JomezPro:
Though Aderhold narrowly missed making it to the second round of the knock-out style DGPT Championship, his on-camera performance at the event – as well as his appearance in an ad for OTB Discs any viewer of pro disc golf coverage will have seen many times by now – made waves. Many people, including us, have been eager to learn more about him. We got in touch with Aderhold to talk how he got into disc golf, tour life, and the search for a major sponsor1.
Background
The 23-year-old Aderhold has taken part in competitive athletics since he was a kid. From ages nine up to 16, he was a competitive swimmer. In high school, he played traditional golf competitively. His interest in disc golf began, as it does for many, as something casual.

"I started about seven years ago," said Aderhold. "Just saw some people playing in the park in my hometown, thought it looked kind of cool, picked up some discs a little later and started playing object golf around our house."

When Aderhold finished high school, he was still playing disc golf for fun, but he had other plans for a career.

"Right out of high school, I thought I wanted to be a real estate mogul and make money doing that," Aderhold said.

He and his brother bought four houses to fix up and flip, and though they did that successfully, Aderhold found the process stressful and unfulfilling. He decided to jump into disc golf because he thought it was something that could make him happy, and he opted to pursue it early in his life so he wouldn't waste his prime years as an athlete.

"Disc golf is something I could do when I was young, and real estate I could always do when I'm 50," Aderhold said.

It's also interesting to note that Aderhold has been a vegan since he was a toddler. His parents went vegan to see if it would help with health issues they were having and were so happy with the results, they never looked back. Aderhold has tried non-vegan foods but hasn't had anything that's convinced him he was missing out on something too good to pass up.
Getting Ready to Go Pro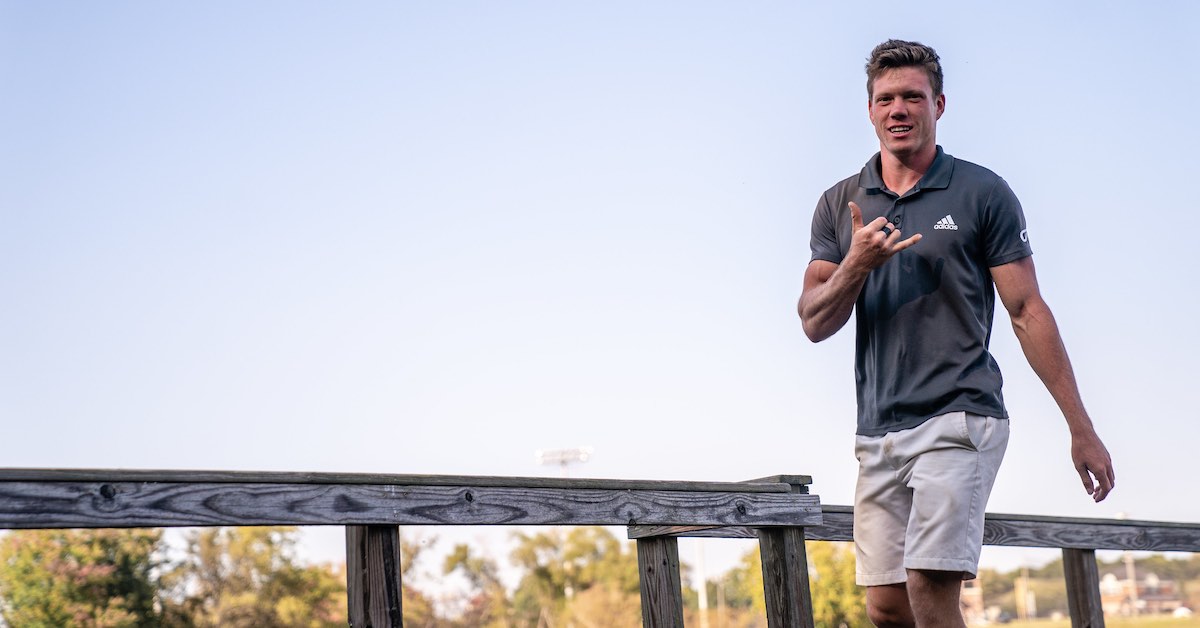 The work to become a pro disc golfer began four years ago for Aderhold. 

"I figured since it was a professional sport and there were people doing it full time that it would be something that if I really put the time and dedication into it, it could be a possibility for me, too," he said.

However, he didn't really know how much work was ahead of him until he saw top pros play for the first time. 

"It was an eye-opener to see how far they could throw and how much skill they had," Aderhold recalled.

Still, he wasn't daunted and got down to his new business.
He said there was a period of two years during which he didn't play competitively and instead focused intensively on bettering his technique through field work. Many days were "hour and hours" of filming throws and comparing them to video of the top pros at the time, according to Aderhold. His main focus at the time was distance.

"I wanted to be the best, and I figured if I didn't have the entire game, I wouldn't have a chance," Aderhold said. "I thought distance would be the most difficult thing to add, and if I could get really solid distance, I could build my game around that."

And to answer a question many disc golf fans likely have: No, Aderhold's impressive set of muscles were not put on just with disc golf in mind. He said that though being fit and having more muscle to help protect the body from the wear and tear of disc golf likely helps him, he believes proper technique is a far more important factor to disc golf success.
Tour Life

Though he made good profits from the flipped houses, Aderhold still lived frugally after the deals were done. That's a trend he continued during his first year on tour. Instead of sleeping in hotel rooms or an RV that would eat up gas, Aderhold converted a Toyota Prius into his mobile home. You can see his sleeping set-up in the clip below:



Aderhold also fits cooking equipment and food (lots of beans) into his car and prepares most of his own meals. He explained that this inexpensive lifestyle paired with savings from selling houses made it so every tournament wasn't make-or-break for him.

"I definitely wanted enough money that I could miss payouts and still be okay," Aderhold said. "Thankfully, I only missed one payout this year and it definitely helps to cash every weekend."

Part of that success came because Aderhold diligently worked to get better when he could. For example, after the tour went on hiatus in the spring due to the pandemic, he focused on turning a weak point into a strength.

"I noticed my Circle 2 putting was really, really bad, so when there were a couple months of quarantine, I really worked on my step putt, and I think that ended up being one of my best qualities on tour stat-wise," Aderhold said.

There is still plenty Aderhold wants to improve now that the season is over, too. Something he specifically plans to work on this winter is his finesse forehand game.
Talking Sponsors & Next Year
Of the players who finished in the top 25 of the Disc Golf Pro Tour points standings, Aderhold is the only one without a major sponsorship deal, making him one of the biggest possible catches for a sponsor this offseason. He is sponsored by OTB Discs and very thankful for their support, but he is also actively seeking a deal with an equipment manufacturer to supplement his OTB backing in the future.

Given his results and talents, it's no surprise that Aderhold received offers from "most of the major manufacturers" a few months ago. He said he was even close to making a deal at the time, but then his on-course performance started to suffer with not many events left in the season, and he decided to step back from talks and focus on his game.

"I felt like once the off-season came I might be in a better place to negotiate," Aderhold said.

It seems like that strategy has worked. His performance on the Disc Golf Network and Jomez raised his profile, and he said he's seen an uptick in his social media following, and those fans can be very valuable to disc golf equipment companies.

As for what he's looking for in a sponsor, Aderhold wants more than just entry fee coverage and bonuses for good finishes. He's hoping there's a company ready to help him become a household name in disc golf.

"One of the main things I'm looking for is who can give me the best chance of promotion and exposure – just getting my name out there so I can also grow my personal brand," Aderhold said.

It's also interesting to note that Aderhold is going into these talks at a time when there's growing discussion among pro disc golfers and fans about the current industry standard of not allowing players to reveal details of their contracts publicly. When asked about what a change in that practice might mean for the sport, he said he saw it as a positive.

"It'd be interesting to see if it changes and we get more people that don't have a non-disclosure agreement to where they can actually show what they are getting," Aderhold said. "I think that'd be great for the sport and the players and even the people watching just to see what's possible and what the pros are getting compared to other sports."

After the sponsor question is (hopefully) settled, Aderhold is looking forward to working on his game in the off-season to get ready for all the big stops in 2021. If possible, he'd like to hit tournaments in Europe and the Japan Open along with elite events in the United States.


1. Aderhold is now sponsored by Discraft, which has made big plays for top disc golf talent like Paul McBeth and Paige Pierce in recent years.