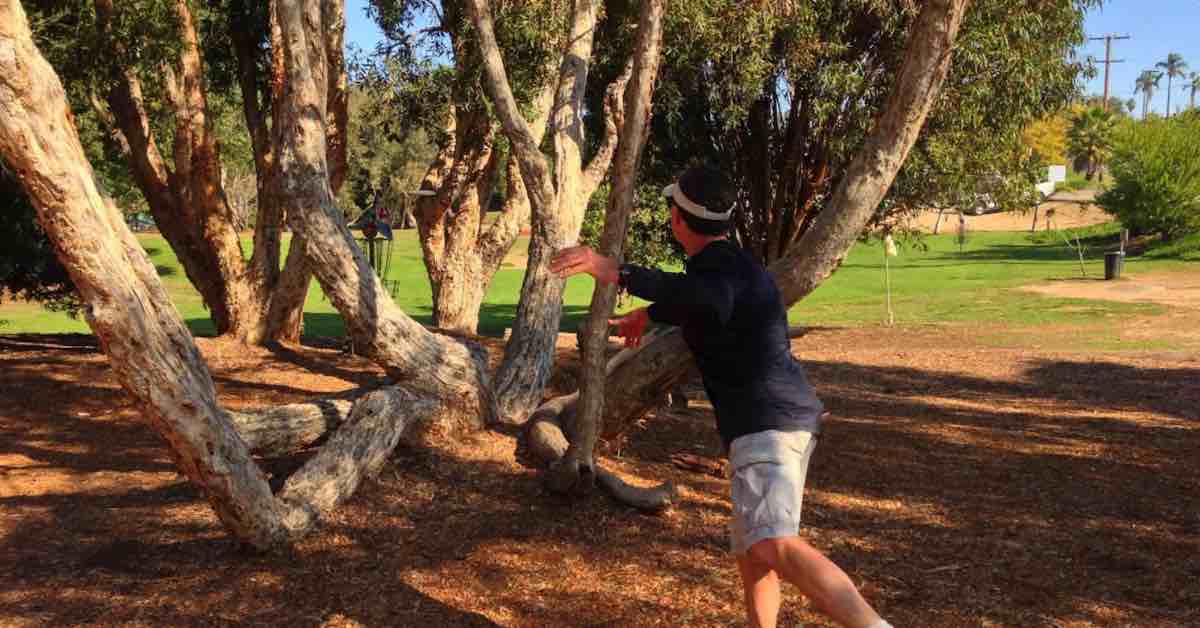 There's a lot to like about San Diego, California. It has year-round highs averaging around 75° F/24° C, over 70 miles/113 kilometers of pristine coastal beaches, and attractions like the world-famous San Diego Zoo.

But this place sometimes called "America's Finest City" is no hidden gem. It's one of the ten largest cities by population in the United States (circa 1.4 million residents), and few things are more valuable there than land.

That's why it's almost miraculous that there's a 19-hole disc golf course just a few miles from the booming heart of this metropolis' downtown: the legendary Morley Field. What's not surprising is that this prime location makes the course one of the most played in the country and world.
Since we started releasing stats of the most played disc golf courses on UDisc in 2018, Morley Field has topped the U.S. rankings every time.

Morley is notable for far more than just being popular, however. It's an iconic course originally designed by the legendary "Steady" Ed Headrick (often called "The Father of Disc Golf") and likely the oldest pay-to-play disc golf course still in operation.
We dove into Morley's background to better understand its important roles in disc golf history and also to learn why it's on a large number of disc golfers' bucket lists. 
The Origins of Morley Field Disc Golf Course

Headrick started the movement to build disc golf courses as we know them today – baskets, tee signs, etc. – in Southern California in the mid-1970s, and Morley Field was one of his early creations.
He installed the world's first permanent disc golf course at Oak Grove in Pasadena, California, in 1975. As the sport gained a strong following in North Los Angeles, Headrick decided to move his efforts down the California coast to continue the growth of the game. In 1977, he installed Huntington Beach Central Park's course and one year later, in 1978, he installed the original Morley Field.

But just a year after Morley's baskets were installed, they were taken out again. According to longtime Morley owner Snapper Pierson in a 2017 interview with SDVoyager, this had to do with a contractor's requirement when installing public bathrooms in a central area of the course. When the the baskets didn't return after the bathrooms were installed, Snapper contacted the city to get them back.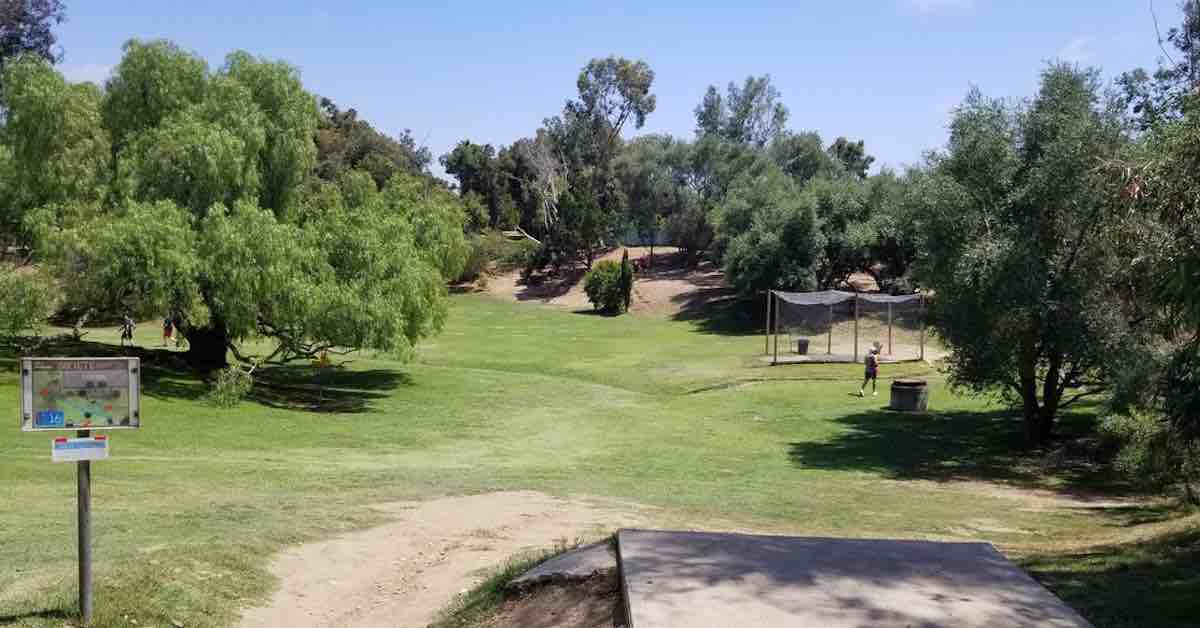 "My dad went to the city and negotiated with them," Snapper's son, Alex Pierson, told us. "They worked out a deal to start a pro shop and brought the baskets back out and people just kept on playing."
So in 1979 the Morley Field Pro Shop opened on site, run by Snapper, and began to facilitate all aspects of the course. It also provided something extremely rare at the time: a physical retail outlet where players could purchase disc golf equipment.
Becoming a Destination Course
As the only course in San Diego for two decades, Morley Field became the place in the city where people both discovered and continued to play disc golf. Given how few courses there were nationwide at the time (there were just over 200 in the country in the mid-80s as compared to thousands today), it was also a very obvious dot on the map for road tripping disc golfers.
"San Diego and Southern California struggles with the availability of land," Alex said. "For better or worse, Morley Field has been the only course to remain in operation and not face repurposing or redevelopment."

Morley has escaped this fate because it sits on a former landfill which can't legally be developed.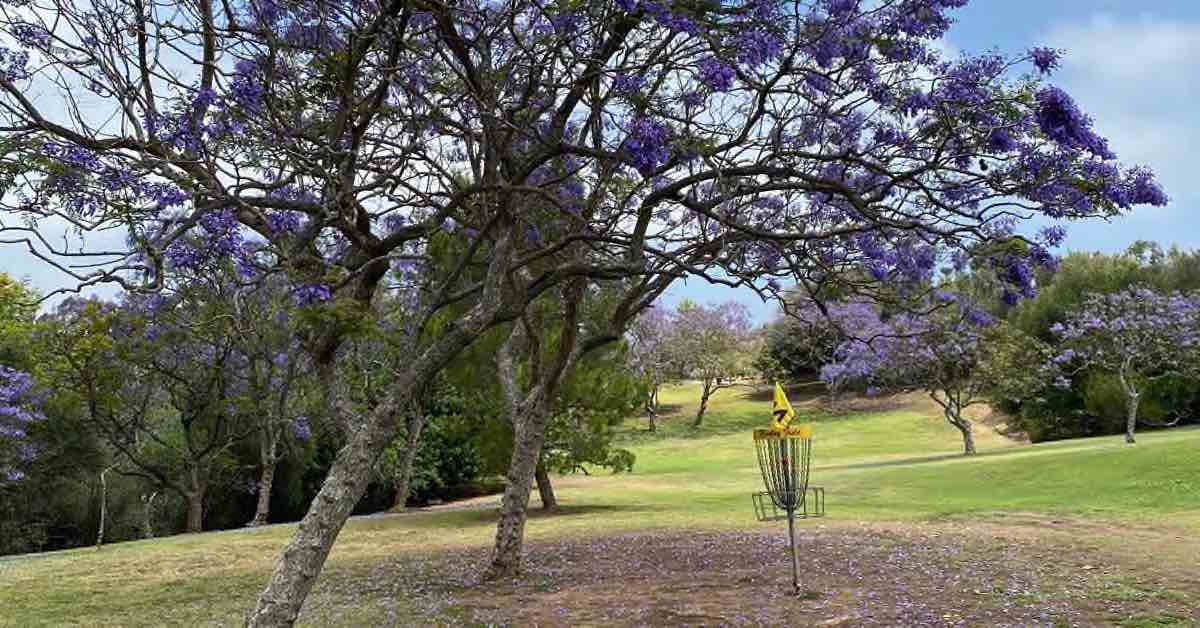 Snapper also founded an event in 1982 that would gradually grow the mystique of Morley Field beyond just Southern California: the Southwestern Team Disc Golf Invitational. Over the years, the event brought in teams consisting of huge stars from Southwestern and Pacific Coastal hotbeds of the United States.
Well-known and currently full-time touring players like Catrina Allen, Paul McBeth, Nate Sexton, and Gregg Barsby have all participated as have other disc golf greats like Nate Doss, Valarie Jenkins, Steve Rico, Dave Feldberg, and Philo Brathwaite.
The annual tournament was always a bookend to the disc golf season in December, but it has gone into a hiatus over the past few years due to COVID-19. However, the Piersons have high hopes for a return of the iconic event at the end of 2022.
"It has been going on for a while and we are looking forward to bringing it back this winter," Alex said. "I'm hoping we'll be able to bring it back this year a little low-key, but in future years we're just trying to reestablish the Team Tournament as a fun capstone to the tournament season."
Pay-to-Play Pioneer and Recent Shift to Tee Times
Players have paid a fee to play Morley Field since 1994.

By going to the pay-to-play model, the course could sustain itself and have the freedom to remove things like picnic areas and cross country running trails in order to become a designated disc golf space.
"The primary reason for the move to pay-to-play was the city's tightening of finances and insistence that all recreational areas pay for themselves," Alex explained. "At the same time, discs were increasingly sharp and more dangerous, which made the insurance company demand that the course be exclusively used for disc golf. 
The fee started at just $1/day, but even that small fee altered the atmosphere at Morley.
"It was a huge part of professionalizing the course and changed the whole demeanor of the place," Alex said.
Over the past three decades the price has slowly risen but still sits at quite an affordable rate: $5 for weekdays and $6 for weekends and holidays.

Keep in mind that money doesn't go directly in staff pockets. In the 2017 interview we cited earlier, Snapper said that between fees paid to the city for use of the land and course maintenance, keeping Morley specifically for disc golfers and in great shape costs over $300,000 per year.
The arrival of COVID-19 resulted in the introduction of scheduled tee times at Morley Field. Players would register online and book a time to play with their group of friends. This helped encourage social distancing while continuing to provide disc golf as a recreational opportunity in San Diego.
The system worked so well that the Morley Field Pro Shop will continue to use it post-COVID.
"Every 10 minutes we send off a group of five," Alex said. "That system has worked incredibly well. We're doing less people every day than we did prior to COVID, but, at the same time, the average speed of play is about an hour faster per round."
Always Looking to Improve
Over the past decade, a few more courses have popped up in the greater San Diego area, but Morley Field continues to blow them away in popularity and attendance. One of the biggest reasons is the dedication of Morley's caretakers.
"With more competition in the area, obviously we want to raise our game too," Alex said. "Especially during COVID, we spent a lot of time trying to reinvest in the disc golf experience."
Over the past five years Alex, Snapper, and the rest of the Morley Field team have installed new baskets, replaced a half-dozen tee pads, and redeveloped several aspects of the landscape around the property. They've also had to deal with significant changes to course irrigation, holes, and course access during a two-year long road building project the city is undertaking near the course.

"The current Pershing bikeway construction presents some immediate challenges for us, particularly with water shutoffs to parts of the course, but we are encouraged with the long-term idea of having safer bike paths and a pedestrian crossing to access Morley," Alex told us.
One trick that isn't new is the course's regularly alternating pin positions. Each hole has up to ten different basket locations and the Morley Field Pro Shop staff rotates them every Monday.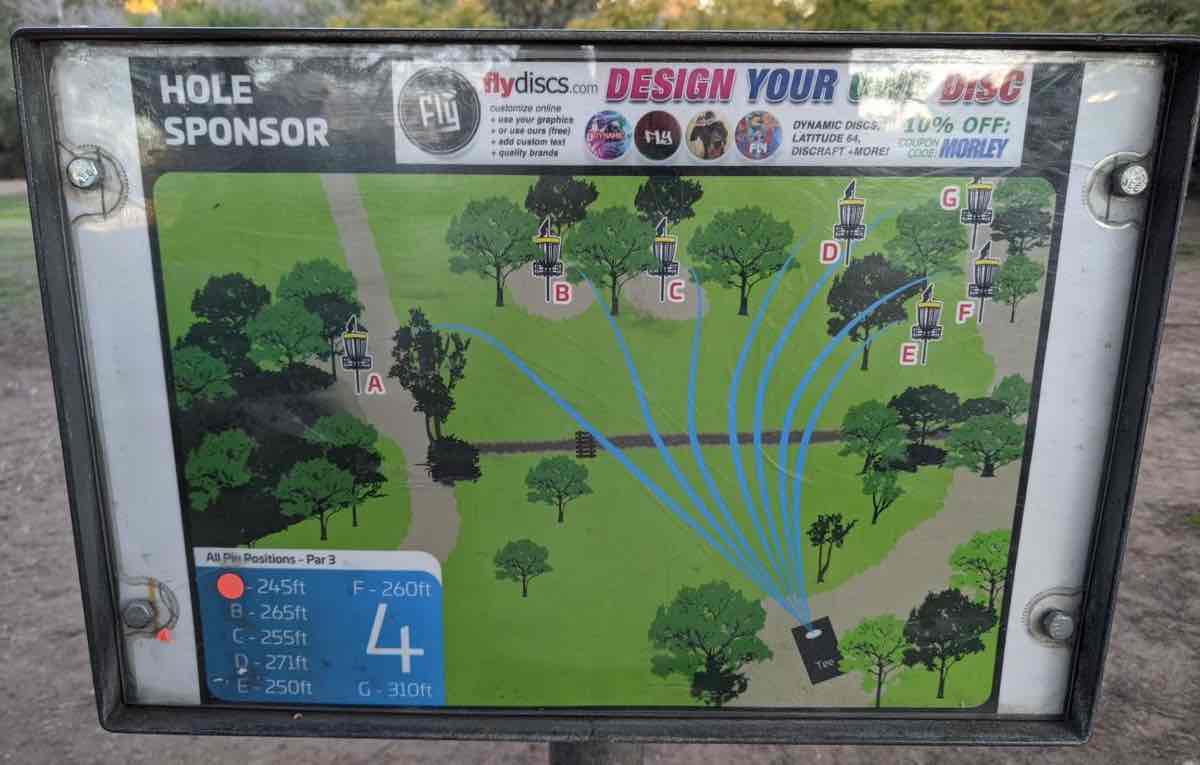 "Throughout the course of the year, you might never play the exact same course twice," Alex said. "We have enough variability within those pin positions to always keep it different and mix it up. That's a huge element to keeping our locals and our regulars happy."
This ethic of always trying to make the course feel inviting and new is a huge reason it's nearing its 50th birthday, and Alex, who has assumed the Morley torch to in recent years, said that philosophy all comes down to Snapper.
"At the end of the day my dad loves disc golf and loves to geek out on course design," he said. "We're always looking for ways to improve the course, whether that be adding new pin positions or planting a tree. We want to constantly keep things fresh."