When you step foot onto the ball golf course at the Hawaii Country Club (HCC) on Oahu, you are immediately struck by the panoramic views. The lush green Ko'olau Mountains rise up while the course drops off into a valley covered with a thick canopy of monkeypod trees. In the distance, fairways seems to disappear into the Pacific Ocean.
It's a place so inviting that instead of feeling annoyed about your headwind putt, you'll just think about how the warm tropical breeze makes things even more idyllic.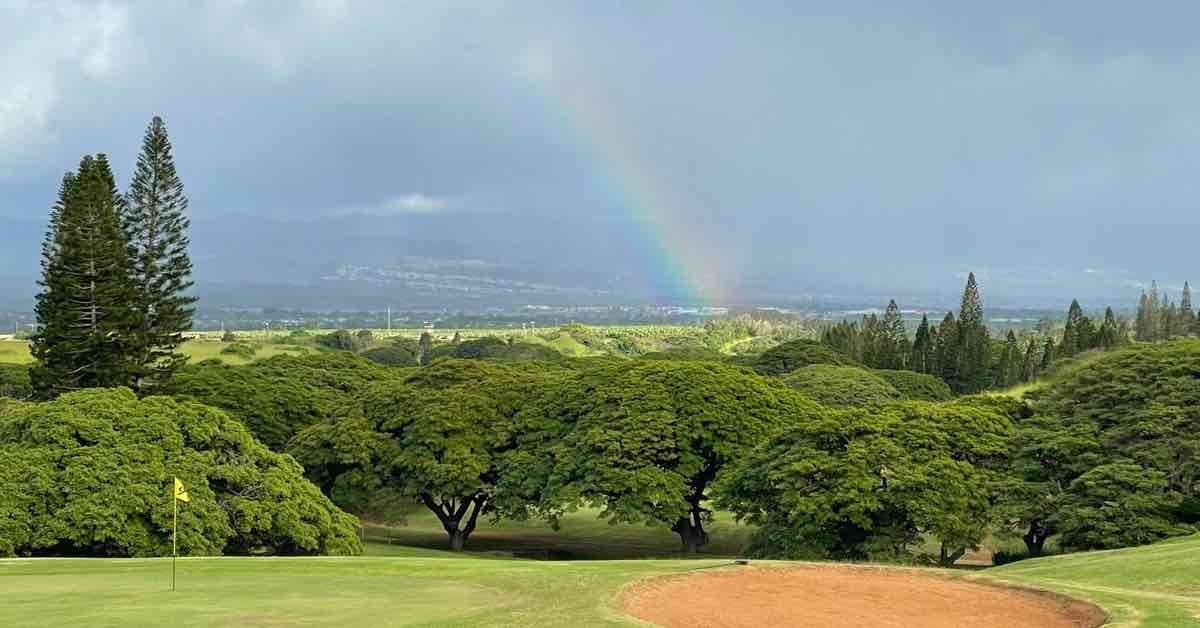 Thanks to the efforts of Jason Kozlik, founder of Oahu Disc Golf (ODG), disc golfers get the chance to have this experience. Just last year, Kozlik worked with HCC to create a permanent 18-hole disc golf layout to complement the facility's offerings for traditional golfers.
Kozlik started playing disc golf in 2008 in San Diego, getting hooked on the sport at courses like Morley Field, Kit Carson, and Goat Hill. But when he moved to Oahu in 2017, he spent almost every day enjoying the world class surfing the island is known for. It wasn't until 2020 that, like so many during the pandemic, he found his way back to disc golf and started seeking a community to play with.
"I had been surfing every day since I moved to the island and I needed a break," said Kozlik. "By the time I bought some discs and went to go play at our only course on the island, Kupuohi Park, the pandemic had begun. I met a bunch of local disc golfers and began to talk about the scene here and why it was so dismal. It was clear everyone loved the sport but didn't have the resources or access to do it as often as they would like to. So…the idea of Oahu Disc Golf was born."
Starting Oahu Disc Golf

Kozlik launched ODG in November 2020. He knew that there were disc golfers in Oahu hungry for more courses, so he took it into his own hands. That December, he designed his first pop-up course in Kaiaka Bay Beach Park on the North Shore of Oahu in Haleiwa and invited locals to join the club and come play.
"I basically went onto Amazon and ordered 18 MVP Axiom Pro baskets," Kozlik, who did this during Amazon's Black Friday sales week, recalled. "Once I received the baskets and had them in the back of my truck, I knew this was the start of something big… 'If you build it, they will come.'"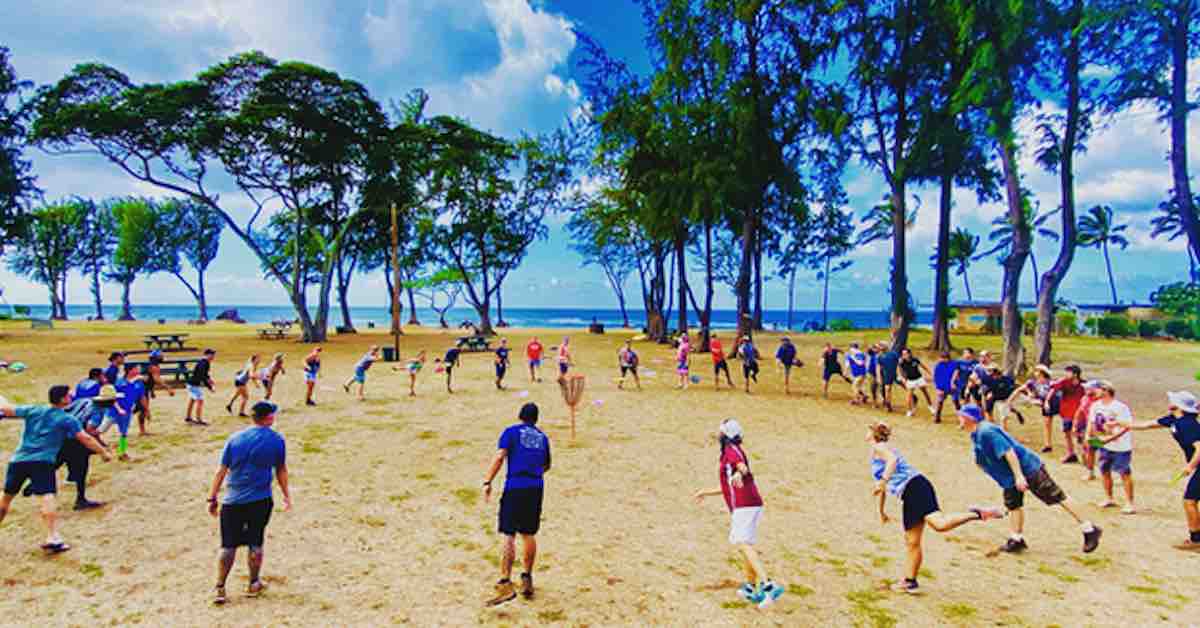 Kozlik's hunch was correct. While he did experience the normal challenges of getting a team together and rallying players to join in, the club has grown significantly since that first pop-up. He uses the ODG website and social media to get the word out about events, and players from all over have joined in. Their events have appealed to current disc golfers, brand new players, and, of course, tourists.
"Everyone wants to disc golf in paradise while on vacation," Kozlik says. "I get about a dozen phone calls, emails, text messages, etc., per week from visitors inquiring about disc golf here on the island."
The club now has tags, a traveling pop-up league, and custom discs and merchandise. It also recently hosted its first sanctioned tournament.
Getting Disc Golf at Hawaii Country Club
In October 2021, almost a year after starting ODG, Kozlik took a new leap of faith. Surfboard in tow, he pulled his truck into HCC. It was a place he'd driven by every day during his surfing craze, and even then he'd noted how fantastic it would be for disc golf.
Founded in 1957, the HCC is the oldest public traditional golf course on the island and is known for its stunning views and dramatic rolling hills. Any disc golfer would dream of throwing their favorite driver down one of its slopes into the canopy below – and Kozlik knew immediately this could be an amazing partnership.
"Last year in October I decided to stop in and check the place out," Kozlik said. "Perhaps they would be interested in disc golf? My hunch was right and two weeks from the day I stopped in, I had 18 baskets set up on a beautiful golf course Mondays and Fridays after 2 p.m. HCC has been really stoked so far on the results and positive feedback. Even the golfers enjoy watching us throw discs!"
While it often takes more than two weeks to get off the ground, there is a growing trend of ball golf courses working with disc golf designers as a source of added revenue. While Kozlik started his partnership with HCC by painstakingly placing 18 baskets for the afternoon and then removing them at the end of the day, the historic club quickly saw the value in their new traffic. The baskets are now a permanent fixture, and Kozlik swaps between two highly demanding layouts on the beautiful property that make up the HCC x ODG course.
When asked if he would suggest others pursue this sort of partnership, his answer was unequivocal.
"Just go for it," Kozlik encouraged. "The worst thing they can say is no. If they say no, work on the things they need to hear in order for them to say yes. I've learned that golf courses are a very expensive operation. A golf course's water bill alone can be $10K a month. If you can show them that disc golf can add a positive outcome to their bottom line, you're now speaking their language. Golfers and disc golfers can coexist. Make it happen!"

For more tips on how to "make it happen," check out our post "6 Best Practices When Adding Disc Golf To A Golf Course."
Leaving a Good Impression
After less than a year in existence, HCC x ODG has over 100 ratings and an impressive 4.7/5 score on UDisc. Reviews celebrate the wide variety of shots, exciting changes in elevation, great use of the huge trees, and the added bonus – golf carts! This was exactly Kozlik's intention when designing the course.
"My philosophy is pretty straightforward…I make sure that the course offers a little bit for everyone," Kozlik said. "Am holes, pro holes, ace runs, bombers, etc. I also make sure that hole 1 and hole 18 really make you think. First impression and last impression are very important to me when designing a great course."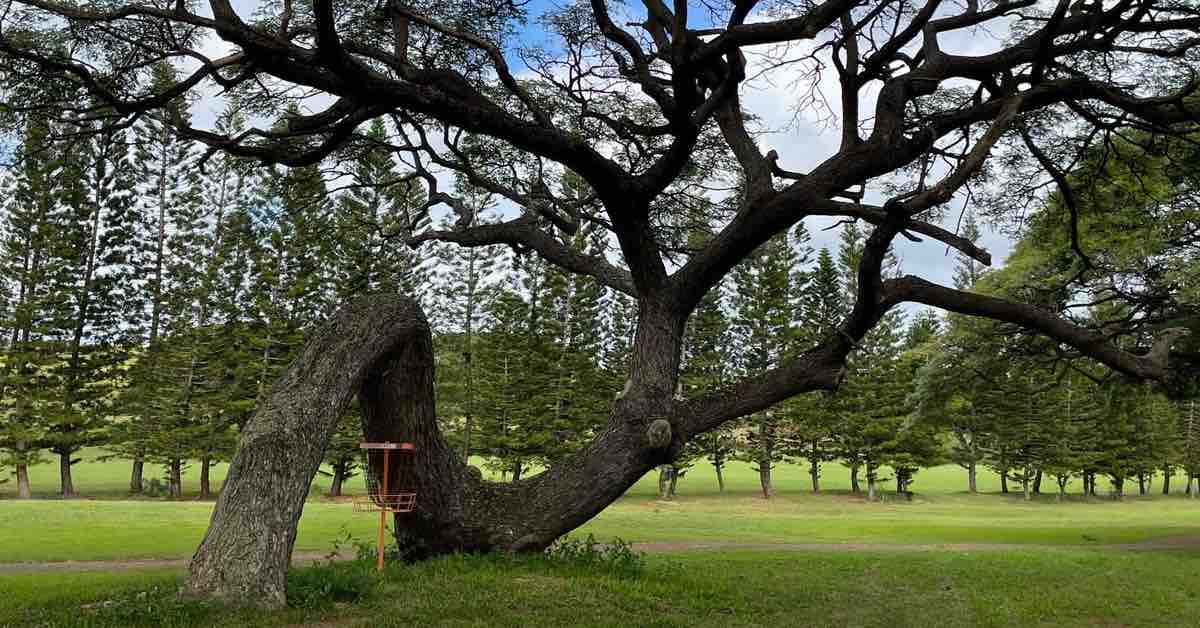 The sprawling track offers two 18-hole layouts that stretch over 6,500 feet/1,981 meters. Visitors can rent golf carts to traverse the hills and take in the stunning views. Each hole has a distinct personality, sometimes coming from a basket tucked beneath a twisted tree, sometimes from a gigantic drop off or a winding, beautifully groomed fairway. This is a destination course that provides a truly special experience and is a must-stop when players visit the island.
One five star review on UDisc states, in part, "Amazing course! Surprised there [are]n't many people. The highlight of my Hawaii vacation!"
The course has already hosted tournaments, and the interest in disc golf just keeps growing, according to Kozlik. He's amazed at the progress so far and hopes this disc golf wave he's started is far from cresting.
"The Oahu Disc Golf League has grown and the competition level has risen," he says. "The sport of disc golf is booming here and I am just trying to keep up. It would be great to get a few pros over here to see the potential that is on Oahu and help us get a few more courses in the ground. Our future is bright, and I couldn't be more excited to continue to grow the sport."