Pieces in our Extraordinary Courses series usually focus on just one course that stands out for something like its amazing backstory or unexpected location. Here we focus on not one, but three tracks that are anything but par for the course. 

These courses illustrate how creative disc golf course designers can get when they have a unique space to work with or decide to go all in on a quirky concept. Come with us as we dissect the Flying Armadillo, creep through a Ghost Town, and descend into the cavernous home of Crystal City Underground.
Flying Armadillo Disc Golf Course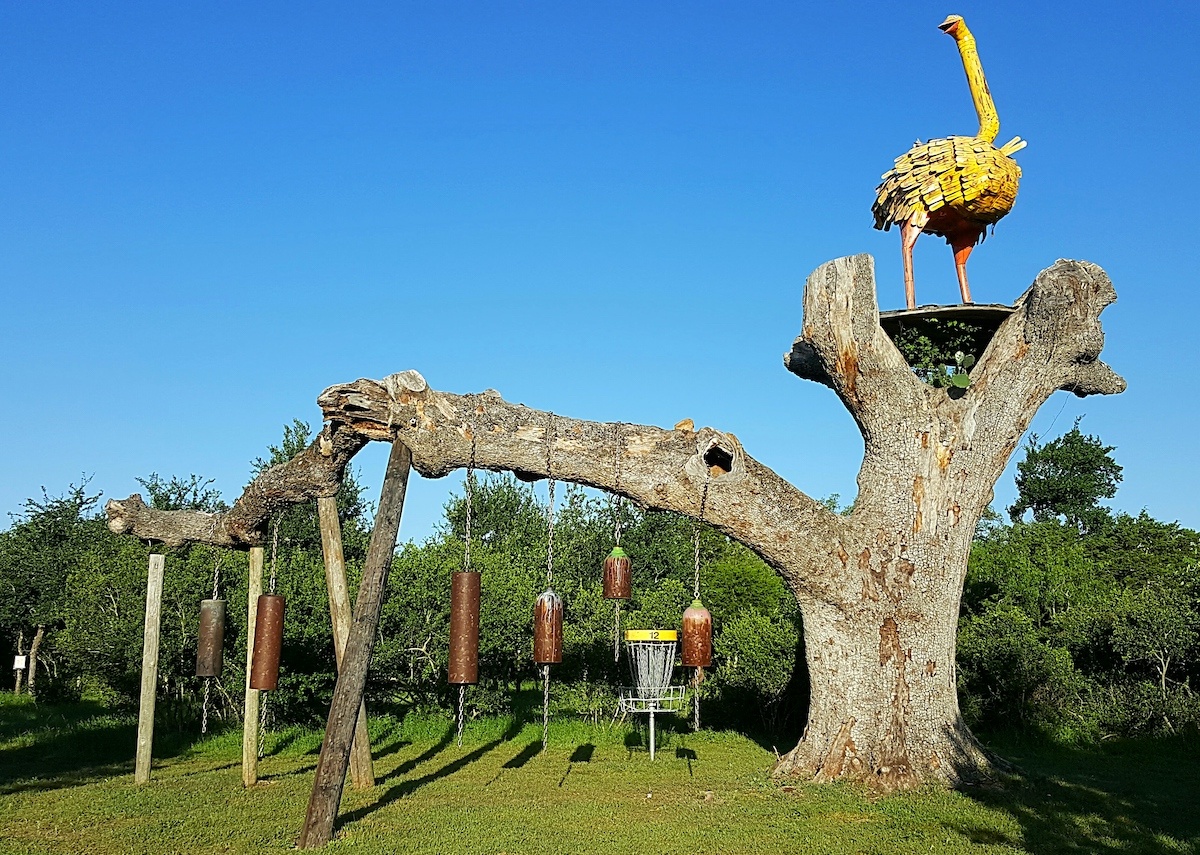 Ask any disc golfer in Texas what the most unique course in the state is, and you'll inevitably hear about Flying Armadillo Disc Golf Club in San Marcos, Texas. Owned and designed by Michael Lambert and his father Greg, the Lamberts worked nearly every day for two years to clear the thick Texas hill country brush and cactus and install a traditional 18 hole course.
The Lamberts then wanted to add more holes, but there wasn't enough space. Instead they got to work on a mini course that turned into a collection of 18 unorthodox par 2 holes with shots that can't be found anywhere else. Just like putt-putt, every hole has a gimmick, and metal and wood sculptures are abundant on and off the course.
A giant metal dinosaur blocks the basket on hole 1. Hole 6's basket is sunken halfway into the ground. A roller drive is mandatory on hole 14, and hitting the ramp in front of the basket could get you the ace. Hole 12, or "The Big Bird Bell Hole," features hanging bells in front of the basket and a huge ostrich perched on a tree. 
"We started small and it became a bigger and bigger project," Michael said. "We looked online for yard art, metal sculptures, stuff like that. When we found something interesting, we designed a hole around it."
Michael's favorite is hole 13, which fully embraces novelty to make "The Ultimate Gimmick Hole." All the ramps, bars, chutes, and car hoods mean nearly every drive has a chance of going in.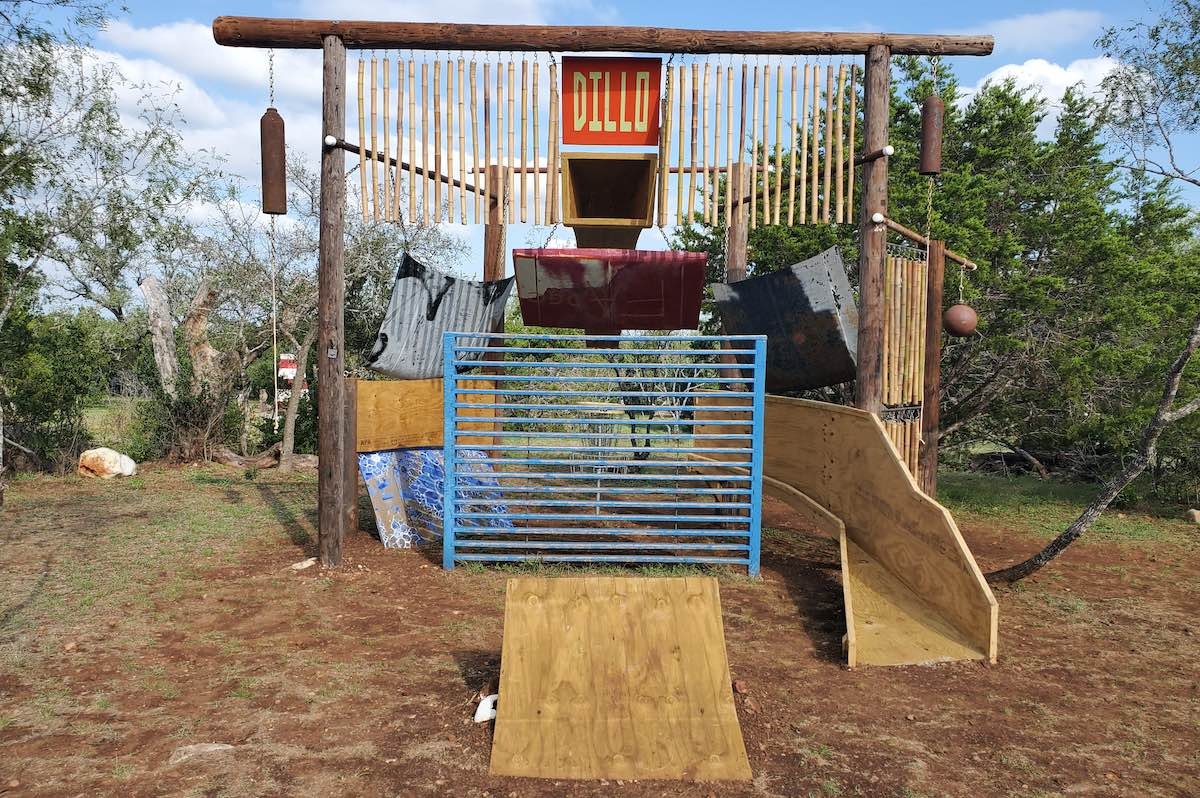 Flying Armadillo's courses have been embraced by experienced disc golfers and new players alike, and the mini course is a perfect introduction to the sport for newbies, according to Michael. Players of all skills are challenged, but not frustrated by, the non-traditional course, which can be finished in as little as 30 minutes.
"The short course is what gets all the first-timers, kids, and families out here," Michael said. "I don't know where Flying Armadillo would be without it."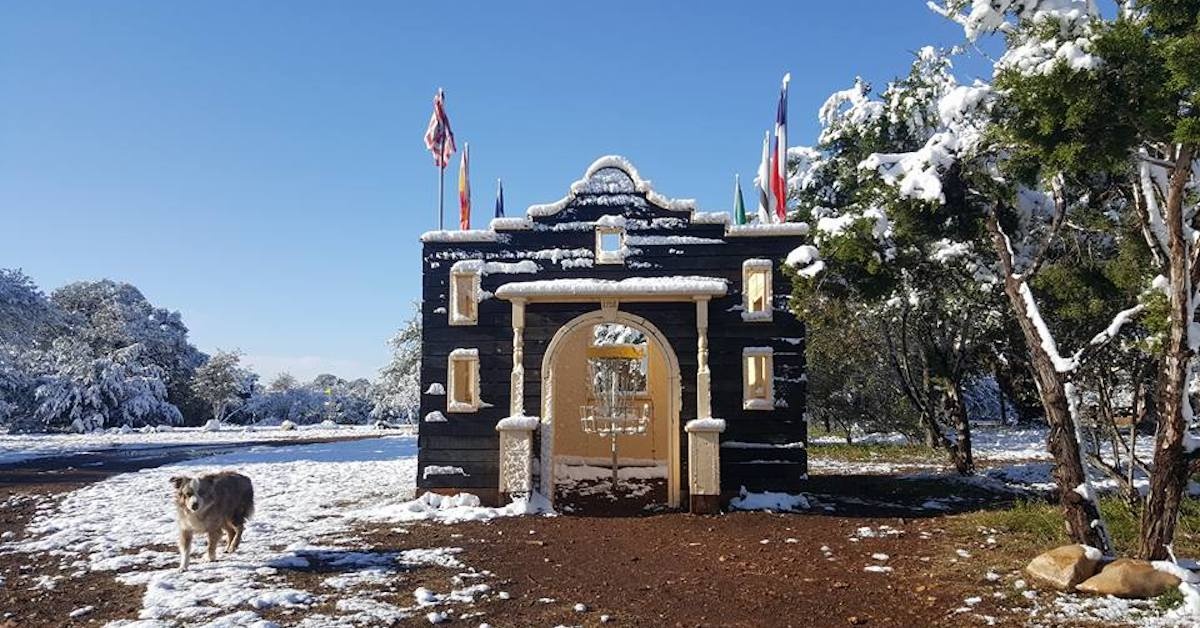 In the future, the Lamberts have room and ideas for new quirky holes, but don't expect to see anything non-traditional on the main course.
"The thing about the gimmicks is you can have a really terrible shot that happens to hit an object in the right spot and turns it into a good throw," Michael explained. "As far as tournament play, you want skill to stand out when you play for payout. In my view, luck and gimmicks shouldn't come into that. That's why we separated the courses."
Ghost Town Disc Golf Course
The Colorado Gold Rush ended more than 150 years ago, but many remnants of the infrastructure that supported the estimated 100,000 gold seekers remain. In the ruins of one former gold rush town—Central City, Colorado—you'll find a thriving spot for disc golf: Ghost Town Disc Golf Course.
"In terms of Colorado history, these buildings go back to the very beginning," said Brian O'Donnell, who designed, owns, and operates Ghost Town with his wife Beth. "Prior to 1885 there were probably less than 400 beaver trappers in the Colorado mountains. One of those trappers found gold right here where I stand today. The gold rush followed, and thousands of people poured into Colorado."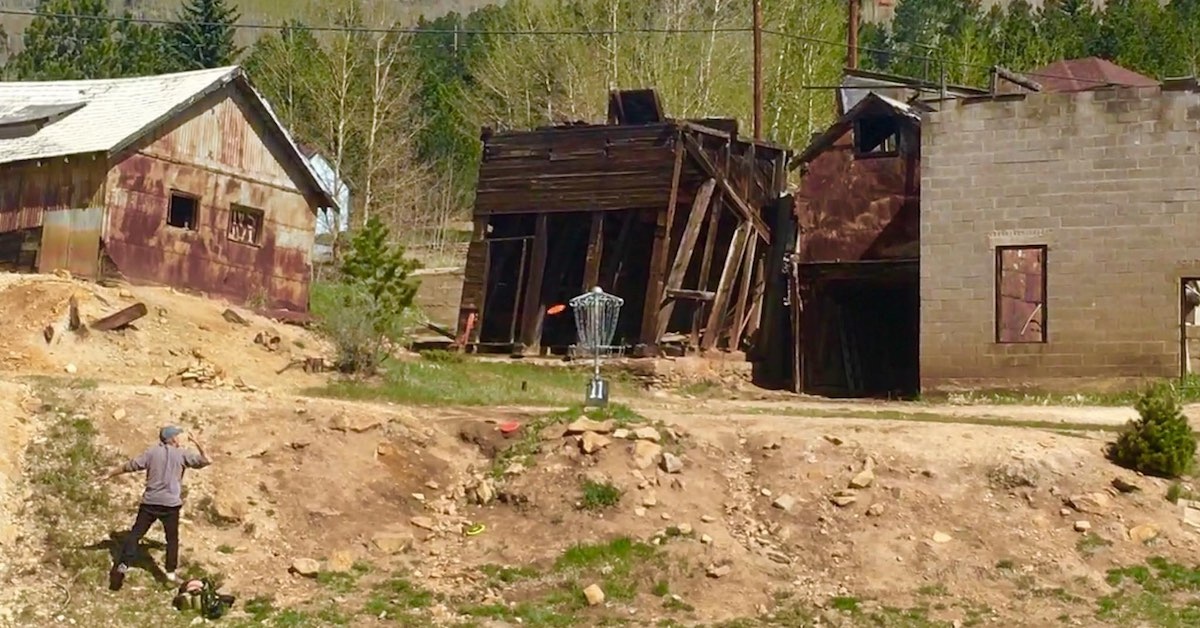 In addition to the natural beauty of the Rocky Mountains, golfers at Ghost Town can enjoy playing through and around what is left of the old town—like the crumbling stone foundation of blacksmith Jimmy Shoelou's hay barn, the old mill, and other buildings in various states of collapse.
O'Donnell bought a series of adjacent mining claims in 1999 with the intention of creating a disc golf course. Because the properties were plotted with gold in mind, the unique shape of the combined areas necessitated creative planning by O'Donnell.
"Our course is only on 18 acres," he said. "The property dictated the design. There's a section that's a mile long and 70 feet wide. You have very interesting, tight OB on both sides."
In fact, nearly every hole at Ghost Town has OB (out-of-bounds), especially around the buildings. Striking or landing in or on the ruins carries a one stroke penalty, in part to help preserve the structures.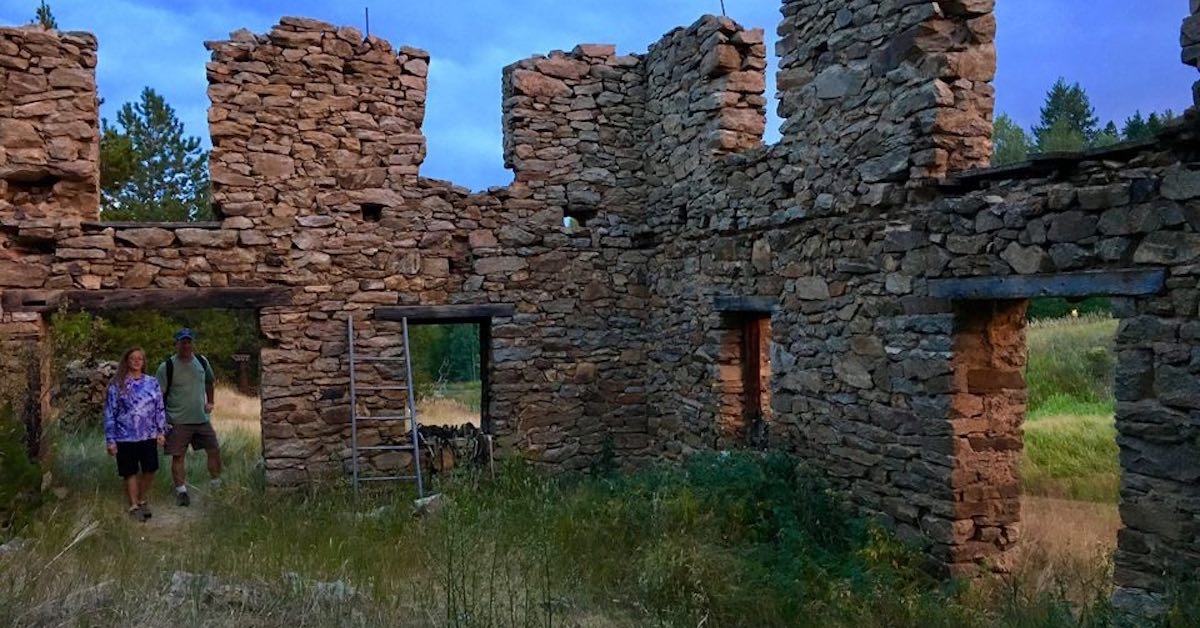 When the O'Donnells opened their 20 basket course in 2003, it was one of the first private property mountain courses in the area. Today, there are dozens of such courses, yet Ghost Town's uniqueness helps it stay booked for days in advance. 
O'Donnell's days are spent maintaining the course, running the pro shop, and making improvements, like the "bed and basket" cottage that is currently under remodel. He wouldn't have it any other way.
"People come here and they're happy," O'Donnell said. "I'm able to be around really happy people and able to make a living doing it. It's a beautiful thing."
Crystal City Underground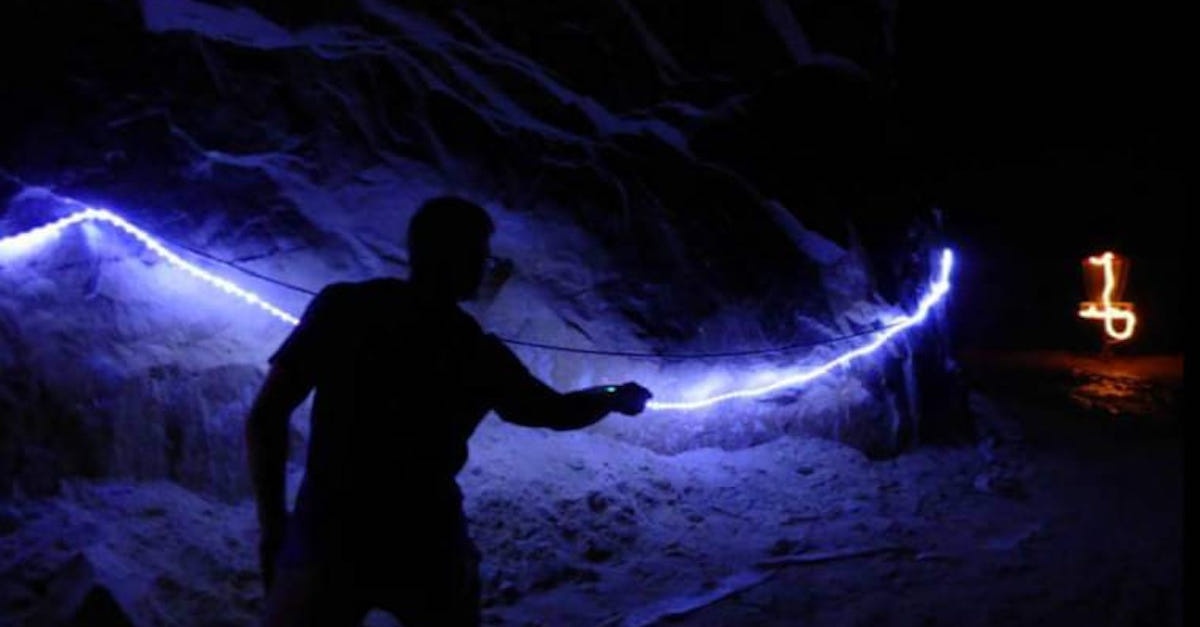 When Tom Kerr heard about an old silica mine in Crystal City, Missouri, in 2007, he knew it was the retirement project he'd been looking for. Where others might have seen a useless, 200-acre underground sand pit, the real estate investor imagined an underground entertainment complex filled with volleyball courts, kayaking, concerts, and laser tag.
Soon, his idea was realized, and when local disc golfers approached Kerr about adding a disc golf course, it was a no brainer. Thirty six baskets were installed and rope lights were hung for illumination. Weekly league play and tournaments began soon after.
"It was a unique experience and you had tunnel shots that you could never have anywhere else," Joe McKee, who helped design the course, said. "You'd have a 25-foot [7.5-meter] high ceiling and a 20-foot [six-meter] wide hallway that runs 200 feet [60 meters] long."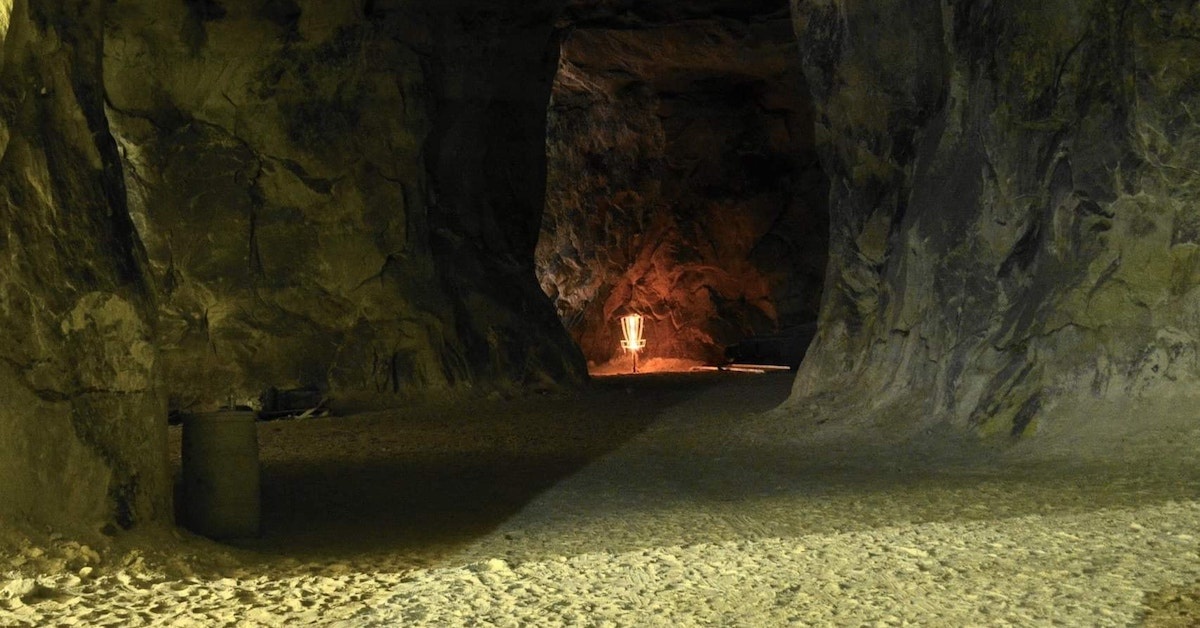 The rough cavern walls quickly beat up discs, McKee recalled. But chipped plastic and sand filling your bag and shoes was a small price to pay for the year-round underground temperature of 57 degrees fahrenheit/14 degrees celsius inside. Especially during a Missouri heat wave or when snow blanketed the ground.

"It was a blast," agrees Mark Dudenhoeffer, another of the course's creators. "The rabbit hole was my favorite. There was a small round hole in the wall at the floor, and the basket was on the other side in a different room."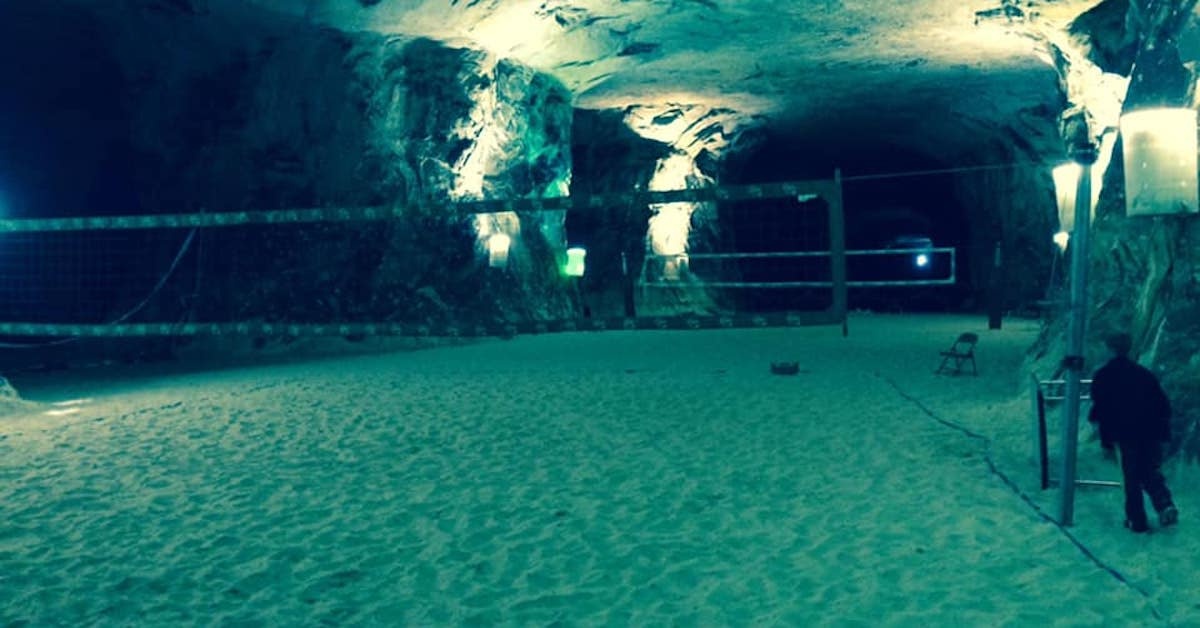 But as anyone who has griplocked their favorite driver into the rough only to never see it again knows, it is easy to take great things for granted. Crystal City Underground's heyday lasted just two short years. A nearby creek flooded the mine, leaving it largely unusable. Kerr wants to restore the facility to its former glory, but he knows there's a long road ahead. He will have to pump out all the excess water, plug the leaks, and replace broken equipment.
"We want to reopen," Kerr said. "We just don't know when."
Today, Crystal City remains closed to the general public, but if the comments on their Facebook page are any indication, disc golfers will be among the first to return to the mine once it reopens.
"I hope it does open again because it was a really fun thing," Dudenhoeffer said. "We had a great, great time."
Have Your Own Extraordinary Course? Let Us Know!

We love learning about amazing courses all over the world. If you own or operate a disc golf facility that is something truly extraordinary, we'd love to talk to you. Contact our editor, Alex Williamson, at alex@udisc.com.