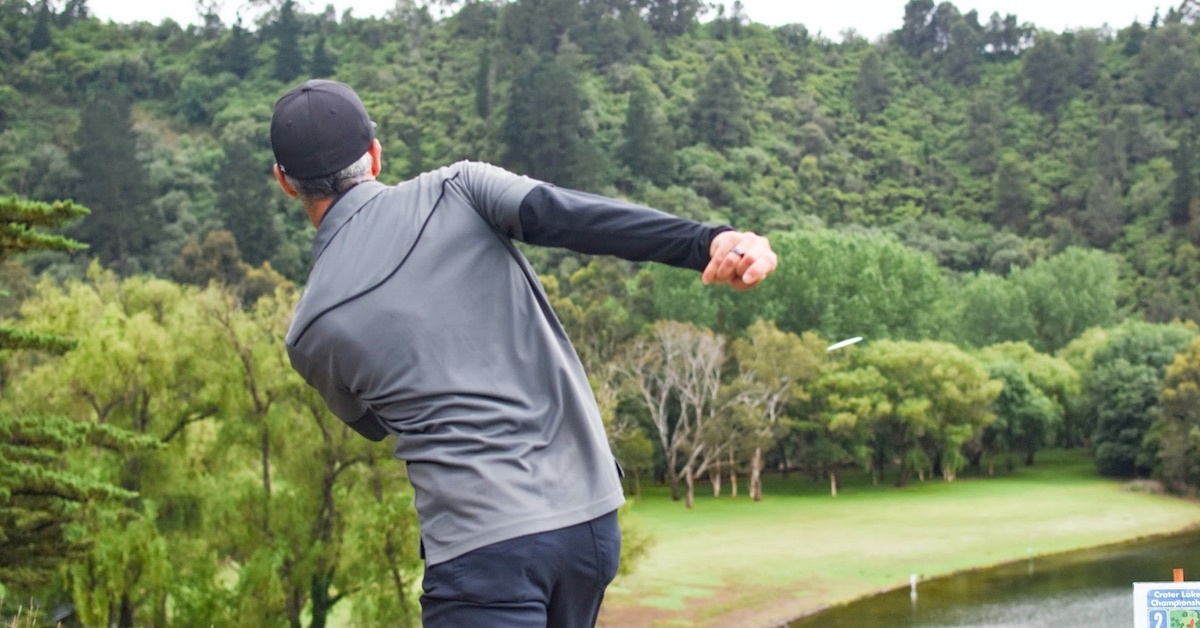 Picture a volcano.

Maybe you see the Hawaiian islands. Or maybe it's a sequence from a 1990s action movie like Dante's Peak or Volcano that comes to mind.
What most people will not picture is a scenic, lush disc golf course.
But at Mount Gambier, just outside the southern Australian town of the same name, is Crater Lakes Disc Golf Course. The course is located inside a dormant volcano that's estimated to have last erupted around 5,000 years ago.
Though players don't need to worry about lava hazards, the effects of that eruption are still very apparent. Crater Lakes sits in the shadow of towering, 400-foot/122-meter tall crater walls. The awe-inspiring combination of those walls, the elevation changes offered by them, and the unique local plant life all help make Crater Lakes an extraordinary place to play disc golf.
Origins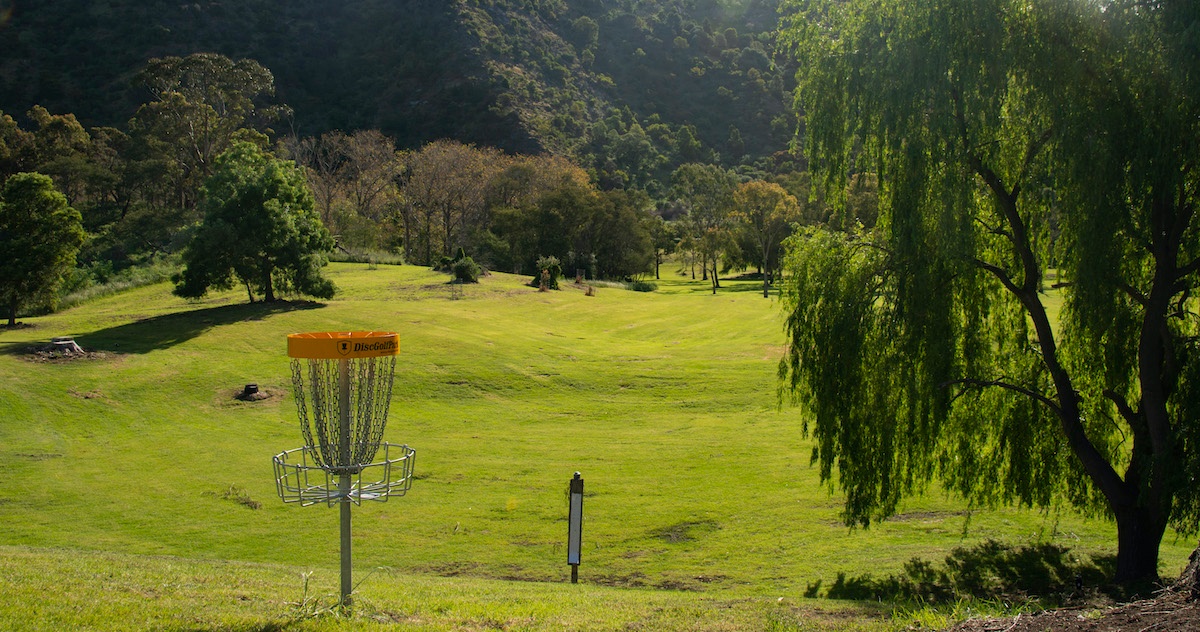 Ryan Nicholson, the president of the Mount Gambier Disc Golf Club (MGDG), learned of the sport of disc golf in 2015 while playing Sports Champions, a video game for the PlayStation 3. Initially, he wasn't even sure it was a real sport.
"As soon as I discovered it was an actual sport, I couldn't wait to get my hands on some discs and start throwing—even if it was by myself without a course proper," Nicholson said.
Nicholson purchased an Innova starter set of discs, but with the nearest permanent course a three-hour drive away, he didn't have anywhere to play. So he bought a Ching Skill-Shot, a collapsible disc golf target made of nylon, and toted it to the place that would eventually be home to the Crater Lakes course.
Nicholson soon created a Facebook page and convinced his friends to go disc golfing with him. Shortly thereafter, a group of eight regulars were setting up a six-hole course with Innova DISCatcher Traveler baskets. Finally, Nicholson started the MGDG club in April 2017 with 10 members.
While Nicholson and his friends were having a lot of fun playing the six-hole layout, he still wanted a permanent course for his new club to call home. And he wanted it to be at the Mount Gambier crater.
"This particular section within the volcano was once a substantial lake that eventually dried up in the 1980s," said Nicholson, who has lived his entire life in Mount Gambier. "The area slowly transformed in the time since into a beautiful parkland though [it] was rarely utilized by locals who favored a section of the area closer to a still-existing lake."
Nicholson began work to gain approval from the South Australian government, who owns the land the course sits on, to install a disc golf course. He also secured 22,000 Australian dollars (roughly US$14.4 thousand/€13.1 thousand) in funding from the local council that was used on 18 DISCatcher Pro 28 baskets, concrete tees, and funding the course installation.
"I spent months putting together a detailed proposal for submission to my local council, who were extremely supportive from the beginning, throughout the entire process, fully funded the whole project, and [now] provide sponsorship towards our annual sanctioned tournaments," Nicholson said.
Looking to properly utilize the beautiful land at his disposal, Nicholson turned to Andrew Ferguson of Recreation Activity Design (RAD). RAD, a top disc golf course design company in Australia, has designed over 40 of the 70 courses on the continent.
"As soon as I began researching and assessing the site, I knew there was something special about the place," said Ferguson, who has been playing disc golf for 15 years and designing courses since 2014. "Not always do you have the opportunity to work in such a unique location as a dormant volcano. Dramatic elevation changes, diverse flora, amazing views tick a lot of boxes for any disc golf course designer."

Interested in learning about other amazing disc golf courses in places like Antarctica and Qatar? See all articles in the
Extraordinary Courses
series here.
Ferguson traveled to Mount Gambier in October 2017 and spent a week, with the assistance of Nicholson, designing what would become Crater Lakes Disc Golf Course. Volunteers Hayden McPherson, Lachlan Wookey, and Mathew Weyers—all members of the MGDG club—helped with the installation, and just a few months later the par-60, 6,827-foot/2,081-meter course was a reality.
"This ended up being a great decision as Andrew's experience in course designing resulted in a great flowing course jam-packed with incredible holes that perfectly utilize the area's diverse topography," Nicholson said. "This, along with my resolve to ensure there would be no lack of challenging greens by use of the area's natural slopes, mounds and vegetation for basket placements, plus elevating the odd basket or three, saw my vision come to fruition."
Reception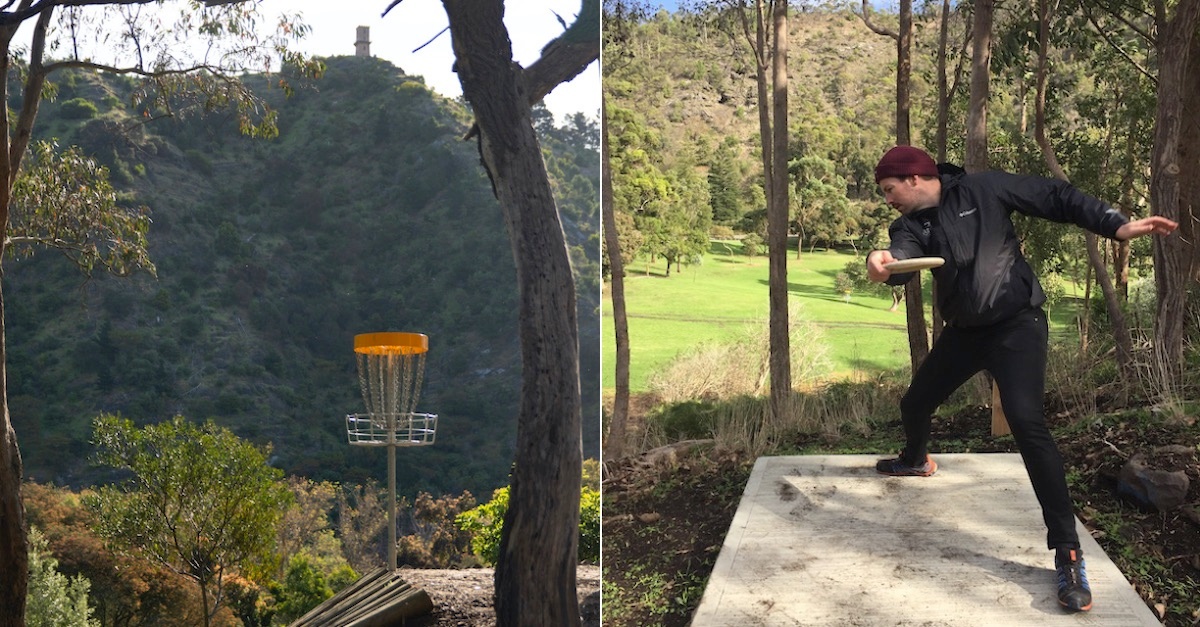 What began as Nicholson's dream is now a permanent, free-to-play, 18-hole course with nine beginner red tees and 18 blue tees more suited for experienced players. The course is painstakingly maintained five days a week by a team of groundskeepers employed by the local council. With its drastic elevation changes and picturesque views, Crater Lakes has a perfect 5.0 rating on UDisc with nearly 70 reviews.
"The passion and drive of Ryan to make the project happen, along with a supportive local council helped take the success of the course project to a level above many others," Ferguson said. "The course is being touted as one of the best courses in the country."
Over the past two years, Crater Lakes has hosted four PDGA-sanctioned tournaments. The biggest of those events was the Australian Disc Golf Championships in November 2019, which drew 100 competitors from all over the continent, making it the largest tournament ever held in Australia.
Dylan Spangenberg, who had moved to Australia from the United States just a couple months before, was one of those 100 players. After joining the PDGA in 2018, Spangenberg had played most of his first 30 tournaments in Georgia, which he said was far different from the style of golf he played at Crater Lakes.
"Playing disc golf inside the crater is a very unique experience that you just cannot experience anywhere else," said Spangenberg, who finished eighth in the Open division at the Australian Championships. "The wind races in all different directions and can be very hard to read. There are lush, big, green trees, heaps of foliage, and a massive lake to throw over on the signature hole 2. The course layout is creative and challenging and requires players to be able to throw a multitude of shots with many different types of discs."
The Future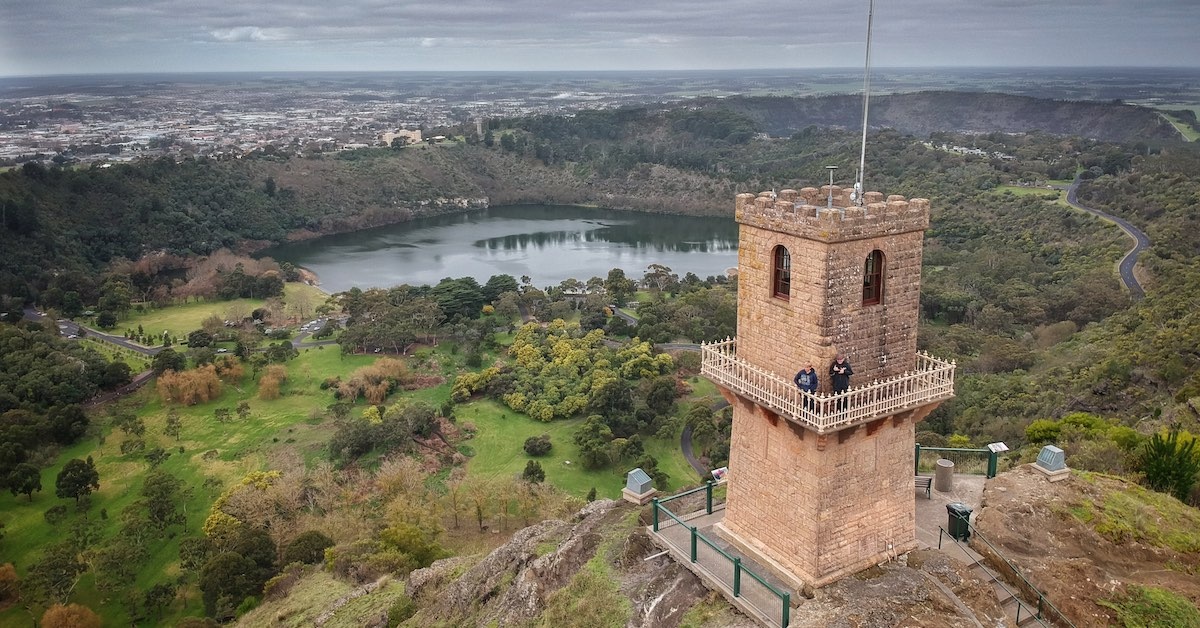 Since Nicholson started the MGDG club in 2017, the club has grown to 35 members who play fortnightly league events. Nicholson and the club are hoping to host a top tier Australian Disc Golf tour event every year to showcase the beauty of Crater Lakes.
"We hope to see more international events and players return to Australia to get the chance to show off our amazing venue," said Nicholson, who is on the committee for South Australian Disc Golf and has been the state representative for Australian Disc Golf the past two years.
One of the unique competitions held at Nicholson's tournaments has been a closest-to-the-basket competition dubbed the Sacrifice to the Gods, which has been held following the conclusion of every PDGA-sanctioned event at Crater Lakes. A lucky few who win a raffle are permitted to throw a single shot from the base of Centenary Tower, which marks the peak of Mount Gambier, down to a basket on the course located 1,000 feet/300 meters away and 575 feet/175 meters below. Many of these discs are never seen again, hence the "sacrifice." You can see footage of the 2018 Sacrifice to the Gods here.
Following the 2019 Australian Disc Golf Championships, novice women's competitor Anna Kolodina won a spot in the Sacrifice to the Gods and offered it to professional Joseph Quinn, who finished fourth in the Open division. Quinn put his shot 27 meters (88 feet) from the basket and then split the AU$1,000 (US$654/€598) prize with Kolodina.
"We believe the Sacrifice to the Gods has immense potential to become an internationally renowned, hallmark event with hopes to one day offer massive payouts for the unlikely hole in one," Nicholson said.
While Nicholson hopes to grow disc golf at Crater Lakes, he also hopes to continue adding more courses in the region.
"The disc golf scene in Australia is really starting to gain some momentum," Nicholson said. "More courses are popping up every year."

With Crater Lakes serving as an example of what Australian disc golf can be, it could live up to its volcanic heritage by playing a role in an eruption of disc golf in Australia.