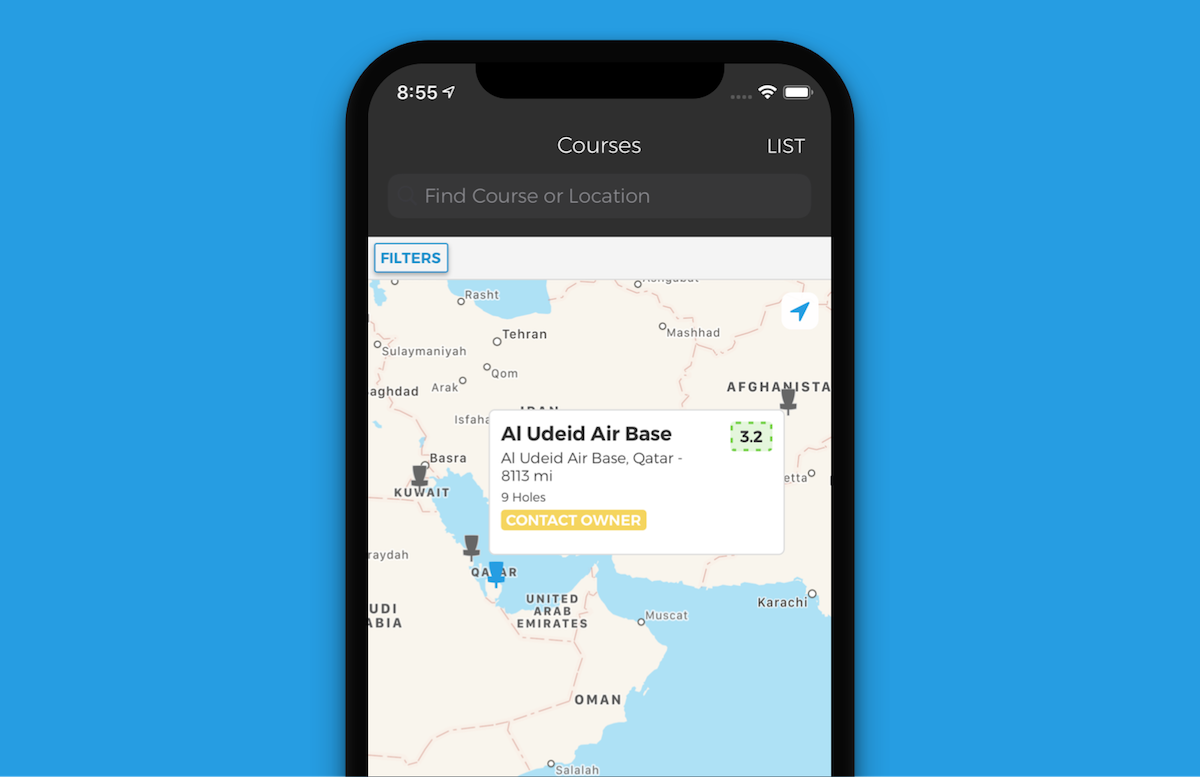 Qatar is a small desert country, a peninsula that juts out into the Persian Gulf. Sail east from it, and you're in Iran; cross its land border and you're in Saudi Arabia. Other nearby countries with names familiar to most of us include Iraq, the United Arab Emirates, Afghanistan, and Yemen. U.S. involvement in these areas in recent decades has led the Al Udeid Air Base in Qatar to become the biggest U.S. military base in the Middle East. Recently, one publication quoted a U.S. Brigadier General as saying, "It's a tremendously strategic location, right in the center of everything."

One thing Qatar is surely not "right in the center of," though, is the disc golf world. However, it is home to a tiny oasis in the literal disc golf desert of the Middle East. Nine baskets pop improbably up from the dry, rocky, and often cracked ground in a small patch of Qatari desert on the base. Today we tell the story of how they got there and the respiratory therapist from Minnesota who's recently made it his mission to breathe new life into them.
Origins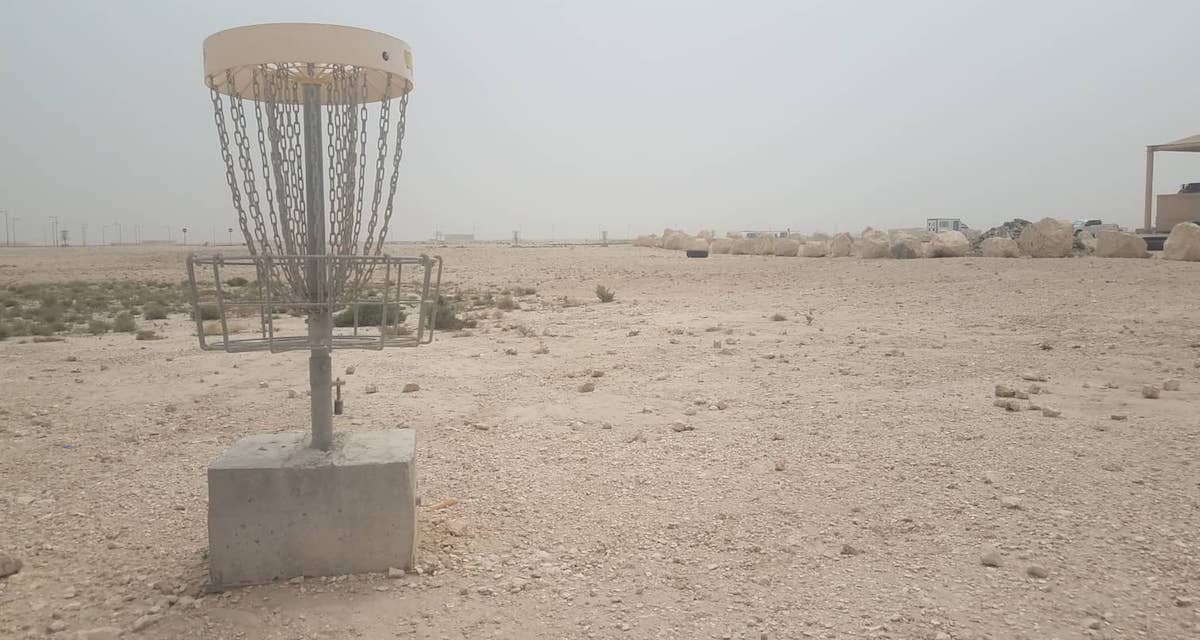 The course at Al Udeid is not new. It was first put in place in 2012 with the help of the organization Operation Disc Golf, which seeks to help U.S. military members enjoy disc golf no matter where they are deployed (see this interview from All Things Disc Golf for more information). The organization sends discs and other equipment donated by companies, pros, and everyday players to active duty troops worldwide. One of its earliest projects was the Al Udeid course.
Unlike most places where a dedicated club can constantly maintain a course, active military come and go at a rapid pace, meaning courses rarely have long-term advocates and caretakers. That's why in the seven years since it was built, the course had been more susceptible to steady decline rather than improvement. That is, until disc golfer David Pasko arrived.
Revitalization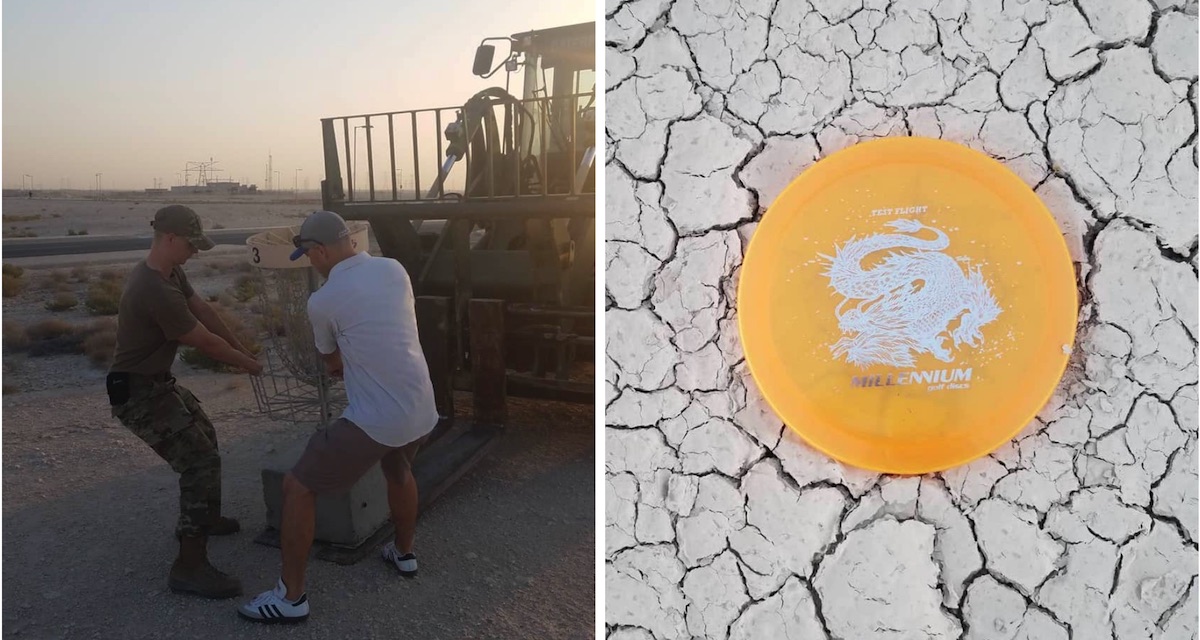 Pasko got to Al Udeid at the end of April 2019. A respiratory therapist at the Mayo Clinic in Rochester, Minnesota in civilian life, he's also a Technical Sergeant in the U.S. Air Force Reserve. On duty, he's part of a Critical Care Air Transport (CCAT) team that is called in if there are medical emergencies. Before deployment, he knew there was a course at the base and was excited to have the unexpected luxury during his time in the Middle East.

However, when he arrived, it didn't take his extensive medical training to tell him he'd found a course in critical condition.

"When I got here, it was kind of in shambles," Pasko said. "The tee pads—they didn't exist. They were just rocks, and it was super dangerous. There had been some rebuilding in the area, and the baskets were just put aside. It wasn't coherent at all."

From the first time Pasko stepped on the course, he "just wanted to make it better." But he only first took the project seriously after receiving support from professional player Terry Rothlisberger and the disc golf equipment manufacturer Innova in the form of donated discs that would help new players be able to enjoy an improved layout. 

Eventually, after getting to know the wind patterns—important for adding challenge on a course in a treeless landscape—and keeping in mind that the course should be inviting to beginners, Pasko submitted a new layout for approval and funding. He received both, and within just one day a man with a forklift moved the baskets, bringing Pasko's vision into reality.

Of the new holes created, Pasko's favorite is an island hole.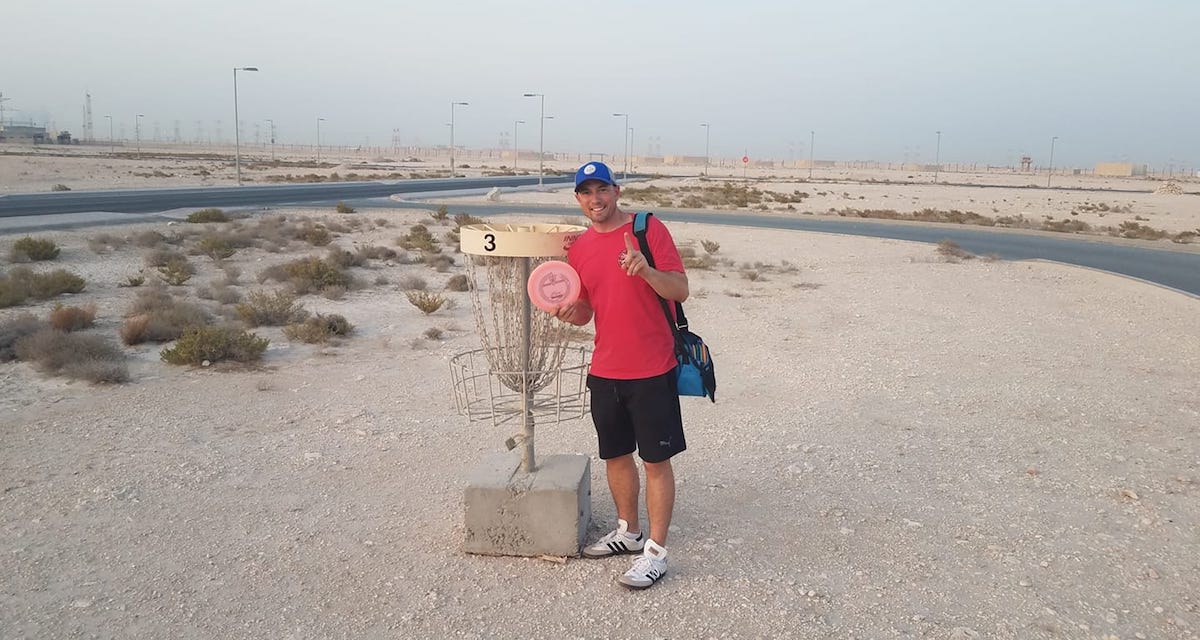 "I like it because it can be really challenging when the wind is up and because of the appearance," Pasko said. "It really gives you a perspective of the terrain here. We keep on adding the rocks each time we play. It's kind of cool to see how they all add up over time. It's almost extra rewarding each time a competitor hits the wall and comes up short!"
Future Plans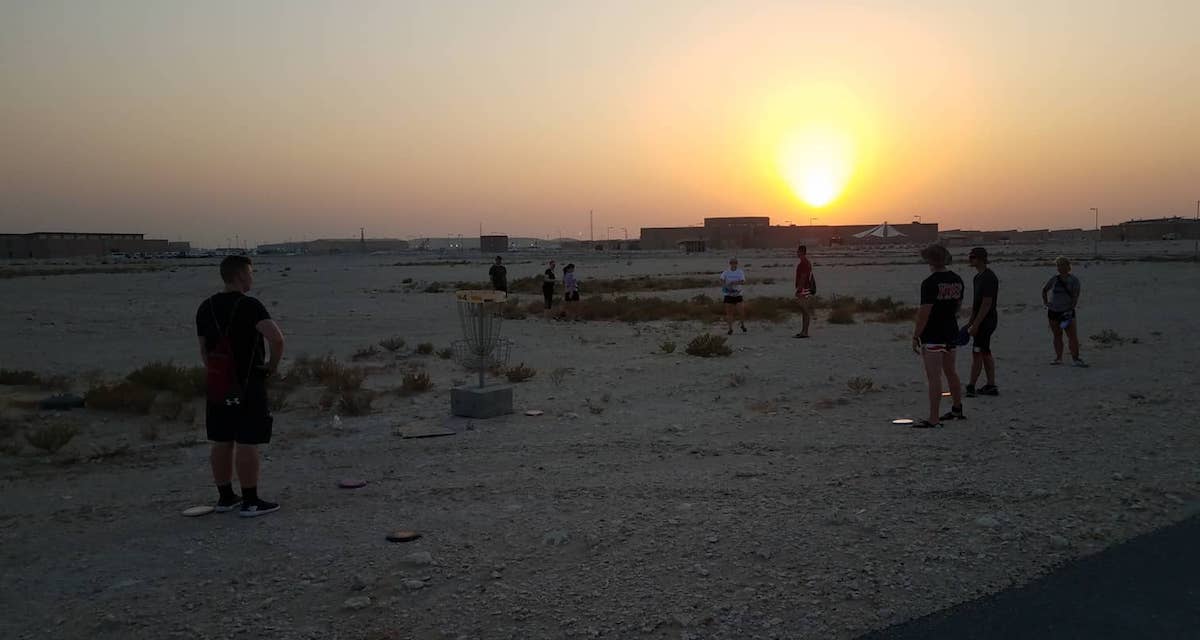 Through publicizing his work on the Al Udeid course on social media, Pasko has made quite a few new contacts. One of them is Darrin Ferguson, who is currently in charge of shipping for Operation Disc Golf. Pasko mentioned to Ferguson that he wanted to do a tournament, and Ferguson promptly got Just Throw Disc Golf on board to help sponsor an event aimed at introducing new players to the sport. The Prodigy Games are taking place at Al Udeid on Sunday, September 29. 

This tournament will be one of Pasko's last contributions to the current Al Udeid disc golf culture before leaving the base at the end of October, but he's hoping it's not the end of the improvements he's begun. Currently, he's on the lookout for caretakers, and he has a simple plan when he finds them: "I'll ask them to carry the torch and then pass it on at the end of their time."