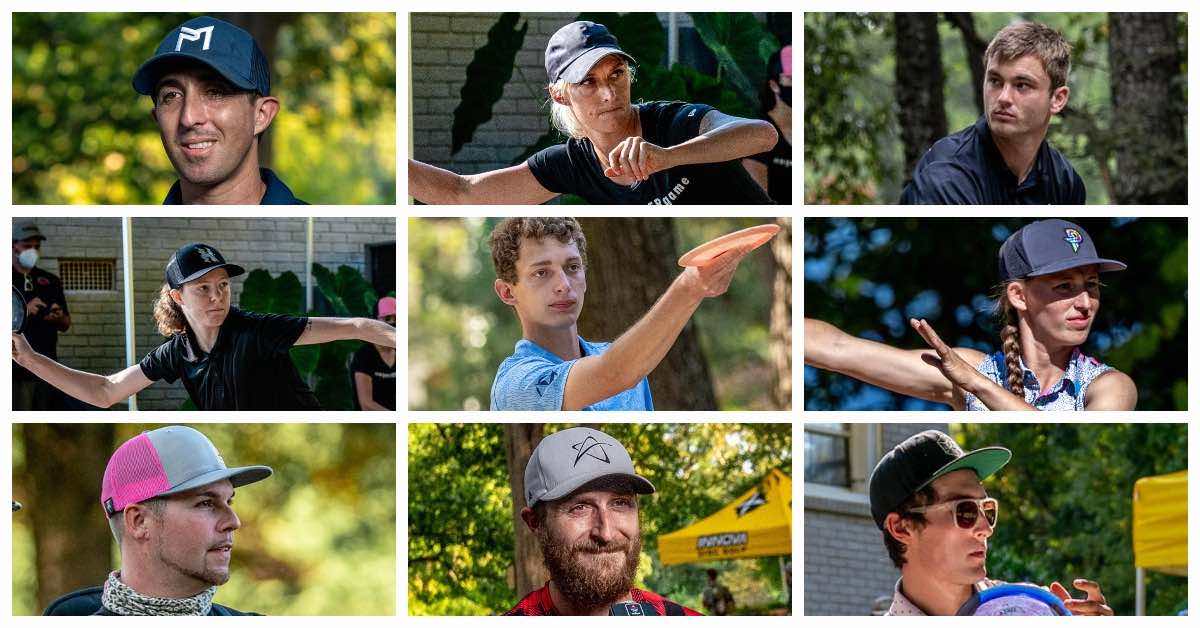 Another pro disc golf season is in the books, and those books' pages are filled with sweet, juicy stats. Though the pandemic threw a wrench into much of the season, 19 major disc golf tournaments held this year relied on UDisc Live to share their results with disc golf fans everywhere. Now, just like in 2019, we combed through the numbers to find out which players topped their divisions in various stat lines and which holes stood out for difficulty and ease. 

Since it's 2020, we decided to highlight 20 stats, but here are a few extras: through 19 tournaments this year, scorekeepers kept track of 116 rounds with UDisc Live, which added up to 126,452 holes completed in 434,594 throws (an average of 3.44 throws per hole). 

Note: To better assure that the stats were an indicator of true patterns for players, we only mention players who completed at least 216 holes in 2020.
PLAYER SUPERLATIVES
1. Most Aces
In 2020, UDisc Live recorded 25 aces through 19 tournaments.

Surprisingly, though there were 15 less tournaments this year than in 2019 due to the pandemic, the average number of aces was the same for both years: 1.32 aces per tournament.

The longest ace was by Garrett Gurthie on hole 7 during the Las Vegas Challenge at 432 feet/132 meters, which you can see in the video below from GK Pro:



Gurthie's feat is even more astounding once you know that the average ace in 2020 was just 309.52 feet/94.34 meters. 

The most-aced hole this year was hole 8 at the MVP Open, where three players carded aces during the tournament. Gurthie was also the only player with multiple aces, his second happening later in the season at the Jonesboro Open. 
2. Highest Eagle Rate
For the Open field, the highest eagle rate belonged to Calvin Heimburg, whose 12 eagles in 810 completed holes gave him a percentage of 1.48%.
For the Open Women, Paige Pierce was the player with the highest eagle rate at 1.62% – 12 eagles out of her 740 holes completed. 
3. Highest Birdie Rate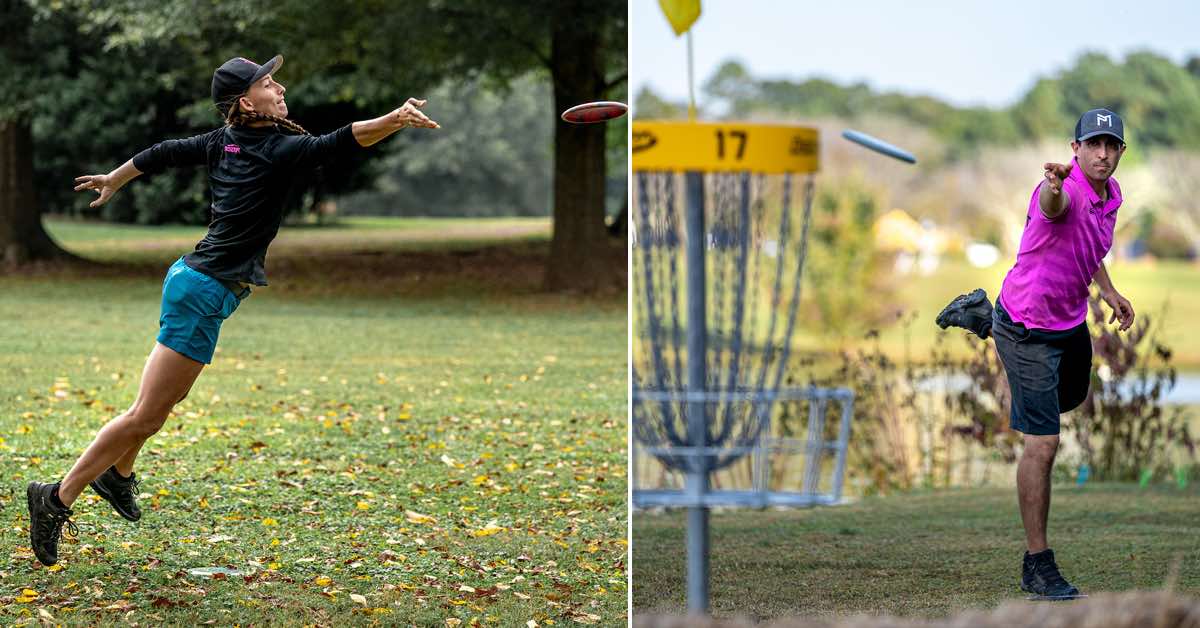 The highest birdie percentage for any Open player was Paul McBeth, who earned a 54.41% birdie rate over the 11 tournaments he played, netting 327 birdies in 612 holes. Incredibly, that percentage made him more likely to get a birdie on a hole than a par, and you can only say that about five other players in the Open field: Heimburg, Ricky Wysocki, Eagle McMahon, and Kevin Jones.
The highest birdie rate in the Open Women field was achieved by, again, Pierce. She had a 41.89% birdie rate, grabbing 298 birdies in 740 holes. She stood far above anyone else in her division. Hailey King came in second for this stat with 30.15%.
4. Best C1X Putters*
Looking at putting percentages, the best putter in C1X (Circle 1 excluding putts under 11 feet/3.3 meters from the basket) was Andrew Marwede with 88.44% of his C1X putts made. He and Cale Leiviska were the only players to break 88%, coming in ahead of a star-studded 87% club that included McMahon, McBeth, and Chris Dickerson.
Ohn Scoggins took the Open Women cake. She made 82.7% of her C1X putts. Heather Young was second at 80.9%.
5. Best C2 Putters
Past 33 feet/10 meters and into Circle 2, Matt Bell had the highest percentage at 36.5%. But it's worth noting that Jones' well-known jump putt put him right behind Bell at 36.3% with 90 made putts from C2 compared to Bell's 57. With that total, Jones also had the highest number of C2 putts made of anyone in the Open division.
As for the Open Women, King took the top spot in C2 percentage with 20.5% of her C2 putts finding the bottom of the basket – a total of 36. Still, Pierce made the most putts from this range (43) and her percentage was only slightly lower than King's at 19.8%.
6. Most and Highest Rate of Throw-Ins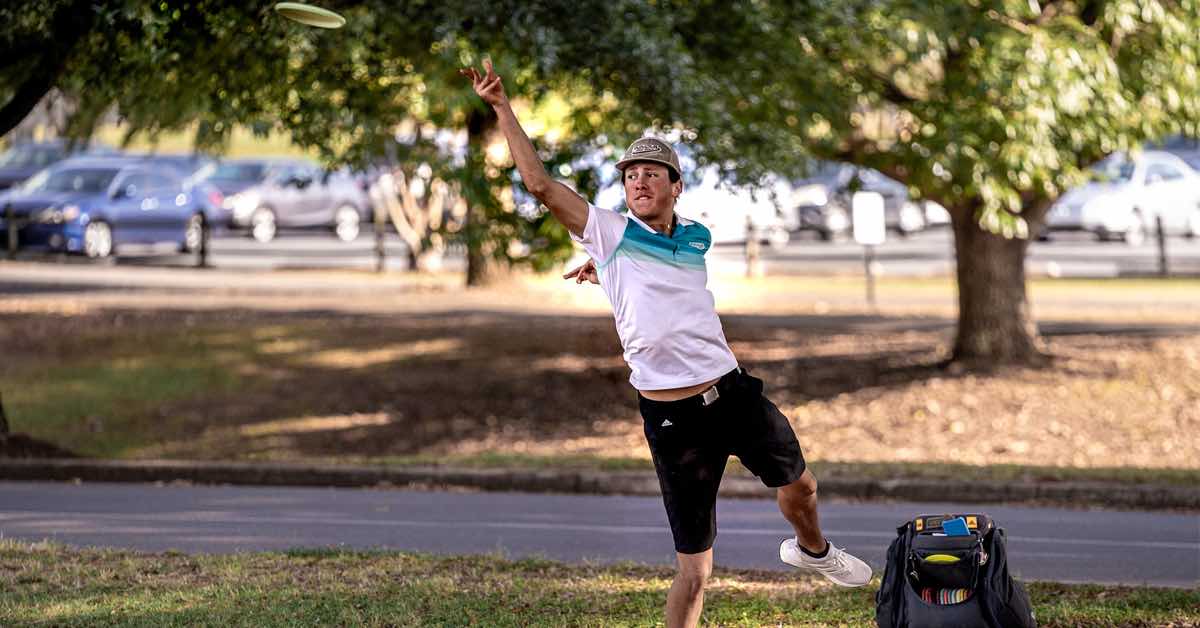 Continuing out beyond Circle 2, we had a three-way tie in the Open division for most throw-ins, with 10 each from Kevin Jones, Emerson Keith, and Anthony Barela. Of these players, Barela's throw-in rate was best at 1.7%. That means 1.7% of the time Barela found himself outside C2 on a hole at UDisc Live events in 2020, he found the basket.
Pierce was tops in this stat, too, leading the Open Women with five throw-ins. King's four were just behind her, though.
7. Highest Fairway Hit Rate
Fairway hit rate is a great way to gauge players' accuracy. On a par 3, for example, a player must land within Circle 2 (or closer) to boost their fairway hit rate. There was a tight race in this category, but Andrew Presnell was at the peak of the Open division, hitting the fairway on 80% of his shots for a total of 429 hits. McBeth was just behind him at 79.7% but had 513 successful fairway hits, and Heimburg's 77.3% came from 659 hits.
Open Women was led by Catrina Allen, whose 645 total fairway hits gave her a rate of 73%. Pierce was close behind with 72.5% – 589 hits.
8. Highest Parked Percentage
Parking a hole is when a player lands with within 11 feet/3.3 meters of the basket (a tap-in) with their next shot being for birdie or better. The clear standout in Open for this category was Heimburg, who parked an impressive 20.5% of the holes he played, a full 1.5% above the next closest competitor, Simon Lizotte.
In Open Women, Pierce parked 14.8% of the holes she played. Pierce bested second place in this category, Allen, by over 3%.
9. Best Scrambler*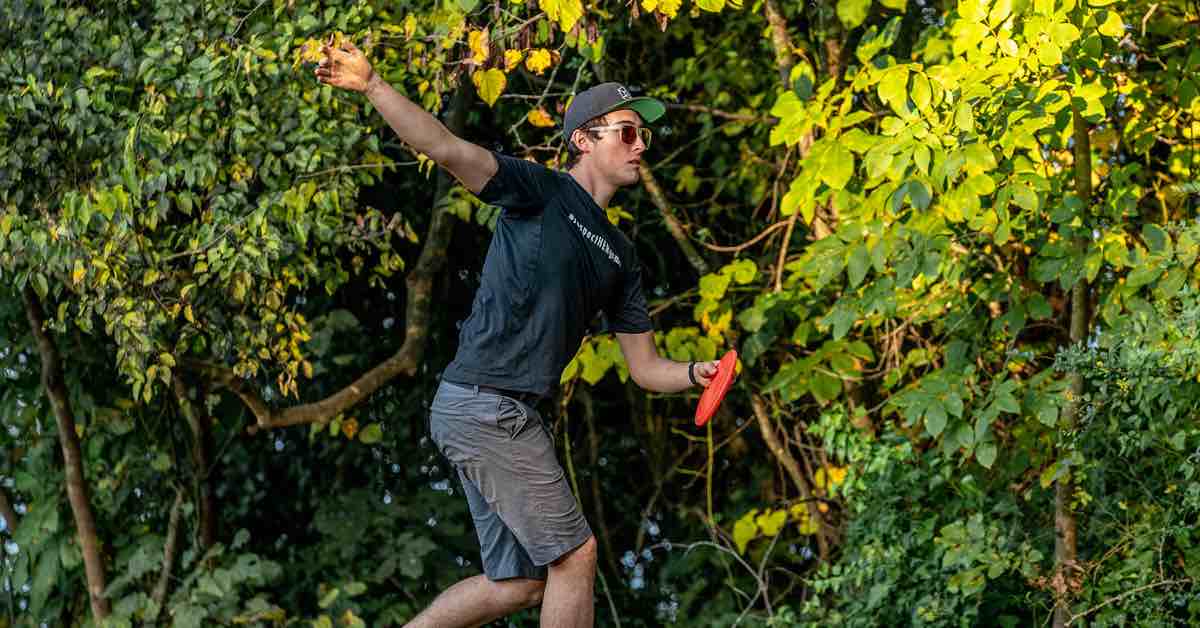 If you could pick one person to get your disc out of a tricky spot and still in for par, McMahon would be your best bet based on our 2020 stats. Out of 115 possible scrambles, McMahon had an Open-leading success rate of 62.6%.
Young put another notch in her belt here, scrambling successfully a division-leading 46.5% of the time.
10. Most Active Players
For the total number of holes played this season, Terry Rothlisberger and Ezra Aderhold tied at 941 holes. They attended 18 out of 19 tournaments scored with UDisc Live, only missing the Challenge at Goat Hill. Aderhold's feat is especially impressive when you consider he's living in his Prius.
On the Open Women side, Allen was the busiest player, traveling to 14 tournaments and playing 810 holes. In second and third were Jessica Weese and Pierce, who played 743 and 739 holes respectively. 
11. DickerSunday
Okay, this isn't technically a superlative, but it's too good of a stat to leave out.

Along with his USDGC win, Dickerson got a reputation this year for his Sunday comebacks, often charging from the second or third card to challenge the leader. But do the stats back up the DickerSunday phenomena?

Of course they do: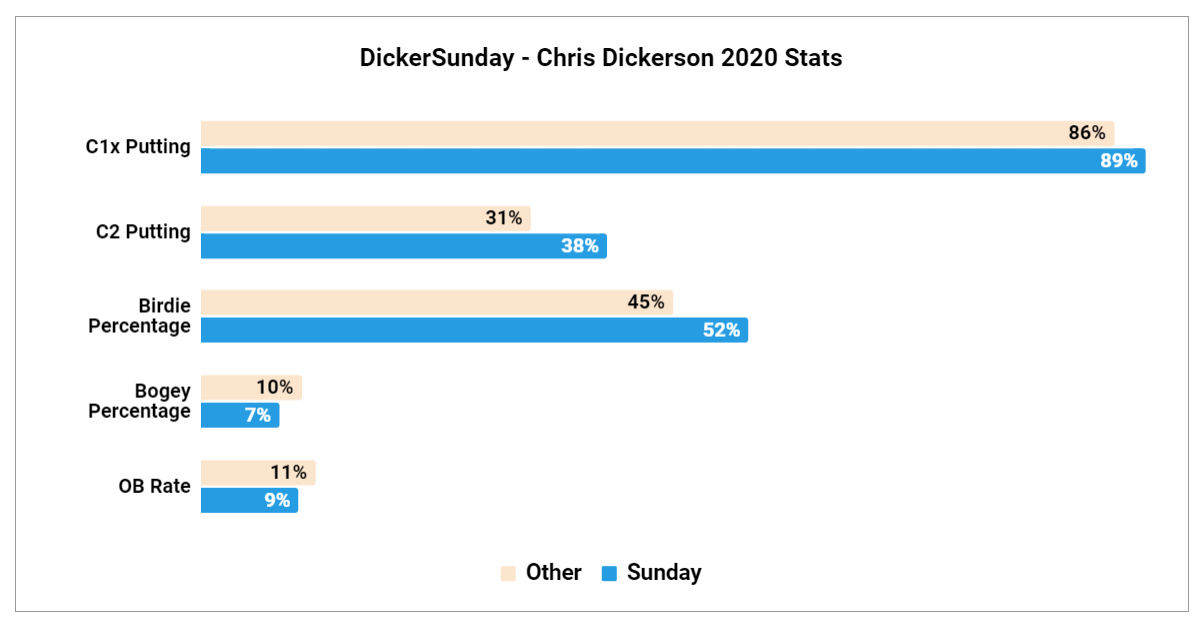 As you can see, compared to the previous days of each tournament, Dickerson improves in both C1X and C2 putting, his birdie percentage jumps seven points, his bogey percentage decreases by three, and his OB rate decreases by two on Sundays.
12. Most Picked Players in GRIP6 Pick6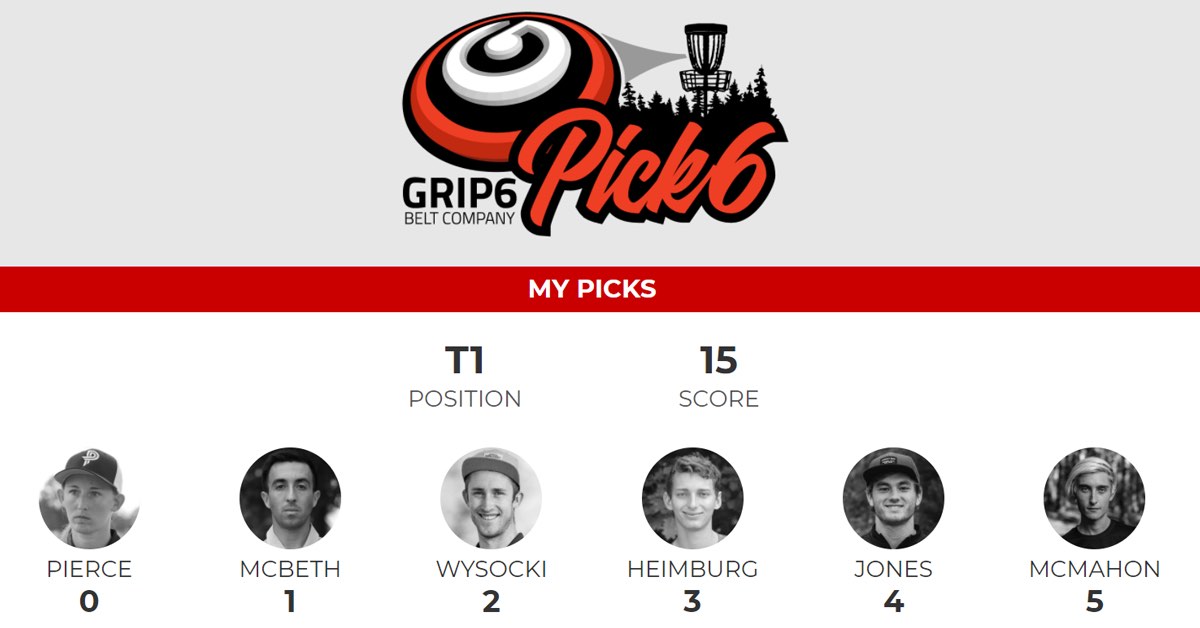 For each tournament scored with UDisc Live, fans could participate in GRIP6 Pick6. Participants picked the six players who they believed would win or have scores closest to the leader in any division in hopes of winning a snazzy GRIP6 belt. The winners in each division were worth 0 points, and how much other players were worth was determined by how far off they were from the leader of their division's score. For example, picking a player who finished a tournament three strokes behind the leader would add three points to a Pick 6 player's score.

Since the point of GRIP6 Pick6 was to have the fewest points at the end of any tournament, the number of times players were picked showed how much confidence pro disc golf fans had that they would finish at or very near the top at tournaments throughout the year.

With a total participation of 77,782 entries (466,692 picks made), the most-picked players were, respectively, Pierce, McBeth, Wysocki, Heimburg, Jones, and McMahon. 
HOLE SUPERLATIVES
13. The Hardest Hole
Recently during commentary of the Green Mountain Championship on JomezPro, Jeremy Koling said that he felt the hardest hole for Open players was 12 at Northwood Park during the Ledgestone Insurance Open.
He was correct. Just like in 2019, Northwood hole 12 was indeed the hardest hole of 2020, averaging 1.7 strokes above par. The hole, a whopping 1050-foot/320-meter par 5, proved extremely challenging for the field. Only two players got the birdie in 2020: Alden Harris and Isaac Robinson. Neither of those were caught on camera, but you can see what players were up against below:


For Open Women, the Harmony Bends course from the Mid-America Open dominated the list, with five of the top six hardest holes being on that course. The most difficult was hole 18, an 810-foot/247-meter par 5 where the field averaged 1.5 strokes over par. The only players able to manage the par were Nova Six Four Politte and Kimberly Giannola. 

You can take a look at Harmony Bends' hole 18 in the video below from GK Pro. The drone footage is from Open coverage, but you can see the tee the Open Women played from immediately to the left once the clip begins:


Notably, many of this year's top Open Women players, like Paige Pierce and Catrina Allen, were not at the Mid-America Open.
14. The Easiest Hole
The easiest hole for the Open field was hole 9 at Silver Creek during the Silver Cup, where players shot 0.74 below par on average. It's a 524-foot/160-meter par 4 that 69% of the field was able to birdie and 9% eagled. The Silver Cup was one of the first Disc Golf Pro Tour events after the pandemic hiatus, and Open players proved they weren't too rusty after the break.

Here's a look at Silver Creek hole 9:


For Open Women, the easiest hole was #10 at Winthrop University during the Women's National Championship. A 329-foot/100-meter par 4, Central Coast Disc Golf commentator Cory Murrell called it "one of the kookiest-parred holes" he'd ever seen. Players going for the pin had to carry out-of-bounds the whole way, and the par was more generous because any OB resulted in a re-tee from the same tee pad. Nevertheless, players averaged 0.83 below par on it, and an incredible 32.9% of the field eagled the hole. 
Take a look at it in this coverage from CCDG:
15. Highest Birdie Rate
One might think that the easiest hole is also the one that's birdied most often. While that was the case for Open Women, the men's field actually had a higher birdie rate on hole 15 at the Disc Side of Heaven course during the Jonesboro Open. An impressive 72% of the field carded a birdie or better, just outdoing the 69.4% birdie rate at Silver Creek's hole 9. 

Here's a clip of one of those birdies in progress from JomezPro:
16. Highest Eagle Rate
As for the highest eagle rate, the dubious honor goes to the same hole for both Open and Open Women: hole 10 at Winthrop University. For Open, it was a 549-foot/167-meter par 4 during the USDGC and was eagled 14.3% of the time. The Open Women played it as part of the Women's National Championship, but, as we already mentioned, it was just 329 feet/100 meters and players eagled it 32.9% of the times they played it.
We gave you a look at the hole for Open Women earlier, but here's what it was like for Open:
17. Most OBs
For Open, the hole with the most throws landing out-of-bounds was hole 16 at Idlewild, a 969-foot/295-meter par 5 with long OB lines and an island green. The hole was played 329 times by Open players during the Idlewild Open, and there were 265 OB throws. Listen to Paul Ulibarri talk about how treacherous this hole can be below:
Idlewild's OB also claimed the most Open Women victims, but for them it was on hole 17 with its infamous, serpentine OB creek. With dozens of trees ready to kick a disc into the water, it proved a dangerous hole. We tracked Open Women playing the hole 96 times and recorded 69 OB throws. Get a glimpse in this flyover:
18. OB by Tournament
Though Idlewild had the holes with the most OB throws for both fields – actually the top two – the tournament that had the most OB throws was the Discraft Ledgestone Insurance Open. With Lake Eureka and Northwood Park for the Open and Sunset Hills for the Open Women, all courses played at the event were filled with OB. Open and Open Women combined for 2,641 OB throws at Ledgestone, or 15.6% of the total 16,931 OB throws recorded on UDisc Live at all tournaments throughout the year.
19. Birdie Rate by Tournament
The tournament with the highest percentage of birdies (and above) for both fields was The Preserve Championship, with 40.3% of all played holes ending with a birdie or better. The wide fairways with very little OB allowed for players to showcase their distance and their scramble game. Both players who led their divisions in birdies, Nikko Locastro (40) in Open and Pierce (30) in Open Women, also took first place.
20. Bogey Rate by Tournament
For our last stat, we looked at the bogey (and above) rate per tournament. The most difficult tournament overall was the Women's National Championship, with 37.2% of holes played ending in bogey or worse for the field – likely attributable to Winthrop's copious OB. When looking at stats combining both divisions, the highest bogey rate was at the Mid-America Open, with 33.1% of holes played ending in bogey.
Thanks!
We hope you enjoyed this look at the superlative stats from 2020. While it wasn't the typical season, it still proved to be a great year for the players, tournament staff, and volunteers who kept events safe throughout a pandemic. To any and all who kept score on UDisc Live, we thank you from the bottom of our hearts.


*In both the Best C1X Putters and Best Scrambler sections, we erroneously omitted Open Women players when this article was first published, saying that Pierce was first in the former and King the latter. Both categories now reflect the true results from 2020.