The 21-year-old Isaac Robinson became a new star in the disc golf galaxy when he won the 2022 LWS Open at Idlewild. That win along with his podium finishes at other Elite Series events the Portland Open and Green Mountain Championship in 2022 have made him one of the most talked-about rising talents on the pro circuit.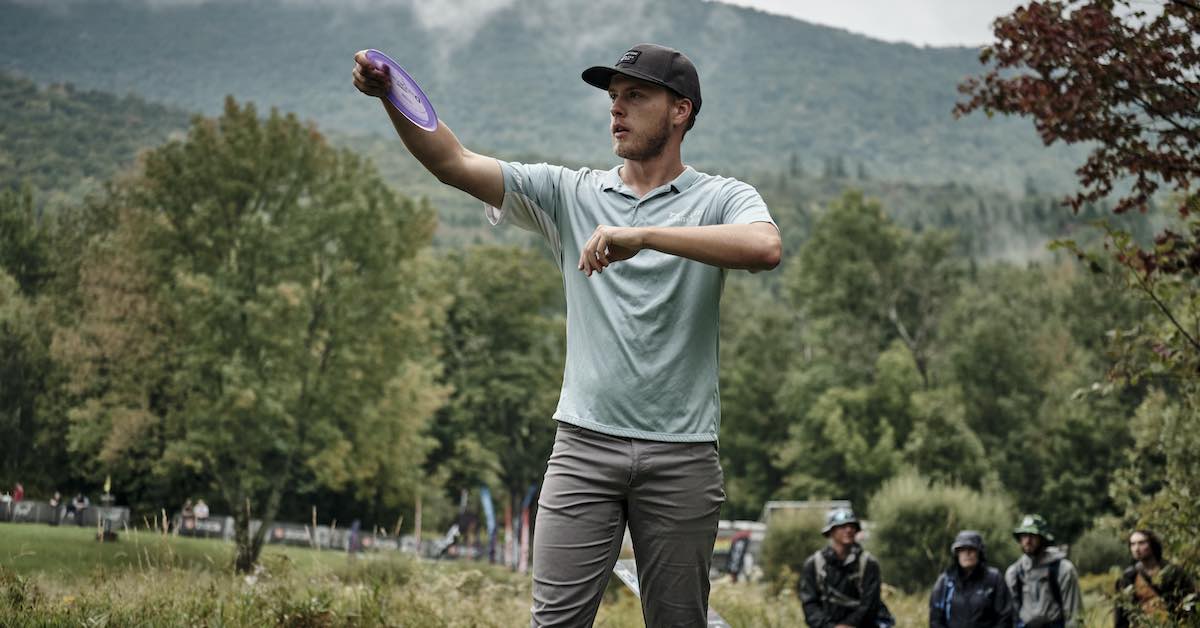 The Georgia native has enjoyed disc golf competition since early on in his childhood, and as his talents grew, it was only a matter of time before fans outside of the southeastern United States learned his name. As of publication, Robinson was the #9 disc golfer in the world in the Disc Golf World Rankings and was in a position to earn a bye at the very exclusive Disc Golf Pro Tour Championship.

We spoke with Robinson to learn more about his start in disc golf, his very large family, what separates him from the other young talent on tour, and his goals as a pro disc golfer.

When Did Isaac Robinson Start Playing Disc Golf?

Robinson received his first disc from his parents in 2006. The five-year-old was gifted a Millenium fairway driver, and it soon became a regular activity to head to the park with his dad and some siblings to play disc golf.
"Coming from a family that plays disc golf, the family aspect made me fall in love with the game," he said. "Going out to the park with my brothers and my dad got me hooked at the beginning." 
Robinson is the oldest of eight siblings – seven boys and one girl. Though chaos may have reigned supreme at times in the Robinson house, there was always someone to play with or compete with.
"That shaped me as a player and as a person," he said. "I'm very competitive. I hate losing."
Unsuprisingly, when Robinson figured out he had a natural aptitude for disc golf, he fell for it even harder.

"I like being good at things," he said. "I quickly realized it was a skill set I had. Knowing I had a talent there made me enjoy it more as well."
Together with his younger brother Ezra, Robinson started competing in the local disc golf league. The Gwinnett County Disc Golf Organization was very welcoming to the 12-year-old and his 10-year-old brother, and it wasn't long before the elder Robinson was beating them all. 
That's when it clicked for the future Elite Series event winner.
"We had a really good league," Robinson said. "Everybody was super supportive and encouraged us to keep playing. Even at that young age, I was better than most people."
When Did Isaac Robinson Start Playing Pro Disc Golf?

Robinson's professional career took off after a heartbreaking loss at the 2016 PDGA Amateur Disc Golf World Championships where he fell one stroke short of Izak MacDonald.
"That was my first big tournament of any sort," Robinson said. "He hit like a 60-footer to win and I can't even tell you how many hours I spent thinking about if he hadn't made that putt. It was a good motivator for me. Right after that I turned professional."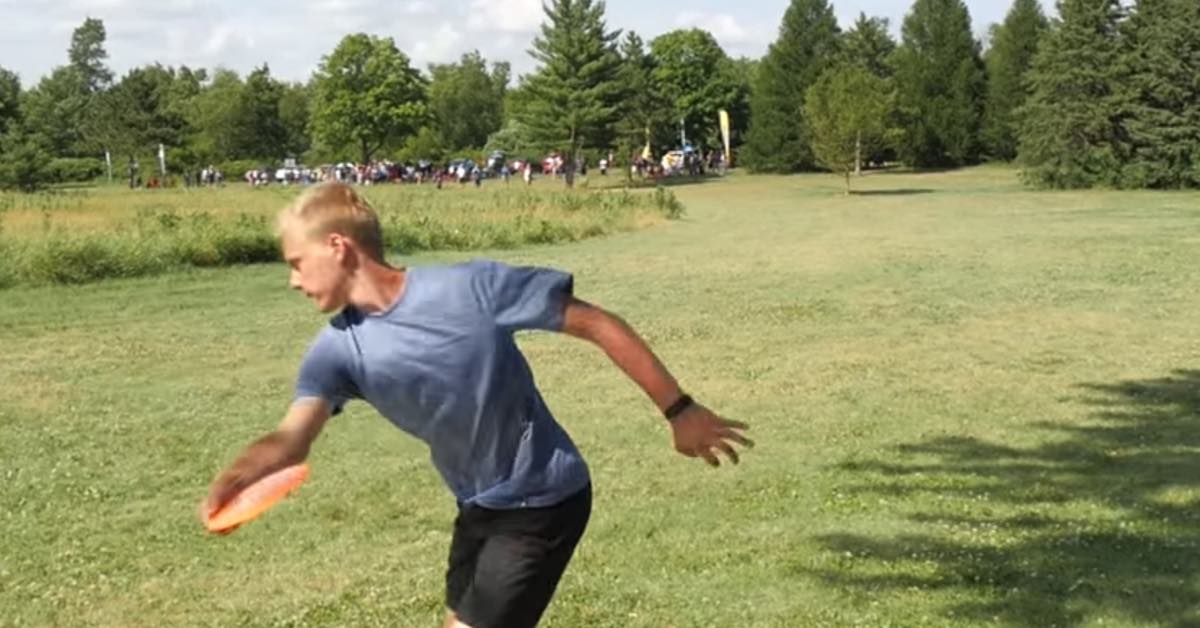 It was then that Prodigy stepped in to support the youngster. Robinson spent 2019 and 2020 with MVP but returned to Prodigy in 2022, referring to it as a "no-brainer."
"Team Prodigy has been there from the beginning," he said. "They were the ones who got me playing professionally in tournaments."
Progress of Isaac Robinson's Pro Disc Golf Career
In 2017, Robinson took down his first career MPO win at the May Marathon at the Moze. Then in 2018, still a teenager, he tested himself at a Disc Golf Pro Tour event. The Memorial didn't go as planned, but a top 30 finish at the Ledgestone Insurance Open earned him some cash and a spot at the U.S. Disc Golf Championship.
In 2019, Robinson's progressive rise at the USDGC began with 21st place. One year later he took 15th, and a year after that he placed 8th. That brings us to 2022, and Robinson hopes his upward trend at this disc golf Major will continue at the same pace.

"If you follow the pattern, there are exactly seven spots to first place," he said. "The USDGC is a tournament I've dreamed about winning for as long as I can remember. I'd love to win that one. I think it would be more important to me than winning Worlds."
For now, Robinson will have to revel in the current biggest win of his career: Idlewild.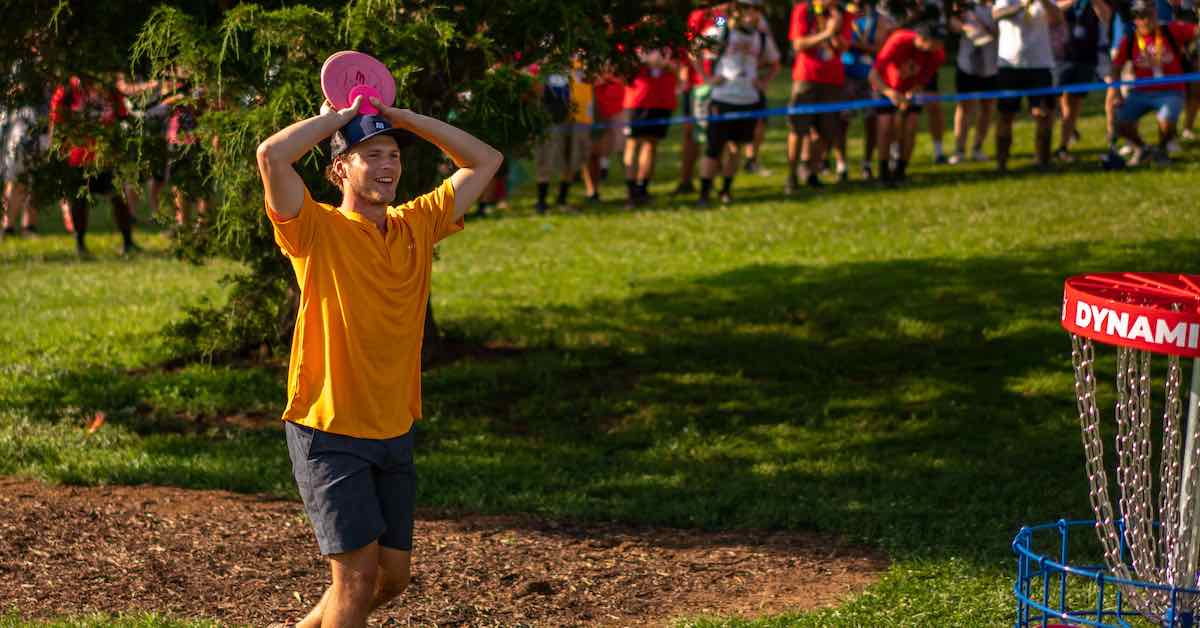 Unlike at the 2016 Am Worlds, it was a competitor's failure to hit a putt that really put Robinson in the driver's seat at Idlewild. Though Chris Dickerson almost made a historic push in an attempt to snatch away Robinson's first big win, the Tennesean just missed a long birdie putt on the treacherous green of hole 17. When Robinson sank his own birdie bid from deep following that miss, it afforded him a three-stroke cushion on one of the toughest finishing holes on tour.
"Having those three strokes was necessary at the end," he said. "18 is such a tough hole and knowing that I could take a bogey and still win was very relieving."
Once his second shot soared out of hole 18's tunnel under the outstretched fingers of the guardian cedars and nestled neatly onto the green for a birdie putt, Robinson finally felt safe.

"I wasn't fully comfortable until I threw that shot out of the gap," he said. "That's when I knew I could relax a little bit."

The victory motivated Robinson and is a constant source of inspiration.

"Now that I know I can win, I'm going to be looking to do that a lot more," he said.

Why Does Isaac Robinson Play So Fast?
Those who've seen Robinson on coverage – especially live coverage – know that he doesn't take much time to line up any of his throws or putts.

Specifically on the green, there is a moment of collection to gather himself and hone in on the target with a few quick pump fakes, but then he just lets the disc fly. Take a look at his rapid set up for what turned out to be one of the most important putts of his career to get a birdie from Circle 2 on the penultimate hole at Idlewild in 2022:



"That's the way I've always played," Robinson said. "I've always played fast. It's something I'm comfortable with. Once I check the wind and check my footing, there's really not much else to think about. It definitely helps with pressure because I'm only focused on making the putt or throwing the shot."
The rising young star also prefers to steer clear of distance drivers for the most part. His bag is filled largely with fairway drivers, midranges, and putters to control speed.
"My game plan is always to throw slower speeds, play a little more conservative, and stay in bounds," he said.
This explains in part why the patient precision the USDGC's Winthrop Gold disc golf course demands fits his game so well.
Isaac Robinson Looks to His Disc Golf Future
As a college student until 2022, Robinson has yet to complete a full season on tour, and he wasn't convinced he ever would until his big victory.

"As far as my career goes, I was a little unsure about touring next year until Idlewild," he said. "After that win I really want to tour next year full-time and hit all the DGPT events."
Though he only joined the pro circuit after his graduation in 2022, he has still been on the road plenty this year. He's enjoyed a lot of the experiences, including hanging out with the other young players like Alden Harris, Gavin Babcock, and Gannon Buhr. But exploring landmarks is his real go-to activity outside of disc golf.
"Traveling out west was a dream come true – seeing all the national parks and the trees, something you don't get on the east coast," he said. "The Redwoods in California were a favorite."

It'll be interesting to find out what the future holds for Robinson as his life finishes its shift from revolving around academics to being purely about disc golf success.

"I was focusing on school for the past three years," he said. "Now that I've graduated, there's nothing keeping me back. I figured I'd give touring a shot and it seems to be going well."