One of the beauties of sports – besides the obvious enjoyment from playing or watching them – is the cornucopia of statistical data they produce. It allows fans to pore over numbers, look for trends, point out historical oddities, and overall just feel more connected to whichever pastime they follow.
That's no different in disc golf, and UDisc's just-released Disc Golf World Rankings are ripe for punditry. While we're only displaying a list of the most current rankings on UDisc Live (for now), our database is overflowing with intel from 2017 to today, which for the purposes of this article we'll refer to as the UDisc Live Era. So let's take a look at some fun facts, tidbits, and omissions as they relate to World Rankings over the past few years.
Eagle McMahon is Peaking at the Right Time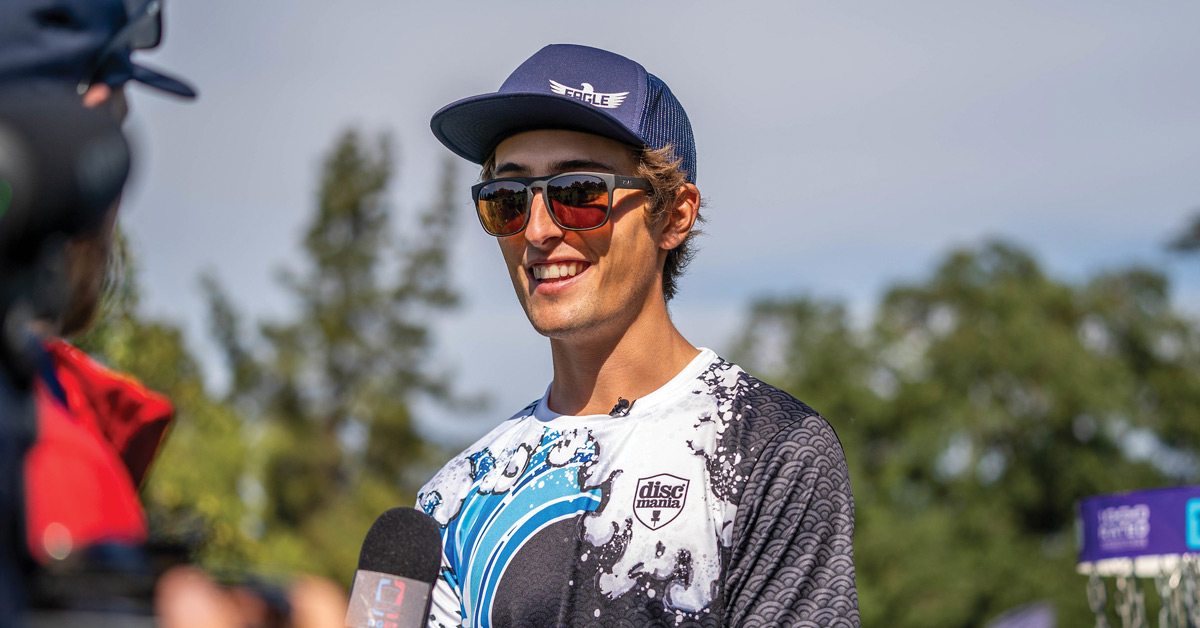 When he burst onto the scene with a final-round lead card showing at the 2015 Glass Blown Open, it was clear that a fresh-faced 17-year-old with a disc golf-worthy first name possessed otherworldly talent.
Though he still sports that fresh face, Eagle McMahon is now squarely a veteran of the pro scene at the ripe age of 23. And with one stone-cold putt to seal a victory at the Portland Open just two weeks ago, he has ascended to the top spot in the World Rankings for the first time ever. On the eve of the 2021 PDGA Professional Disc Golf World Championships.
That's right: For as long as McMahon has been challenging the best of the Open division, he had never claimed the #1 spot during the UDisc Live Era until June 7, 2021. 
With that in mind, it's worth looking more closely at the journey McMahon has taken to the top, as it's been rife with heartbreaking losses (2017 Aussie Open, 2017 Vibram Open, 2019 Portland Open), soaring triumphs (2018 Las Vegas Challenge, 2018 Konopiště Open), and a steady ascent in recent years that has coincided with several wins on the Disc Golf Pro Tour. Here's a sampling of his notable tournaments, including where our system predicted him to finish based on his ranking before the event and where he landed after based on his actual performance:
Tournament
World Ranking
Pre-Tournament
Predicted Finish
Actual Finish
World Ranking
Post-Tournament
2017 Aussie Open
14
3rd place
2nd place
8
2017 Pro Worlds
7
6th place
26th place
11
2017 European Open
6
5th place
5th place
5
2017 Vibram Open
7
7th place
2nd place
4
2017 USDGC
6
6th place
20th place
8
2018 Las Vegas Challenge
8
6th place
1st place
6
2018 Glass Blown Open
4
4th place
1st place
4
2018 Beaver State Fling
3
3rd place
1st place
3
2018

Konopiště

Open
3
3rd place
1st place
2
2018 Pro Worlds
2
2nd place
39th place
3
2019 Memorial Championship
3
3rd place
1st place
2
2019 Portland Open
3
2nd place
2nd place
3
2019 Beaver State Fling
3
2nd place
1st place
2
2019 European Open
3
3rd place
2nd place
2
2019 Pro Worlds
2
2nd place
8th place
3
2019 USDGC
3
2nd place
7th place
3
2020 Discraft Great Lakes Open
4
4th place
1st place
2
2020 Idlewild Open
2
2nd place
1st place
2
2020 USDGC
4
4th place
8th place
5
2021 Las Vegas Challenge
5
4th place
1st place
4
2021 OTB Open
4
4th place
1st place
3
2021 Portland Open
3
3rd place
1st place
1
A couple key takeaways based on McMahon's finishes:
Even in early-career events like the Aussie Open, where the fan-focused take could be that he suffered a soul-crushing defeat, McMahon often outperformed his predicted finish and moved up in the rankings. It just shows how sky-high expectations have been.
On that note, expectations have been sky-high for McMahon at the last two world championships, where he entered as the expected runner-up both times. Though he finished in 39th place in 2018, that underperformance simply dropped him to #3 in the rankings because the system also accounted for where his fellow competitors finished and adjusted the standings accordingly. With many players who were in the top 10 in 2018 – including the world #1, Ricky Wysocki – also underperforming relative to their expected finish, McMahon held steady.
Fun fact: Since his 2018 win in Las Vegas, McMahon has never dipped lower than being the #5 ranked player in the world. He entered the 2021 season at #5, but he hasn't looked back since.
Speaking of Peaking...
McMahon isn't the only player who heads to Pro Worlds with momentum on his side. Check out the list of competitors who also enter the week in Utah at their highest career World Ranking:
What is Disc Golf's Best Rivalry?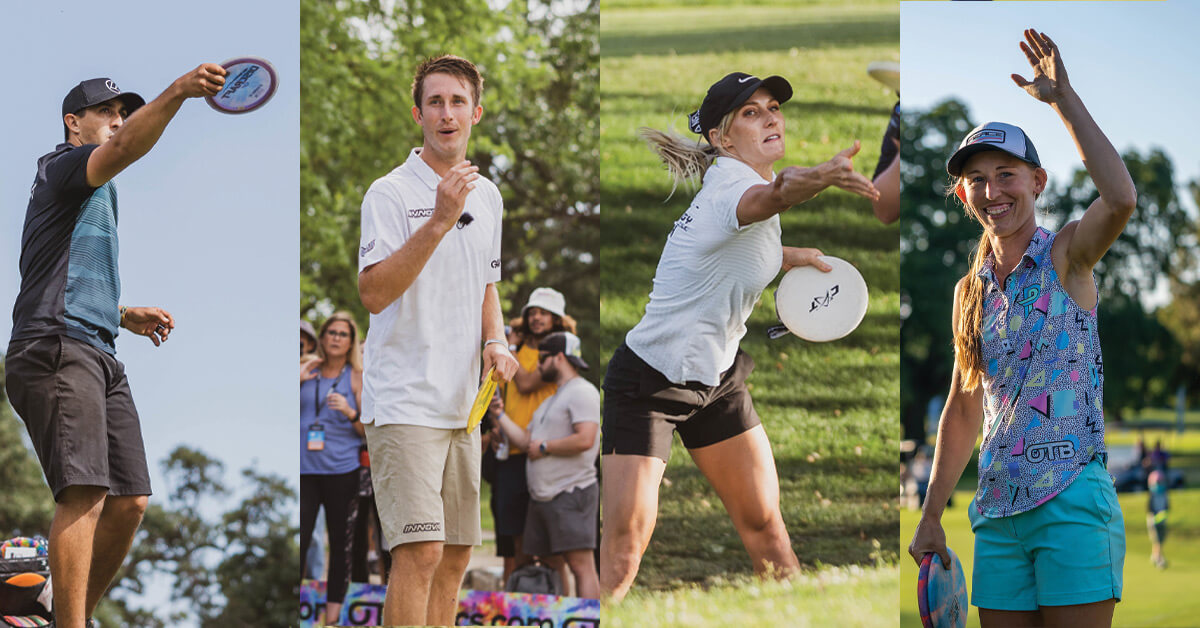 Disc golf fans are well aware of the sport's two most storied rivalries, at least in recent times: Paul McBeth vs. Ricky Wysocki and Paige Pierce vs. Catrina Allen. Both duos have provided classic battles, intense finishes, and endless conversation about who is the most dominant disc golfer of the current era.
A look at the Disc Golf World Rankings, though, can provide even greater context about how close (or not!) these rivalries really are.
Paul McBeth vs. Ricky Wysocki in the UDisc Live Era
| | | |
| --- | --- | --- |
| | McBeth | Wysocki |
| Events Played | 67 | 76 |
| Current World Ranking | 3 | 2 |
| Peak World Ranking | 1 | 1 |
| Weeks at #1 | 168 | 64 |
| Total Wins | 25 | 21 |
| Total Wins Against Rival | 22 | 14 |
| Upsets (Win When Rival is #1) | 6 | 10 |
| Event With Largest Upset | 2018 San Francisco Open | 2019 San Francisco Open |
| Initial Winning Probability in Largest Upset | 40.01% | 31.48% |
| Event With Largest Winning Probability | 2020 Dynamic Discs Open | 2018 Santa Cruz Masters Cup |
| Largest Winning Probability | 74.85% | 59.99% |
Paige Pierce vs. Catrina Allen in the UDisc Live Era
| | | |
| --- | --- | --- |
| | Pierce | Allen |
| Events Played | 70 | 76 |
| Current World Ranking | 1 | 3 |
| Peak World Ranking | 1 | 1 |
| Weeks at #1 | 205 | 11 |
| Total Wins | 43 | 15 |
| Total Wins Against Rival | 41 | 11 |
| Upsets (Win When Rival is #1) | 4 | 9 |
| Event With Largest Upset | 2017 Gentlemen's Club Challenge | 2018 Beaver State Fling |
| Initial Winning Probability in Largest Upset | 37.13% | 16.94% |
| Event With Largest Winning Probability | 2018 Glass Blown Open | 2017 Gentlemen's Club Challenge |
| Largest Winning Probability | 89.94% | 62.87% |
The numbers don't lie: Paul McBeth and Ricky Wysocki have delivered a far closer rivalry over the years than Paige Pierce and Catrina Allen. While McBeth has been the dominant force of that head-to-head – he's nearly tripled his time atop the list compared to Wysocki – the pair have flip-flopped between #1 and #2 10 times in the past four seasons. That has, however, allowed Wysocki to rack up more upset victories since he's spent more time in the co-pilot's seat.
And for how often they have been #1 and #2 over the years, the gap between Pierce and Allen has been cavernous. Pierce has rarely yielded her grip on the top of the rankings, only three times slipping into second place. And of those three times, it wasn't always Allen who usurped her; rather, Eveliina Salonen jumped to #1 two out of three times.
Paige Pierce's Streaks
Pierce's streaks as the #1 player in the world have been impressively long, and when a streak is broken she does not stay down for long:
| | | | |
| --- | --- | --- | --- |
| From | To | Number of Days at #1 | Who Broke Streak? |
| March 3, 2017 | April 27, 2019 | 785 | C. Allen |
| June 9, 2019 | August 16, 2020 | 434 | Salonen |
| September 9, 2020 | April 18, 2021 | 221 | Salonen |
| May 16, 2021 | Present | 36 | Still active |
Simply put, Paige Pierce is dominant. You already knew this, but the numbers put it in stark perspective.
Upset City (aka 2018 Pro Worlds)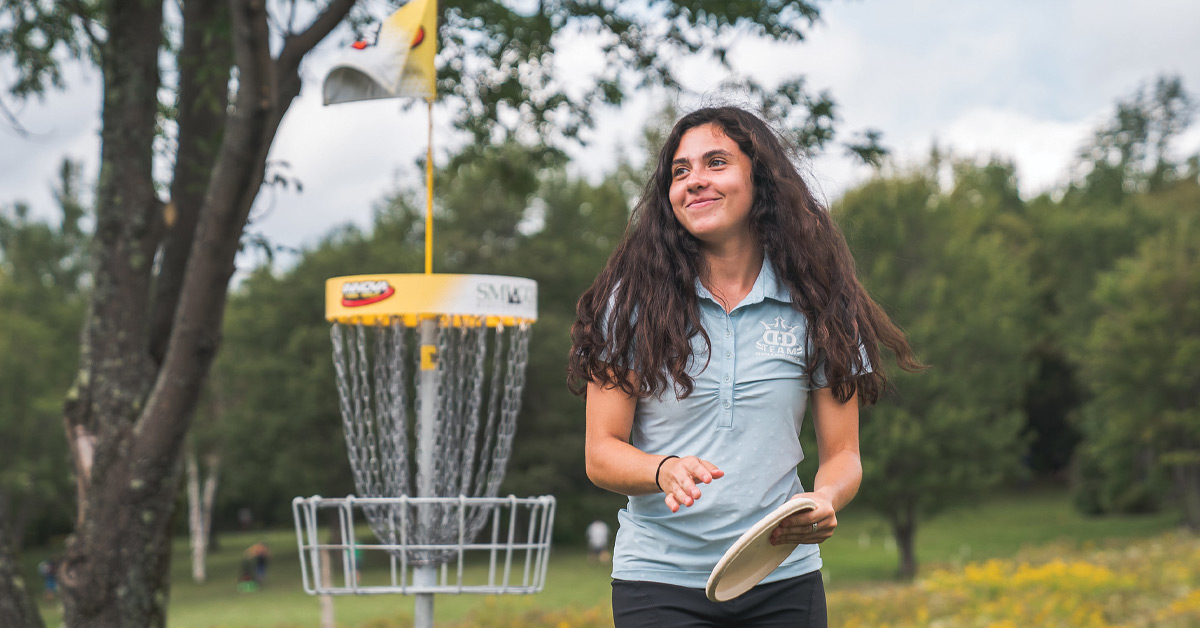 Just because most of the talk so far has been on the top players in the world, that doesn't mean we can't highlight the underdogs. And what better way to do it than hopping in our time machine and traveling back to Upset City, otherwise known as Jeffersonville, Vermont.
That was the site of the 2018 PDGA Pro World Championships, which delivered two heartwarming, surprising new world champs in Gregg Barsby and Paige Shue.
For Barsby, it was the culmination of nearly two decades of dedication to the sport, a week that featured a hail of Circle 2 putts and a throng of fans playfully dubbed The Barsbarians. The California native entered the event as the #11 player in the world and was expected to finish the tournament in the same place, sporting a Dominance Index of 14.40. Wysocki was the favorite as the world #1 and touted a Dominance Index of 55.09.
Using the formula to D1 / (D1 + D2) to compare players' head-to-head win probability by using their Dominance Index, here's what we get:
14.40 / (14.40 + 55.09) = .2072
That means Barsby had a 20.72% likelihood of finishing better than Wysocki before the 2018 Worlds started. Note that this was not Barsby's probability of winning the event – that is not what the Dominance Index measures – but the pre-event head-to-head odds made the upset victory all the more impressive.
In FPO, meanwhile, Shue came into Smuggs that week as the #8 player in the world and was expected to finish in 3rd place. With Paige Pierce as the #1, their Dominance Index comp looked like this:
13.05 / (13.05 + 59.76) = .1792
Shue defied a 17.92% win probability (again, just against Pierce, her overall win probability with a full field of 49 competitors was far lower) with controlled distance and a relatively conservative game plan that launched her to a career-defining title (and made the most of her only top 5 Worlds appearance).
UDisc Data Scientist Doeke Buursma offered the following thoughts on the pair of 1x champions who were crowned in Vermont:
One of my biggest takeaways here is how similar these two upsets were. Both world #1s were relatively down (the MPO "GOAT" McBeth wasn't #1 at the time, but he and Eagle were both right behind Ricky, and the FPO "GOAT" Pierce at her peak had twice the dominance index than she did at 2018 Worlds). Their initial rankings were hovering around 10, and they had similar chances of beating the world #1s.
It's tournaments like these that fans and players – especially those who can write their names into the history books for the first time – live for.
Hot Debuts
Former Ultimate/current disc golf rockstar Ella Hansen would have debuted on our World Rankings at #14 had they been deployed at the Santa Cruz Masters Cup. Since then she's ascended to an astounding #9 in the world – with less than a year of competitive disc golf under her belt.
That got us thinking about hot debuts in recent memory. Where did some of your favorite players enter the World Rankings, and where are they now?
Player
Debut World Ranking
Peak World Ranking
Current World Ranking
Ella Hansen
14
2021 Santa Cruz Masters Cup
9
2021 Pro Worlds
9
Calvin Heimburg
68
2017 Pro Worlds
2
2020 Dynamic Discs Open
4
Kevin Jones
83
2017 USDGC
4
2019 European Open
7
Hailey King
21
2019 Memorial Championship
6
2020 Santa Cruz Masters Cup

7
Eveliina Salonen
9
2017 Gentlemen's Club Challenge
1
2020 Green Mountain Championship (DNP)
2
Brodie Smith
108
2021 Open at Belton
54
2021 Resistance Discs Open 
58
Heather Young
15
2020 Discraft Great Lakes Open
7
2021 Waco Annual Charity Open
8
On the Outside Looking In (But Not For Long)
An important feature of UDisc's World Rankings system is that it seeks to award the best players for their performances on the biggest stages. That's why only certain events are included and why players have to meet a touring points threshold in order to appear on the list.
That distinction means that some players who boast world-class skills didn't make the cut because they aren't traveling. Cale Leiviska? He's the pride of Minnesota and we won't be surprised if he shows up and cracks the top 5 at Pro Worlds. He's just that good. The same can be said for Matt Orum (who might actually be more likely to crack the top 5 if history is any indication), Jennifer Allen, and more.
While that might be disappointing for some fans (and players!) right now, that feeling shouldn't last long. Here are competitors who are not currently ranked that we expect to emerge onto the list as their summer touring schedules open up – perhaps even as soon as Pro Worlds is complete:
What can World Rankings tell us about 2021 Pro Worlds?
The Dominance Index of each player on the World Rankings list can be used as a comparative tool – and that tool is already built into UDisc Live. That means fans can select up to six players and see their head-to-head (to head-to-head...) win probability on the eve of the biggest disc golf tournament of the year. 
For the purposes of this exercise, we'll just look at the top five registered players for Pro Worlds in each division and generate their win probabilities: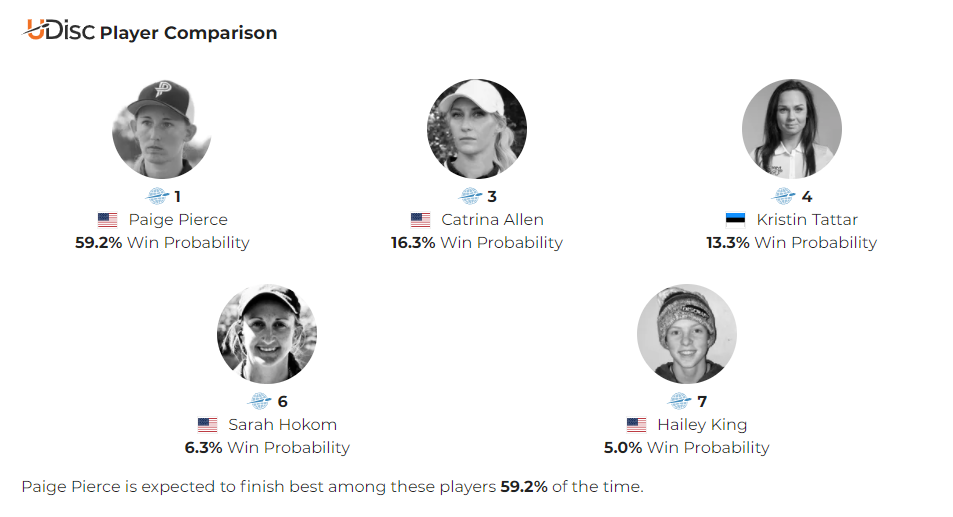 They are the #1 players in the world for a reason: Both McMahon and Pierce, when compared against the rest of the top 5, are expected to win the 2021 PDGA Pro World Championships. But that probability is much slimmer in the Open division than it is in Open Women, and it only accounts for the players in these comparison charts. Against a full field those chances end up being lower, but it's still a fun look at how these competitors stack up in the rankings.
An important caveat to UDisc's Player Comparison tool: It is only useful when players start on even footing. So, since Pro Worlds hasn't yet teed off, everyone is starting at the same score. As the tournament progresses and scores separate, this tool will still be entertaining, but not predictive – unless, that is, all of the players you compare are tied. So hold out hope for a four-way lead card logjam in each division for the final round and go nuts with the comparison tool!
Follow along with instant scoring and statistics from PDGA Pro Worlds all week at UDisc Live, and come back for updated Disc Golf World Rankings on Monday, June 28.