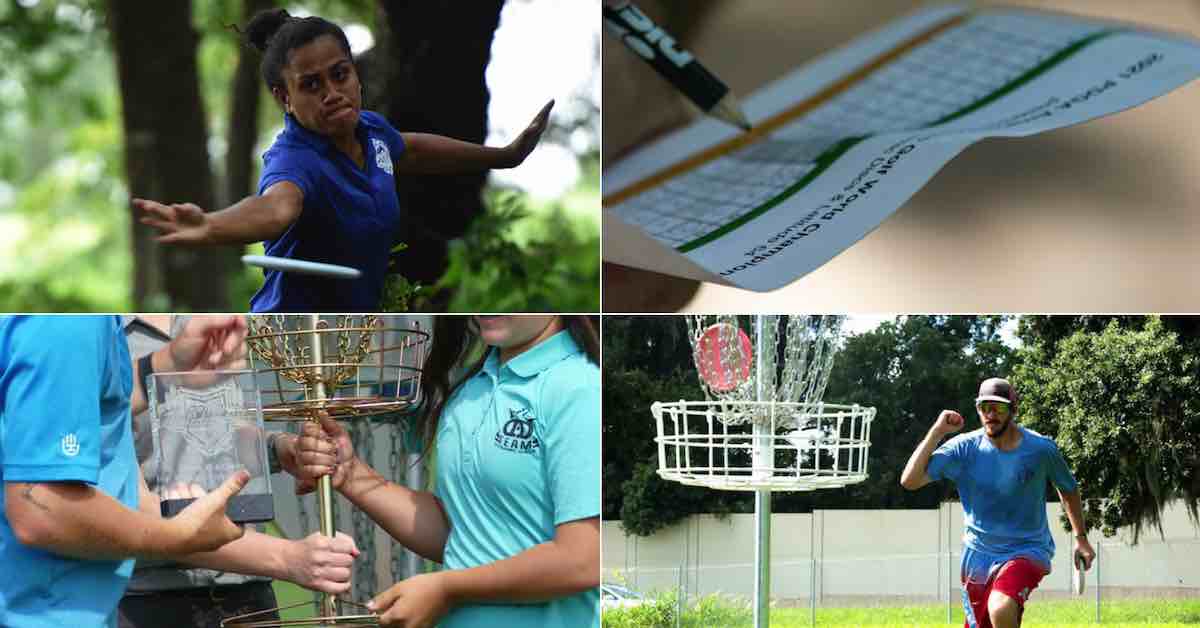 Most disc golfers start out playing the sport casually. It's something fun, relaxing, and healthy to do outside with friends and family.

For some, that's the niche disc golf will always fill in their lives. Others get interested in the competitive side of the sport and want to see how their skills compare with their peers'.

This post is a resource for those hoping to enter their first disc golf tournament, and it covers the following topics:
When Am I Ready to Play a Disc Golf Tournament?
You don't need to be among the world's best disc golfers to play a tournament. If you've disc golfed long enough to get interested in competing, you're likely almost ready to do it.

Many disc golf tournaments have various divisions for people of all skill levels (though that's not the case in all European countries or areas with low numbers of players), and the Professional Disc Golf Association (PDGA) has a detailed guide describing the types of competitors each division is meant for.
But even if your perfect division isn't available, you shouldn't feel intimidated. If you politely let groups you play with know it's your first tournament, they'll typically be happy to help you avoid rookie mistakes.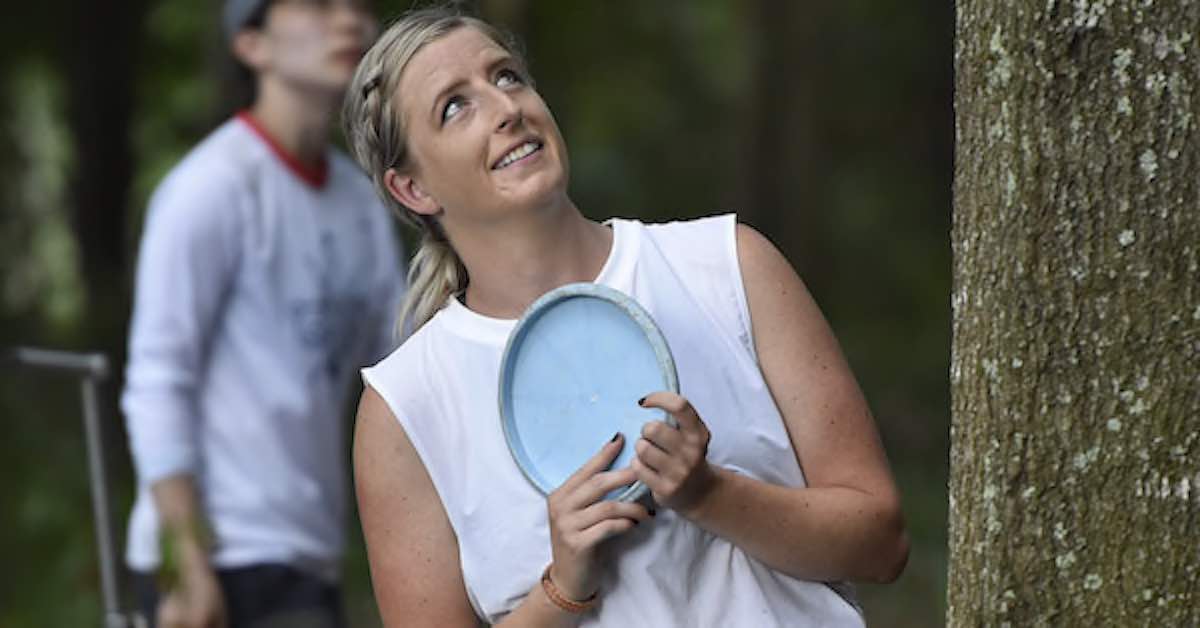 However, there are a few things to ask yourself before you register for your first formal disc golf tournament:
Am I familiar with the real rules of disc golf?
If you've only played disc golf by yourself or among friends or family who haven't competed in formal leagues or tournaments, you probably don't know some very important rules of the game. Breaking rules during a tournament can result in you receiving penalties and possibly create tension or frustration with those you end up playing with. Read the section What Rules Should I Know Before I Play a Disc Golf Tournament? later in this post to find resources that'll help you learn the ropes.
Can I play at tournament pace?
If you're the type of player who can't stand waiting on tees for groups ahead of you, you need to brace yourself for the pace of tournaments, which is often much slower than a typical casual round. You'll likely be playing on a course where every hole has a group on it and with people taking more time than usual to line up their shots and be precise as possible. Bypassing slower groups isn't allowed.
Am I ready for every shot to count?
When you play in a disc golf tournament, there aren't do-overs or even chances for you to practice between holes when you make mistakes. If your putt feels off mid-round, you can't practice putt until it feels right again – not at a basket, a tree, or any other object. If you're considering entering a disc golf tournament, try playing a few rounds where you keep score, play only your first throws, and avoid all practice (e.g., extra tee shots following a shank, throwing second and third putts after missing, etc.) to get yourself ready for tournament conditions.
Types of Disc Golf Tournaments
Many disc golf tournaments are sanctioned by the the PDGA, and the majority of these are organized into A, B, and C-Tier events. There are higher tiers, but they're reserved for disc golf's biggest events.
Here are the basics of what those three tiers mean:
C-Tier disc golf tournament
C-Tier events are likely to be the most comfortable for first-time disc golf tournament players. You do not have to have a PDGA membership to play in them, and the stakes are lower at these events in terms of potential prizes.
B-Tier disc golf tournament
A fairly high level event but perhaps without a proven track record like an A-Tier. B-Tiers tend to offer prizes big enough to attract solid competition that can be similar to A-Tiers. A player must be a PDGA member (which costs a yearly fee) to play a B-Tier.
A-Tier disc golf tournament
An event that has been run successfully by an experienced tournament director for a number of years. These events offer high-level prizes, so there's typically very stiff competition in all divisions. A player must be a PDGA member to play an A-Tier.
Note that the tiers don't relate to the difficulty of the course or courses you'll play. There are also plenty of tournaments and other competitions that aren't sanctioned by the PDGA.

Additionally, we highly recommend that if you've never played any formal disc golf tournament that you try a disc golf league first. Leagues (also often called "weeklies" or "minis") are usually one-round events that provide a competitive atmosphere where the official rules are followed but players tend to be more relaxed than at formal disc golf tournaments.
One way to find leagues near you is to check on UDisc Leagues. The strategy of asking in local disc golf social media groups or checking local clubs' websites is also a good way to discover leagues. Some leagues are free and some have an entry fee.

Learn more about the benefits of leagues in our post "Three Ways Leagues Make You A Better Disc Golfer."
Disc Golf Tournaments Near You
You can locate many of the disc golf tournaments in your area with Disc Golf Places or by using the Events tab in the UDisc app. We have full instructions for both of these tools in our post "Disc Golf Tournaments Near You: How to Find Them."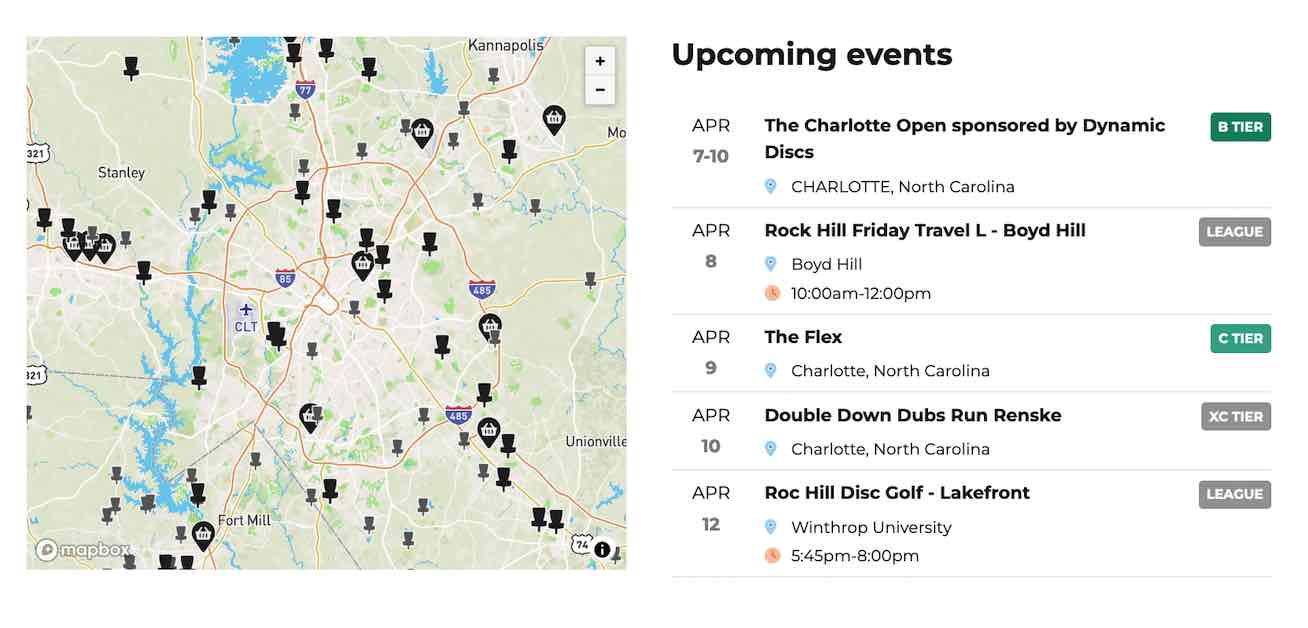 To find events not sanctioned by the PDGA, local disc golf clubs' social media pages or websites are good resources.
How To Sign Up for Disc Golf Tournaments
There is no single way or place to sign up for all disc golf tournaments as various methods of registration and entry fee payment are used across the world. If you've found an event you're interested in playing but can't locate registration information, the best thing to do is reach out to the event organizer (event pages typically have contact email addresses).

Note that due to the recent disc golf boom, getting a spot in a disc golf tournament has become increasingly difficult. In places where disc golf is popular, tournaments often fill up minutes after registration opens. If you want to avoid the waiting list, you may need to identify a tournament you'd like to play that hasn't opened registration yet and make sure you're available to sign up the minute it does.
What Rules Should I Know Before Playing a Disc Golf Tournament?
The most important disc golf rules and bits of etiquette to know before your first disc golf tournament are these:
Order of play on the tee
On the first hole of your first round, throwing order is set by the order of names on your scorecard (paper or digital). After that, tee off order is based on each player's results on the previous hole. The player with the best result goes first, next-best second, etc. If players complete holes with the same score, the order is determined by who went before whom on the last hole.

At the start of subsequent rounds, teeing order is based on overall score.
Order of play on fairways and greens
The player who is farthest from the basket is always the first person to throw or putt.
How scoring works
Scores should be taken after each hole is completed, usually at the tee for the next hole. The person recording scores typically just says each player's name, and players respond with the number of throws they took to complete the hole (so "two" or "three" and not "birdie" or "par").
No music on speakers allowed
You can't play music (or anything else) aloud during a formal disc golf tournament. If you feel like you need music, you are allowed to wear headphones when competing, but the volume can't be so high that other players hear what you're listening to or you can't interact with your card mates when needed.
Rules about searching for discs
Keep a good eye on where your disc is headed during tournaments. If you can't find your disc when it's your turn to throw, you not only have to throw from your previous lie but also take a one-throw penalty. The official rules are that you have three minutes to find your disc once it's your turn to throw. Your group is required to help you search for your disc, and you're required to help someone else search for theirs if it's lost.
Just because something bothers you doesn't mean you can move it
In a formal tournament, doing something like holding down branches of a bush or tree to make your throw more comfortable isn't allowed. The only things you're allowed to move are A) twigs, rocks, or other small debris (not living plants) and B) unconnected branches (i.e., branches that are dead and not in any way connected to a stump or living tree) that are in a place where you could put a supporting point (typically a foot or knee) when throwing. When getting to your disc in a thickly wooded area, you need to do so while altering the plant life as little as possible.

Ultimately, before you move anything, it's best to confirm with your group that you're allowed to move it.

Illegally moving objects results in a penalty throw.
You have to put the disc in the basket to finish a hole
Even if you're a centimeter away from the basket, you are required to drop the disc in the basket, let it rest for a sec, and then get it back out. Otherwise, you haven't legally finished the hole and can be penalized.
Legal stances and marking your lie
Where you put your feet (or other supporting points like hands or knees) matters a lot in formal disc golf competition. Also, you need to understand how marking your lie works (you can't just pick up your disc from the ground and throw it). If you don't know what "marking your lie" means or where it's legal to put supporting points, we have a detailed guide to the rules about these topics in the post "Disc Golf Rules Explained: Foot Faults & Legal Stances."
Out of bounds
Most courses have areas that are out-of-bounds (typically shortened to OB) – places where you are penalized for landing and can't play from. Like legal stances, there's a lot to know about how OB works. Learn all about it in our post "Disc Golf Rules Explained: Out Of Bounds (OB)."
Mandatories
A mandatory restricts how you can play a hole (e.g., you have to go left around a certain tree instead of left or right). Not every course has a mandatory, but they are fairly common in some regions. You should know what to do if you encounter one, and you can learn all about that in "Disc Golf Rules Explained: Mandatories (Mandos)."
Relief
In rare cases, you land somewhere that's impossible or too dangerous to play from. Find out how to deal with that situation legally in "Disc Golf Rules Explained: Relief."
Basic etiquette
To learn what experienced tournament disc golfers will typically expect out of people they play with, check out the 'Playing in Groups' section of "Stay Classy, Disc Golfers: Rules Of Disc Golf Etiquette" and our other post "How To Be A Great Disc Golf Card Mate."
What Can I Expect at a Disc Golf Tournament?
If you're playing what's called a "shotgun start" disc golf tournament where all players begin at the same time on different holes of the course (currently the most common format at all but elite-level events), your tournament day will probably go something like this:
Registration & players' meeting
Registration opens well before the players' meeting starts. You need to register or a tournament director will assume you're not at the event.
You find out which hole you start on. This may happen during registration or via an electronic format. If you're not sure where you start the tournament, make sure to ask during registration.
Learn how scoring will work before leaving registration. Some tournaments still use paper scorecards while others are completely digital. If the tournament is using paper scorecards, it could be your responsibility to take them for your card if you're listed first on it. Don't forget to ask!
If you arrive well before the players' meeting (highly recommended), you can warm up and practice before it begins.
The players' meeting will start (make sure you know the time and location of the meeting before finishing registration if you're unsure). The tournament director will explain important aspects of the competition and clarify rules that could confuse players. Competitors can ask questions during the players' meeting if anything is unclear.
At your starting hole, playing, and scoring
After the players' meeting, go to your starting hole. Greet and introduce yourself to your card mates. This would be a good time to let them know it's your first tournament and they should tell you if they notice you doing anything incorrectly.
Up until two minutes before the start of a round, competitors can still practice throws or putts. If you intentionally throw/putt a disc within two minutes of a round's start, your score in the upcoming round can be penalized. Typically, an air horn will sound or people will start yelling, "Two minutes!" at the two minute mark so you know when to stop.
Once there are just two minutes left, go to the tee and decide with your card mates who will be keeping score (if this wasn't taken care of earlier).
Once the round begins, be respectful when others throw. Scoring for a hole is usually recorded once a group has reached the tee for the next hole.
Finalizing & turning in round scores
When a round is complete, check that all of your scores are correct for every hole. If using a paper scorecard make absolutely sure that A) your final total score is written down in the correct spot and B) the total of the individual scores written for each hole match the final score. If you turn in a scorecard with mathematical errors, you will be penalized two throws.
If scoring on paper, assure that your scorecard is turned in in a timely manner. The official rules are that you have 30 minutes following a round to get in your scorecard before being penalized.
Subsequent rounds
In tournaments with multiple rounds, you'll need to wait for scores to be tallied to find out where your next starting hole will be. This information could be posted at tournament central (likely where you registered) and/or distributed digitally.
Make sure you know when the second round will start and how to find out your starting hole.
Tournament's end
The tournament director and some helpers will tally scores and get ready to hand out prizes (typically at tournament central). If there are playoffs for first place in any division, those will happen before prizes are given out.
Know that many higher-tier tournaments use tee times, which is where all players start on hole 1 but have different tee times throughout the day. If you play in a tournament using tee times, disregard the information about "finding your starting hole." Just make sure to be at hole 1 a good amount of time before you're scheduled to tee off.
What's a CTP in Disc Golf?
CTP stands for "closest to pin." If a hole has a CTP on it, it means that the player whose disc comes to rest closest to the basket wins some sort of prize. Some CTPs exist over whole tournaments and some just for rounds. Different tournaments use different ways to record CTPs, and CTP prizes are typically given out at the end of tournaments.
What's an Ace Pool in Disc Golf?
An ace pool is a pot players can pay into and if anyone who paid into the ace pool gets a hole-in-one during the tournament, they win the pot. Ace pools are very common at tournaments, but paying into the ace pool is always optional.
What's a Flex Start Disc Golf Tournament?
A flex start disc golf tournament is one where players can start a round at the time that suits them best. However, a player still must play in a group of at least three. Some flex start tournaments allow players to choose their own groups and start at their convenience within a given time span (say 9 a.m. to 6 p.m.), and others have players sign up for specific time slots.

Flex start tournaments are often one round and typically use digital scoring. It's probably best to play traditional tournaments before playing a flex start – especially if you're just getting the hang of formal disc golf rules.
Want More Advice? Ask Us!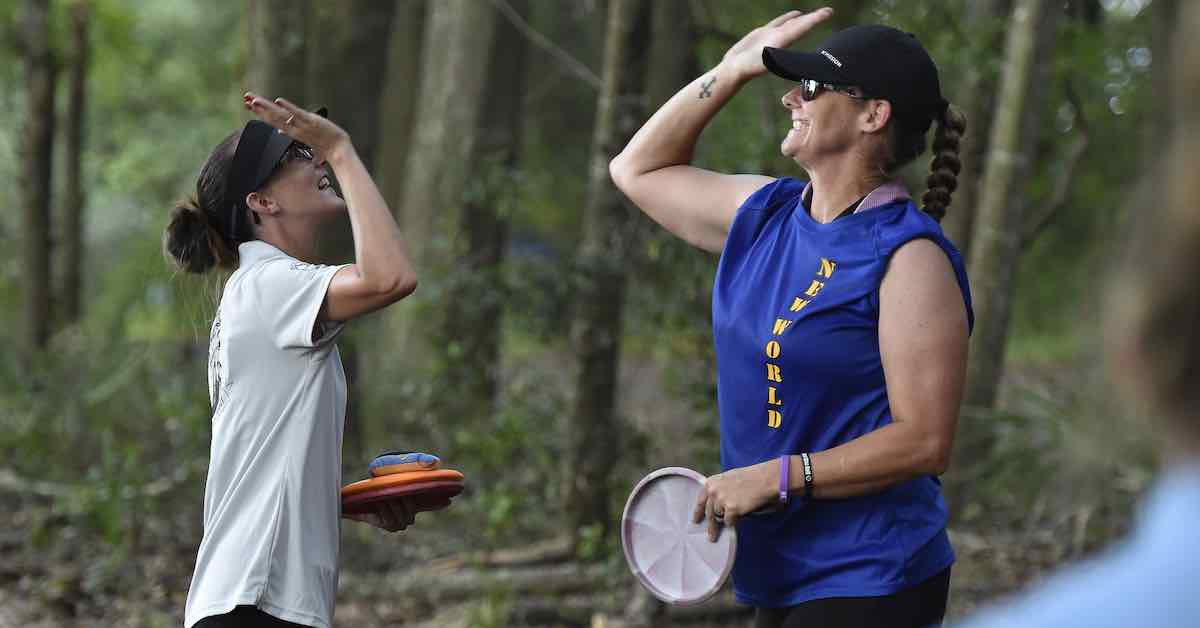 We hope the information above helps you feel more prepared to play in your first disc golf tournament. If there's a topic you were hoping to learn more about that we didn't cover, let us know. You can reach us at releasepoint@udisc.com.
You can also find plenty of other resources to help make you ready to perform at your best on our blog, including tips for playing consistently at disc golf tournaments, breakdowns of videos that will help you hone your game, exercises to help you get in competitive shape and avoid disc golf injuries, and much more. Look around and see what you find!
To make sure you know when we release more posts like this, you can sign up for our 'Release Point' newsletter.