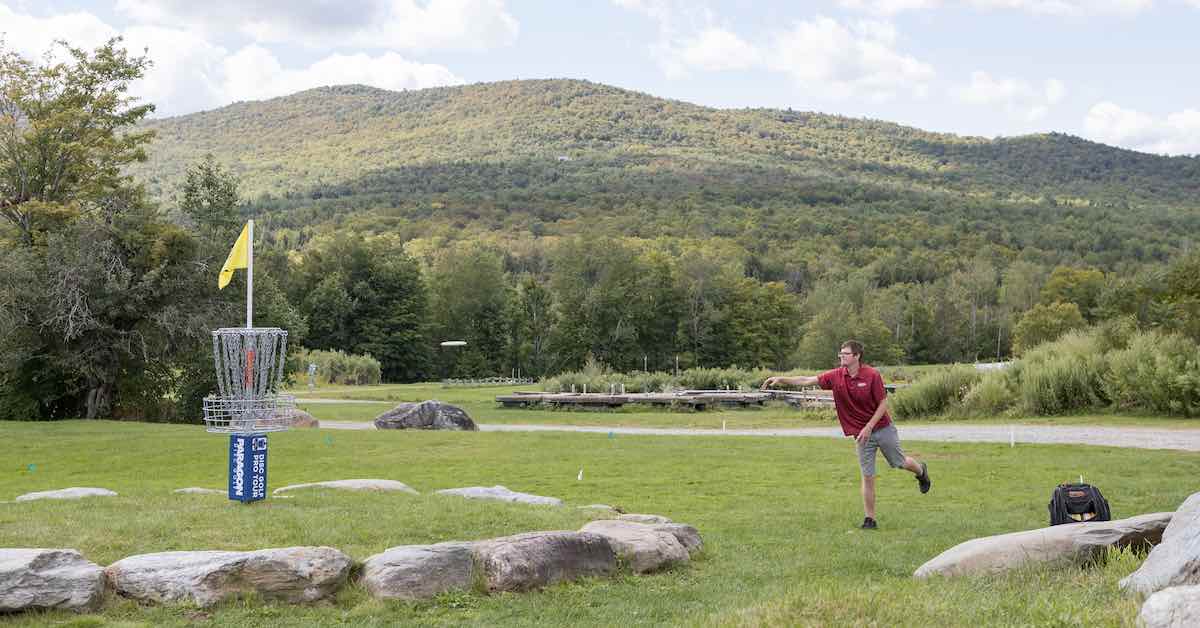 Vermont's Green Mountain Championship (GMC) at Smugglers' Notch Resort – Smuggs, for short – has been one of the standouts on the Disc Golf Pro Tour since the series began in 2016. The competition is held on two of the world's best disc golf courses (Brewster Ridge and Fox Run Meadows), both of which are privately owned and meticulously maintained and improved by Smuggs.
Two things were special about the GMC in 2022: 1) It was the first-ever DGPT Playoff event and 2) this was the last time pros got to play Smuggs' courses in a high-tension environment prior to returning to it for the 2023 Pro Disc Golf World Championships.

The 2022 GMC was four rounds from Thursday, September 15 to Sunday, September 18. There was a cut following the third round.
Learn more about the GMC (click/tap any bullet point to jump to that info):
2022 Green Mountain Championship Disc Golf Tournament Scores & Stats
You can find shot-by-shot scores, stats, and more for the 2022 Green Mountain Championship on UDisc Live.
2022 Green Mountain Championship Disc Golf Tournament Winning Probabilities
Prior to the start of the 2022 GMC, these are the players UDisc Live's pro disc golf Win Probability model gave at least a 2% chance to win in MPO and FPO:
| | | | | | | |
| --- | --- | --- | --- | --- | --- | --- |
| Win Probability Before Event | Player: MPO | Actual Place at 2022 GMC |   | Win Probability Before Event | Player: FPO | Actual Place at 2022 GMC |
| 16% | Paul McBeth | 5 | | 58% | Kristin Tattar | 1 |
| 16% | Matt Orum | T2 | | 12% | Paige Pierce | T18 |
| 14% | Ricky Wysocki | 1 | | 9% | Catrina Allen | T24 |
| 12% | Chris Dickerson | T2 | | 5% | Ohn Scoggins | 3 |
| 9% | Gannon Buhr | 6 | | 4% | Eveliina Salonen | 6 |
| 9% | Calvin Heimburg | T14 | | 4% | Valerie Mandujano | 5 |
| 4% | Simon Lizotte | 51 | | 3% | Missy Gannon | 4 |
| 3% | Joel Freeman | T28 | | 2% | Henna Blomroos | 2 |
| 3% | Kyle Klein | 21 | | | | |
| 2% | Anthony Barela | T28 | | | | |
| 2% | James Conrad | 34 | | | | |
| 2% | Isaac Robinson | T2 | | | | |
On mobile, swipe left/right to see all columns.

These percentages were created prior to the start of the event and changed dramatically as the event played out. To see how, click or tap the Win Probability tab at the top of UDisc Live.

Note that Win Probability doesn't always match up with Disc Golf World Ranking because Win Probability takes into account how players have historically performed on holes of specific distances and difficulty and compares that information just to holes they'll face at a single event. That means the numbers above relate to how players' historical performances suggest they'll do just at the 2022 GMC whereas World Ranking is a broader assessment of past performance.
Who Won the 2022 Green Mountain Championship?
Ricky Wysocki (34-under par) and Kristin Tattar (10-under par) won the 2022 GMC in MPO and FPO, respectively.
Who else made the podium at the 2022 Green Mountain Championship in MPO?
Who else made the podium at the 2022 Green Mountain Championship in FPO?
Green Mountain Championship Disc Golf Tournament History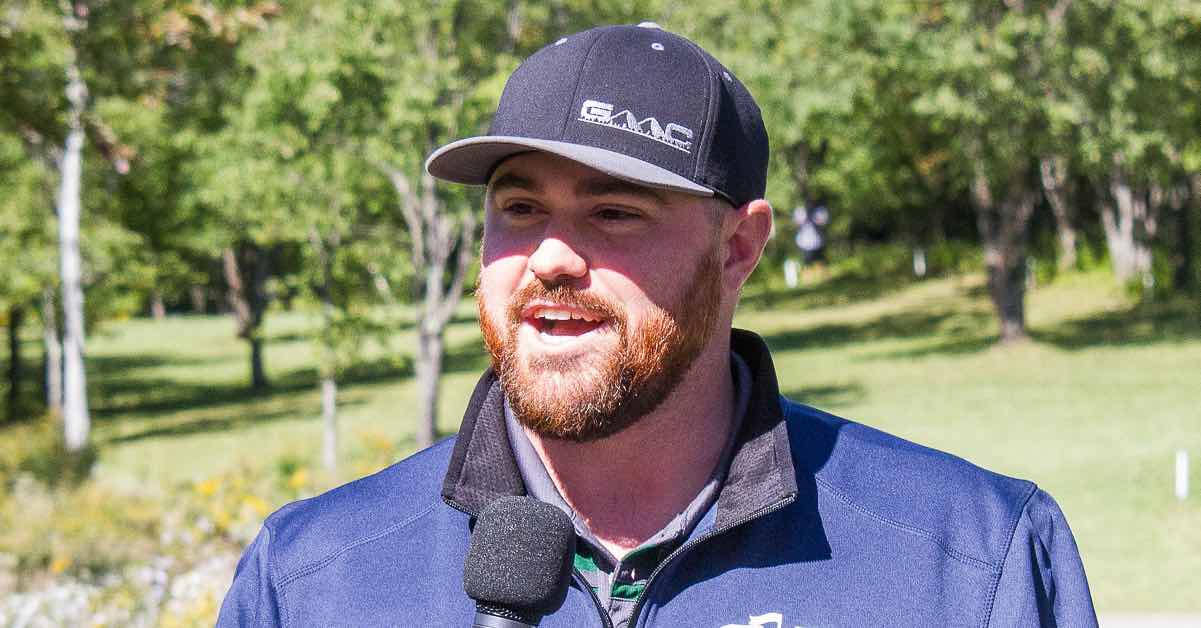 It's fair to say that without the Green Mountain Championship, the DGPT as we know it today would not exist (don't worry, we get to why later on). But just like that tour, it hasn't existed for very long.

The tournament was held for the first time in 2013, shortly after Smuggs' first world-class course, Brewster Ridge, was completed and opened to the public. We've told a fuller version of how the resort came to build the course before in our post "World's Best Disc Golf Courses: Brewster Ridge," but we'll recount it in brief here. 

In 2011, Smuggs was in talks with a large hotel and resort management organization called Wyndham about it managing some of Smuggs' property. The person organizing the deal on Wyndham's side, Alan Litwack, turned out to be a disc golfer, and he suggested that Smuggs create a better disc golf option than the small, unkempt course it had at the time.

Jeff Spring, then a board member of Vermont's state-wide disc golf club, worked at Smuggs and heard that the president could be interested in improving Smuggs' disc golf offerings. He approached the president and eventually received approval to create a course. The major mandate the president gave Spring was to build something that could host the world's biggest disc golf events.

For Spring, a disc golf lover with interest and experience in managing large events, almost nothing could've sounded sweeter.

When the course was ready and the first GMC happened in 2013, the vast majority of top tier disc golf tournaments were played at courses in public parks. The fact that the GMC took place on an area of private property reserved specifically for disc golf made it stand out. Add to that Smuggs' location in Vermont's beautiful mountains and an experienced event organizer dedicating a lot of his energy to making sure the competition went off without a hitch, and it's easy to see why the GMC quickly created buzz among touring players.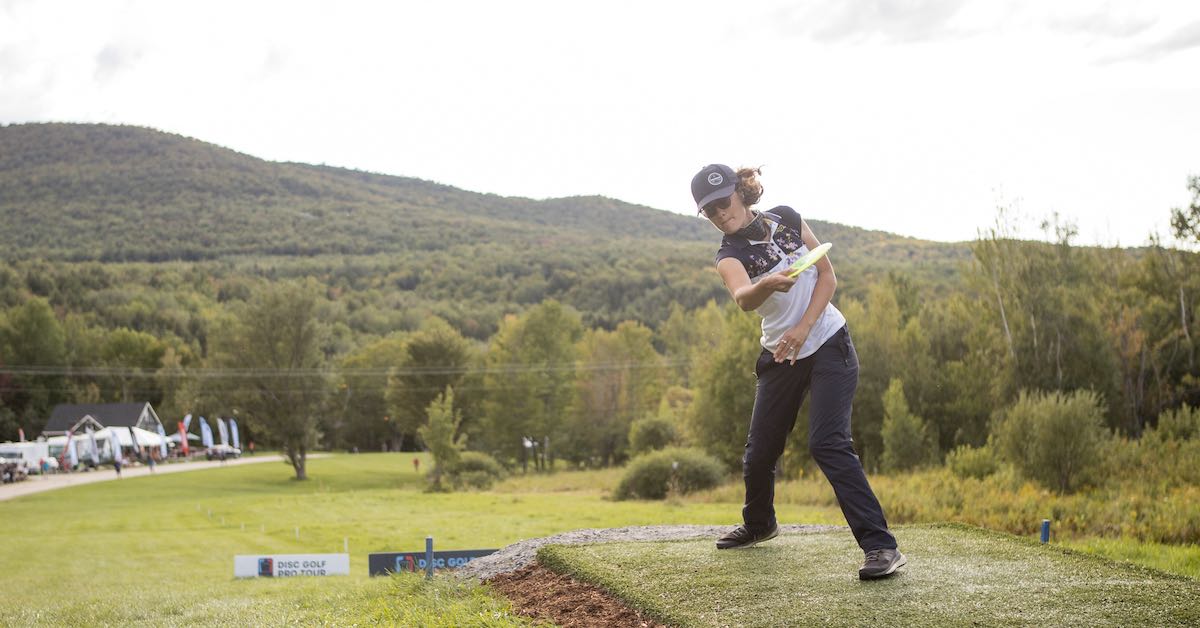 Two years later, Smuggs had built another course, Fox Run, with the majority of its design coming from 2013 U.S. Disc Golf Championship winner Steve Brinster. The course's more open holes complemented Brewster's wooded fairways, providing two very different challenges on the same property.

As Smuggs' courses and the annual tournament began to generate more and more excitement, Spring also made and more and more contacts within the disc golf world. One of those was Steve Dodge, the part-owner of Maple Hill Disc Golf and the director of what was then the Vibram Open (now MVP Open).

Dodge had been thinking for some years about creating a professional disc golf tour that would make it possible for players to more easily make a living from professional disc golf. The main ways he would do that would be 1) assuring high payouts and 2) making sure the events were planned so that competitors would not be crisscrossing the country every few weeks but instead could travel reasonable distances from one event to another.

In the fall of 2015, Spring – along with Ledgestone Insurance Open tournament director Nate Heinold – encouraged Dodge to start the tour and assured him their events would be part of it. Their backing helped convince Dodge to launch the Disc Golf Pro Tour in 2016, on which the GMC was a standout event. It has continued the be one of the most anticipated competitions on the DGPT every year since, other than in 2018 when the Smuggs crew took a year off to devote themselves entirely to organizing that year's PDGA Pro World Championships.

Partly due to the success of his efforts to make Smuggs an internationally-known disc golf destination, Spring was chosen to be Tour Director when the DGPT changed ownership in late 2019. His successor at the resort is Nick Hover, who is the Operations Director of Smuggs' Disc Golf & Outdoor Center and assistant tournament director of the 2021 GMC. Hover says that the GMC has undoubtedly helped attract people to Smuggs and its courses, and the plan is for the tournament to continue strong for years to come.

"Each year the event has continued to grow into what you see today!" Hover said. "We've had more visitors than ever this summer, with many players traveling from out of state to play both Brewster Ridge and Fox Run Meadows, commenting how they saw us on live coverage and wanted to experience the beauty Smuggs has to offer for themselves. We look forward to continuing our partnership with the DGPT in the following years to keep the Green Mountain Championship as the premier disc golf event for the state of Vermont!"

In 2023, World is returning to Smuggs, and the GMC will once again be put on hold as the crew prepares for the planet's most highly-anticipated annual pro disc golf event.
What Does It Mean That the 2022 GMC Was a DGPT Playoff Event?
The 2022 GMC was a playoff both because players had to qualify to compete in it and it was one of just two more chances players had to earn 2022 tour points, which affect qualification and seeding in the DGPT Championship (as well as end-of-season awards calculations). Additionally, DGPT playoff events award 25% more points than typical Elite Series competitions.

The field was capped at 104 MPO and 52 FPO competitors. Only the top 100 MPO players and 50 FPO players in DGPT tour points immediately qualified for registration. Other competitors earned a spot based on a regional qualifier, week-of qualifier, or an exemption granted by GMC or DGPT staff.

2022 is the first year the DGPT has had playoff events.
Highlights from Past Green Mountain Championships

Here are some of the standout moments from past Green Mountain Championships:
2017: Paige Pierce Wins from Chase Card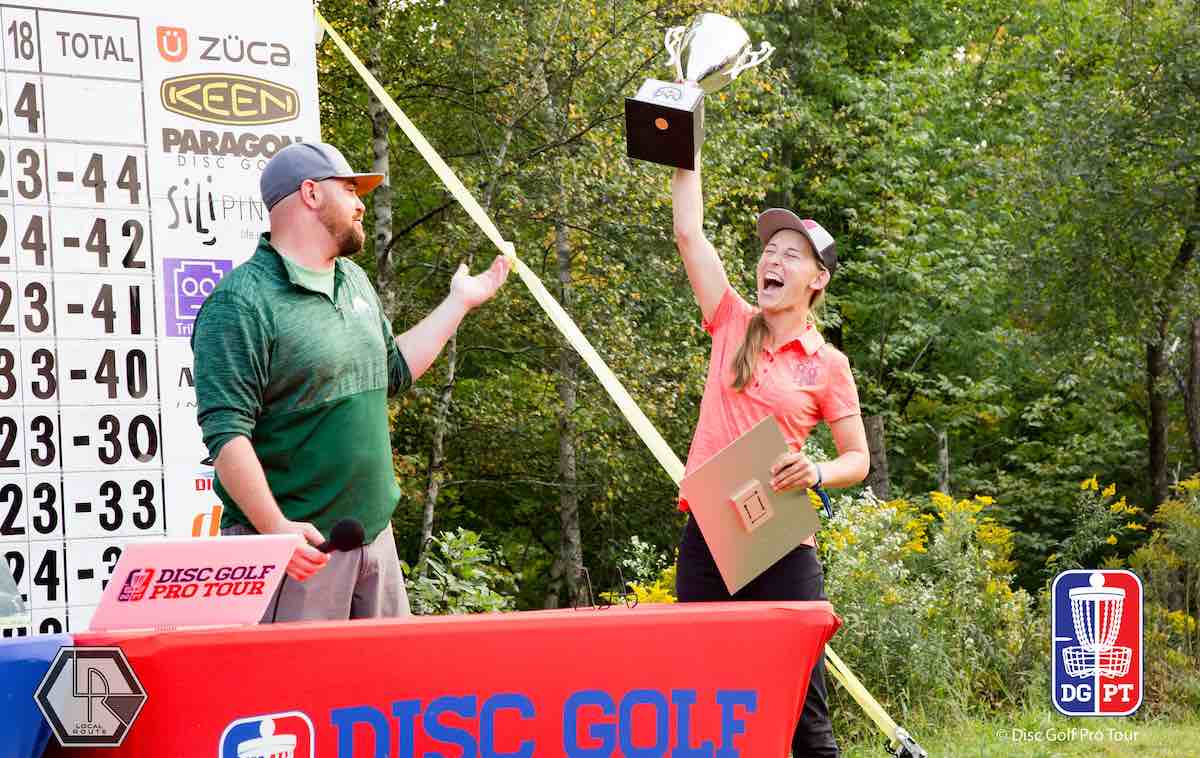 Going into the final round of the 2017 GMC, Sarah Hokom was leading the field at 6-under par. She was joined on the lead card by Catrina Allen (2-under), Jessica Weese (1-under), and Valarie Jenkins (1-under).

Noticeably not in the top four was Paige Pierce. She was at the top of the lead card with a score of even-par. Undaunted, Pierce proceeded to shoot the best round Brewster Ridge saw from the Open Women in 2017: 5-under par. That was a sizeable nine strokes better than her previous showing at the course during the event's second round.

Hokom's disappointing 2-over par during the final round allowed Pierce to pass her on the leaderboard, and no one else on the lead card could keep her at bay either. Pierce's performance produced a rare win from the chase card – something that's always exciting to see.
2017: Nate Doss' Last Big Win Before Becoming a Full-Time Brewer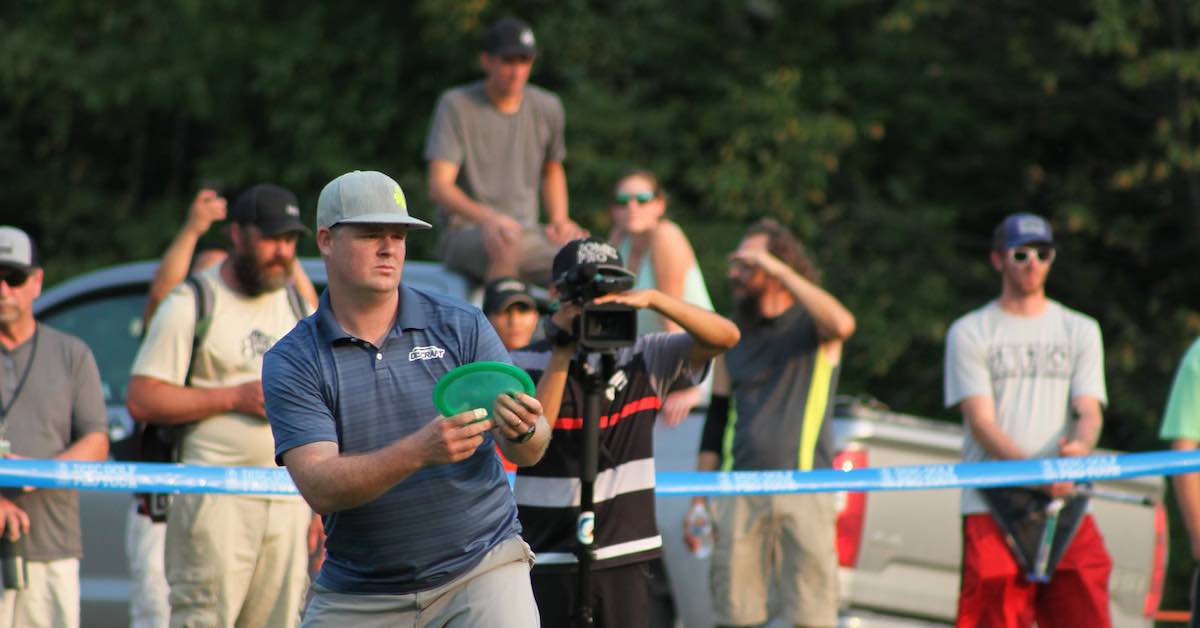 More recent disc golf fans may only know Nate Doss for his commentary work on the Disc Golf Network, but before getting behind the mic, he was one of the best disc golfers ever to play the game. One example of his prowess is that he's one of only six Open players to have multiple World titles.

Another example was his win at the 2017 GMC.

Doss was still competing at a high level in 2017 – he hadn't finished outside the top 10 at any DGPT event he played in 2016 and no lower than 12th that year – but it had been a long time since he'd taken down a big win. At the 2017 GMC, it seemed like he was on a mission to change that.

Doss was never out of the top spot following any round of the event. He started out the tournament by matching fellow tour veteran Michael Johansen's 13-under on Brewster Ridge, the two best rounds in the field. In round two, Doss didn't slow down. His 11-under par at Fox Run Meadows tied two other players (neither was Johansen) for the hot round of the day. Though he didn't match his 13-under from round one, his 11-under par showing during the third round at Brewster kept him in the lead.

On the final day, Doss had a three-stroke advantage over Johansen and Ricky Wysocki and four strokes on Cale Leiviska. But by the last hole, the last competitor he had to worry about was Johansen.

Going into the par 4 hole 18 at Fox Run, Doss led Johansen by just one stroke. OB, and the chance for the stroke swings it creates, lurked everywhere. Johansen teed first and landed safely, putting the pressure on Doss. Not succumbing to stress, Doss pured his drive, leaving himself in bounds and with a simple sidearm to the basket for a birdie.

Doss executed the upshot flawlessly, putting his disc in tap-in range to take the last big win of his pro disc golf career.

If Doss could beat the world's best so recently, you might ask why he isn't still out there. A big reason is that he and his wife Valarie Jenkins (also a multi-time disc golf world champion) decided to pursue a different passion: brewing beer. Learn about what it's been like for them running their craft brewery Bevel in our post "Speak Of The Bevel: Nate Doss & Val Jenkins' Year In Beer."
2019: Sarah Hokom Triumphs Despite Then-Partner's Medical Scare

Sarah Hokom's 2019 GMC started out well. She'd played a 2-under round at Brewster Ridge that tied her with Rebecca Cox for the lead.

But right before Hokom's second round started, something shocking happened. Here's how she described it in a public Facebook post:

"The next morning, a few minutes before we were supposed to tee off for Round 2, my boyfriend and caddy...had a seizure, fell, hit his head on a sign and broke his back," Hokom wrote. "The ambulance came rushing in, stabilized him and took him to a nearby hospital. Every part of me wanted to withdraw from the event and go with him. He has never had a seizure before, and I was terribly worried. He convinced me to stay and play, and the TD sent one of his assistants...to care for him and update me on his status."
Despite her obvious worries and mental load, Hokom managed to put together the best score in the field during her second round: an even-par at Fox Run. That night she learned her then-partner would heal without surgery within two months and was in stable condition. Heartened by the news, Hokom managed to stay consistent and win the event by a five-stroke margin over Kristin Tattar.
Bonus from 2016: Nikko Locastro Throws Almost 800 Feet/243 Meters on Fox Run's Hole 18

Why is it this a bonus? It's because the shot wasn't thrown during a GMC. It happened on the last hole of Fox Run Meadows during the inaugural Disc Golf Pro Tour Championship, which was hosted by Smuggs after the GMC.

But this shot is so spectacular, we couldn't resist highlighting it here so that you could have it in your mind as you watch competitors take on the final hole of the tournament.

The situation was that entering the final hole of the tour championship – a 775-foot/236-meter par 4 – Nikko Locastro trailed Paul McBeth by three strokes. Though it seemed insane, Locastro appeared to believe his best shot at catching McBeth was trying to make it to the green of the hole from his drive, carding an eagle, and hoping McBeth bogeyed.

Stunningly, Locastro's 360 drive did indeed put him in putting range. Watch the magic below in footage from Prodigy Disc:



Unfortunately, Locastro didn't make the eagle putt, but the drive is still one of the best shots ever caught on film during a top-tier competition.
How to Watch the 2022 Green Mountain Championship