As disc golf's popularity grows, more P.E. teachers in the U.S. are integrating it into their curriculum, offering something a bit different from old standbys like soccer, volleyball, and basketball. This is giving hundreds of students exposure to a low-cost recreational opportunity that provides physical activity, social interaction, and something they can enjoy with family and friends outside of school hours.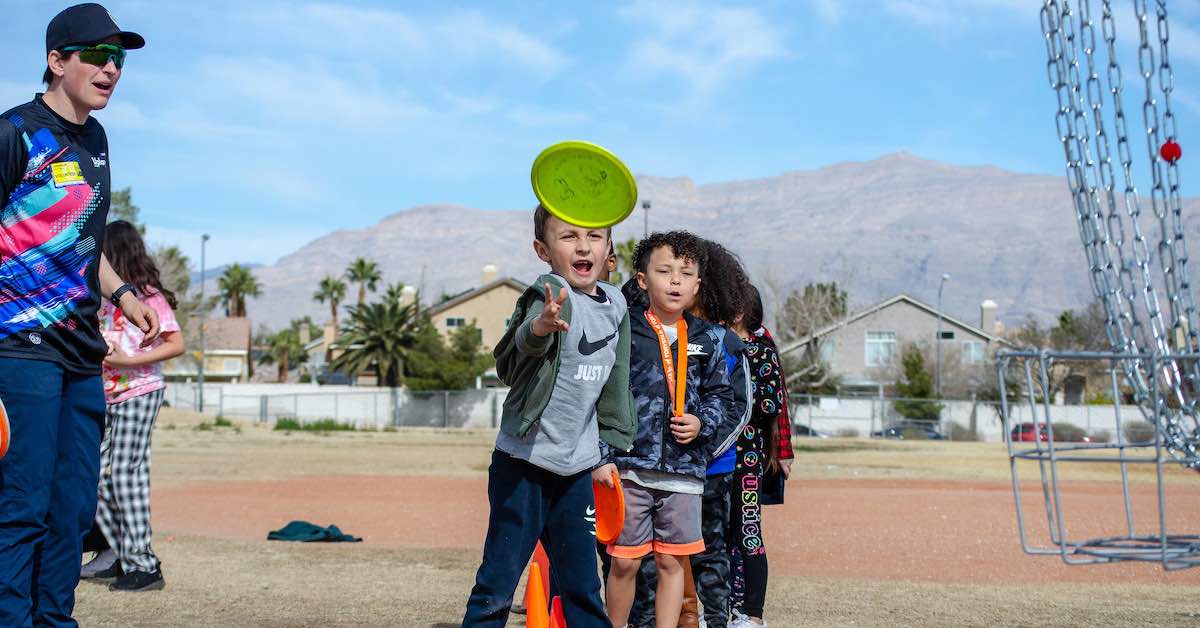 What's more, many of these educators find that the local disc golf community is thrilled to support their efforts. For example, Michigan's Grand Rapids Disc Golfers United (GRDGU) recently helped their local Southwood Elementary School purchase and install a full course. Why? It's because it helps kids discover a healthy hobby they could fall in love with.
"They would have never found it except we just happened to hook up with the right teacher or right administrator and said, 'You've got land? We've got discs. Let's make it happen!'" said Brian Frawley, GRDGU member and brand manager at disc golf store Great Lakes Disc.
Below we explore the ways disc golf benefits students, matches modern education standards, and can fit into almost any school's budget.
Disc Golf Matches K-12 Standards & Students' Needs
Disc golf has many benefits, but for teachers and administrators, physical education standards are top of mind.
"First, there is the physical learning the students are gaining," said Jon Henderson, P.E. teacher at Southwood Elementary. "While there is not an educational standard specifically based on throwing a Frisbee, there are both Michigan and national P.E. standards that address throwing an object at a stationary target. Understanding how your body's movements affect the flight of the disc is a great way to incorporate cross-curricular, science, or physics-based ideas such as force, distance, tilt, friction, wind, and aerodynamics."
Disc golf helps students meet criteria for social development, too.
"There's also social standards involved – learning how to take turns, communicate whose turn it is, and following the rules and etiquette of the game are all state and national standards," said Henderson.
P.E. teacher Jeremy Davis at Rolesville High School in North Carolina said that another huge upside of disc golf is that, unlike team sports, it can be just as fun to play independently outside of school hours.
"The way our society is trending is that more kids are staying indoors and there are less kids out in the neighborhoods and playgrounds to play games with," said Davis. "Disc golf is a sport that you can practice and hone your craft on your own. This appeals to some kids."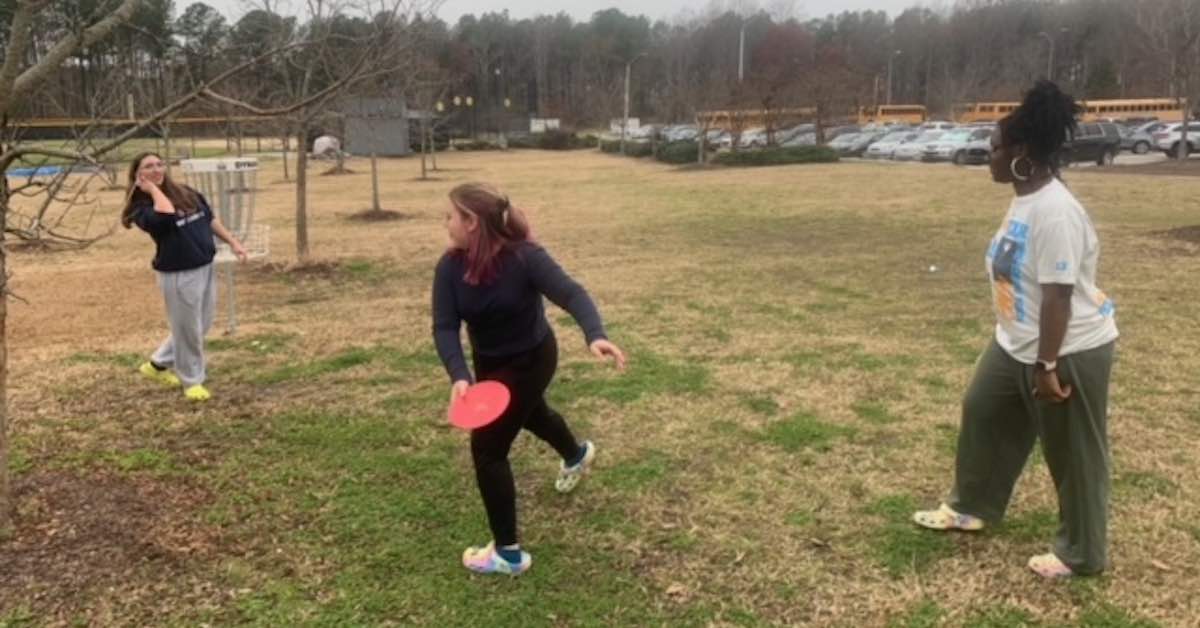 Davis, whose school recently won a nine-hole disc golf course through Dynamic Discs' Pitch for Pins contest, incorporates disc golf into a class he calls Lifetime Sports. During the course students learn about various competitive activities that don't require large teams and aren't standard in P.E. courses. Other sports he covers are bowling, traditional golf, ping pong, lawn games, archery, badminton, and pickleball. 
Adding Disc Golf to Curriculum
Even for teachers currently unfamiliar with the sport, disc golf is easy to add to curriculum because the basics are simple – and fun – to learn. Davis, for example, picked up techniques and drills from disc golf-focused YouTube channels after trying the sport out with friends for the first time.
"I was amazed at how far they could throw the disc," said Davis. "I wanted to throw it that way, so I searched for some YouTube videos. I landed on some videos of Will Shusterick and went to practice. YouTube has been my go-to to learn the sport as well as watching professional disc golf coverage."
But many educators will likely want a more formal system to learn and teach the sport than wading through YouTube content. That exists in a book from educational disc golf non-profit Uplay titled Uplay Disc Golf Basics: The Fundamentals of How to Play and Teach Disc Golf.
The newest second edition of Uplay's teaching guide provides a suggested disc golf unit structure, breaks down essential disc golf skills step-by-step (including visuals), and offers plenty of disc golf teaching tips and how-tos. One school Uplay has worked with, La Grande High School in Oregon, told us how the teaching guide has helped them incorporate the sport into their lessons.
"It's definitely better now that we have some structure and some progression on what to teach first and how to teach it," said Matt Wolcott, P.E. and health teacher at La Grande. "There are all kinds of drills and techniques, and we're definitely utilizing them."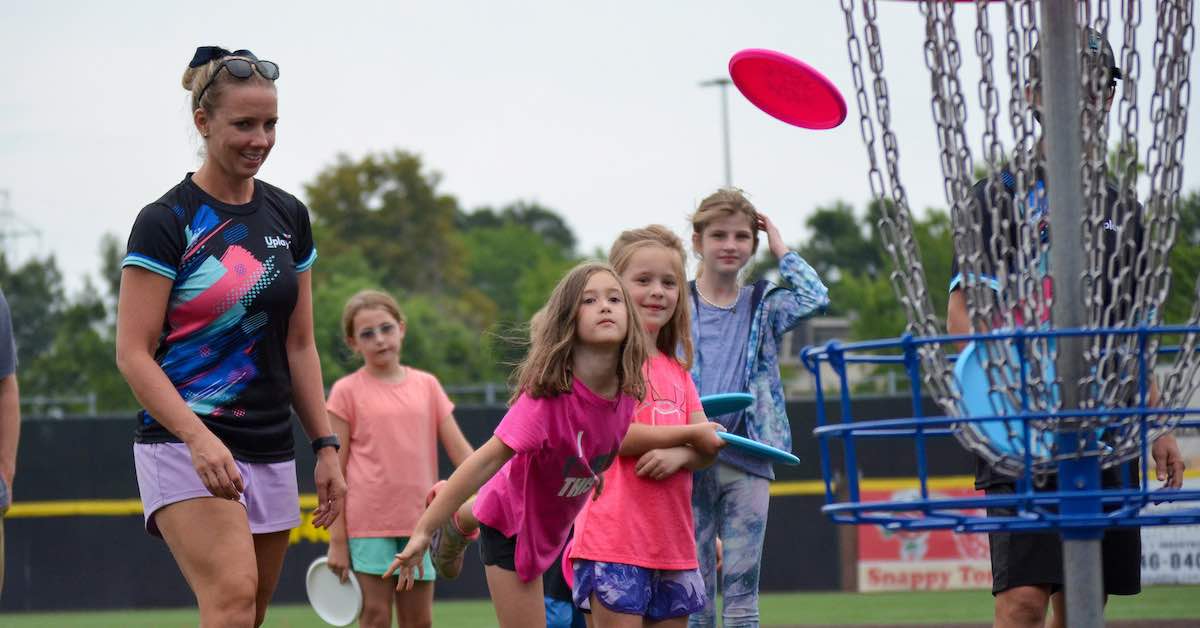 For a small taste of what's in the teaching guide, you can check out our post "How To Teach Disc Golf To Kids," which we created in collaboration with Uplay founder Zoe Andyke.
At Rolesville High School, Davis' Lifetime Sports class spends about two weeks learning disc golf.
"I have them play singles, doubles, and quads, depending on the skill level," said Davis. "The kids get to warm up on the practice field and then get to play nine holes in a class period. I have them log their stats and we also have little in-class tournaments."
The students have shown interest in the sport and recently founded a disc golf club with the goal of hosting tournaments and hopefully getting other local schools involved.
How Affordable Is Disc Golf for Schools?
No matter how great a new undertaking sounds, the first thing any educator will be asked is "How much will it cost?"
And while the likely three-digit price tag of a basic setup for disc golf with a few mobile baskets and a class set of discs would be an afterthought for most institutions, cash-strapped public schools aren't most institutions. Luckily, though, disc golf isn't most sports.
Disc golfers have long lived under the mantra "grow the sport," and they've taken it to heart. It's almost a certainty that if a school approached a local club, disc golf shop, or other disc golf entity about support for a school program, they'd do their best to assist. We'd fully expect donations of discs and possibly even mobile baskets. Financial support or deals on equipment pricing would be very likely, too.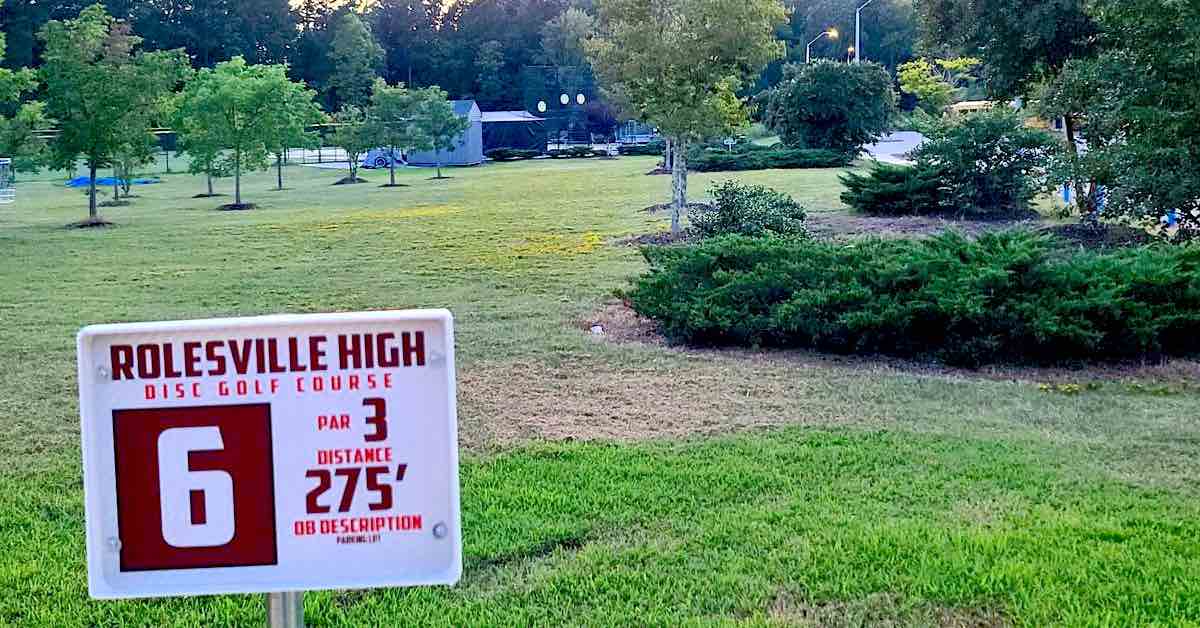 There are also programs specifically focused on offering schools access to disc golf, such as the aforementioned Uplay and the First Putt Initiative of pro player Ricky Wysocki's Sockibomb Foundation. We recommend schools interested in disc golf consider a mix of funding options from fundraising, grants, and partnerships with local disc golf clubs or shops.
The great thing is that once students do learn about disc golf, they're likely to be able to keep playing it for nothing more than the cost of one disc (typically around $15). Unlike traditional golf courses, 90% of the world's disc golf courses are completely free to play.

"Coming from a golf background, I know the cost to play," said Davis. "In disc golf, normally, it is free to play, no greens fees or cart fees, no tee times, and it only takes a third of the time."
Henderson, too, spoke to how disc golf's low cost made it a great sport to promote to kids.
"For our students here in Kentwood Public Schools, many are eligible to receive free or reduced lunch, which means many of our families are experiencing financial stress," said Henderson. "Disc golf is a great option for all because of the low cost – the price of a disc – which we talk about in class."
Henderson emphasized that if schools can organize funding or donations to support on-campus courses, it can make a huge impact.

"Because disc golf courses are free and open to the public, [price] is not a deterrent, however, families getting to these courses would be a major obstacle – making this grant-funded course on school grounds super beneficial to our school community," said Henderson.
Southwood Elementary School is breaking down the transportation barrier by inviting the school's families to use its course outside of school hours. Henderson provided parents with a video of basic rules of disc golf and the course map. He's excited to hear stories of students and their families getting in rounds together.
'Why Would I Ever Say No to Disc Golf?'
Uplay founder AnDyke, a former teacher herself, neatly summed up the arguments for adding disc golf to K-12 curriculums.

"Disc golf checks off literally all the boxes that adults, admins, parents, and teachers all really need to be checked off to feel like they are giving a positive learning experience in a safe environment," said AnDyke. "From an administrative level, why would I ever say no to disc golf? The price point is right, the safety is right, it can be done individually or in a group setting, and my teacher isn't going to have a really hard time learning it. My teacher can pick it up even if they don't know what it is."

If you're inspired to grow youth disc golf in your school or community, we at UDisc are happy to help by providing stats and information on disc golf in your area. For information about the sport's general growth and popularity, see our annual Disc Golf Growth Report. Should you be searching for specific stats not in the Growth Report, contact us at help@udisc.com with the figures you're hoping to find.