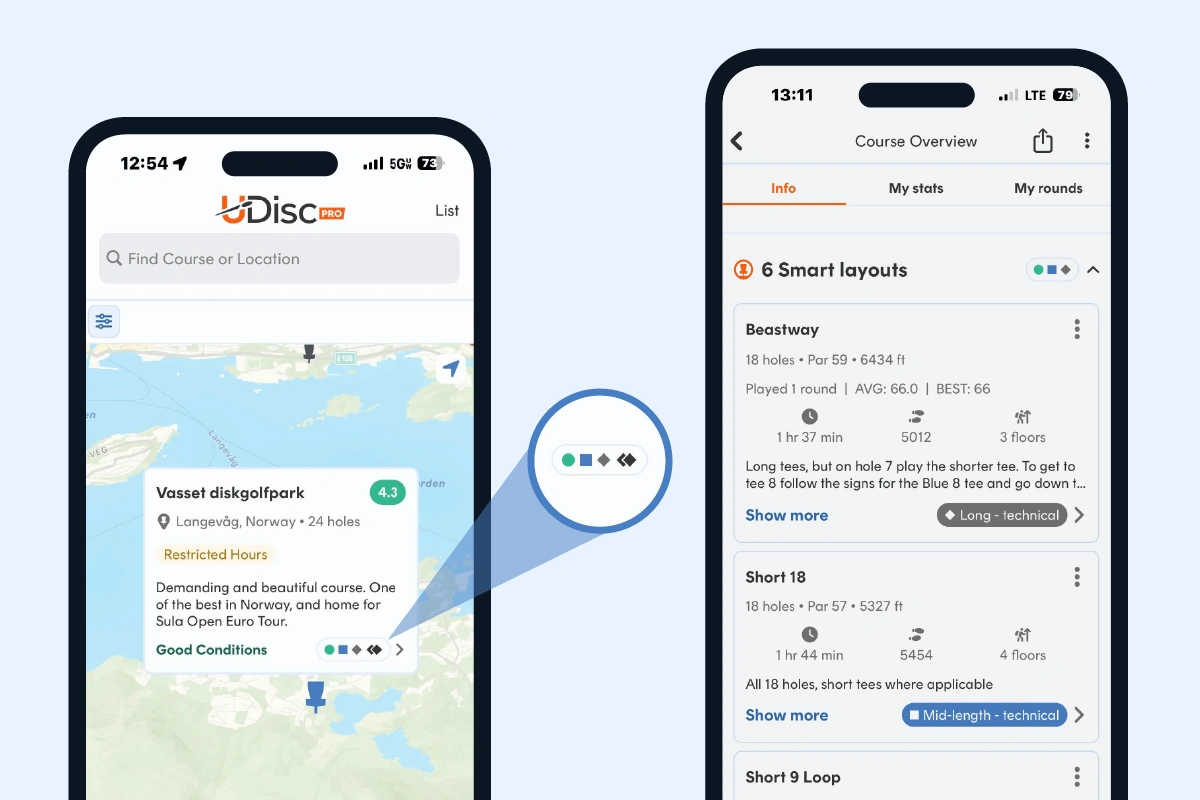 Variety is the spice of life – and of disc golf: With more than 14,000 places to play in UDisc's disc golf course directory, there's bound to be a little something for everyone.
With so many choices, though, it can be tough to narrow down where to track your next round. Maybe you're a little sore from that big workout yesterday and want to take it easy, or you just feel like hunting down some aces. Perhaps you're a glutton for punishment and want to check off the most difficult course in every town you visit. Or how about those times when you want to introduce someone new to the sport – which course is the most beginner-friendly near you?
Sure, you might know which place to pick from experience, but if you're new to the game or in an area you're not familiar with, that task isn't quite as simple.
That's why we're excited for the newest addition to UDisc: Course and layout difficulty.
Disc golfers looking to plan out their next adventure will be able to see new difficulty classifications in several places on UDisc:
The course list view
The course map view
A course's list of layouts
That means you can figure out not only where to go, but what to play when you get there. These classifications are available beginning on version 17.1 of the UDisc app, as well as on UDisc's online course directory.
How does disc golf course difficulty work on UDisc?
If you've ever hit the slopes for some skiing or snowboarding – or a round of disc golf during the summer – you'll already be familiar with the colors and iconography used in UDisc's course difficulty system.
If you see just one of these icons on a course's listing, that means either that the course has only one layout or that all of its layouts fall into a single difficulty category. If you see multiple icons, a course has multiple layouts with different difficulty levels. 
In order to display difficulties, a course needs to be upgraded to Smart Layouts. When you see a "difficulty pending" message, it means a Smart Layout exists, but we're waiting for more rounds to be scored on it to ensure an accurate difficulty rating.
To learn more about getting your course set up with Smart Layouts, join UDisc's Course Ambassadors program.
How does disc golf layout difficulty work on UDisc?
This is where it gets fun. Layout difficulty is based on two metrics: distance and technicality.
Distance looks at a layout's average hole length and is classified into the following buckets:
Very Short: Less than 180 feet (55 meters)
Short: 180-247 feet (55-75 meters)
Mid-Length: 247-310 feet (75-95 meters)
Long: 310-394 feet (95-120 meters)
Very Long: Greater than 394 feet (120 meters)
Again, note that the above thresholds are for a layout's average hole length – 394 feet may sound manageable for a single hole, but it's a little more beastly if half the holes on the course are at least that long.
Technicality is based on scoring results compared to hole distance. UDisc's data science team has created a regression algorithm based on tens of millions of holes scored using UDisc. For a given hole, the regression model is consulted to determine whether that hole tends to score higher or lower than other holes of similar length; the higher the scoring at a given distance, the more technical the hole is considered to be. A layout's overall technicality level is then the average technicality of its holes.
While many players consider a course to be "technical" only if it is wooded, this model accounts for the fact that technicality can come from a variety of physical factors that impact scoring, including out-of-bounds, trees, water hazards, elevation change, and more. These are the technicality buckets:
Not Technical: More than half of all layouts fall into this category
Technical: Roughly one-third of layouts are technical
Highly Technical: This category is reserved for a small proportion of the most brutal layouts
The regression algorithm takes into account which players are playing which holes so – for example – a course would not be considered "highly technical" just because it is played mostly by beginners who do not score as well. Additionally, par is not a factor, as these classifications are intended to give players an idea of what their experience on the course will be like, not how they'll score relative to par.
Once a layout's distance and technicality are determined, they are run through the following matrix to give them a corresponding overall difficulty classification. These classifications are not determined by a course's designers or assigned by Course Ambassadors. Instead, your scores are what bring them to life.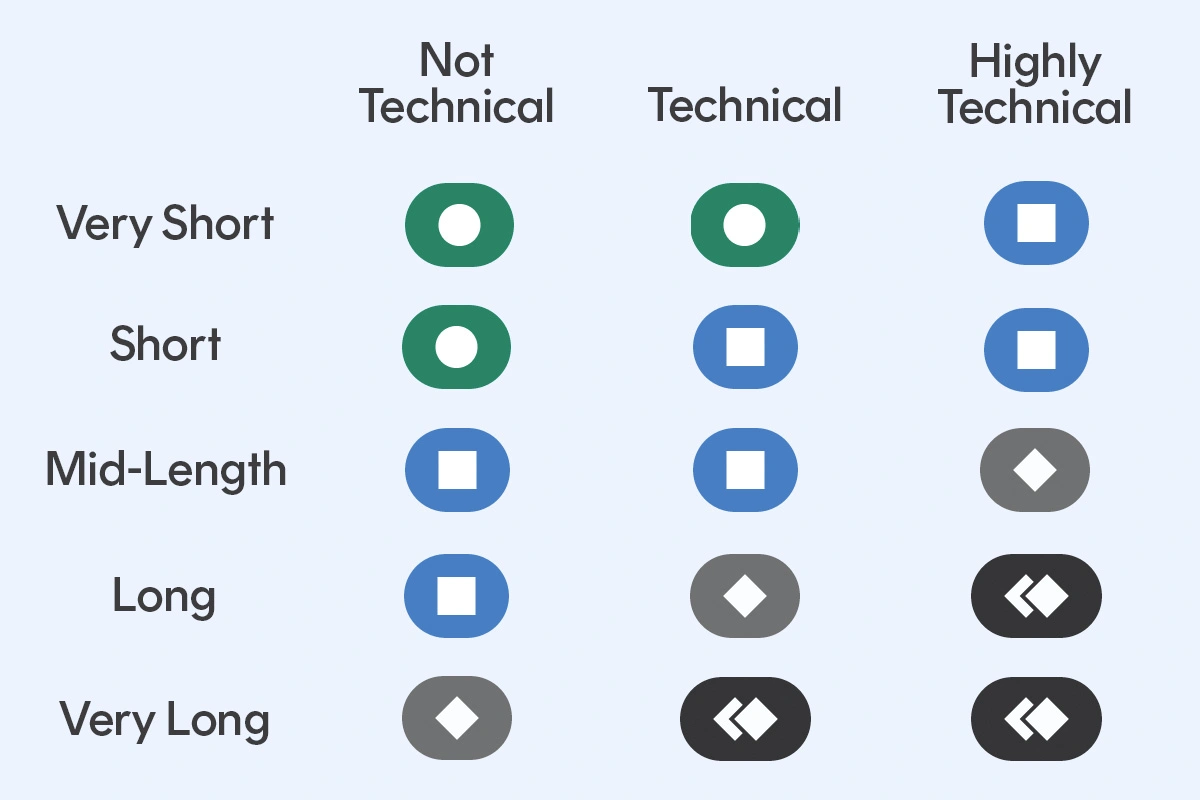 What's next for disc golf course & layout difficulty?
This is just the first phase of integrating course and layout difficulties into the UDisc app and online directory. Future plans will allow players to search and filter courses by their difficulty, as well as receive personalized layout recommendations based on their scoring history.