Zoe AnDyke, the Executive Director of the disc golf education non-profit Uplay, spent much of 2022 traveling around the U.S. showing students how to play disc golf during their P.E. classes. So she felt very comfortable last November while waiting at Monte María Disc Golf Course – Guatemala's only permanent public course – for the arrival of what she expected to be just a class or two of students from the nearby town of Santa María de Jesús. She and other Uplay instructors were ready, they had translators who would help with the language barrier, and things were on track to run like a typical Uplay program.
But when the buses showed up, her idea of how the day would go changed quickly.

"It's the first time I've ever had an entire school – kindergarten through 12th grade," AnDyke said, still chuckling in disbelief at the memory. "They shuttled all 160 kids at once, and I was like, 'Okay, Zoe, time to go into hyper drive and figure out how to do this.'"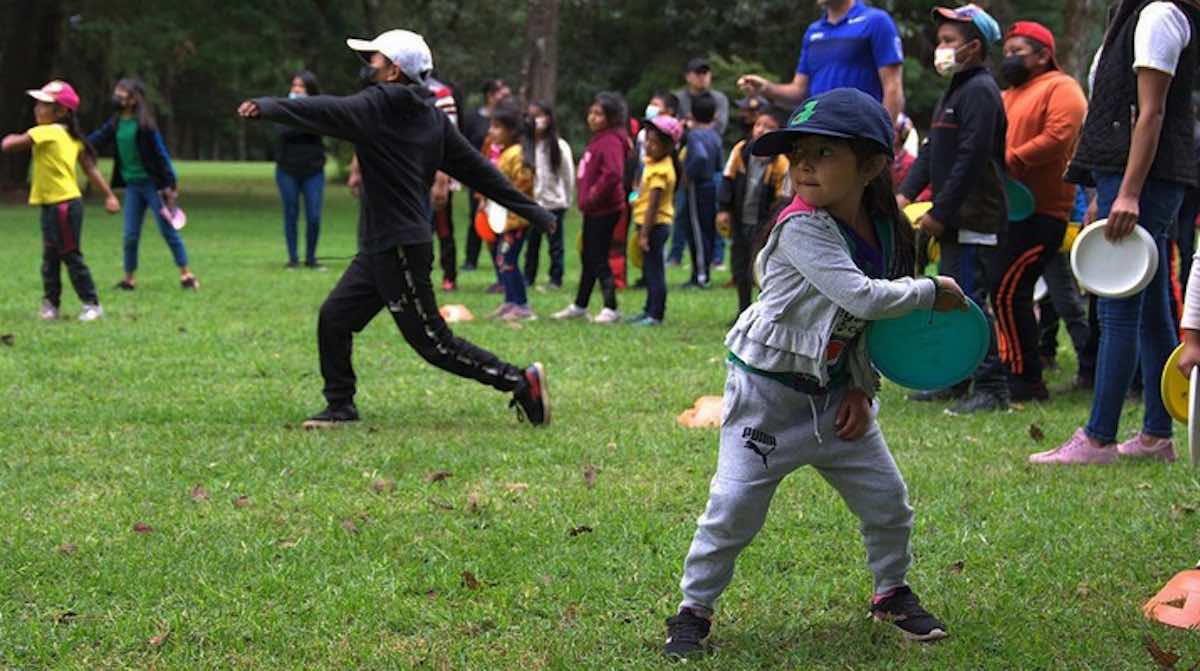 Luckily, there were plenty of people on hand to help with disc golf instruction, and once the Uplay team figured out logistics, they discovered advantages to being a school's sole activity. With no class change bells to worry about, instructors could go in-depth with students on skills and offer tons of guided practice. AnDyke was particularly thrilled that time and location allowed her to play real disc golf holes with students, something she almost never gets to do in the States.

This was just one of many happy surprises the Uplay crew experienced in Guatemala, a place where the seeds of disc golf community are just starting to sprout. AnDyke took time after the trip to talk to us about how teaching within a different culture made her reevaluate some of her habits as an instructor and what it's like seeing disc golf's benefits transcend borders.
Why Teach Disc Golf in Guatemala?
Uplay's journey to Central America was planned in conjunction with the Paul McBeth Foundation (PMF), another disc golf non-profit focused on building courses and communities in under-served areas of the world. In August 2021, the two organizations had come together at an event supporting efforts to bring disc golf to a park in Chicago, and they'd been trying to figure out how to meaningfully join forces again ever since.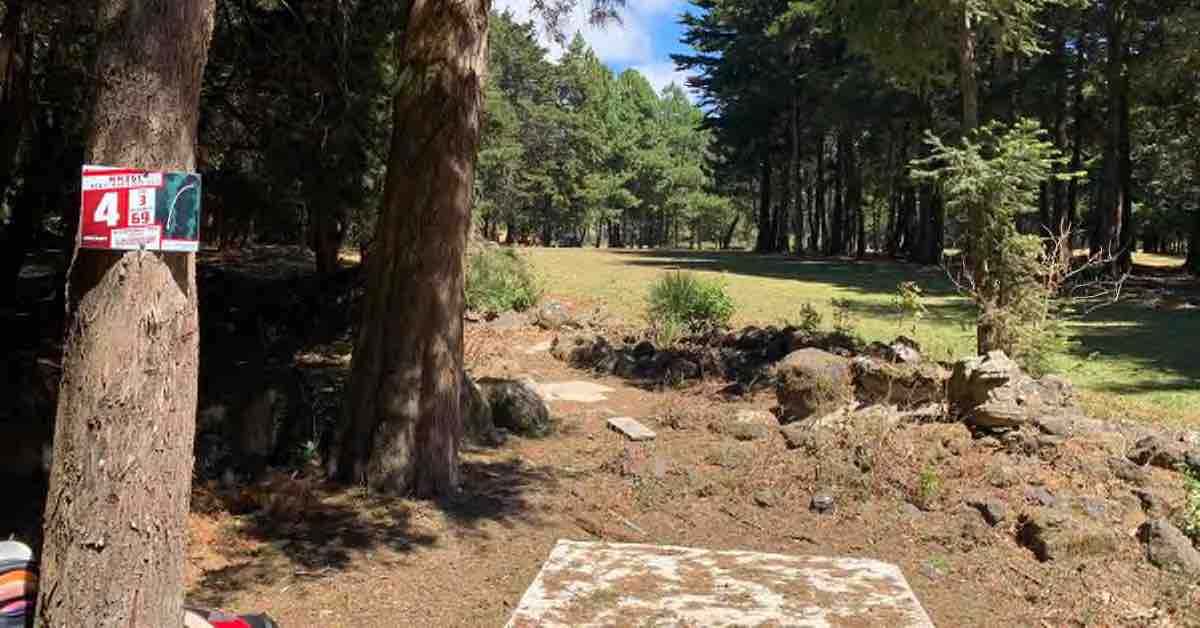 A PMF project at Monte María Country Club near Santa María de Jesús offered a perfect opportunity. A good time of year for the trip fit both non-profits' tight schedules, and there were various schools near the new course that Uplay could work with. Their teaching efforts would simultaneously build up awareness of the course's existence and the community's ability to take advantage of it. AnDyke said a point of emphasis was "educating the educators," meaning teachers, school officials, and those managing local non-profits would gain the resources, knowledge, and will to continue teaching disc golf independently.
Making Dreams Come True & Lighting Fires
Over the course of five disc golf education events in Guatemala, Uplay taught the sport to over 500 people (473 youth and 32 adults). There were excellent moments throughout, but some were true standouts.

One of these was at the Inter-American School (IAS) in Quetzaltenango, which is home to the only permanent disc golf course in Guatemala other than Monte María. The course was built by Trevor Gardner, who's part of the school's staff. Originally from Pennsylvania, he won a Professional Disc Golf Association Marco Polo grant for the course, but it only became playable just before Guatemala instated strict measures to combat the spread of COVID-19. However, during the pandemic, Gardner's family played the course nearly every day.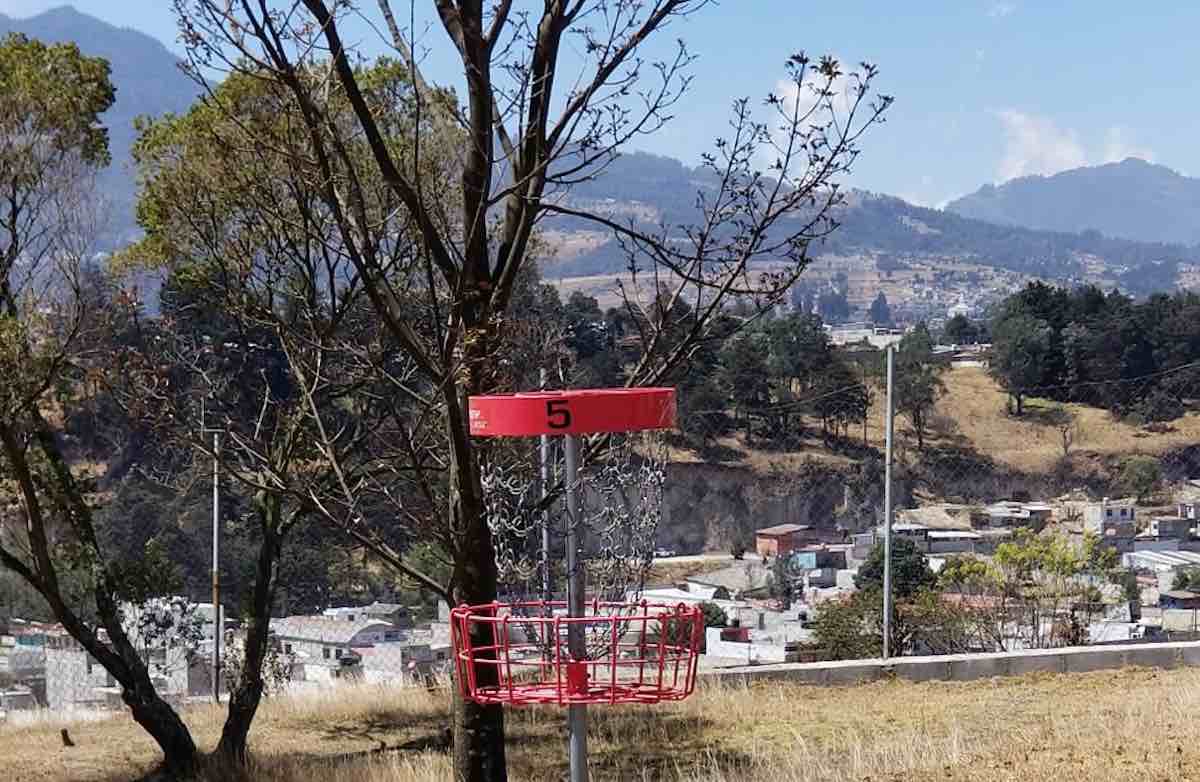 When in-person instruction returned, most of IAS's students and staff had no idea what the baskets on their campus were for. But when Uplay showed up, that changed fast. During one session, AnDyke noticed two girls who stood out as obviously having played disc golf before, and she went over because she knew they had to be Gardner's children.
"One said, 'You're making our dad's dream come true!'" AnDyke said. "She told me to look at all the smiling kids – the student pointing out to me to look at the joy on her classmates' faces. Normally the kids had no idea what Mr. Gardner was talking about with these baskets and now they were loving it."
At a Uplay session at Antigua International School, success at disc golf lit a spark in one student that surprised his teachers.
"The kids at this school tend to excel academically, but this kid was having a tough time," AnDyke said. "Well, he was the only one the whole day who aced during driving practice, and whenever a kid aces, we send them home with their own starter pack."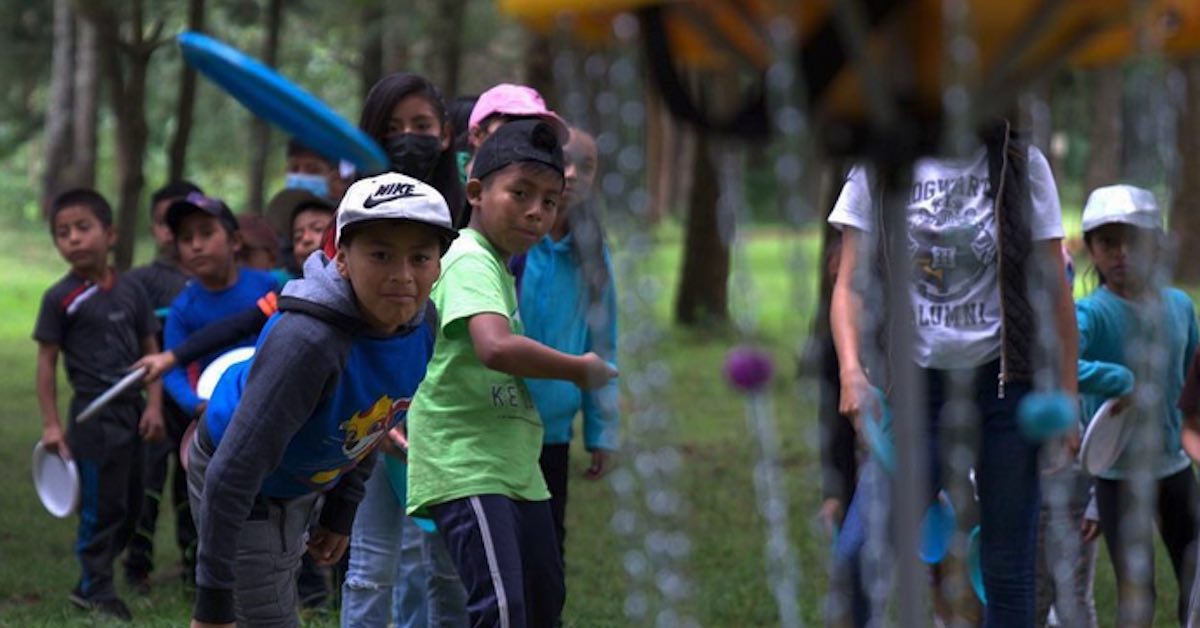 The student's achievement and reward inspired him. That evening, he got his parents to call the school director's wife to see if she could drive him to a disc golf tournament that would serve as the culminating event of PMF and Uplay's time in Guatemala.
"He found his fire with disc golf, and the teachers reported to us that they've never seen him be so engaged," AnDyke said. "The fact that he wanted to play a tournament after one day of P.E. was like, 'Wow!'"
Adaptation & Inspiration
Students weren't the only ones who benefited from Uplay's time in Guatemala. Being outside the U.S. made AnDyke reexamine some of her habits as an organizer and educator. One of these was her penchant to pack ever more things into an already tight schedule.

"I'm guilty of the go, go, go pace because I see opportunities, and I want to jump on them right then," AnDyke said.
But in Guatemala, AnDyke was forced to slow her usually fast roll. In a place where fulfilling the basic needs of everyday life take most residents' full attention and commitment, the option to be spontaneous simply wasn't there.

"The culture wouldn't allow me to be like, 'Okay, let's move; let's do it now!'" AnDyke said. "I had to stick to my plan and couldn't slam in extras."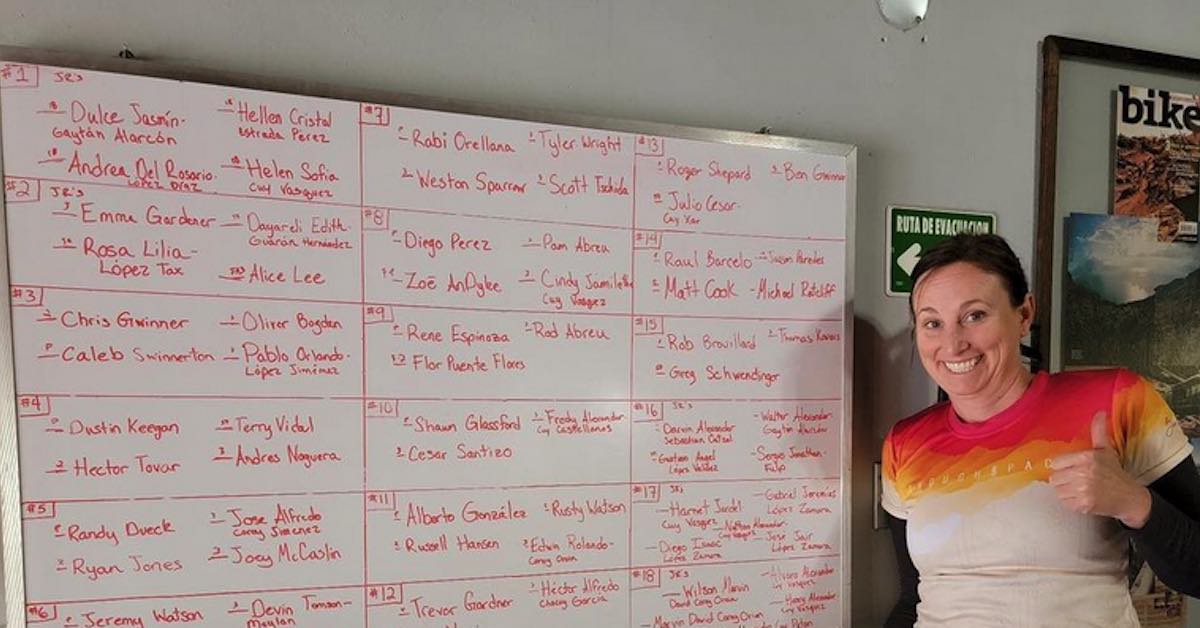 Though it took her time to adapt, AnDyke eventually found she was able to take even more pleasure than usual from her teaching by staying completely in the moment and not mentally moving ahead.
She also found herself incorporating far more body language into her lessons as she waited for translators to interpret her instructions to students. Filling pauses in her typically rapid-fire verbal delivery with physical examples didn't decrease student engagement and may have sped up their ability to learn the movements she was teaching.

Other trainers had revelations, too. Brandon Mendez and Diego Perez were players who had traveled to Guatemala due to connections with Dr. Raul Barcelo (President of the Mexican Disc Golf Federation and Spanish translator of Uplay's recently-released disc golf instructional guide), and they appeared to find a calling in teaching disc golf to youth. Barcelo asked if they could come along to a Uplay training as volunteer instructors, and AnDyke was happy to have them.
Though at first skeptical that students would show any enthusiasm for strangers teaching a completely unknown sport, the two bilingual disc golfers were amazed when typically apathetic teenagers ran to retrieve discs and actively engaged during Uplay sessions. Seeing this, both expressed interest in continuing to help Uplay on a volunteer basis.
Bringing Joy
Whether it was teaching entire schools disc golf or awakening passion in just one student, the collection of experiences AnDyke described from Uplay's time in Guatemala was overwhelmingly positive.
"Our main unwritten objective was, 'Did we bring joy?'," AnDyke said. "And the answer is, 'Yes, we definitely did.'"
She firmly believes the organizations they worked with in the country are well-prepared to continue teaching disc golf, and she hopes to keep connections strong. Uplay and PMF have already announced their intentions to continue their partnership and help more disc golf communities get started in places around the world in years to come.