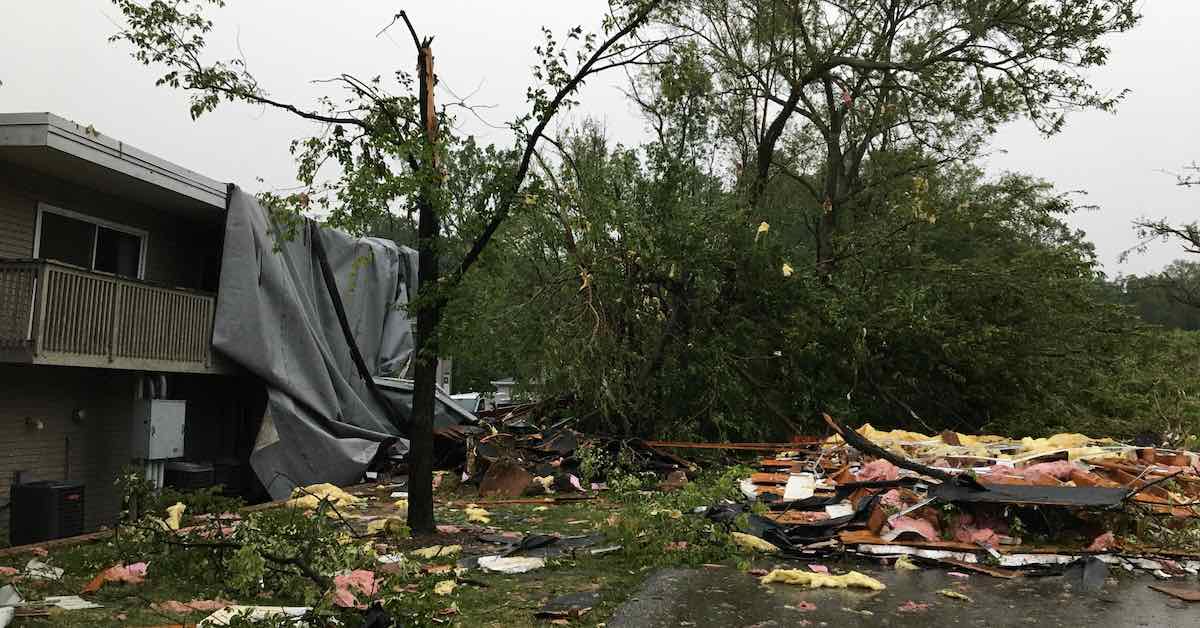 Joe French, co-owner of Titan Disc Golf in Cedar Rapids, Iowa, was at the store that Monday morning, and, as usual, he had plenty to do. The shop's location right next to the most challenging and popular disc golf course in town, Shaver Park, had helped turn it into a focal point of the Cedar Rapids disc golf community. 
While stuffing discs into padded mailers for online customers, French noticed the wind picking up outside. His wife had texted him earlier to say a storm was brewing, but he didn't think much of it at the time. When the building started to make odd noises, he decided to take a look outside.
French knew this wasn't your typical Iowa storm when he saw an entire mature pine tree blowing down the street in front of the store.
"This is getting weird," he said to himself.
The storm soon hit with full force, pelting the building with debris and ripping off its roof.
French, luckily, was unhurt, and once the winds subsided, he called his business partner Matt Schlabach and went outside to survey the damage. The area was littered with downed trees and wreckage from the building, but it was the sight of Shaver Park that froze French in his tracks.
"Shaver is destroyed," he told Schlabach.
Derecho
The date was August 10, 2020, and it's one many Midwesterners will not soon forget. A derecho – a powerful straight-line windstorm sometimes compared to an inland hurricane – swept across parts of Nebraska, South Dakota, Iowa, Illinois, Wisconsin, Indiana, and Michigan, causing an estimated $7.5 billion in damage.
No state was harder hit than Iowa, and no city suffered more damage than Cedar Rapids. You can see what it was like in Cedar Rapids during the storm in the clip below posted by E Hindman on YouTube (set to stop and start over a very dramatic 30 seconds of the longer video):


Slammed by 45 minutes of sustained winds reaching 140 miles/225 kilometers per hour, nearly every residential and commercial building in the city was damaged. Most of Cedar Rapids was without power for more than a week, and the city lost an estimated 65% of its trees. Shaver Park was directly in the path of destruction.
"It was bad," said French. "The next day I walked the course. [Before] I could play a round in an hour by myself there, and it took me about two-and-a-half hours to walk it, just to find the baskets. I was completely discombobulated. I had no idea where I was, and I was in the middle of a fairway I'd played hundreds of times. All those old trees…it was a mangled mess. Shaver was annihilated, absolutely annihilated."
Disc Golf at Shaver Park
Disc golf was introduced to Shaver Park in 1999 as a response to the increasing popularity of the sport in Cedar Rapids and to bring more family-friendly activities to the park. Situated on a heavily wooded property with numerous hills and gullies, the disc golf course quickly gained a reputation as challenging at best and brutally punishing at worst.
The first major tweaks to the course occurred in 2011 when the original owners of Titan Disc Golf received permission from the city to take out a few shorter holes, lengthen others, clear out some rough, and clarify lines in the heavily wooded fairways. This version of Shaver Park quickly became the go-to course for advanced players and was a staple of the popular Titan Open tournament.
"It was a really hard course," said Michael Deeter, President of the Cedar Rapids Metro Disc Golf Club. "Of all the courses in the Cedar Rapids area: Jones, Legion, Hiawatha…Shaver was the place you went to get better at certain lines that none of the other courses had."
In 2018 Deeter helped found the Cedar Rapids Metro Disc Golf Club, and one of the primary areas of focus was making further improvements to Shaver Park.
"What the club did originally, we just made it look better," Deeter said. "We made it more enjoyable to walk through, you could access things better. Some of the things that were punishing, like you hit a tree and you kick 100 feet [31 meters] to the right, it used to be neck-high nettles. Those were gone."
Over the next year the club made substantial changes to the course, including major landscaping, the addition of new holes and pin locations, new baskets, and plans for new signage. The overall goal was to make Shaver more accessible to a wider range of disc golfers while still maintaining the technical complexity of the course.
Perhaps most importantly, the disc golf community was uniting under the banner of the club and feeling empowered to make positive changes at the park.
"The year before the storm, from August to August, we had about 400 hours of volunteer time logged," Deeter said, "and I'm sure there was even more than that. For those 400 hours, the community really came together. It was a miracle."
After the Storm
The derecho turned that miracle into a nightmare – destroying years of work in under an hour. In the immediate aftermath of the storm, the club held out hope that the course just needed to be cleaned up. Mere days after the storm they'd cleared an access road and were ready to start work on the course itself.
"There was no expectation at that point that we would need to redesign," Deeter recalled. "There was a lot of stuff missing, but we thought if the trees that were snapped off were just taken out, we would be able to preserve it."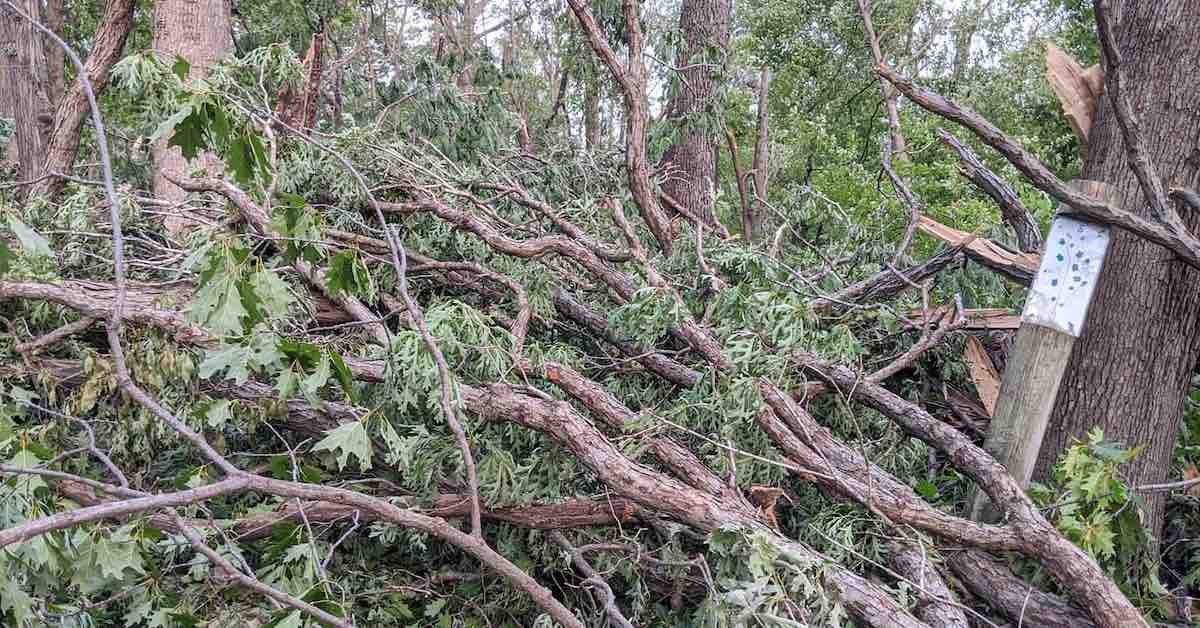 Though the club was eager to get the course playable again as soon as possible, the city said they would need to pause their work while contractors removed debris with large equipment. That crew removed far more trees than the disc golf club had expected.
"It was demoralizing to come through, and you see fairways that basically looked like a tank just drove through them," Deeter said. "I cried a couple times just walking through. It's still hard…It's a loss. Shaver died."
Redesigning Shaver Park Disc Golf Course
It became apparent that if high-level disc golf was going to be played at Shaver Park again, a total redesign of the course was needed. A club vote brought in Houck Design, headed by Dee and John Houck, to handle the task.

John Houck is one of the most respected course designers working today. He has multiple masterpieces that rank among the top 100 World's Best Disc Golf Courses, including Hillcrest Farm, a course that has been among the top three in the world from 2020-2022.
"We had all these different designers we could have; we could even put something together ourselves," said Deeter. "But we really wanted it to be someone who could be dedicated and maybe even name-worthy to some degree, to come in and have an objective point of view and say, 'I'm not trying to preserve any of the original holes, we just need to use the land the best we can.'"
After accepting the job, the Houcks realized that their task involved much more than simply designing a disc golf course.
"Dee actually spent a lot of time talking to people from the club," John recalled. "We came to understand how damaging the storm was, and subsequently I came to learn how absolutely devastated the players there were…They were really heavy-hearted. It was very, very tough for them. One of our main goals is to use disc golf to uplift communities, and that community definitely needed some uplifting."
John first visited Shaver Park in May 2021 to get a basic sense of what he was working with. He was pleasantly surprised with what he encountered.
"When I got there I actually saw a lot of potential," recalled John. "I've done a lot of courses on thickly wooded properties. It takes multiple phases typically to get to the final product. So it almost felt to me like we were already part of the way there. It really was striking, because I could tell when they looked at it all they could see was the course that they loved so much and put so much heart and soul into that was gone. I saw really just potential everywhere."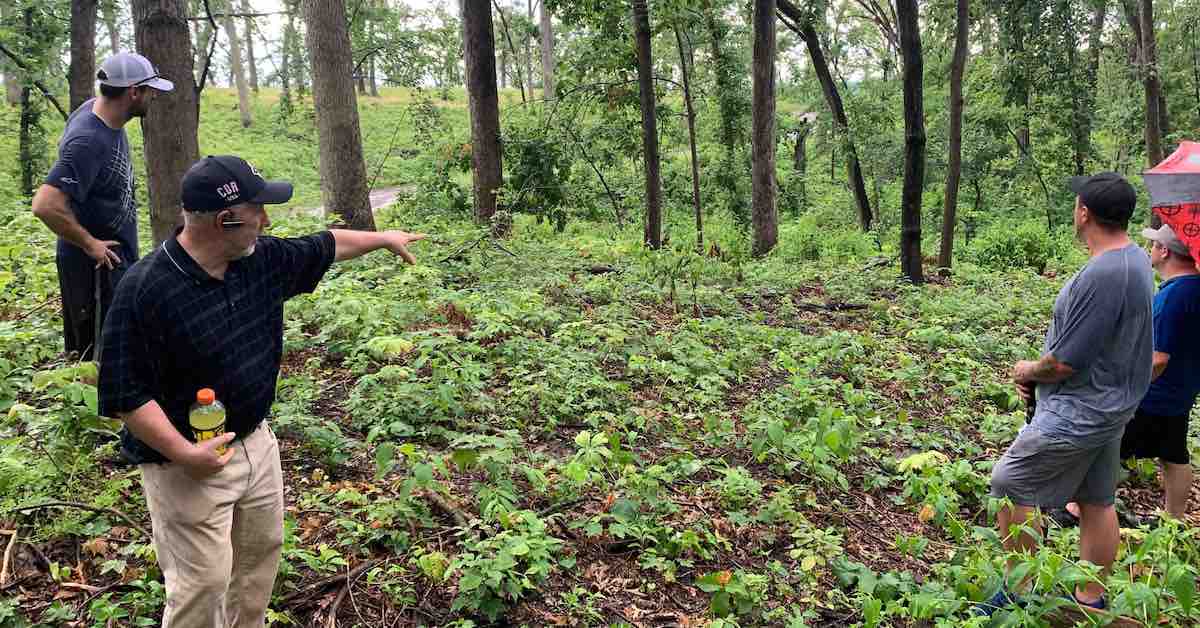 On that first visit John met with club members, walked the property, and developed a preliminary layout. The basic plan they arrived at was for the club to clear proposed fairways, greens, and tee areas so that John could return to fine tune the layout.
"A lot of the areas that John chose were areas of the park that weren't touched by contractors because they were inaccessible," said Deeter. "They were on a hillside and contractors couldn't get their equipment to them, which was a blessing to us because that's where most of the trees are at. The downside was that there was still a bunch of derecho stuff that we had to clean up that the contractors didn't touch."
The work during the sweltering days of June and July was grueling and tedious. By August, though, a real sense of purpose and momentum took hold as progress became visible and more club members began to show up for workdays.
"August is when we made the push," Deeter said. "That's when we started doing every Tuesday night. That really made a big difference. The most volunteers we ever had was during that time – 25 people for two hours just clearing out an entire fairway. It was amazing, all the people who came to pick up stuff. Thirty to 40 loads that were put into piles by hand. All that stuff was touched by people. It's so cool. It's an Iowa attitude. Just get it done."
When John returned for his second visit in November he was amazed at the amount of progress the club had made.
"I can't think of a project where there has been more volunteer labor that's got as much done," said John. "There are so many courses that are built by volunteers, and it almost always winds up the same two or three people at every workday after a while. This club is still getting good numbers out there. I've really been impressed with the work they've done and how they've organized it."
New Life
Houck's vision for the park is slowly turning into reality. Even as a seasoned course designer with many championship level courses under his belt, Houck is excited by the possibilities he sees at Shaver Park.
"This is a whole new animal," Houck said. "That's one of the things that is really interesting to me. It has the terrain, a lot of ravines and valleys that aren't really like anything I've worked on before."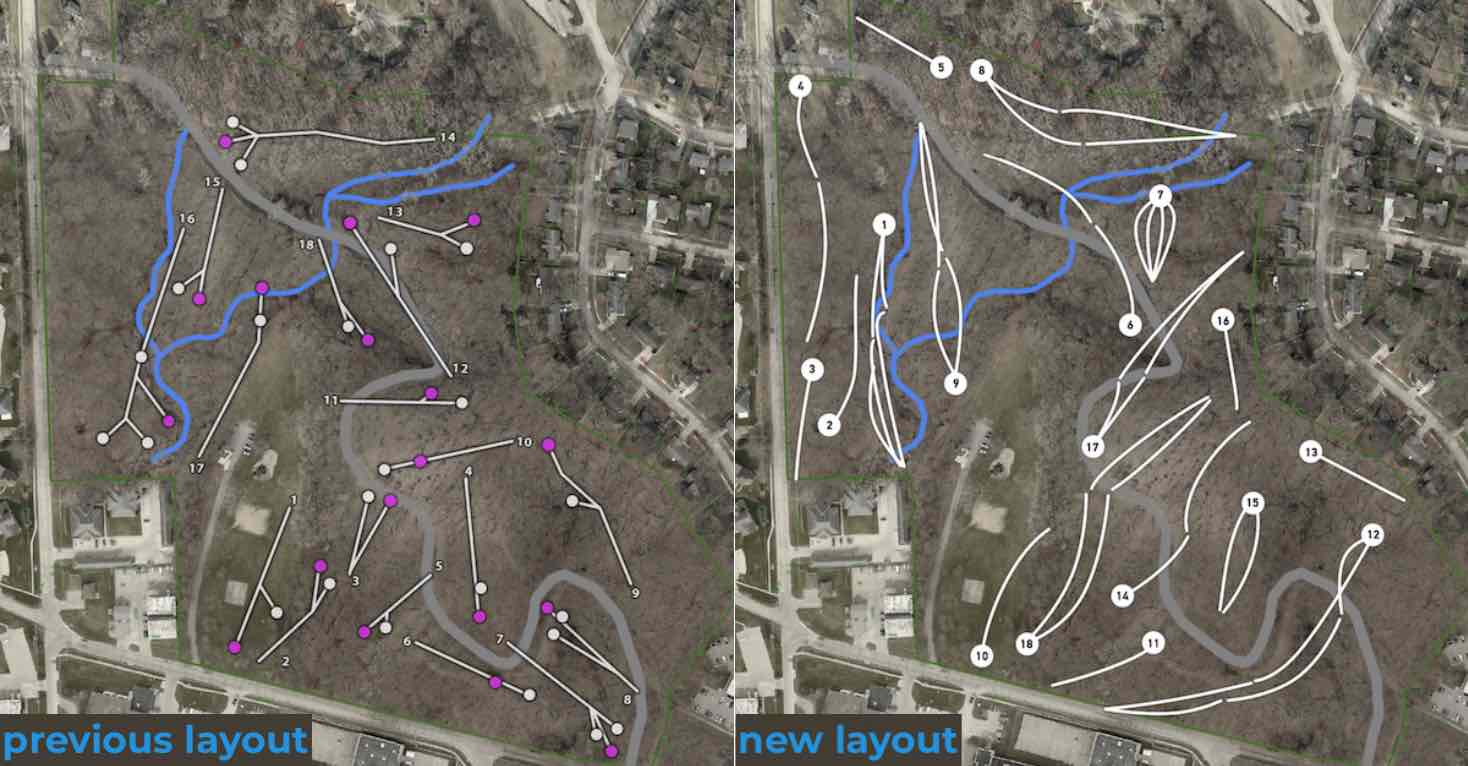 According to the most recent version of the layout the new Shaver Park will play as a par 64, with nine par 3s, eight par 4s, and one par 5. Most holes will have two tee pads, making the course inviting for both advanced and beginner disc golfers. There will also be an alternate gold pin location on most holes to provide a suitable challenge for professional level players.
Although a tremendous amount of work has been accomplished, there is still much to do before the first tee shots are thrown at the new Shaver Park. In the spring the emphasis will shift from debris cleanup to shaping fairways and preparing greens and tee areas. If all goes well, there is hope that the new course might be open for play sometime in the summer of 2022. Disc golfers from across Iowa and beyond are eagerly looking forward to the day when they can test their skills against a resurrected Shaver Park.
French, who lost not only his home course but also his place of business, is finally beginning to see a light after a long tunnel of darkness. With plans to rebuild a new, larger Titan Disc Golf pro shop adjacent to Shaver Park, the future looks surprisingly bright.
"We look forward to being a destination place in Cedar Rapids that people will want to come play," said French. "After a crummy pandemic year, to get punched in the gut like that with the derecho…I think a lot of people were very dejected and very depressed at first. All this hard work we put in was completely destroyed. So now, to have this Houck course, and to rebuild a mega Titan Disc Golf…I'm really excited to be part of it. I feel incredibly blessed."