While disc golf is not yet an NCAA-regulated sport, its presence at U.S. colleges and universities continues to expand. A growing number of schools have built courses on their campuses, dedicated students have started disc golf clubs, and college teams and players can even go on to compete in the College Disc Golf National Championships.
But at some schools, disc golf isn't just an extracurricular – it's class.
How Disc Golf Turns Into College Curriculum
Disc golf can become a credit-granting college or university course through different paths and for different reasons, but the process typically starts with an existing faculty member who has a passion for the game.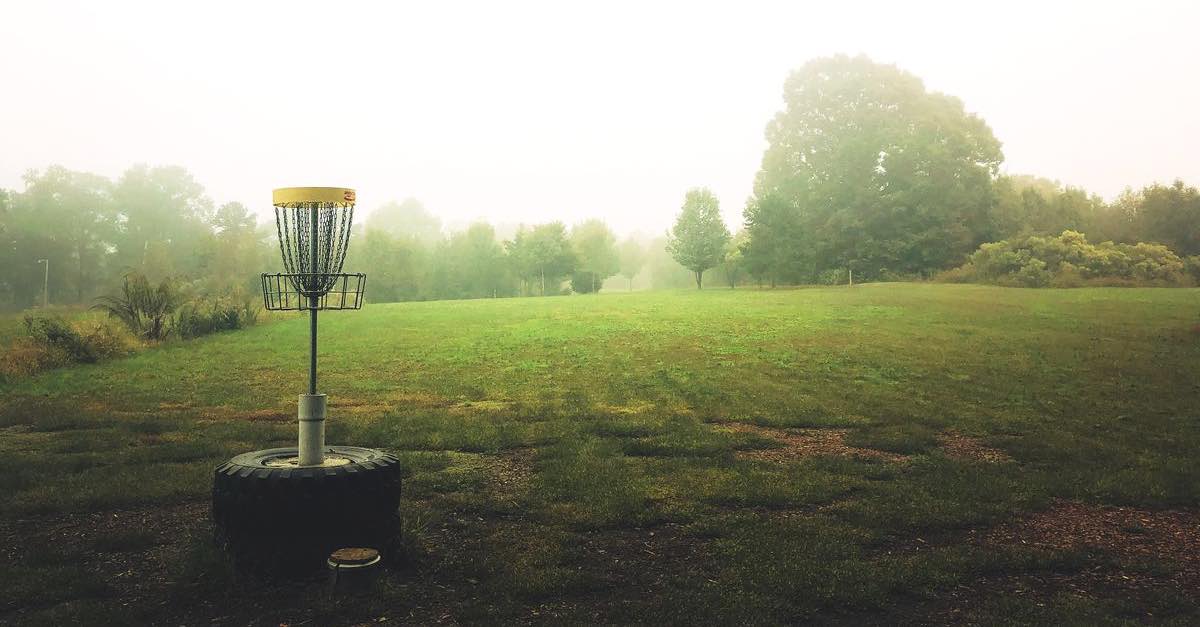 David Wheeler, Assistant Dean of Allied Health and Public Services and a Microbiology Instructor at South Piedmont Community College (SPCC) started playing disc golf in 1995 when he was in college. Wheeler's love for the game followed him from Texas to the Carolinas, and SPCC's administration took note of his love of disc golf. The school isn't far outside disc golf paradise Charlotte, North Carolina, and had a sizable swath of under-utilized property, so disc golf seemed like a good way to put that land to use.
"About 12 years ago a coworker of mine, the Director of Student Activities, asked me if I was interested in building a course on campus," said Wheeler. "We had about 70 acres [28 hectares] of woods and started cutting and constructing the course. It's taken all 12 of those years to get to the par 70 layout I always wanted."
Shortly after the Dry Creek Disc Golf Course at SPCC went up, the administration asked Wheeler if he could lead construction of a second course on their Polkton Campus. Wheeler now teaches a disc golf class in Polkton every fall.
"Most students have typically never even heard of disc golf, much less played it, when they first show up," said Wheeler. "It can be a bit of a challenge to get some students into it at first, but it typically doesn't take long for most students to think it's kind of cool and get into the competitiveness of it."
The disc golf course offered at Emporia State University was also started due to a faculty member who loved disc golf. Michael Butler, Professor of Health, Physical Education, and Recreation at Emporia State, was a sophomore in high school in 1978 when some friends brought him down to a local park in Huntington Beach, California, that had just installed a course. He has been playing off and on ever since. Butler was thrilled to find an 18-hole course when he moved to Emporia in 1994 and immediately started playing.
"At the time, there were only about a dozen guys who played in Emporia," said Butler. "There was one 18-hole course in the ground. It certainly wasn't the disc golf mecca that it is today."
Despite disc golf not being nearly as popular then as it is now, the school still took a chance on offering disc golf for college credit.
"The department chair became very aware that I was really into disc golf and that it had been my hobby for a long time," said Butler. "At the time I had an hour free in my schedule and one of us thought, 'Hey, why not do a disc golf class?'"
Beyond having a dedicated faculty member willing to teach a class, being able to demonstrate student and community interest in the sport can go a long way to winning support from upper administration.
"The college president has really bought into disc golf," said Wheeler. "She told me, 'I never realized that all those cars in the parking lot I see driving home every day were disc golfers.'"
What Are the Content and Goals of a College Disc Golf Class?
The professors we spoke to organize their classes in slightly different ways, but most had similar learning objectives for their students. The first was to assure students had a solid grasp of how to play, including knowing the rules and learning the basic types of throws.
"I want students to understand the rules and objectives of the game," said Wheeler. "I teach them singles play and doubles play. Students tend to like doubles more. It gets their competitive juices going when they're playing with their buddies."
The second major takeaway educators aim for is getting students excited about being active outdoors.
"I have students bring friends with them to class to play with us," said Vic Popp, Director of Recreation and Head Coach of Bass Fishing at the University of Dubuque. "I have a student who's been bringing his twin brother to every class. How many professors get to say their students enjoy class so much they bring friends along with them? I mean, how cool is that?"
As far as grading goes, disc golf courses tend to be pass/fail and based primarily on participation as students enter with different levels of skill and experience as well as various individual goals.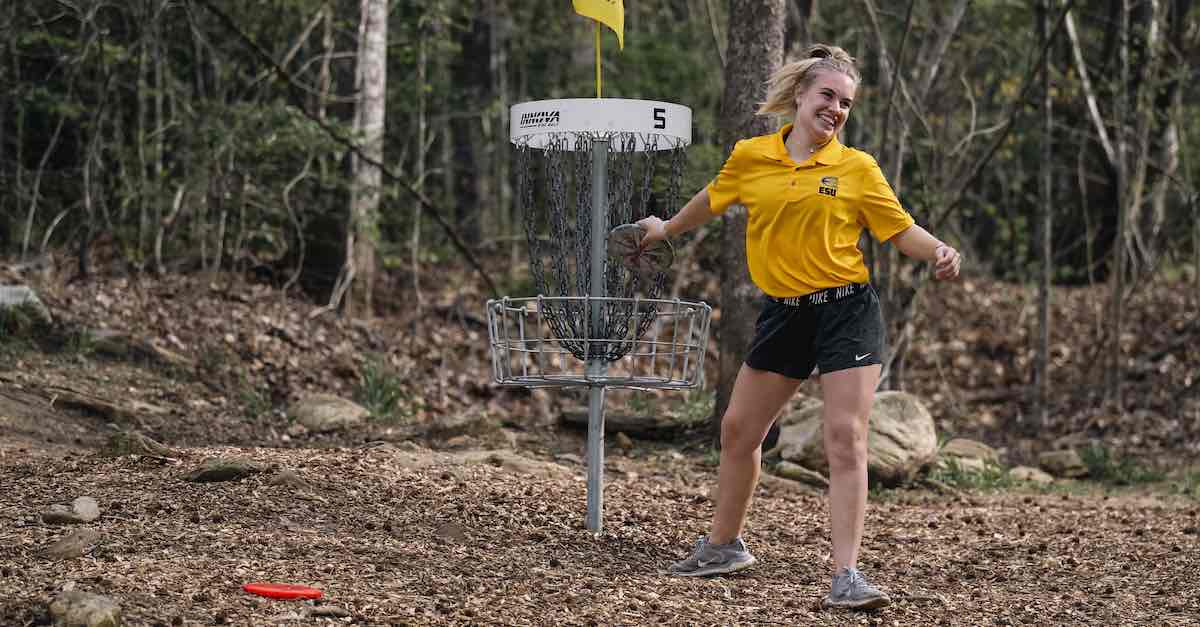 "The assessment part of the course has been interesting and challenging," said Butler. "I have a PhD in motor learning and biomechanics. Since the first time I taught this course, I've given a lot of thought into how to grade it."
Butler went as far as creating circles on fields to measure accuracy and developing various skill tests to measure improvements in key areas such as forehand and backhand throws, putting, and upshots. However, he found the time involved in setting up these tests and the challenge of accounting for various levels of experience made this approach unsustainable.
"What I'm currently doing is contract grading," said Butler. "Part of their grade is based on a contract students create with me where they identify different goals for themselves and self-assess their progress at the end of the course. This has worked well as it is adaptable for different skill levels and gives students a sense of accountability."
Popp has students use the UDisc app to track round scores and save him time when he evaluates students' participation and growth.
"UDisc is an absolutely incredible piece of technology," said Popp. "Part of the course is to learn how to keep score. Students used to have to take a piece of paper and turn it in to me – there was no other way."
He says integrating the app into the course helps students fit disc golf into their busy college schedules.
"This morning I turned on my computer and right in my email was a UDisc scoresheet from a student," said Popp. "It's wonderful. It allows more flexibility. If they have another obligation, then they just go out and play on a beautiful day and send me the scoresheet."
How Does Disc Golf Fit the Missions of Colleges and Universities?
Serving and engaging with local communities is a common goal for colleges and universities, and disc golf offers an affordable way for these institutions to provide low-cost, low-barrier recreation for all ages.
"All community colleges have a mission to serve their community in some way beyond students," said Wheeler. "We have life enrichment courses, movie nights, blood drives, and other activities for the public. The college has always tried to provide some kind of resource or activity for the community, and disc golf is an extension of that."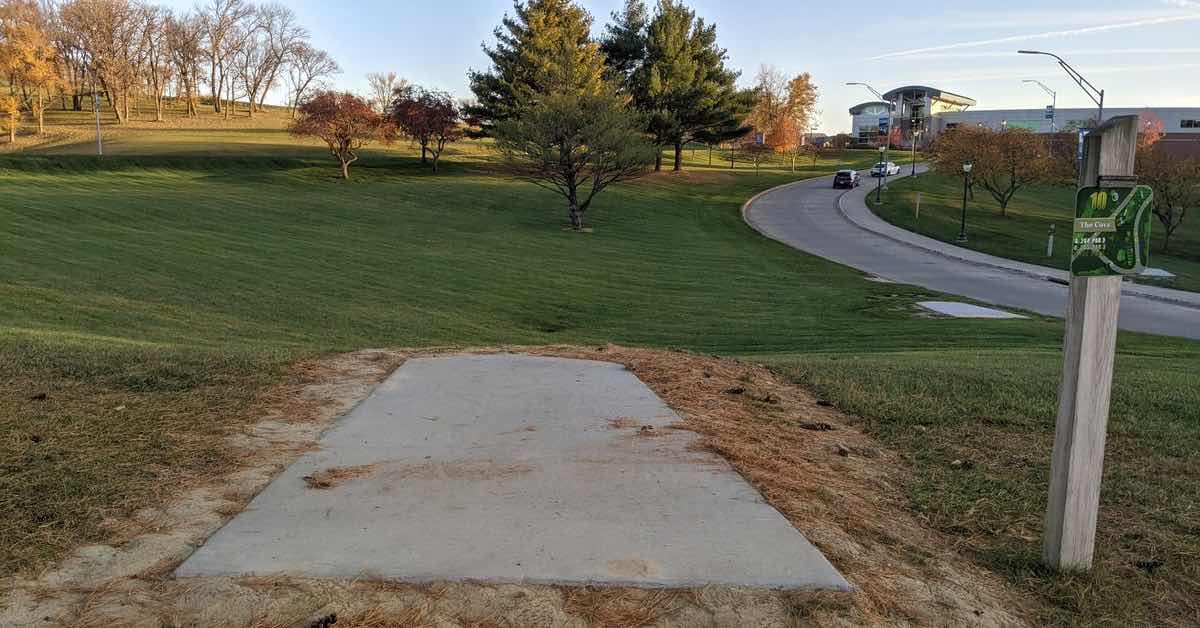 Wheeler mentioned that every summer he gets calls from parents or grandparents inquiring about the disc golf course as a potential activity for their kids.
"We now even keep discs in the library that students or community members can check out if they don't have any," said Wheeler.
At Emporia State, the disc golf class has even been opened up to non-students, and locals are consistently interested.

"Typically I get non-traditional students, such as retired people, auditing the class to learn how to play or improve their skills," said Butler.

Instilling an interest in lifelong learning is another item on many schools' mission statements, and it's clear to the educators we talked to that teaching disc golf is a wonderful way to do it.
"I am a non-traditional sport type of guy", said Popp. "I can't tell you how often I hear, 'I don't know what I'm gonna do when football or basketball is over.' I love to teach people sports they can play for the rest of their lives like pickleball, yoga, fly fishing, and of course, disc golf."
Wheeler, too, enjoys seeing the seeds he plants in his classes grow into passion for a healthy hobby that can be enjoyed for a lifetime.
"There are multiple students I've seen in the community years later who got involved in disc golf through my course and are still continuing to play," said Wheeler. "There is no beating those warm, fuzzy feelings of introducing someone to something they may have otherwise never tried before."