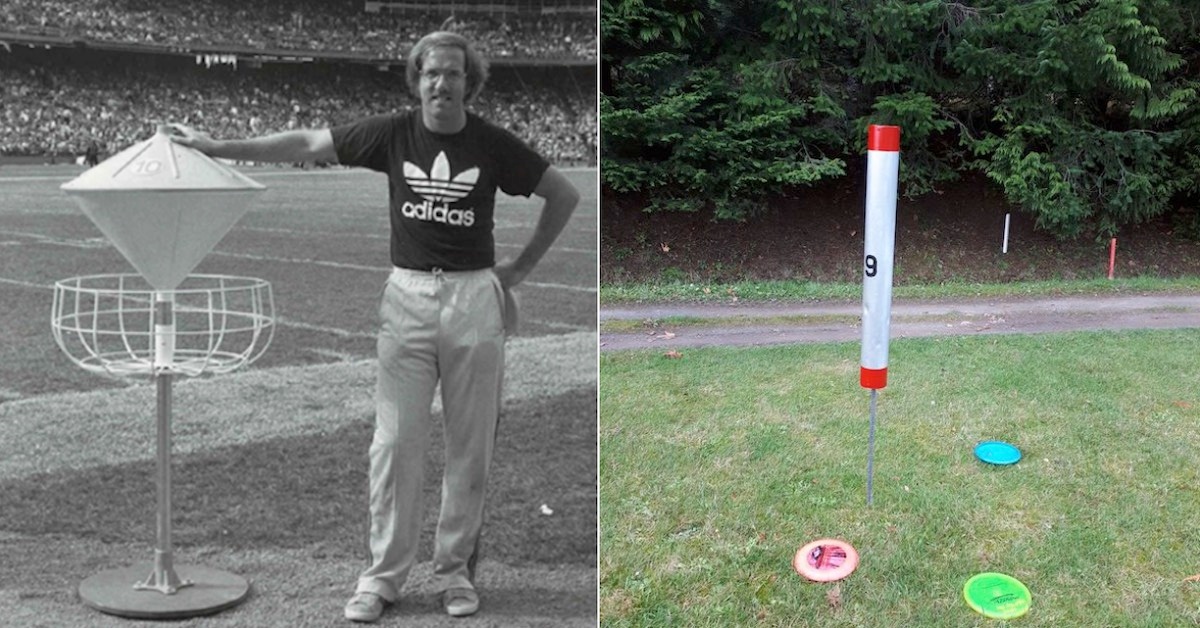 To many, the sound of clanging chains is the sound of disc golf. But when the game first started out, the chain, pole, and basket construction so familiar to modern disc golfers was just one of a few designs competing for supremacy. And even today you can find some places that still offer the chance for disc golfers to test out alternative targets.

For example, if you're ever in Minneapolis, make your way to Moir Park, a disc golf course in the suburb of Bloomington. There, at the corner of 104th street and Morgan Avenue sits a rare site: a 9-hole Saucer Golf course designed and installed by Ken Krengel and Jim Challas in 1979. It has cone baskets, one of several types of targets in the early days of disc golf.

Or you could visit Thornhill Park in Maple Ridge, British Columbia, Canada and find yourself listening out for this sound:



The target in the video above is known as a tone pole or tonal.

To learn more about these targets, we reached out both to people who attempted to make cone baskets a success back in the early days of disc golf and others connected to courses using tone poles. Their stories offer an interesting look into disc golf history and the ingenuity of modern players.
Saucer Golf & The Cone Basket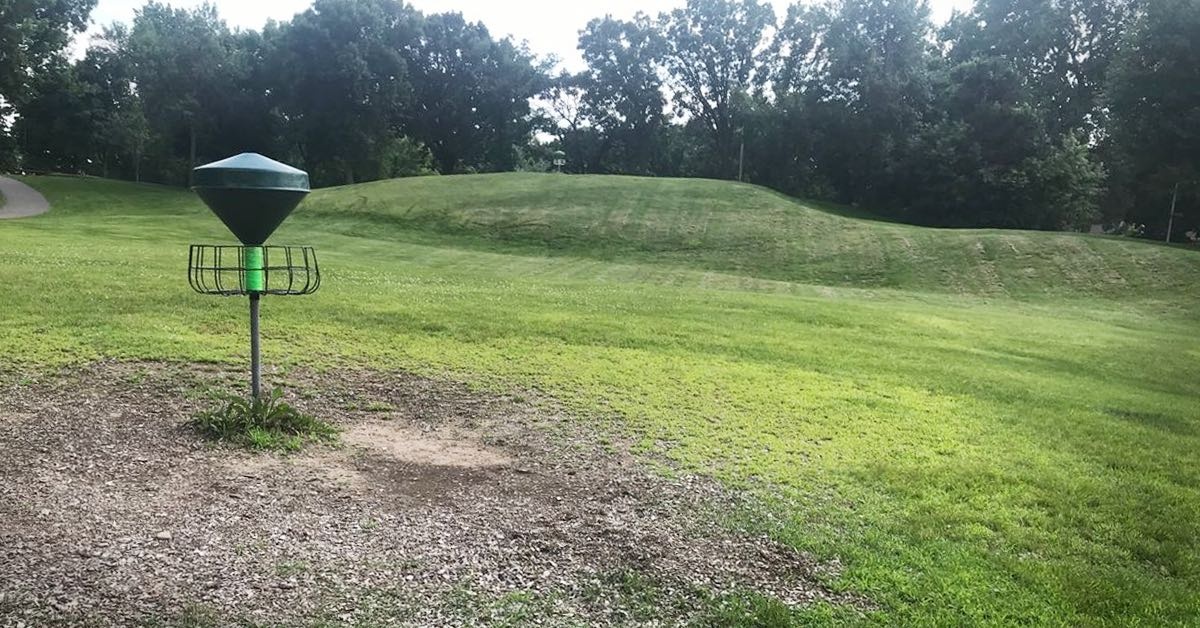 Now synonymous with the early days of midwestern disc golf, the "Saucer Golf" cone target consisted of a 16-gauge aluminized steel deflecting cone which served to corral the disc down into a powder-painted wire basket in its final design. It was quite a robust target and originals can still be found in Hansen Park and Moir Park near Minneapolis.

We spoke with key players from the early days of Saucer Golf: Lightnin' Lyle Jensen, Jumpin' Joe Feidt, and the original salesman and co-designer of the most popular version of the cone basket, Jim Challas.
"Ken Krengel was with a company called 'Seasons of Leisure' and they were promoting Ed [Headrick's] basket, the Mach I," said Challas. "At that time they were also promoting this huge slide that had an injection-molded sled that you sat in and there was a wide metal track, and you went down the slide on the metal track. Krengel and Ed called it the Red Rumbler. They were going out to ski hills, promoting both disc golf and the Red Rumbler. But the engineers forgot to put brakes on the sled." 

Once the insurance agents found out about its lack of stopping ability, they told Headrick and Krengel they didn't have coverage for amusement park-style rides. So the two parted ways, and Krengel saw his opportunity to make a competing disc-deflecting device. 
"For the prototype, they [Krengel and what became Saucer Golf, Inc.] had taken a Weber Kettle that you use for grilling, and they put a foam rim around the top on the inside," Challas said. "I thought that was what he was going to use as the first model, but he cheapened it out and made the dreaded 'Double Cone' deflector."
The Weber grill prototype hurt their profit margins, so what Challas wryly calls the "Dreaded Double Cone" was used in its place. This model was notorious for its poor catching ability and how its plastic construction lacked durability. 
"When I got there, I told Krengel, 'We've got to have a metal model to sell to the parks,'" recalled Challas. "Because the plastic wasn't going to last. Then I also designed a different basket where it sloped back in at a negative angle."
This angle rebounded the disc towards the wall of the basket rather than allowing it to jump back up and out of the cage.
Challas would take meetings with parks and recreation directors and demonstrate the effectiveness of the Saucer Golf cone basket. In his sales pitch, he would point the nose of the Frisbee up, putt it into the chains of a Mach I, and let the wind carry it back out. He'd then throw the same putt on a cone basket and it would deflect down and in. 
"That's how I sold the cone over the chains," Challas said. "The chains would hang up and the wind could blow it back and out. You can never go through the deflector, but you could make it through the chains, especially the Mach I with only one set of chains."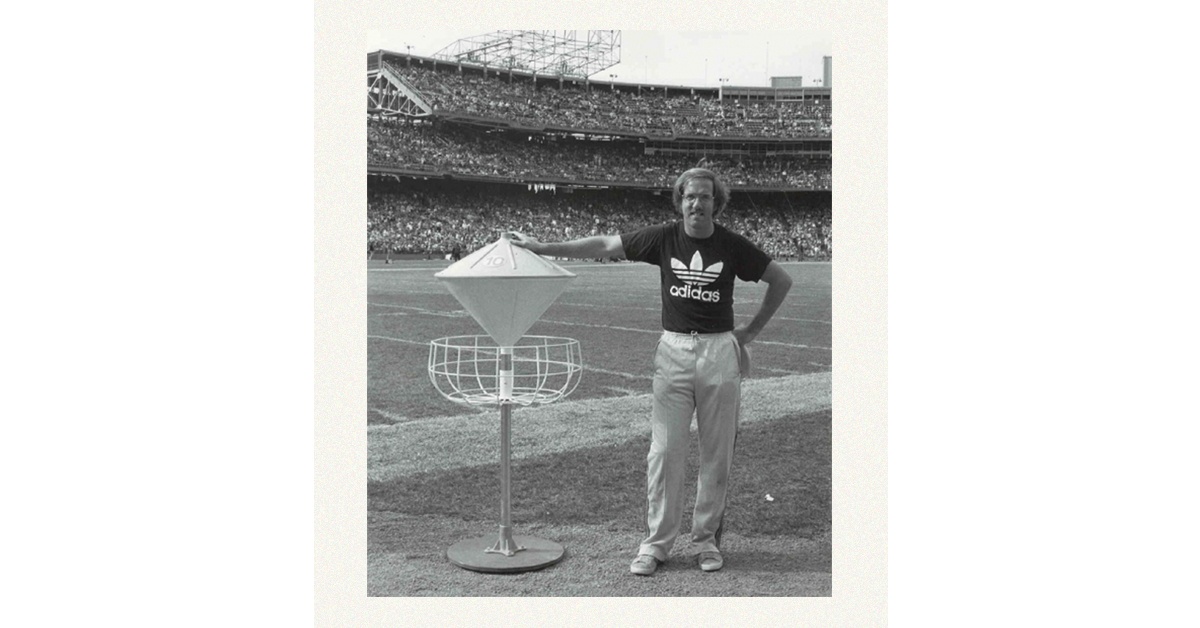 It proved quite effective as cone baskets became surprisingly prevalent in the early days:
"Between '78 and '80, I did some courses there in Minnesota, Michigan, and Oklahoma," said Challas. "Did one out in New Jersey, a few in Canada, and Iowa. There were at least a couple dozen."
During these years, he even held a halftime event for the Minnesota Vikings. Challas put disc golfers on the second deck of the Vikings and Twins stadium and placed the cone basket at home plate. Disc golfers were shooting for huge aces in front of the packed crowd, with Lightnin' Lyle Jensen on the microphone, spreading awareness of disc golf.
"We had something like 61,000 people in there," said Jensen. "And we were throwing at golf targets from the second deck. It was a great demo."
The Decline of Cones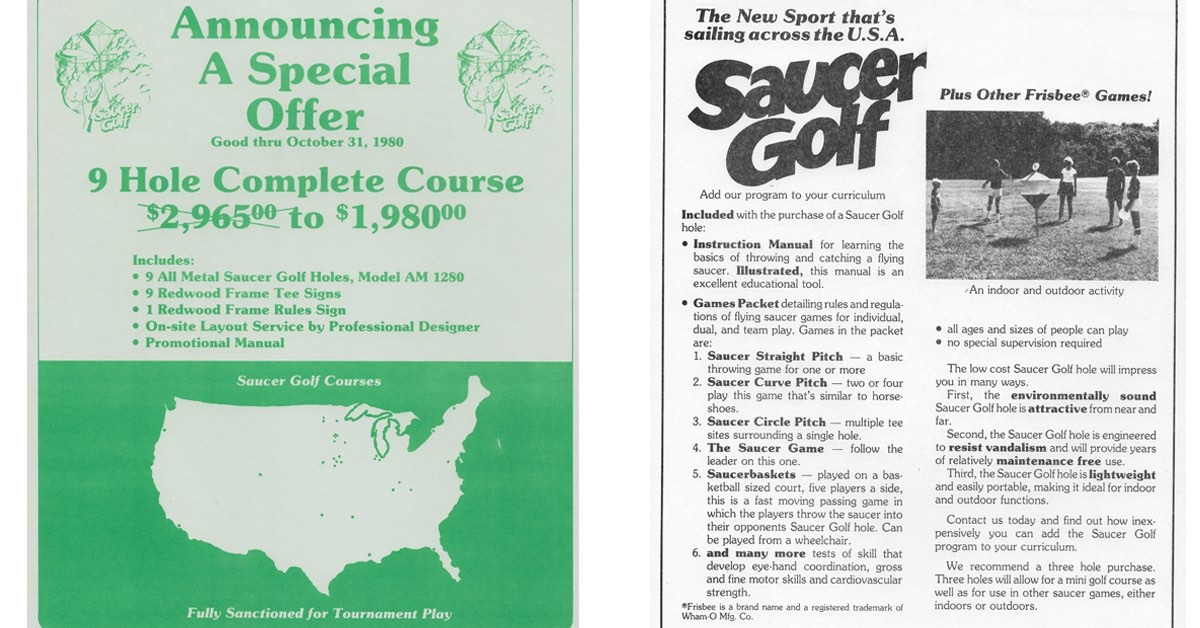 A tournament in Minnesota called "The Sky of 10,000 Frisbees" was held in 1978, put together by Challas and Joe Feidt, and it served as the debut of Saucer Golf.
"Jim and I set up the course, and it didn't go well," said Feidt. "It was raining cats and dogs, and we were using the dreaded double cone—and those were not good. So the pros hated them, it was a bad rollout, and it never really recovered after that. However, Jim and Ken kept at it and the third version got better. It's a pretty good catcher, but unfortunately we didn't have them in '78. If we had, it's possible they really could've caught on."
Along with the cone basket's reputation, the one criticism shared by Jensen, Feidt, and Challas was the small target area of cone baskets. 
"It's a small window vertically," said Jensen. "And horizontally it's smaller too, because no matter how you're facing it, it gets more narrow as it gets towards the basket. If you hit it too high, it will deflect too early and miss the basket. If you hit it too wide it will deflect straight out. If you can putt into a saucer golf hole, you can putt into anything."
"I actually had a prototype where I had truncated the bottom of the cone, creating a larger sweet spot at the bottom," said Challas. "Then I took the top off too, so not only could you hit a bigger target area, you could have it come straight down on a hover shot and have it go straight in the basket."
But it seemed the money was always in selling the discs rather than the baskets, and this prototype never saw production.
"I decided to earn an income, so I left in March of '81, and they [Saucer Golf, Inc.] didn't have anyone that was going to go out there and spend the time like I was selling. There were some residual sales after I left—I know Joe [Feidt] designed a course or two—but there really wasn't anyone pushing it or going to the sales shows and national parks and rec shows, going out in the field. That was it."
Challas escaped the winters of Minnesota and traded them in for the sunny skies of San Jose, California, where he's worked as a residential mortgage broker for 35 years. His passion for disc golf has stayed strong, and along with a stint as the Professional Disc Golf Association Commissioner in 1998, he has been instrumental in designing parks across the San Jose area, including Coyote Creek at Hellyer Park (along with Tom Schot), Parque De La Raza, Kelley Park, and Villa Maria. 
Jensen stayed in Minnesota, and runs the Moir Mystery Madness Tournament at Moir Park, the longest running "Alternative Format Tournament." Rather than discs, golfers are given a mystery object to throw—past objects include pie tins, mail tubes, and vinyl records. Joe Feidt is the editor at DiscGolfer Magazine and is sometimes called the "Father of Disc Golf in Minnesota".
Tone Poles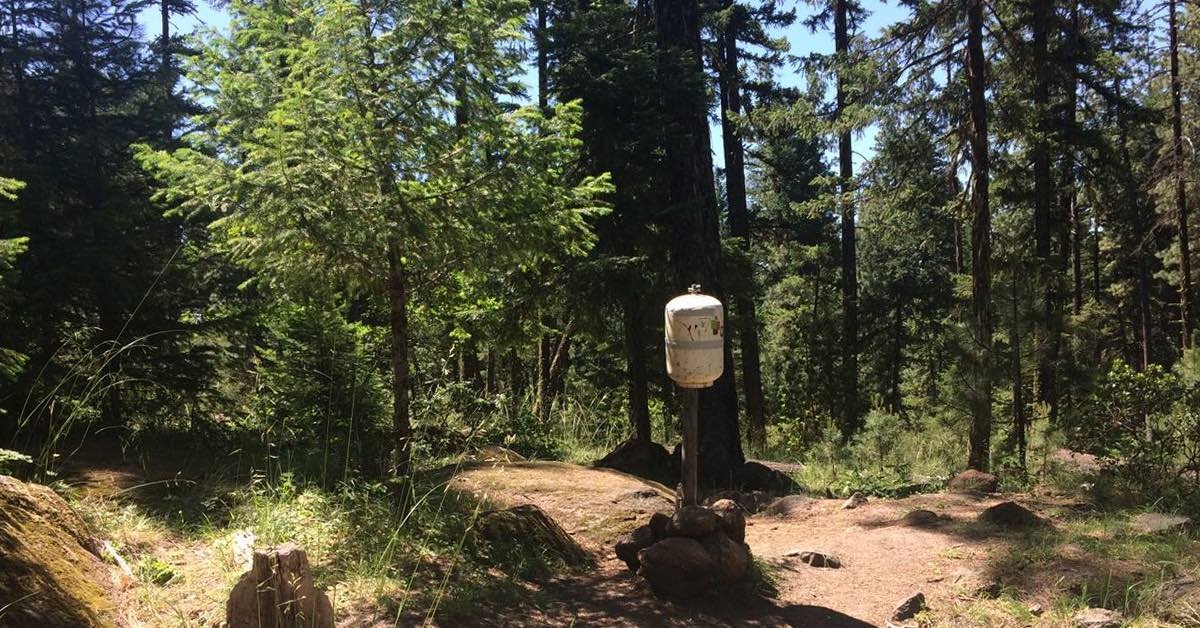 Tone poles, sometimes known as tonals, are a form of disc golf target that provide players with a specific goal while also giving an indication of whether players hit a target from a blind shot by being designed to make noise when hit. While there were official "TubeTone" targets which saw some use, many tone poles or tone targets were made using affordable and durable materials disc golfers or parks and recreation departments had on hand.
Tone poles aren't particularly common today, but we spoke to a few courses that still use the nostalgic target. The first was Plug Ugly Disc Golf Course in San Andreas, California. 
"The course took three years to develop, the biggest obstacle being ADA [Americans with Disability Act] approval from our county," said Jim Kavanagh, member of the Rec and Park board in San Andreas. "Baskets were not a consideration due to expense. We are a small, financially disadvantaged park district, and we don't see the funds necessary to put in regular baskets ever being available to us."
The mere existence of the course shows the resourcefulness and dedication common among disc golfers. Community members expressed their creativity and local pride by painting the targets with different miniature murals: the county name 'Cala-Veras' cleverly written in Coca-Cola script, infamous outlaw Black Bart, and local animal shelter Paws to name a few: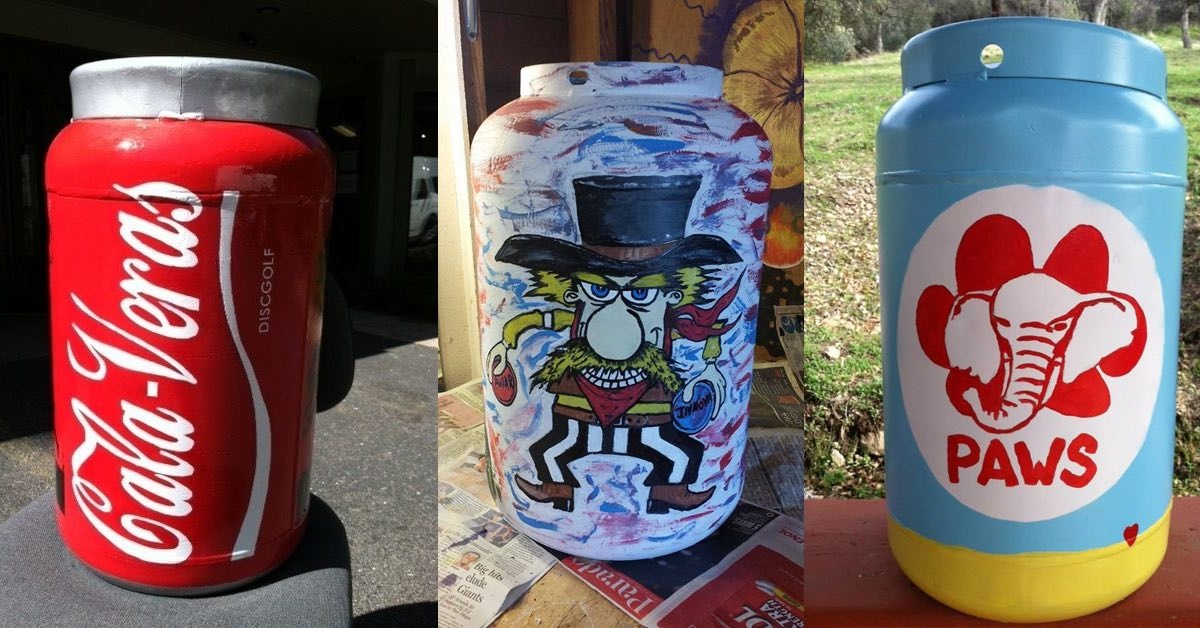 Another tone course is located near Bozeman, Montana, above 6,000 feet/1,828 meters altitude. Among the elk, bear, and mountain goats, PVC pipes hang from the trees. The course, called Mossy Pines at Battle Ridge Canyon, is built on National Forest land. 
"I don't actually know who designed it," said Trevor Olson, PDGA contact for the course. "I just walked around up there kind of randomly. I took it upon myself to map out the course."
"I've heard them called Jake Tones, before." Olson said. "I don't know where that comes from, but essentially what it is, is someone cut 18 inches [46 centimeters] of PVC pipe per hole, stuck a piece of string through it and hung it from a tree."
One hole is blind, so to ensure the player hears a potential ace, a bell was strung up through the inside. Though sometimes inconsistent in sound and much easier to remove, tone targets are a cost effective way to get a disc golf course in a hard-to-reach location.
Other Targets? Let Us Know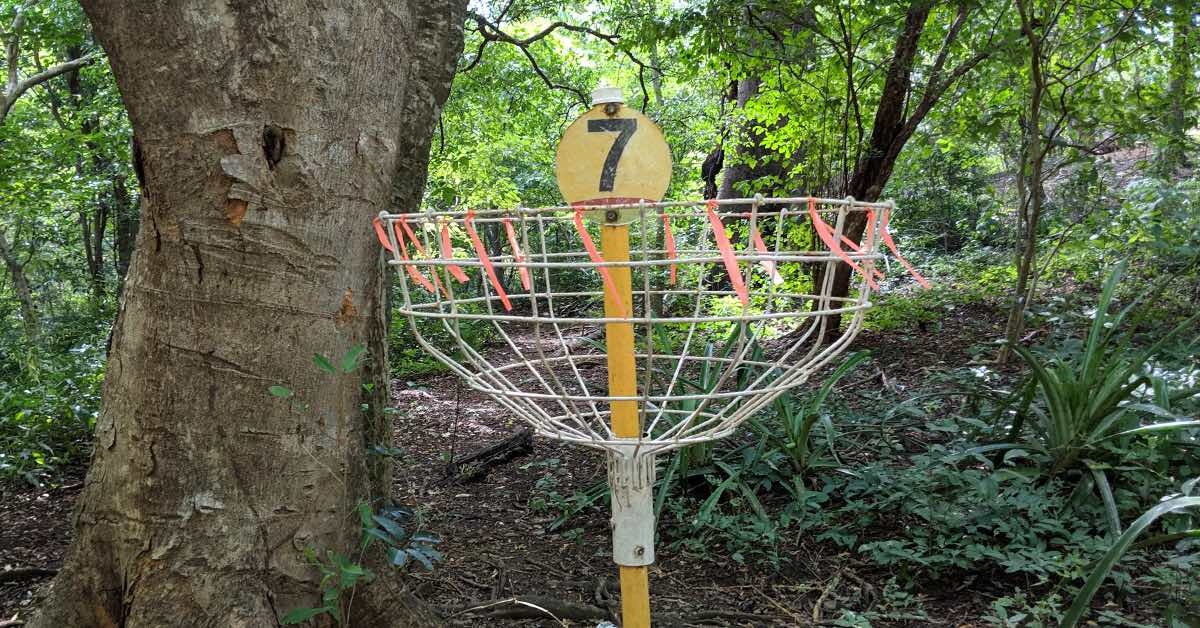 From circles of chicken wire called 'ground baskets', to old inner tubes, to concrete culverts, disc golfers have always found creative ways to play the sport they love. It seems from the moment Frisbees were invented, the target was their natural counterpart.
Challas said it best: "When I was seven, eight, nine years old, when I first started playing with a Pluto Platter, we'd throw at the fire hydrant across the street, then we'd throw at the brick and mortar pillars in the yard. We were playing saucer golf in our dead end street in Antioch, California. But every kid on every street was playing a version of that. That was when I got my first taste."
Do you know the history of an interesting disc golf target or have seen some near you? We'd love to hear about it. Contact Release Point's editor, Alex Williamson, at alex@udisc.com.