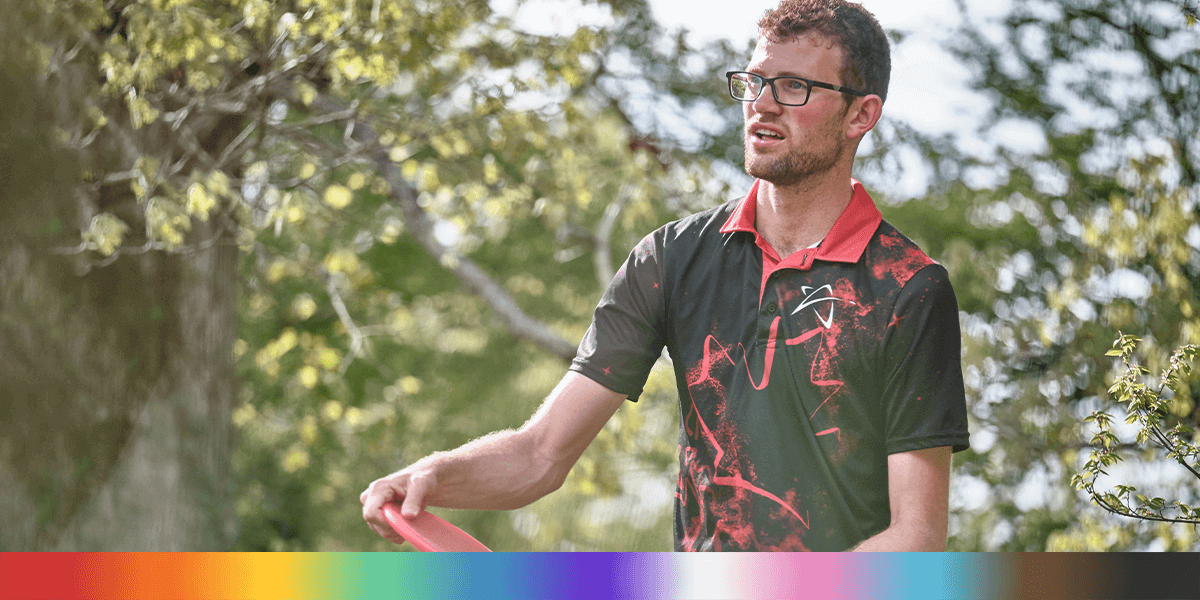 One of our core values at UDisc is to include everyone. We're determined to help disc golfers of all backgrounds and skill levels succeed, from beginners to world-class professionals and, as always, we treat everyone with respect. So, we're taking time this Pride Month to celebrate the people and events making a difference in the LGBTQ+ disc golf community. We encourage players to take an inclusive mindset to the course and offer a spin on the common idea of "playing through" a group. Instead, play with. You might find that disc golf can be better with an open embrace.
When Thomas Gilbert first emerged on the professional disc golf touring scene in 2018, he did so as a long-throwing Canadian known for his affable, approachable nature and the best huckface this side of Ricky Wysocki. He popped off in 2019 with a final-round chase card showing at the Las Vegas Challenge and then made waves with an A-tier triumph later that year at the Challenge at Goat Hill Park.
As his skills improved, so did his stature in the game. And as a student of disc golf, he even achieved meme status, often spotted in the background of the popular GK Pro Skins video series, just taking it all in like the enthusiastic fan that he is.
As he became more and more comfortable on the road living out his dreams, there was something holding the now 22-year-old back from being the best he could be.
It wasn't his putting game or some other skill he needed to hone in on to perfect his craft. It was something that took more time to figure out how to approach, something he wasn't sure others in the sport would be ready to embrace.
At the beginning of 2022, Gilbert announced via an Instagram post that he is gay. The process of working toward that announcement was one that required him to evolve as a person and overcome his own fears – but at the same time, that message wasn't just for him.
'That Last Step Forward'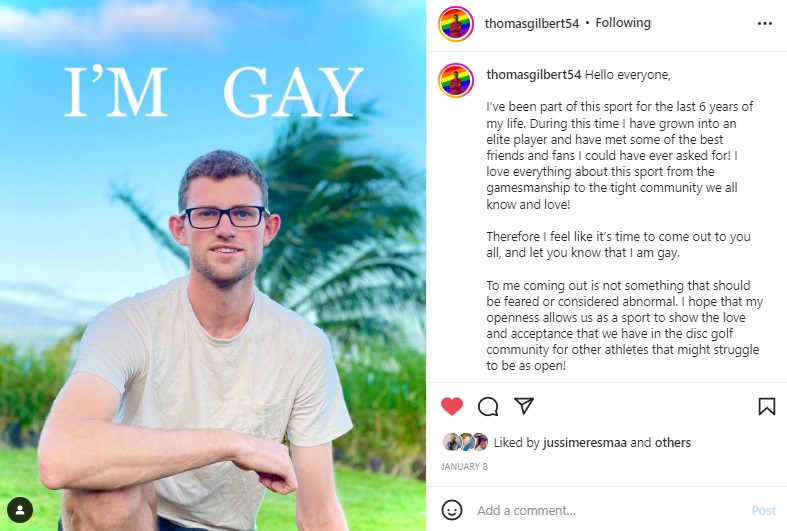 So, why do you need to know Gilbert's sexual orientation? After all, if you look at comments on UDisc's first couple Pride Month social media posts, many are quick to point out that they don't need to know this information about another player, that disc golf is unquestionably inclusive and that bringing in "political" topics like this somehow sullies their experience on the course.
He's probably too nice to tell you this himself, but that mindset is exactly why you need to know that Gilbert – or anyone else, for that matter – is part of the LGBTQ+ community. 
It might not seem like a big deal to someone who is in a heterosexual relationship that is widely viewed as the norm in society. But even in seemingly innocuous day-to-day interactions, Gilbert said he was not able to really be his true self until he came out.
"It was definitely tough on tour," Gilbert admitted. "That was the part that always bugged me and one of the reasons why I wanted to come out. Everyone has small talk about relationships and how things are going: 'Hey, is there anyone you're meeting with?'
"There were always small white lies, like, 'I'm not looking for a relationship right now,'" he continued. "Having to suppress that and not be honest with people was a bad feeling. It felt kinda lonely in that sense. I was afraid to be truthful, even with the people closest to me, because I didn't want to have to reveal my secret."
That started to change in 2021. Gilbert decided to come out to a couple of close friends on tour, first telling travel partner Joey Temali and longtime friend Nate Sexton at the Las Vegas Challenge. They greeted the news with nothing but support, and that encouraged Gilbert to continue telling more people as the season rolled on.
He was also inspired by other athletes' courage. Last June, former Las Vegas Raiders defensive end Carl Nassib came out publicly, the first active NFL player to do so. In December, Gilbert watched the Netflix series Coming Out Colton, a docuseries that followed former NFL player and one-time The Bachelor star Colton Underwood on his journey as he told friends and family that he was gay. 
That helped Gilbert gain even more confidence in what his next move should be. So, like so many others, he made a New Year's resolution: For 2022, he would come out publicly.
"I don't think anyone knew I was gay up until the beginning of 2021, and slowly throughout the season I came out to more and more people," Gilbert said. "I had no issues and received tons of support from those people around me, and I figured it was time to take that last step forward."
Representation Matters
Though he was ready to take the leap, Gilbert still admitted there was some trepidation before he made his announcement. He'd only told carefully selected people up to that point, and he said he was concerned that fans, fellow competitors, and even his sponsors might not know how to process the news.
He called it "the scariest unknown." But he also felt a growing sense of purpose, and when he made the post, the response was overwhelmingly positive.
"Now that I've passed the major hurdle of coming out publicly, I thought, 'Man, why didn't I do this sooner?'" Gilbert reflected. "That fear of the unknown is what made it difficult to start coming out to my friends at the beginning of the season last year."
Beyond the relief that came off of his own shoulders, Gilbert knew his announcement would also benefit others. Similar to how he was inspired by other pro athletes, the fact that he could help create change both on and off the course added an extra reason – and was perhaps an even greater reason – for him to come out. 
"Not only would it allow me to be free to be myself, but I knew it could affect the sport of disc golf itself," Gilbert said. "Just bringing that topic into light and giving others the courage to do the same, making it normal for a well-known player to be 'out' on tour, was important."
Indeed, Gilbert received hundreds of messages, both public and private, about what his announcement meant. For LGBTQ+ disc golfers – whether they are out or not yet ready to disclose their sexual orientation – they now had someone who represented them, a fellow athlete in one community who was also part of another. Allies of the LGBTQ+ community, meanwhile, told Gilbert it opened a window to talk about sexual orientation in a more relatable fashion. 
"It was enough of a conversation starter to create productive discussions about the LGBT community," Gilbert said. "People told me it led to conversations not just about me in disc golf but also within everyday households."
'A More Inclusive Environment'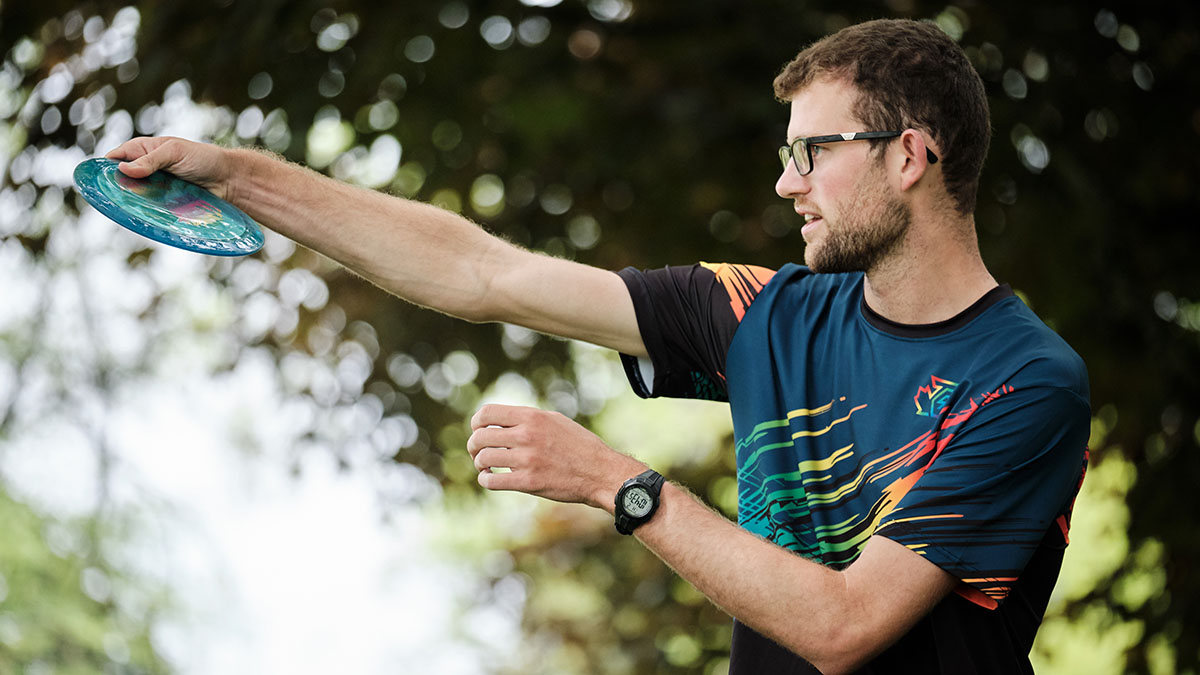 While plenty of positivity has been directed toward Gilbert personally, he knows disc golf can still make progress in its posture toward the LGBTQ+ community. He's often heard players use "gay" as a derogatory term toward their poor shots, for example, and encouraged people to choose their words more carefully. His appearance on Jomez Pro's Approachable podcast shortly after his post, too, courted more negative commentary than on his own personal page.
"Since the comments wouldn't be directed toward me personally, people were a lot more vocal about their disapproval of my announcement," Gilbert said. "It seemed like a step in the wrong direction for the sport."
He's also seen hatred directed toward fellow touring players who are transgender. The hostility has caused the Disc Golf Pro Tour to take strong stances on content moderation on their social media platforms, and while Gilbert said he didn't know what the standards for competition should be moving forward, he believes it's crucial to lead with compassion.
"I think when people are discussing it, it's important not be so hateful," Gilbert said. "I imagine it's already a tough time for those women to have gone through that process, and anytime they're successful in their career, people get extremely aggressive and upset. I can't imagine what that feels like for them. I hope people can be more caring and understanding that they are still human beings that have feelings."
Gilbert, meanwhile, is trying to use his platform productively. He has teamed up with clothing sponsor Diameter Apparel to release Pride shirts and jerseys, with proceeds benefitting an LGBTQ+ youth charity. His hope is that having more visibility on the course, regardless of the sexual orientation or gender identity of the wearer, will help to create more welcoming spaces in the sport.
"Similar to how Pride Month promotes inclusion, wearing a Pride shirt has the same effect," Gilbert said. "I feel if I were to see others wearing a Pride shirt, it would make me immediately feel like it was a more inclusive environment. Seeing something just being just worn and realizing there are no issues with it being worn helps. I think it eliminates some of the anxiety around it being an abnormal thing." 
Gilbert also hopes to see more disc golf leagues and events for LGBTQ+ players, similar to recreational sports in larger metropolitan areas that continue to provide a welcoming atmosphere in several other arenas. After our interview, he sent this author a Facebook post about a Pride doubles event in Minneapolis near the end of the month. 
It's all about bringing more people together.
"That's what Pride Month probably is to me," Gilbert said. "Giving that opportunity to reach more communities and more people and let them know what the inclusivity of Pride is."