When most people visit winery estates, they try a few wines, get a glass or maybe even a bottle of the one they like best, and find somewhere with a great view to just sit, relax, and sip. They enjoy the complex flavors and smells of their chosen vintage and feel a sense of calm wash over them as they take in the sprawling grounds and evenly-spaced rows of vines.
Disc golfers' minds, however, are racing.
Instead of enjoying the peaceful, carefully-planned landscape, they're calculating how many holes they could put on it, whether that open spot up on the hill would be better as a tee or basket position, and kicking themselves for not throwing their bag in the car. Seriously. Always bring your bag.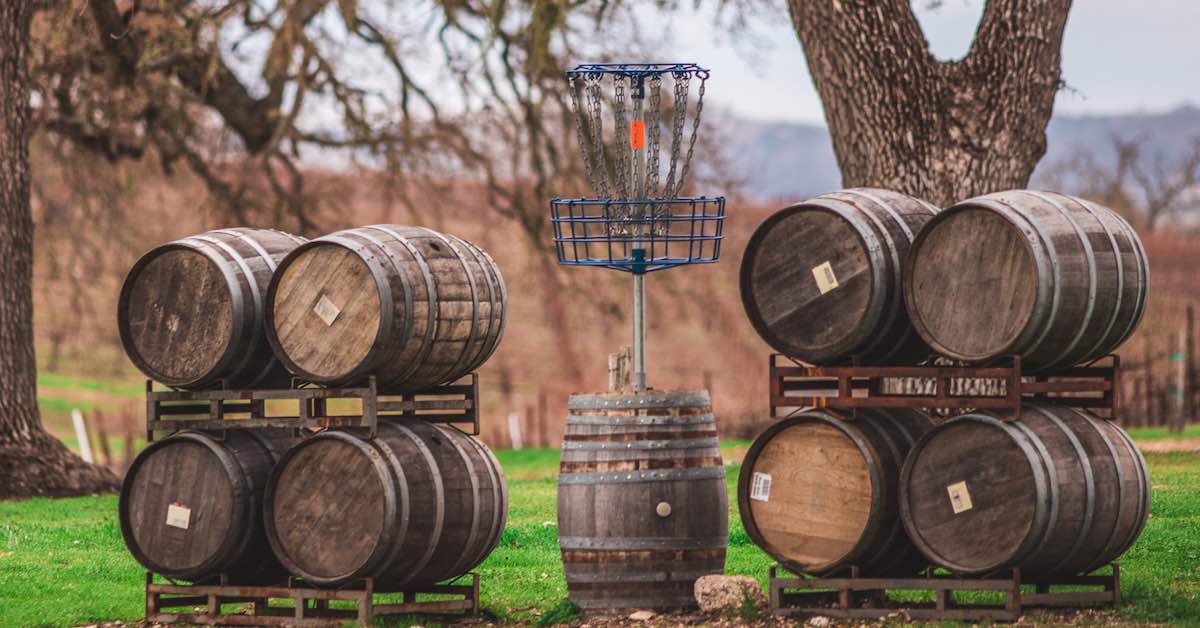 As disc golf has gotten bigger, courses at wineries have gone from disc golfer daydreams to assets winery owners see the value in. They draw new customers to their businesses and offer regulars a reason to stay longer and come back even more often. Unsurprisingly, more than a few wineries currently offer disc golf as an option for their patrons.
Now you can find out which 5 disc golf courses at wineries are the best in the world according to disc golfers with UDisc, the world's #1 disc golf app that includes the largest directory of disc golf courses in existence.
Ranking the Disc Golf Courses
Here's how we came up with the rankings in this post:
How did you identify winery disc golf courses?
Disc golfers adding courses to the UDisc directory can tag them as certain types of property, e.g., private, public, camp, or military. Another property tag option is brewery/winery. For this post, we identified every course with the brewery/winery tag and ran the numbers to see where they ranked against each other based on ratings from disc golfers with UDisc (more on the math in the next bullet point). Once we had the rankings, we researched each course at the top of the list and created a top five that included only the courses at places that we could confirm were wineries.

Keep in mind that any course not labeled "brewery/winery" at the time we ran our search in late June 2022 was not eligible for this list.

How did you come up with the winery disc golf course rankings?
The rankings are based on disc golfers' ratings of the courses in UDisc. However, we didn't go purely off of current rating. Recent course ratings affected courses' overall scores more than older ones. We also took into account how harshly or easily different countries tend to rate courses and made adjustments to even out those differences. Additionally, courses with low numbers of ratings received penalties.

This is the same math we used to create the World's Best Disc Golf Courses 2022.
What qualified as a winery disc golf course?
The course had to be clearly owned and/or operated by a winery, which means they needed to make and not just sell wine. While some of the top five are also vineyards (places that grow their own grapes), they didn't need to be to make this list.
Did you limit what part of the world the courses could be in?
No. Winery disc golf courses all over the world were eligible.
The Best Winery Disc Golf Courses: Top 5
Now, let's raise a glass to the world's five best winery disc golf courses:
5.  Wild Vines Disc Golf Course at Castel Grisch Winery: Watkins Glen, New York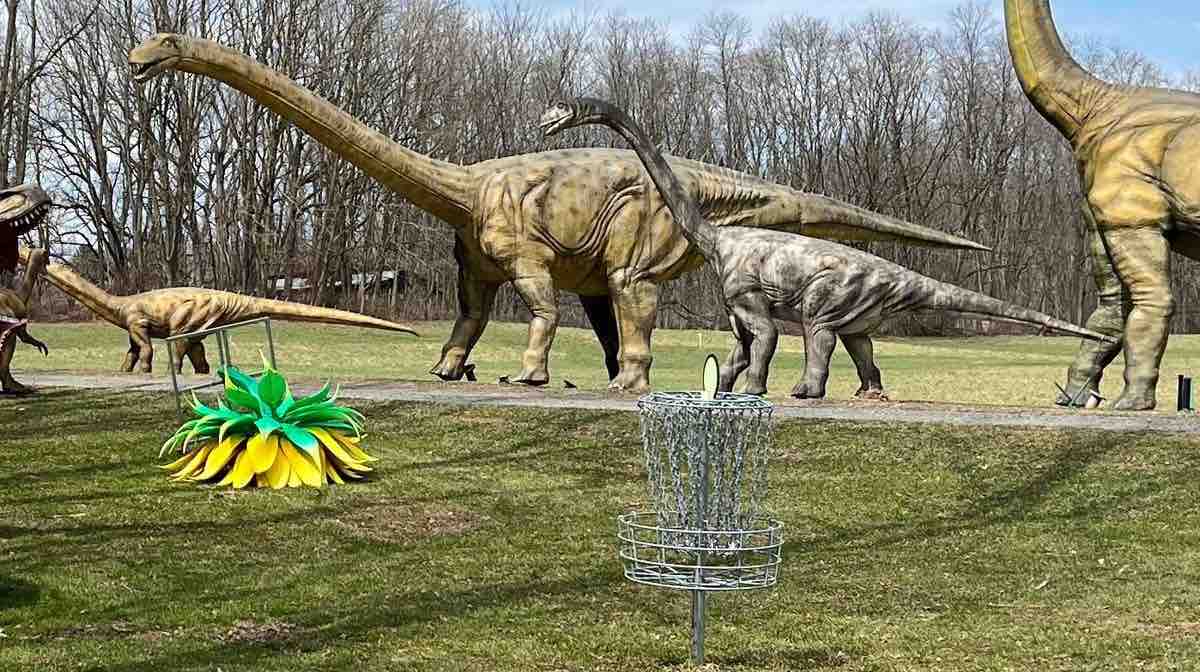 DISC GOLF COURSE

Score
: 79.64/100
Number of Holes:
18
Shortest Hole:
204 feet/62 meters
Longest Hole:
499 feet/152 meters (par 4)
Tees:
Gravel
Targets:
Mach X
Free or Pay-to-Play?
$5 per day
Course Established:
2020
Photos, hole lengths, current course conditions, and more:
Wild Vines Disc Golf Course
on UDisc Courses
WINERY

Popular Wines: A Chardonnay/Riesling blend and semi-sweet white blend named Seneca Dream

Open Since: 1983
Located in the Fingerlakes region of New York State, Castel Grisch has been making wine for around four decades. They grow classic European varietals like Riesling and Chardonnay as well as hybrids created by Cornell University's well-known viticultural program and species native to North America. Since 2020, they also have a disc golf course with great views of the surrounding countryside, nearby Seneca Lake, and...life-sized dinosaurs.

Now that's a blend you're going to want to taste.

Though the course has some shorter holes around 200 feet/61 meters and two par 4s that don't crest 400 feet/122 meters, it's likely to be most fun for players who can throw over 300 feet/91 meters consistently. There's a mix of open areas and woods, and throughout you'll encounter huge models of prehistoric creatures – some enjoying their day and some feasting on downed prey.

This unique course has become a successful attraction for Castel Grisch.

"It draws a wide range of people to our winery – some of whom enjoy our wines and others who are new to wine," a winery representative told us.
4. Round Peak Winery Disc Golf Course: Mount Airy, North Carolina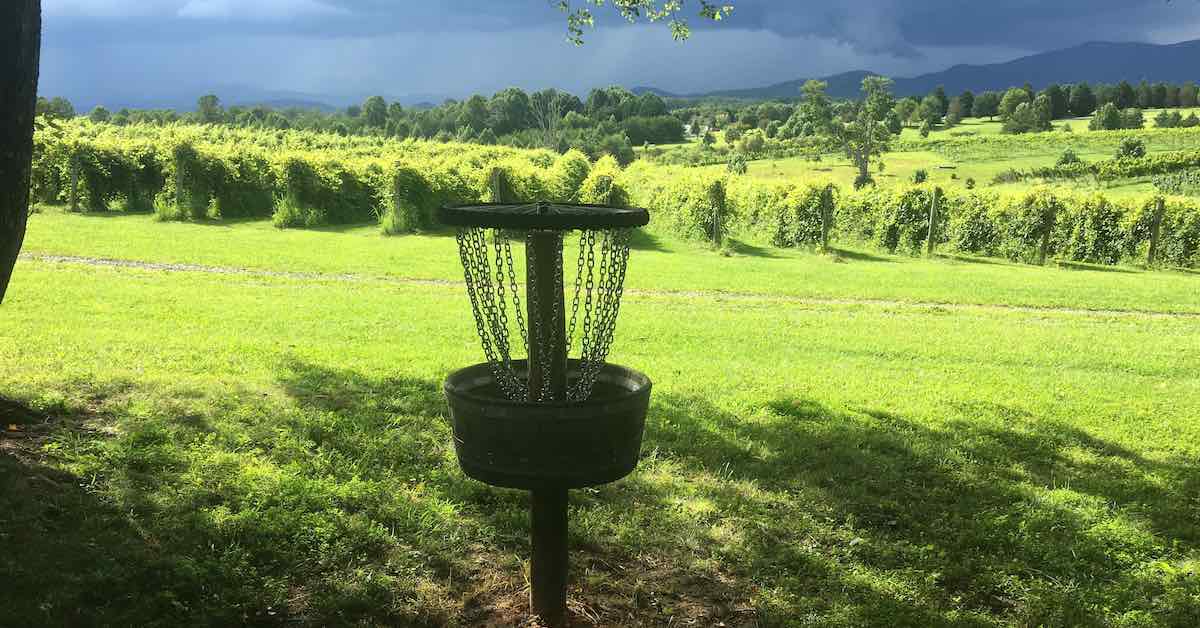 DISC GOLF COURSE

Score
: 79.9/100
Number of Holes:
18
Shortest Hole:
111 feet/ 34 meters
Longest Hole:
493 feet/ 150 meters
Tees: 
Gravel
Targets:
Custom-built baskets with bike tire tops and wine barrel bottoms
Free or Pay-to-Play?
Free, but visitors must visit tasting room to sign waiver
Course Established:
2017
Photos, hole lengths, current course conditions, and more:
Round Peak Vineyard Disc Golf Course
on UDisc Courses
WINERY

Popular Wines:
Nebbiolo (an Italian red grape),
Petit Verdot, Tannat, Cabernet Franc, Chardonnay
Open Since:
Current ownership took over in 2008
If you like a good drink of any sort, Round Peak likely has it. Along with wines made from 100% estate-grown grapes, they serve up their own craft beers (under the name Skull Camp Brewing) and ciders. Since the disc golf course is on Round Peak's property, you can enjoy your choice of those beverages while playing the 18 holes that wind through their vineyards.
Ken Gulaian, who co-owns Round Peak with his wife Kari Heerdt, said that staff put disc golf on his radar.

"Basically, we had a number of employees at our winery that are really into disc golf," Gulaian told us. "They kept looking at all the unused areas on the property thinking it would make a great course. So – finally – we did it!"

The course went up in 2017, and when the pandemic hit in 2020, it really proved its worth.

"We saw a significant increase [in course traffic] during the height of the initial COVID period due to people wanting to get out in the open and enjoy being outside," Gulaian said. "It really hasn't tapered off since. With the ability to play 18 holes and then take advantage of the winery patio (which sits at one of the highest elevations on the property with great views), people tend to hang out after they finish."
Throughout, the course offers views of the Blue Ridge Mountains in the distance as it takes disc golfers through the picturesque vineyards. The front nine is very beginner-friendly while the back nine is aimed at more experienced players. On the front, expect fairly open, shorter shots. On the back, it changes.

"[There are] some very long and challenging holes although the three longest all also have shorter beginner tees," Gulaian said. "There are a lot of hills on the back nine and some narrow fairways through woods."
Of course, the thing players will notice right away are the unique targets.
The baskets are cut off sections of old bourbon and wine barrels, the poles were formerly vineyard posts, and the tops are mountain bike rims with tires. Gulaian said these charming targets are "regulation in dimensions," but they certainly offer players a far different experience than traditional all-metal constructions. Staff has been experimenting with chain configurations this year, and the current plan is to convert all baskets from single to double chains over the 2022-2023 winter.
As for wines, Gulaian explained that the climate and soils in their part of North Carolina's Yadkin Valley viticultural area tend to produce "well-balanced medium bodied red wines and clean, crisp white wines." They focus mostly on dry versions of French and Italian varietals but also make sweet wines from the same grapes. They age their vintages in 100% French Oak barrels.
3. Jenkins Mountain Disc Golf at Little Washington Winery & Skyline Brewery: Washington, Virginia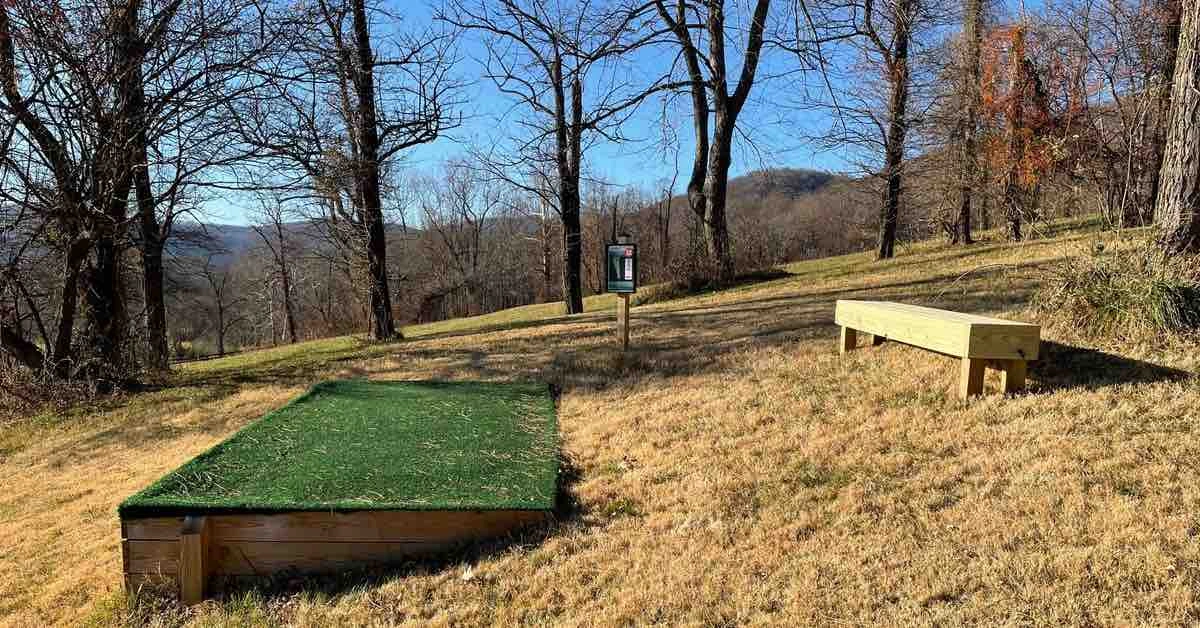 DISC GOLF COURSE

Score
: 88.04/100
Number of Holes: 
18
Shortest Hole:
209 feet/64 meters
Longest Hole:
774 feet/236 meters (par 5)
Tees:
Artificial turf
Targets:
Mach V
Free or Pay-to-Play?
Free
Course Established:
2020
Photos, hole lengths, current course conditions, and more:
Jenkins Mountain Disc Golf Course
on UDisc Courses
WINERY

Popular Wines: Chardonnay and a (mostly) Cab Sav, Merlot, Cab Franc red blend affectionately called George

Open Since: 2011
Jenkins Mountain Disc Golf Course in Virginia is associated with both Little Washington Winery and Skyline Brewery, so you may have already learned about it in our post on the top 10 brewery disc golf courses. The triple threat of winery-brewery-disc golf is pretty rare, but if we had rankings just for that combo, Jenkins Mountain would top it.

However, neither the course nor the brewery would exist without Donna and Carl Henrickson's passion for wine.
"A wine named 'George' is our flagship product," Donna told us. "We started making George as a hobby on the kitchen counter of our townhouse in 2003. We encourage everyone to do this. Get a wine making kit and keep wine percolating on the kitchen counter. Don't get as obsessed as we did. We jumped off the corporate ladder to go pro with a winery in 2010. George got named the best red wine in Virginia in 2013, 2014, and 2015."
The Henrickson's left a townhouse in the D.C. area for a large plot about 60 miles/97 kilometers away up in the Blue Ridge Mountains and today make an assortment of 10-12 wines per year from these grape varietals: Chardonnay, Vignole, Viognier, Merlot, Cabernet Franc, Arandell, and Cabernet Sauvignon. Of those, Donna believes the Chardonnay provides what she called "the biggest aha moment." But this wine has also created a long-lasting battle of 'grape' proportions at Little Washington Winery.

"We had to split the Chardonnay vineyard right down the middle in order to save the marriage," Donna said. "We could not agree on how to do it, so we made two. We do side-by-side tastings of our Chardonnays so that guests can experience what we mean! Donna's Shenandoah Steel Chard got named the #3 white wine in Virginia. Carl's Old World Oak Chard is consistently the winery's best seller."
Disc golf came to the estate just a few years ago at the prompting of the Henrickson's disc golf-obsessed son, David, but his parents love the results they've seen so far.

"Disc golf has added a whole new dimension of fun on the farm," Donna said. "The course gives disc golf guests a common reason to meet new people. The winery and brewery give them a place to hang out for a while after the [round] with friends engaging in their common passion."
The course is meant for advanced players and hosted its first PDGA B-Tier in the summer of 2022. It has pro-level turf tees and panoramic views of the mountains in many places. And, speaking of mountains, you shouldn't be surprised that this Blue Ridge track often uses changes in elevation to challenge players. It also asks them to tackle wooded and open fairways alike. Three of the par threes are 400+ feet/122+ meters, so big distance is an advantage for those seeking birdie looks on every hole.
2. Flat Creek Disc Golf Course at Flat Creek Estate: Marble Falls, Texas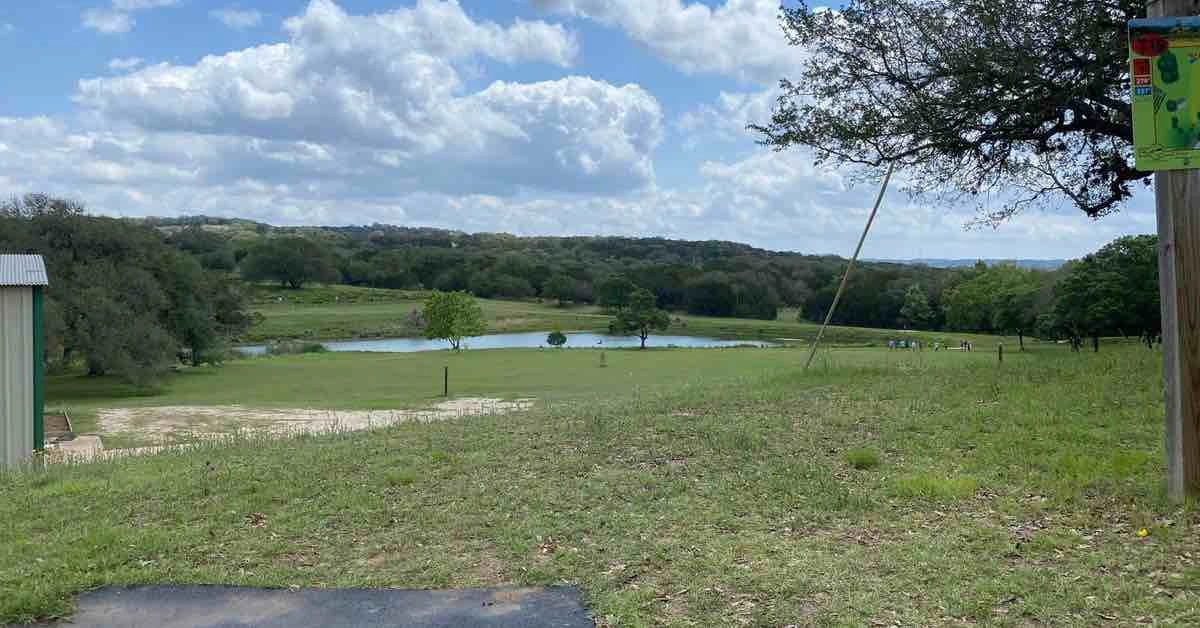 DISC GOLF COURSE

Score
: 92.4/100
Number of Holes:
18
Shortest Hole:
178 feet/54 meters (red tees), 211 feet/64 meters (blue tees)
Longest Hole:
576 feet/175 meters (red tees, par 5), 960 feet/293 meters (blue tees, par 5)
Tees:
Concrete
Targets:
Mach X
Free or Pay-to-Play?
$10 all day play, $20 for play & wine tasting, $40 for play & food
Course Established:
2017
Photos, hole lengths, current course conditions, and more:
Flat Creek Disc Golf Course
on UDisc Courses
WINERY

Popular Wine Varietals: Sangiovese, Pinot Grigio

Open Since: 2001
One of the United States' best disc golf destinations is Austin, Texas, so it's not surprising that areas near the city have caught on to how attractive the sport can be. But Flat Creek Estate certainly didn't opt for the disc golf course equivalent of two-buck-Chuck in hopes of convincing more people to make the hour or so drive from the Lone Star State's capital to their location in Hill Country. No, they went about as high class as you can.

They opted for a John Houck course.

Houck is a legendary disc golf course designer known for quality. For example, he created Hillcrest Farm – a track that's perennially in the top 10 of the world's best disc golf courses – and has more courses in the world's top 100 than you can count on one hand.

Flat Creek's disc golf course displays yet again Houck's knack for hitting all the right notes with players. It has two sets of tees, one shorter and one longer, so that people of all skill levels can enjoy themselves. Though the property is mostly open, there are trees (or, occasionally, the vineyard) to contend with on many holes. Water comes into play in a few places, too. Since you're in "Hill Country," it won't surprise you that elevation is yet another frequent factor.

These challenges plus constantly-changing distances from hole to hole make for a fun and diverse layout that includes some great views in a peaceful setting.
On the wine side of things, Flat Creek grows a number of varietals. It has world-famous grapes like Tempranillo, Sangiovese, Pinot Grigio, and Viognier as well as lesser-known North American hybrids like Blanc du Bois. Interestingly, they also have ports made from traditional Portuguese varietals.

If you'd like to learn more about how Flat Creek came to have disc golf, check out an earlier post where it was featured: "Winemakers Invite Disc Golfers To Uncork One."
1. Whale Rock Disc Golf Course at Castoro Cellars: Templeton, California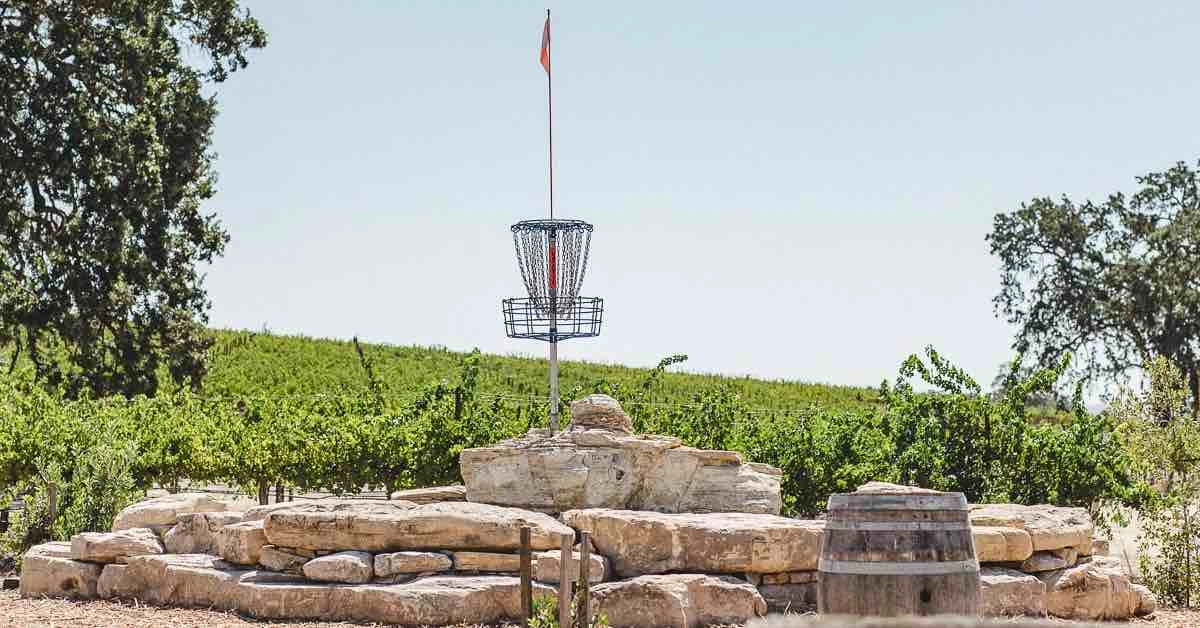 DISC GOLF COURSE

Score
: 93.4/100
Number of Holes:
Up to 20 (layouts for 18, 19, and 20 holes)
Shortest Hole: 
218 feet/66 meters
Longest Hole: 
395 feet/120 meters (par 4)
Tees:
Concrete
Targets:
Mach V
Free or Pay-to-Play?
$5 per day per player
Course Established:
2014
Photos, hole lengths, current course conditions, and more:
Whale Rock Disc Golf Course
on UDisc Courses
WINERY

Popular Wines: Cabernets, Zinfandels, red blends

Open Since: Established in 1983. Current facilities opened in 1990
Whale Rock Disc Golf Course at Castoro Cellars isn't just the #1 winery disc golf course there is – it's one of the top disc golf courses of any type. Earlier in 2022 it got a coveted spot on our annual list of the 100 best disc golf courses in the world. And when you have great disc golf right next to a place where you can drink tasty California wines you can feel good about (certified organic grapes, growing and wine-making practices that have won awards for environmental stewardship), what's not to love?
Like Flat Creek, we've talked about Whale Rock's story before on this blog, but it's certainly one worth digging into again.
The disc golf course is a dream come true for Max Udsen, son of Castoro Cellars founders and owners Niels and Bimmer Udsen. Max played a lot of ultimate Frisbee while at California State Univeristy, Chico (AKA, Chico State), and he and a few others on the ultimate team got deeply into disc golf thanks to Chico's lovely Peregrine Point Disc Golf Course.

"In our down time we played a lot of disc golf," Max recalled. "We would be playing rounds and dreaming together of building a course one day. On road trips to ultimate tournaments, we'd drool out the window at places we thought would be perfect for a course as they passed by."
Being constantly vigilant about areas' disc golf potential paid off one day as Max walked through Castoro Cellars' Whale Rock Vineyard, a name alluding to the ancient sea that used to cover the property. He tells the story as if seeing the lines was almost a religious revelation for him.

"Vineyards are beautiful but don't usually provide enough natural elements and features to make them disc golf ready," Max said. "Whale Rock was different. The first line I saw is now hole 18. As I walked the fairway, it took me to a rise in elevation. I looked down onto a huge 200-year-old oak tree from 100 feet [31 meters] up and knew this was disc golf heaven. [That's] now a signature hole on the course: hole 6."

Unlike some first-time course designers, Max didn't rush headlong into building. He created temporary tees and put posts in the ground at potential pin locations. He invited others to play the layout and reassessed and tweaked based on feedback and his own observations. He said his major concerns were "flow, safety, and shot diversity."

When he was certain Whale Rock could be home to a great course, he prepared a pitch for his parents. It included a mandate to make the course as high class as possible.

"Quality across the board," Max said. "Good permanent tee pads and baskets, clear signage, benches and brooms at every hole. All the things that frustrate me at the courses I visit were not going to happen here. It was a pitch not only to build a disc golf course but add a unique layer to the Castoro Cellars experience."

The elder Udsens liked what they heard and gave Max the green light to make Whale Rock Disc Golf Course. Today, the track is an impeccably maintained joy to play with the aim to challenge and entertain experienced players without intimidating newer ones. You won't need to throw any huge bombs, but the challenges offered by distance, technicality, and elevation are enough to keep any player happy (including 2021 Pro Disc Golf World Champion James Conrad).

Creating a course with such wide appeal has done exactly what it was intended to: grow disc golf and Castoro Cellars' customer base in equal measure.
"The beauty is that it goes both ways," Max said. "Some come specifically for the disc golf course and find out they love wine and some come for the wine and find out they love disc golf. A great pairing."
As good as it is now, the course is still a work in progress in Max's mind, and he says he goes to sleep each night dreaming up additions and improvements.

On the drink side of things, Castoro Cellars' team hasn't managed to be successful in the competitive California wine market by chance.

"We've had the same winemaking team for nearly 40 years!" Max said. "I would say we are consistent in producing outstanding wines that showcase the appellation but not shy to experiment and be innovative."

Castoro Cellars sets high standards for sustainability as well as its wines. They have solar arrays in their vineyards that offset 100% of their energy use, treat wastewater with a state-of-the-art system, and use no harmful chemicals to grow their grapes (great for the world and their workers).

And if wine isn't your thing (or even if it is), you can head across the street to Bethel Rd. Distillery. Owned by the same family as Castoro, they make grape-based spirits (again, 100% organic) as well as an orange liqueur and the walnut-based Nocino.
Think We Missed Something?
If there's a fantastic winery disc golf course you think we missed, feel free to check if it's in the UDisc disc golf course directory. If it's not, here's how to add a course to UDisc.