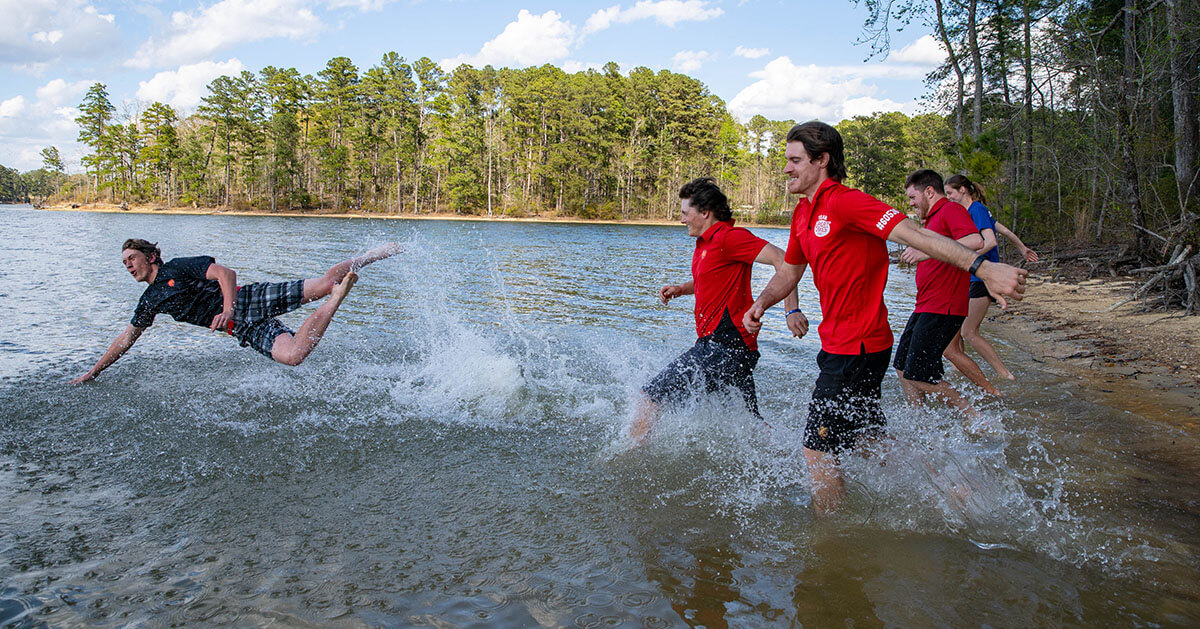 For college sports fans still coming down from the high highs of the NCAA March Madness basketball tournament, disc golf provides an extra fix this week to keep you cheering for your alma mater or favorite squad.
The College Disc Golf National Championship (CDGNC) returns this week after being canceled in 2020 due to the COVID-19 pandemic. This annual tradition, which was first held in 2007 and was originally called the National Collegiate Disc Golf Championship, finds 40 schools from around the country traveling east to take part in a competition format unique in the sport. And you can follow all of the scoring that will lead to treasured memories and national acclaim this week on UDisc Events.
If you're a fan of college sports, it's a can't-miss tournament. Here's more on how to take in all of the action.
When are the College Disc Golf National Championships Taking Place?
The CDGNC runs this Wednesday, April 7, through Saturday, April 10. The tournament is sanctioned as a PDGA X-Major.
Where are the College Disc Golf National Championships Being Held?
For several years, the CDGNC were held at the now-defunct Hippodrome Disc Golf Complex in North Augusta, South Carolina, a sprawling property that, while revered for its festive atmosphere, was sometimes panned for non-traditional designs that featured unnatural objects like fences and gates on the courses. Once that venue was closed to disc golf, the event moved to the PDGA's International Disc Golf Center fo a one-off running in 2019.
In 2020, the event was originally slated to be held at Winthrop University in Rock Hill, South Carolina, home of the United States Disc Golf Championship before being canceled. With the pandemic creating uncertainty at the university still in 2021, tournament organizers again have found a new home.
This week's CDGNC will run at the North Cove Disc Golf and Social Club in Marion, North Carolina, a new, private events center roughly 90 minutes northwest of Charlotte that skirts along the North Fork Catawba River. Competitors will tackle two courses:
River Run, a 5061-foot par 55 track that boasts rolling hills and stone features
Boulders, a 6,020-foot, par 60 challenge that features even more elevation and views of Grandfather Mountain
Sand trap hazards and OB water abound at both courses. See the player guide for more detailed information on each hole.
What's the format for the College Disc Golf National Championships?
The CDGNC crowns team and individual champions in four divisions. 
Team Doubles Play
Each university can field teams of up to six people in each of the tournament's four divisions. The elite teams will compete in the upper-level National Championship Flight and Women's Flight while the First Flight and Second Flight are offered for schools that have deeper levels of participation or are not yet up to the quality of play needed to compete in the National Championship Flight. The teams are then split into doubles squads for the team component of the event.
Two types of doubles play are included: Captain's Choice, in which both players from a team play from the best lie on each shot, and Best Disc, where each player plays their own lie on each shot but the better of the two players' scores is recorded for the team.
Scoring from doubles play is combined with that of singles play to award the team National Championship titles.
Singles Play
In addition to the team challenge, competitors also vie for Individual National Championships via traditional singles stroke play. Players in the National Championship and Women's Flights will play two singles rounds, with First and Second Flight participants playing one. 
All of a team's singles scoring in the National Championship and First Flights is averaged and added to their doubles scores to determine the champions. In the Women's Flight, the two lowest singles scores count toward the team total.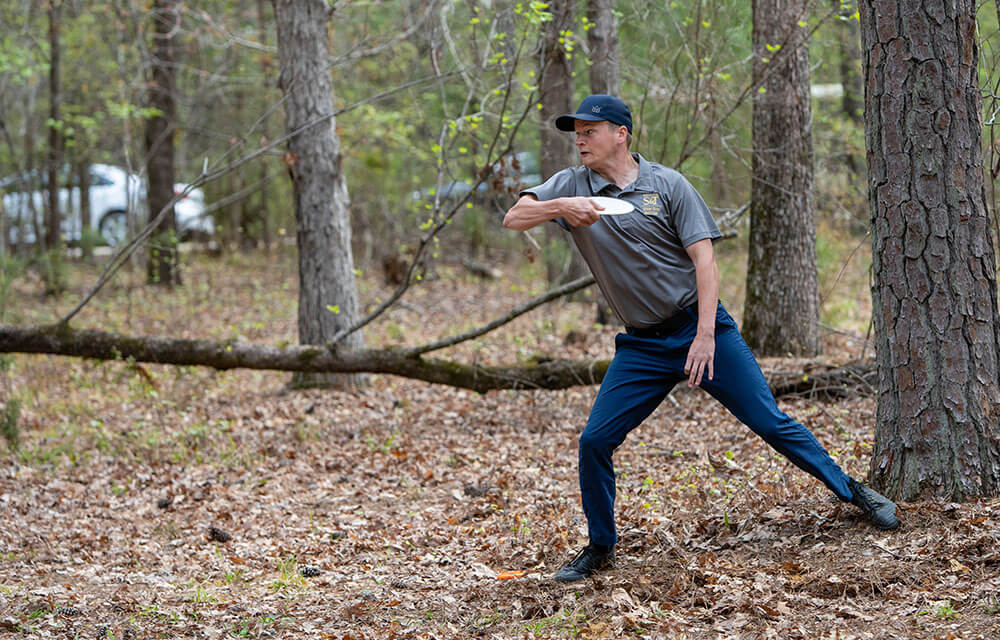 Who are the defending College Disc Golf National Champions?
The Ferris State University Bulldogs enter the 2021 CDGNC as the 2019 champions. The Big Rapids, Michigan, school is one of College Disc Golf's perennial powerhouses and also took home titles in 2017 and 2015.
Southern Arkansas University is the reigning Women's Flight Champion while Liberty University won the First Flight. Ferris added another trophy to its haul by winning the Second Flight.
Missouri S&T's Mark Anderson returns this year to defend his Individual National Championship title. Madi Chitwood of Southern Arkansas won in 2019 but is not competing this season; the same goes for First Flight Individual Champion Mitchell Crowley of University of Wisconsin-Platteville.
Who are the favorites this year?
Without the College Disc Golf season's usual rankings system in place (another pandemic-related change this year), it's difficult to know who the favorites are for the title this year. However, established programs such as those at Ferris State, North Carolina State, Clemson, Liberty, and Tennessee Tech should be on fans' radar in the National Championship Flight. Add Southern Arkansas to that same list for the Women's Flight.
Have any college disc golfers have gone on to be notable pros?
Indeed, several current touring disc golf professionals gained big-game experience at past CDGNCs. Of note:
How can I follow the College Disc Golf National Championships?
You can follow real-time scoring all week on UDisc Events. Just use the drop-down menu at the following links to scroll through each Flight:
You can follow @collegediscgolf and @innovadiscs on Instagram for highlights throughout the week, and Fulcrum Media will be producing coverage that will air on the Innova Discs YouTube channel.