Release Point editor Alex Williamson is a co-author of this article.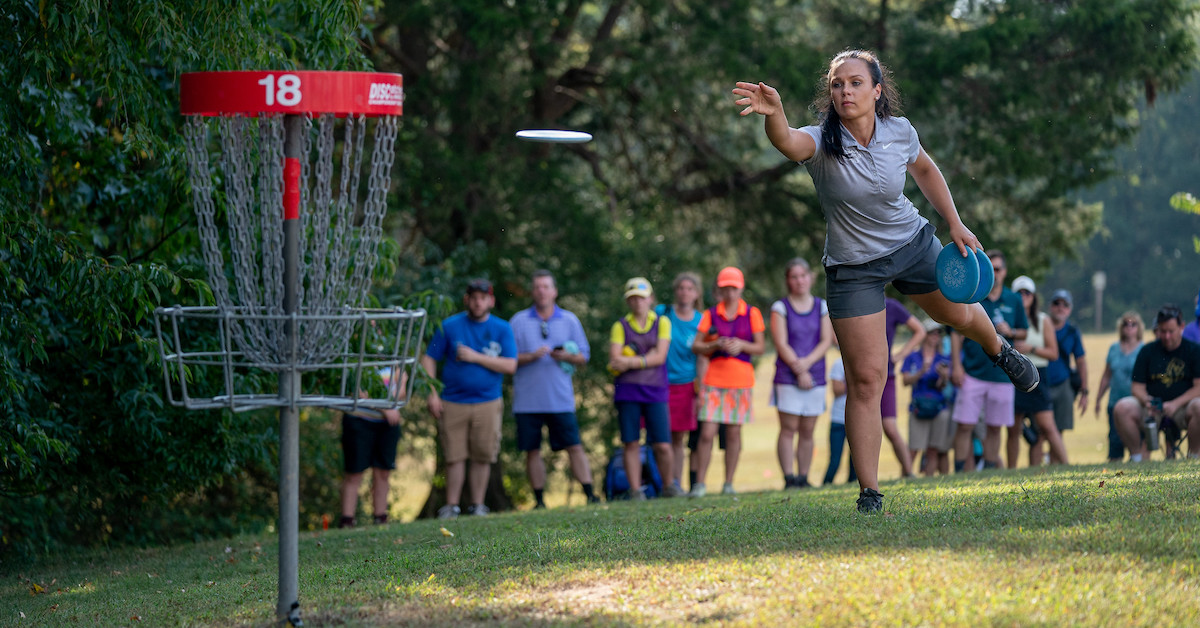 Putting is perhaps the aspect of disc golf capable of causing the most frustration. How can something so close seem so far away? How can a putt you've made a million times in your yard not go in the one time when you really need it?

Often, the answer to those questions is a lack of confidence, and that often stems from not having an easily repeatable putting technique.
Today, we fill you in on some of the best videos out there to help you build a dependable putting stroke (and up your personal best in UDisc's new Putting Practice feature). The five we've chosen can benefit anyone from disc golf beginners to veterans. They focus on a variety of topics like basic putting technique, ways to increase accuracy, tackling putts on hills, and building a strong putting mindset. These are videos the 1001-rated pro co-author of this article, Kyle Giovannini, loves and rewatches often.
For each video, we provide a breakdown of what it focuses on and the times in the video when specific points are made.

Tip for Deep Dives
If you want to watch anything in the videos below frame-by-frame, here's how:

1. Pause the video.
2. Use the "," and "." keys to go backward or forward frame by frame (Mac or Windows).

This works on all YouTube videos and is a great trick to know if you want to see something specific about someone's form while watching tournament coverage, tips videos, or any other content.
1. The Essentials

This video from Discraft's YouTube channel and Scott Papa is perfect for both beginners and anyone who wants to rethink their putting form from the ground up. It covers how to shift your weight, arm position, release point, and even a little bit of the mental side of putting.

And, yeah, he's got purple hair.
0:00-0:42 Intro to video including footage of players putting
0:43-1:09 Positioning your lower body for a putt
1:10-1:25 The basic motions of the putting arm during a putt
1:26-1:52 Gripping a disc for putting and the purpose of the grip demonstrated
1:53-2:59 Motions used to efficiently transfer weight during a putt and generate power
3:00-3:25 Where your arm should be when the putt is released
3:26-4:05 Discussing how putts fly in different ways and the importance of release point in giving them a chance to go in
4:06-4:36 How worrying about missing could affect release point
4:37-5:50 Discussion of different Discraft putters (more marketing than tips)
5:51-End Inspirational wrap-up from Papa and credits (no new tips)
2. It's All in the Wrist
Ricky Wysocki is considered by many to be one of the best putters of all time. If you ever watch footage of him playing, many disc golf commentators will say that anything he throws within 70 feet/21 meters of the basket is "in Ricky range." He's developed a unique style that can generate a lot of power while still almost never leaving the few putts he misses far from the basket. 

In the video below from Innova's YouTube channel, Wysocki talks about how and why he developed his current technique. He also gives a seemingly simple tip related to wrist action during putting that could change your game forever.



0:00-0:45 The putters Wysocki has in this video had just been released when this video came out, so this first section is mostly Wysocki talking about what he likes about this mold.
0:45-1:07 
Wysocki continues to talk about the new mold, but he mentions his thoughts on how disc depth and bead placement affect his control. (Don't know what a bead is? Read
this
.)
1:08-1:35 How the putting style he was using when he first started out was costing him strokes
1:36-2:07 How a mental exercise described to Wysocki by Dave Feldberg—one of the most successful professional disc golfers of all time—helped him develop his current style
2:08-2:28 Helpfulness of developing a style that doesn't leave missed putts far from the basket
2:29-2:42 Importance of hitting the correct release point for your putt
2:43-4:20 The importance of keeping a consistent wrist angle throughout your entire putt. This section is the main reason this video made it into this article. It's a simple idea but can tremendously change your consistency.
3. Creating an Effective Practice Routine
The only way to get better at putting is to practice it effectively. In the video below from The SpinTV, Avery Jenkins, a World Champion disc golfer, explains how to create a routine to help you get the most out of your time working the green.



0:00-0:38 Introduction to the video
00:39-1:13 The importance of practicing putting
1:14-1:41 What types of discs you should have for putting practice to develop consistency and make sure to practice how you play
1:42-1:58 Why establishing a putting routine and following through with it for every practice putt is helpful
1:59-2:45 How to organize your putting practice so that you develop a confident stroke and work on the distances most needed during competitive rounds
2:46-3:05 The power of positive thinking during putting. This section is special because it includes footage of Jenkins making the putt that won him his world title in the fifth hole of a playoff in 2009.
3:06-3:26 Why you should practice from a variety of angles and positions in relation to the basket
3:27-3:40 Find a consistent style and stick with it during practice
4:05-4:20 Don't get bored by your practice
4:21-End Review of tips given and well-wishes for your growth as a putter
4. Slow It Down
Dave Feldberg (mentioned briefly in the Wysocki video) is one of the most successful professional disc golfers of all time. He also has a masters in Sports Education and has spent a lot of time looking into the biomechanics of disc golf. What that means is he's analyzed, with the help of others, how human bodies should move when making disc golf shots to produce the highest rates of success.

The succinct points he makes in the short piece below on Infinite Discs' channel are a lot like Wysocki's wrist tip. They're seemingly small details that, when paid close attention to, could improve your putting immensely.


0:00-0:28 Introducing the video and its topic
00:29-1:01 A big problem he sees in the putting style of amateurs and pros alike: Dropping too fast leading to an inconsistent release point
1:02-1:19 
Discussing why Paul McBeth is a good example to follow for putting. Paul McBeth is a five-time World Champion and considered by many to be the greatest player of all time. (McBeth has
his own putting video
 if you're interested.)
1:20-2:06 Further clarification of why quickly dropping your putter down before a putt hurts your chances of success
2:07-End Concluding the video
5. A Comprehensive Overview
From Dynamic Discs' Physics of Flight series, this video provides a wide array of tips and knowledge about putting in a well-organized, easy-to-follow format. If you don't know what a spin, push, or hybrid putt is or how to stagger or straddle putt, this is a great watch. It also includes good tips for tackling putts on hills and practice routines.
0:00-0:16 Intro
00:17-00:32 Overview of topics being covered
00:33-00:43 Snazzy transition 1
00:44-3:58 Factors when choosing putters: beaded vs. beadless (1:09-1:56), disc depth (1:57-2:36), hard vs. soft plastic (2:37-3:11), stability (3:12-3:58)
3:59-4:08 Snazzy transition 2
4:09-4:30 Introducing the Style section
4:31-5:30 Example of a spin putt and discussing its pros and cons
5:31-6:36 Example of a push putt and discussing its pros and cons
6:37-6:53 Example of a hybrid or "spush" putt
6:54-7:28 Summing up the different styles and their pros and cons
7:29-7:39 Snazzy transition 3
7:40-7:54 Introducing the Form section
7:55-8:33 McCall's grip for his hybrid putt
8:34-8:52 Tips for spin putt grips
8:53-9:59 Grip and form basics for push putting
10:00-10:29 Stance options for push putting
10:30-11:28 Technique for effective spin putts
11:29-12:05 Why following through is essential
12:06-13:09 Technique for hybrid putts
13:10-13:59 Discussing how to shift weight during a putt
14:00-14:33 Weight shift in straddle putts (an example of a straddle putt is at 14:25)
14:34-14:45 Snazzy transition 4
14:46-15:15 Introduction to Variables section. Brief mention of how to get the best results when putting in the wind.
15:16-16:40 Strategies for putting downhill
16:41-18:10 Strategies for putting uphill
18:11-20:24 Strategies and considerations when putting on sidehills
20:25-20:35 Snazzy transition 5
20:36-20:57 Introducing the Practice section
20:58-21:40 The value McCall finds in "rapid fire" putting practice
21:41-23:14 How McCall practices putting more intentionally before a tournament
23:15-23:30 McCall summarizing his last points on practicing
23:31-25:55 2018 Open Women World Champion Paige Bjerkaas explains how she practices putting
25:56-End Outro